On this page you will find a comprehensive and impartial guide to the Aconcagua Normal Route. We are not a tour operator, but we can put you in touch with our recommended partner, click here.
As this is a very long and detailed article on the Aconcagua Normal Route, we recommend using the quicklinks below to navigate to the sections that interest you most. Alternatively, bookmark this page for future reference.
Please use the quicklinks below to navigate the guide.
Mount Aconcagua, the Stone Sentinel, is most worthy of your attention, being the second highest of the Seven Summits. The summits of the surrounding peaks are about 4,000 feet lower.
Aconcagua's altitude and temperature – high and low, respectively – make it arduous. The latter necessitates high quality clothing and equipment.
The Aconcagua Normal Route is the most popular, presenting as it does no technical difficulty – there is no need for years of experience of climbing on rocks or ice. It is the route used by the first expedition to scale the mountain in 1897, led by Matthias Zurbriggen after Edward Fitzgerald withdrew due to altitude sickness.
Around 3,500 people attempt to reach the summit every year, with about 40 percent succeeding. It is a much greater undertaking than other mountains such as Kilimanjaro. You will require crampons, an ice axe and good backpacking skills, but not rope.
Get a trek operator recommendation
Would you like to contact a responsible and trustworthy trek operator with competitive prices? Get some free, no obligation advice for your Aconcagua Climb.
Get In Touch
A great video overview of the Aconcagua Normal Route by Magnus Sørensen. Although not in English, the video still gives viewers a great idea as to what to expect on the mountain. The video is 08:46 long.
Below is a detailed Aconcagua Normal Route itinerary. Please note that route itineraries vary slightly depending on what operator you use and time of year you climb.
It is easier to fly via Santiago in Chile than Buenos Aires. You will need to make your way to Mendoza, the centre of the province that is Argentina's most famous wine-growing region. There is an equipment check – mayhaps some of your clothes will be insufficiently warm, in which case there are nearby shops where you can acquire the alternatives recommended to you. In the afternoon, if you are climbing with a commercial operator, there will usually be a briefing at your hotel. There is time for sightseeing. Dinner presents you with the opportunity to sample fine Argentinian cuisine and wine.
From Mendoza you will need to get transported westward to the Penitentes ski area, 8,500 feet up. The drive winds along the Rio Mendoza, deep within the rugged Andes mountain range. An afternoon hike is recommended but avoidable.
You approach Base Camp at Plaza Francia, giving you the chance to acclimatise and offering one of the most pleasant sights you will come across. You follow the Horcones Valley, spending your first night in the open in Confluencia, 10,900 feet high. You thank the mules for graciously carrying your gear. Mules carry two 66lb bags, so spare a thought for the beast and pack accordingly. So long as you adhere to this limit, mules are well treated, although you will not envy their load.
Acclimatisation continues. You hike to the base of Aconcagua's southern face, a truly majestic sight, then return to Confluencia.
Passing through colourful desert landscape, you reach Base Camp – 13,800 feet.
Today sees yet more acclimatisation to maximise your chance of making the summit. You practise snow and ice techniques on the Nieve Penitentes, where the snow and ice formations created by sunlight are unique.
Unless you have a porter, you haul a load to Camp I at Plaza Canadá, 16,170 feet high. There can be found a huge rock named "the 5000m stone." You return to Base Camp.
You leave Base Camp for Camp I, a beautiful campsite where the views of Aconcagua's north side and Cerro Cuerno are impressive.
You and your load make for Camp II – Nido de Condores, meaning "condor nest," not that you will see any. This is 17,820 feet high. The view of the mountains around you is spectacular.
Now is the time for Camp II.
Today you climb to Camp III, Piedras Blancas – High Camp. This is 19,200 feet high.
Camp III is surrounded by interesting rock formations and is a mere day from the summit.
Summit day, although the date is flexible for fear of inclement weather and the need for further acclimatisation. You climb the North Ridge, ending up at Independencia Refuge. You ascend via the Portezuelo del Viento then climb la Canaleta plus Filo del Guanaco before reaching the summit. The prize is an unimaginable 360 degree view at 22,841 feet.
You descend from High Camp to Base Camp.
You hike out of the Horcones Valley. Mules are lumbered with your gear. In the afternoon, you come to Penitentes. After a shower, you head for Mendoza. If the extra days go unused, you will arrive one or two days earlier.
Tags: Aconcagua normal route, Aconcagua normal route distance, Aconcagua normal route map, Aconcagua normal route itinerary, Aconcagua normal route description, Aconcagua normal route length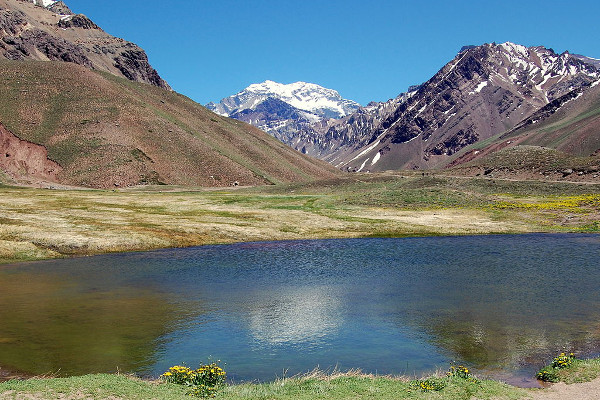 The Aconcagua Normal Route is a non-technical route and follows the mountain's north-west ridge all the way to the summit.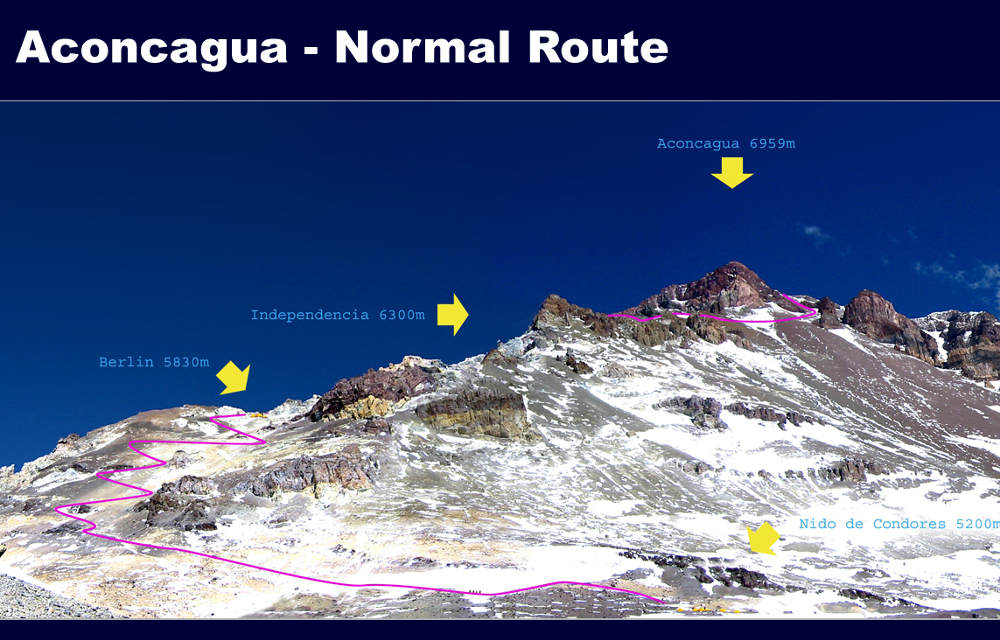 We recommend Aconcagua: Trekking and Mountaineering.
We recommend Aconcagua: Summit of South America by Harry Kikstra.
For more Aconcagua guidebook recommendations and literature check out our Library.
Frequently Asked Questions
Below we have provided detailed answers to the most frequently asked questions on the Aconcagua Normal Route climb.
The climb, using a commercial operator, will set you back something approaching US$3,000-$5,000 (excluding flights, tips and personal gear costs).
Yes. The permit costs vary depending on season and covers a consultation with the Base Camp doctor and, should you require it, helicopter evacuation. The permit is obtained at the office of tourism in the centre of Mendoza. You must be present in person. Bring your passport. You can find
complete information on permits here
.
The climbing season is from mid-November to mid-March. 80 percent of trekkers go in December or January.
Absolutely. Aconcagua is the tallest mountain in the Americas and should not be taken lightly. Hundreds of people each year have to turn back due to altitude sickness.
Therefore, it is important to have a detailed understanding of the risks associated with high altitude trekking and how the body deals with high altitude. We suggest reading our detailed article on Altitude Sickness and Acclimatisation.
Only 40% of climbers who attempt the mountain reach the summit! Climbing Aconcagua is no easy thing and only experienced hikers who have been to high altitude should attempt the climb. You will need a high level of fitness and endurance.
Climbing Aconcague requires a number of essential pieces of gear. The Normal Route is cold, long and windy and exposes your body to varying conditions and altitudes.
Therefore, we strongly suggest purchasing the most important pieces of gear and equipment prior to arriving in South America.
To help you plan and prepare for your climb we recommend reading our Aconcagua gear list article.
Climbing insurance is vital for Aconcagua. If an accident or incident should occur that requires immediate medical assistance and evacuation you will most definitely want adequate trekking insurance that can cover the costs of air ambulance and treatment.
Make sure you have insurance that covers you for any travel related risks, like lost, stolen, damaged or delayed baggage; interruptions and flight delays and tour operators default.
Please read our article on travel and trekking insurance on Aconcagua. The article provides great information on what type of insurance you need.
Get a Trek Operator Recommendation
Pop your details in the form and you will receive a price competitive quote from our trusted trekking operator.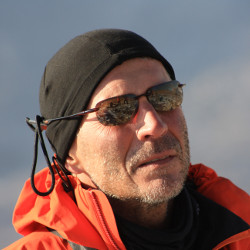 Brilliant service guys! The operator you recommended is absoultely fantastic. Fast, responsive, amazing track-record and great prices! Thanks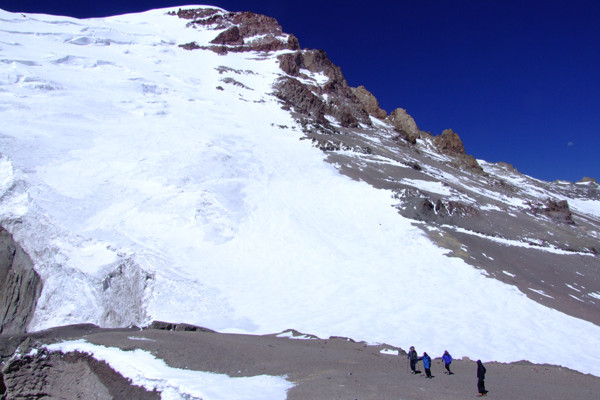 The Polish Glacier Direct route is one of the more technical routes to the summit of Aconcagua. It is an ideal option for experienced climbers looking for a real challenge. Find out more here.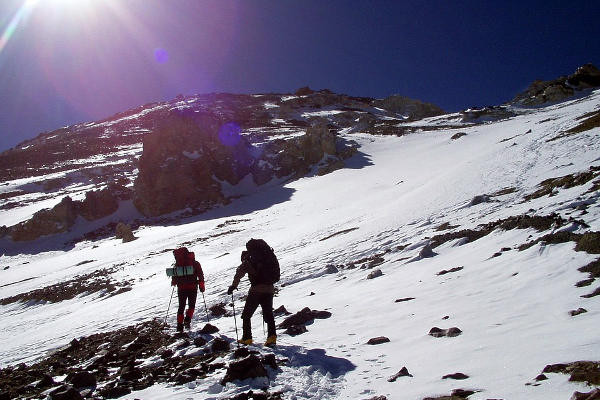 The Polish Traverse, or the 'False Polish Glacier Route', is a stunning option for trekkers looking to get into high altitude climbing. Find out more here.