On this page you will find a comprehensive and impartial guide to the Dhaulagiri Circuit Trek.
As this is a very long and detailed article on the Dhaulagiri Circuit Trek, we recommend using the quicklinks below to navigate to the sections that interest you most. Alternatively, bookmark this page for future reference.
Please use the quicklinks below to navigate the guide.
The Dhaulagiri Circuit Trek is one of Nepal's most demanding treks and requires previous experience of high altitude trekking. Rope, ice axe and crampons are usually required and you might need to wear a helmet as some stretches of path are susceptible to small rockfalls.
The Dhaulagiri Circuit Trek is said by some to be the toughest three-week trek in Nepal. The bare minimum duration is 13 trekking days plus two for acclimatisation. This can be extended with some side trips such as the option to climb the non-technical Dhampus Peak (6,060m). Since many of the trails on the first half of the trek are rarely used, the services of a guide are highly recommended.
Acute mountain sickness (AMS) is also a risk as sudden increases in altitude cannot be avoided – the ground rises by 23,000 feet in the space of less than 20 miles. Trekking at such an altitude is a challenge even for fit hikers. Acclimatisation is essential. Due to the altitude and remoteness, the consequences of bad weather are more severe.
The Dhaulagiri Circuit Trek takes you around the towering form of Mount Dhaulagiri (26,795 feet). Mount Dhaulagiri is the seventh-highest mountain on Earth and was first climbed in 1960. From 1808 to 1848 it was thought to be the highest, although that honour has been held by Everest since 1852.
In the extinct Indian language of Sanskrit, the language of the Kama Sutra, "dhavala" means "white" and "giri" means "mountain." While other mountains have the same name, this particular white mountain is perhaps the most spectacular. The trek winds up through high alpine pastures, even higher passes and serene, remote valleys.
Please note that there are several Dhaulagiri Circuit trek itineraries that can be done. Below we have laid out the most popular version – 23 days, leaving from Kathmandu. If you want to make your own way to Pokhara or Beni then you could probably organise this with your operator or guide.
Arrive Kathmandu – a popular destination for tourists. It presents an exotic mix of Hinduism, Buddhism and western influence – the latter is strong, given that Kathmandu used to be hippies' favourite place in the world. Attractions include the largest Hindu shrine of Pashupatinath and the Buddhist religious monument of Nepal Boudhanath.
From Kathmandu, it takes half an hour to fly and seven hours to drive to Pokhara. Must-sees include the beauteous temple of Bindabasini, Davis fall, Mahendra cave, Phewa Lake, the famous Seti Gorge and the Pokhara Mountain Museum. You spend the night in Pokhara.
Following breakfast, it takes four hours to drive to Beni. There is a police checkpoint where your permits will be studied and verified. From this point on, nights are spent in a tented camp.
Today your trek begins proper. You depart Beni for Kali Gandaki, trekking west along the northern bank of the Kyagdi Khola, through the village of Beni Mangalghat and on to Singa Bazar.
From Singa Bazar, you go to Takum.
You head north, crossing a river. The trail ascends, eventually becoming steep. It then takes you to Sibang and Mattim. Next, you descend to the Gatti Khola before reaching Phalai Gaon (5,940 feet). You cross the Dhara Khola to emerge on Myagdi Khola's west bank. Having climbed a ridge, you arrive at Muri (6,070 feet), where the views of Dhaulagiri and other mountains are simply stunning.
After descending for a short while, you cross a stream and then terraced fields. With a ridge behind you, you come to a pass from which Mount Ghustung South (21,210 feet) is visible. You go down to Myagdi Khola and trek along its west bank until you arrive at the village of Naura. After that, you ascend briefly. After crossing a grassy hill and climbing a steep slope where there are switchbacks, you descend through a forest and then terraced fields, which brings you to Boghara (6,820 feet).
The trail continues after Boghara. You descend through terraced fields before coming to a small ridge. Then you enter a forest area to reach Jyardan. After that, a high, winding path spans a rocky area and goes down and then up to Lipshe, where there is no more than a single hut. The trail goes through a forest to Lapche Kharka and then rises to Dobang. The going is hard and ropes may be needed.
After making use of a wooden bridge at Dobang, the trail ascends and you find yourself among trees. The forest is beautiful and rises sharply. After traversing Myagdi Khola, you cross a stream to reach Choriban Khola. You then reach the end of the Chhonbarban Glacier. Tukche Peak (22,430 feet) can be seen at the far end, while the imposing north face of Dhaulagiri I (26,790 feet) dominates the skyline to your right. To the West the summits of Dhaulagiris II (25,430 feet), III (25,310 feet) and V (25,000 feet) can be seen.
This day is spent resting and acclimatising.
Now you head for Midway Camp. This trail is somewhat tough, A rope will usually be used at certain points on this trail. The surroundings are quite remarkable and provide fantastic vistas of the beautiful snow-capped peaks.
This is another rest day for acclimatisation.
You climb to the spectacular Classic Base Camp at 16,400 feet. This is where you get the best views of all of the Dhaulagiri range.
Another day of rest and acclimatisation.
You climb two terraced hills and then enter a valley. You climb to the highest point of the trek – the French Col (16,730 feet), known to some as the 'French Connection'. From there you can see Mukut Himal (20,760 feet), Tashi Kang (20,950 feet) and Sita Chuchura (21,690 feet). South is Tukche Peak (22,700 feet) and beyond that, the mass that is Dhaulagiri I. From French Col, the trail goes to Dhampus Pass (17,060 feet), which is the hardest portion of this trek. You camp for the night below Dhampus Pass.
This is a rest day, but it is possible to climb Dhampus Peak (6,060 m).
Having climbed Dhampus Pass, you pass through slopes which are flooded and then descend steeply to Yak Kharka. From there, you call at Alubari.
You descend the breathtaking Kali Gandaki Gorge, the deepest gorge in the world. After passing the villages of Jharkot and Khingar, you stick to the valley floor for most of the way to Jomsom. This occupies both banks of the Kali Gandaki and grants lovely views of the Nilgiri peaks. You then trek down to Marpha, which boasts a well-planned drainage system. This is welcome refuge from the powerful winds of the area. It is well-known for its apples and their byproducts of apple cider and apple, apricot and peach alcohol.
Your descent of the Kali Gandaki Gorge continues to Tukuche, where you come upon a large gompa – a fortified Buddhist seat of learning. Next, you walk along the Kali Gandaki's west bank to Larjung. You then face forests of cypress, juniper and pine as you head for Kalopani, with splendid views of Annapurna I and Fang. You come to Lete around 20 minutes later.
The trail descends sharply through forests to Ghasa, the southernmost extent of Tibetan Buddhism. Next comes the steepest and narrowest section of the gorge. There is a magnificent waterfall at the small town of Rupse. You next stop at Dana, from here there is a fine view of the huge peak of Annapurna South across the valley. The trail falls to Tatopani, where you absolutely must try the apple pie and hot springs!
Not far downstream from Tatopani, you cross the river using a large suspension bridge, putting the Kali Gandaki behind you. You pass the villages of Sikha and Chitre and negotiate a forest that brings you to Deprali, a pass that is 9,300 feet up and provides first class vistas of Annapurna 1, Annapurn South, Dhaulagiri, Hiunchuli and Nilgiri. 10 minutes later you trek into the village of Ghorepani. The name means "horse water" – it was used by mules as they plied the route from Pokhara to Jomsom.
An hour-long ascent begins before dawn, supplying intriguing views of the Annapurnas and Dhaulagiri, which glow in the morning sun from your vantage point on Poon Hill (10,570 feet). After breakfasting, you commence the lengthy descent to Birthanti via striking oak and rhododendron forests. You then come to the village of Ulleri and make your way up a steep staircase that feels as if it goes on forever, bringing you to Hille. You descend inexorably to Birthanti, a short distance from the road, where a vehicle will take you back to Pokhara.
Return to Kathmandu.
Tags: Dhaulagiri Circuit Trek, Dhaulagiri Trek Nepal
References: (1) Desk research and interviews with guides, (2) 8000ers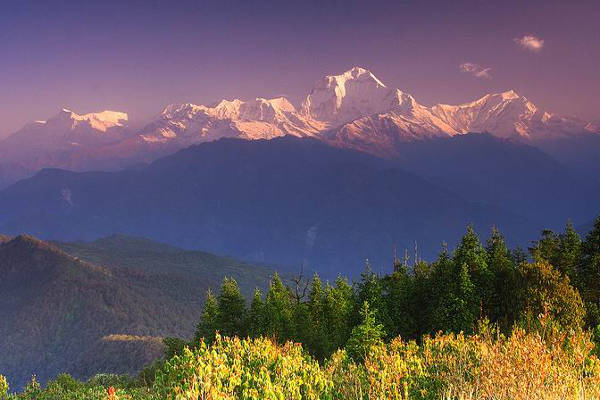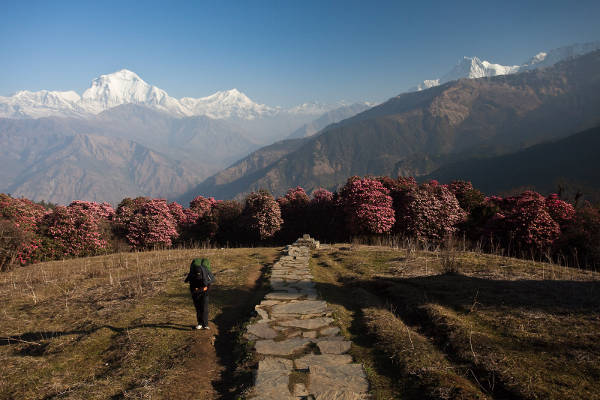 Dhaulagiri is northwest of Pokhara, in the Dhaulagiri region as seen in the map below.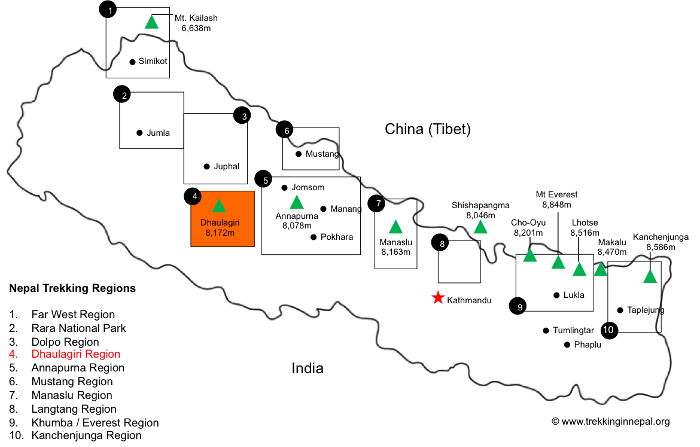 There are slim pickings for guidebooks on the Dhaulagiri Trek. The 2001 guidebook called Trekking & Climbing in Nepal dedicates a chapter to the trek, however, this may be a little out of date. There is a trekking map available here.
A beautiful video overview of the Dhaulagiri Circuit Trek by All The Fish Are Dead. It's just over 3 minutes long. A little shaky camera but good overview of the route and views.
Frequently Asked Questions
Below we have provided detailed answers to the most frequently asked questions on the Dhaulagiri Circuit Trek.
Trekking companies charge anywhere between $2,000 and $4,000 per trekker.
For the final section, down the Kali Gandaki, an ACAP entry permit is required.
The best time for this trek is late September to December or possibly May and early June. Conditions in the first of these are clearer but colder. In March and April, conditions can be unpredictable and dangerous.
The Dhaulagiri Circuit Trek ascends to some high altitude points. At its highest point, the French Col, you will reach an altitude of 5,3oo meters (16,730 feet). There are steep section on this trek where you will ascend very rapidly.
Therefore, it is important to have a clear understanding of the risks associated with high altitude trekking and how the body acclimatises to high altitude. We recommend you read our detailed article on Altitude Sickness and Acclimatisation.
The Dhaulagiri Circuit Trek is very demanding – arguably one of the toughest commercial treks in Nepal. You will need to be very accustomed to undertaking long, multi-day hikes and in great physical condition.
Trekking the Dhaulagiri Circuit requires a number of essential pieces of trekking gear. The Dhaulagiri Circuit Trek is long and moderately difficult. It exposes you to a range of altitudes where temperatures fluctuate dramatically between night and day.
Much of your gear can be rented or bought in Kathmandu, but we strongly suggest bringing the most important pieces of gear and equipment with you.
To help you plan and prepare for your trek we recommend reading our gear section.
Trekking insurance is vital in Nepal. This is particularly true on the Dhaulagiri Circuit Trek which is very remote. If an accident should occur that requires medical assistance and evacuation you will certainly want adequate trekking insurance that can cover the costs of air ambulance and treatment.
Make sure to have insurance that covers you for any travel related risks, like lost, damaged, stolen or delayed baggage; flight delays and interruptions; and tour operators default.
This article on travel and trekking insurance in Nepal provides great information on what type of insurance you need, as well as provides an easy quote calculator from a leading travel operator.
The Everest Base Camp Trek is one of the most popular and iconic treks in Nepal. Trekkers get to retrace the early footsteps taken by Sir Edmund Hillary and Tenzing Norgay on their historic Everest expedition in 1953. Discover the Everest Base Camp Trek.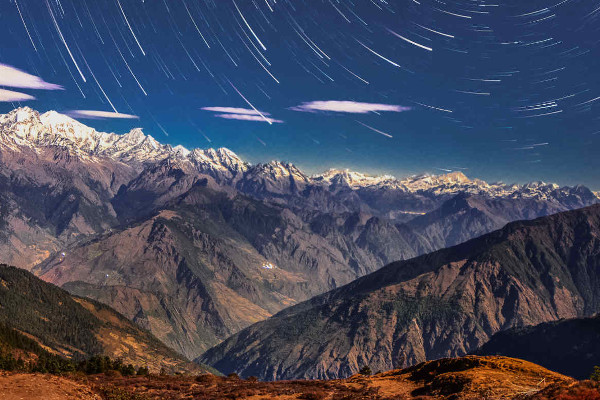 The Langtang Valley Trek is a relatively easy trek and is often far less busy than other popular treks in the Everest and Annapurna region. The trek can be done in seven days, however, it usually takes 10 to 12 days. Discover the Langtang Valley Trek.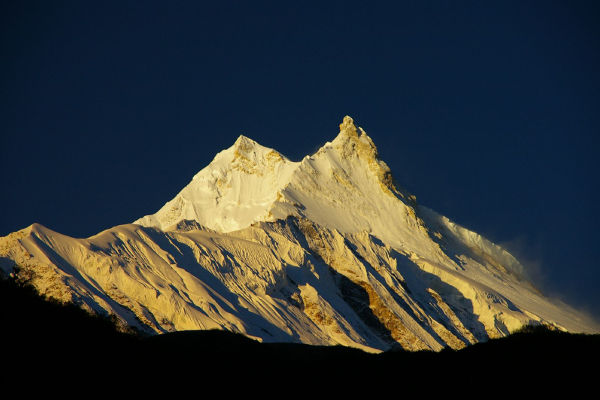 Robin Boustead, author of Nepal Trekking & the Great Himalaya Trail: A route and planning guide, pronounced, "Many would argue that the Manaslu Circuit trail is the best general trek in the country." Discover the Manaslu Circuit Trek.