On this page you will find a comprehensive and impartial guide to the Ghorepani Poon Hill Trek. We are not a tour operator, but we can put you in touch with our recommended partner, click here.
As this is a very long and detailed article on the Ghorepani Poon Hill Trek, we recommend using the quicklinks below to navigate to the sections that interest you most. Alternatively, bookmark this page for future reference.
Please use the quicklinks below to navigate the guide.
The Ghorepani Poon Hill trek (aka the Poon Hill Trek) is generally regarded as one of the best short treks in the Annapurna Region of Nepal.
Classic mountain treks in Nepal generally require two or three weeks of your time, but one of the great things about the Ghorepani Poon Hill trek is that it can be accomplished in as little as four days, however, most people take five days.
Several factors contribute to its popularity: it requires only moderate fitness and is one of the least physically-demanding of Nepal's treks, making it ideal for families or retirees; there is little risk of altitude sickness (highest altitude is 3,210m); and the accommodation, in the shape of family-run tea houses, is of good quality, so there is no need to cart around tents, sleeping bags (although we do recommend you take a sleeping bag for extra comfort and warmth) and food.
Apart from being a great introduction to trekking for non-trekkers, as well as providing a fantastic experience for those with little time, the main drawcard of the trek is the beauty and diversity of the scenery: one minute there is lush vegetation, the next, terraced rice fields and then alpine areas. All along the trek, the highly-attractive fluted peak of Machhapuchhare (Fishtail Peak) dominates the skyline.
Upon reaching Poon Hill you will be faced by one of the most spectacular mountainscapes on Earth. Poon Hill is 3,210 metres high, and the view at sunrise is a joy to behold, justifying each and every gruelling step you took to get there. From the top of Poon Hill the snow-capped summits of the Himalayan giants, Dhaulagiri and Annapurna I, both more than 8,000 metres high, can clearly be seen in addition to many other peaks. When the sun's rays strike the mountains, they glow like gold.
Having the Himalayas so close, virtually on your doorstep, is breathtaking.
Get a trek operator recommendation
Would you like to contact a responsible and trustworthy trek operator with competitive prices? Get some free, no obligation advice for your Ghorepan Poon Hill Trek.
Get In Touch
A beautiful video overview of the Ghorepani Poon Hill Trek by Amirul Raziqin.  It's 04.40 long.
Most people fly from Kathmandu to Pokhara to begin the Ghorepani Poon Hill trek. Flights leave regularly, although weather interruptions / delays are common. The flight takes approx. 30 minutes and will set you back between US$70-US$100. Make sure to sit on the right-hand side on the way from Katmandu to Pokhara as the views are exquisite. Sit on the left-hand side on the way back.
If you want to save money you can catch a tourist bus from Katmandu which generally takes 6-8 hours (depending on the condition of the roads and police checkpoints). Expect to pay 300-400 Rupees (~US$6).
Pokhara – Nayapul – Tikhedunga
Trekking begins at Nayapul Crossing – the suspension bridge over the Modhi Khola river – following a pleasant one-hour drive from Pokhara. You can either catch a bus or get a taxi (~1,500 NPR) from Pokhara to Nayapul. The Modi Gorge is home to hundreds of bird species.
Tikhedunga to Ghorepani
On the second day, you will walk, mostly through woods including the world's largest rhododendron forest, until, after negotiating around 3,500 stone steps at Ulleri Hill, you reach the Ghorepani Village base camp. The name means "horse water" and it was so-called because many ponies would often take water there on their way to or from Tibet.
Ghorepani is festooned with closely-packed rhododendron trees, which is appropriate enough given that the rhododendron is the national flower of Nepal. These forests are at their most beautiful when they bloom in spring, bearing red flowers. Around 7-8 hours will be given to walking on day 2, and the first great views of the Annapurna range will be seen on this day.
Ghorepani to Ghandruk
The third day commences at dawn (approx. 5am) in order to catch the first ray of sunlight on Poon Hill. The walk from Ghorepani to Poon Hill takes about 45 minutes. During high season (April-May, Oct-Nov) there are sometimes up to 300 trekkers on this section of the trail. Poon Hill is 3,210m above sea level and marks the highest point on the trek.
From the top you will experience That View, all 360 degrees of it! Mountains stretch as far as the eye can see – 30 of the devils. The tallest are Annapurna (26 545 feet), Annapurna South (23,684 feet), Dhaulagiri (26,795 feet), Hiunchuli (21 132 feet), Lamjung Himal (22 707 feet), Machapurhre (22 943 feet), Nilgiri (22 769 feet) and Tukuche (22,703 feet). This is a sight you will remember to your dying day.
After spending a good hour or two at the top of Poon Hill you will descend back to Ghorepani, where you will encounter the green landscapes, local birds, rocks, waterfalls and wild animals you might have missed due to poor visibility on the way up.
After Ghorepani, you descend to the beauteous Gurung village of Ghandruk, home of the Gurkhas, which sits in the lap of the Annapurnas, foothills of the Himalayas. The Gurungs are one of Nepal's largest ethnic groups and they have their own dialect, clothing and lifestyle. This village is well-known for its traditional houses, rich culture and great landscape, but it also has an incongrously respectable internet service. If you choose not to partake of the culture at first hand, there is a museum dedicated to it, which is well worth the visit.
Day three is a fairly long affair – approx. 10-12 hours (including time spent at Poon Hill).
Ghandruk to Deurali
On day four, you descend rapidly through forests, which will take it's toll on your knees (good idea to have trekking poles for this section of the trek). The trail eases after three-and-a-half hours' walking. You end the day at the small village of Deurali, which sits at the end of a forested path, and is in fact not far from a road that could take you back to Pokhara if you were pushed for time.
Total trekking time on day 4 is 8-10 hours. The Hotel Trekkers Inn in Deurali is a cheap and cheerful place to rest your head.
Deurali back to Pokhara
The fifth day takes you to a permit check point at Pothana, where there is road access and you can get a taxi back to Pokhara. Some trekkers continue on to the Annapurna Eco Lodge where you can overnight or catch a taxi back to Pokhara via Nayapul. The trek on this day is short (4-5 hours) and mostly across flat land.
Tags: Ghorepani Poon Hill Trek, Annapurna Region, Poon Hill, Poon Hill trek, Poon Hill Nepal, Ghorepani Poon Hill trekking, Annapurna Poon Hill trek, Ghorepani Poon Hill trek cost, Ghorepani Poon Hill trek itinerary
References: (1) Personal experiences, (2) Depth interviews with guides, (3) Lonely Planet guidebooks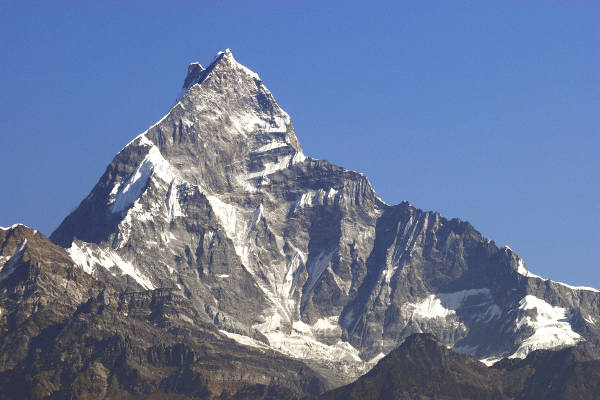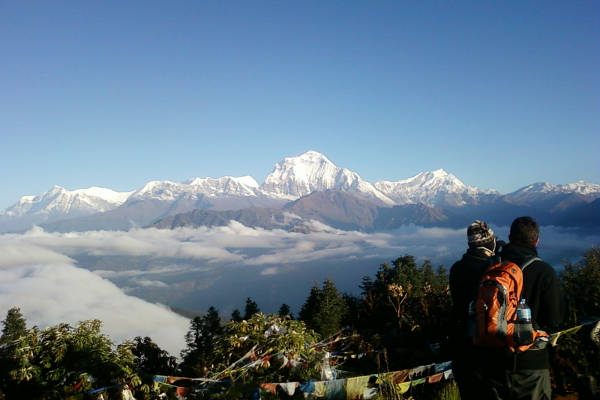 The Ghorepani Poon Hill trek is in central Nepal, in the Annapurna region. The nearest big town is Pokhara (see map below).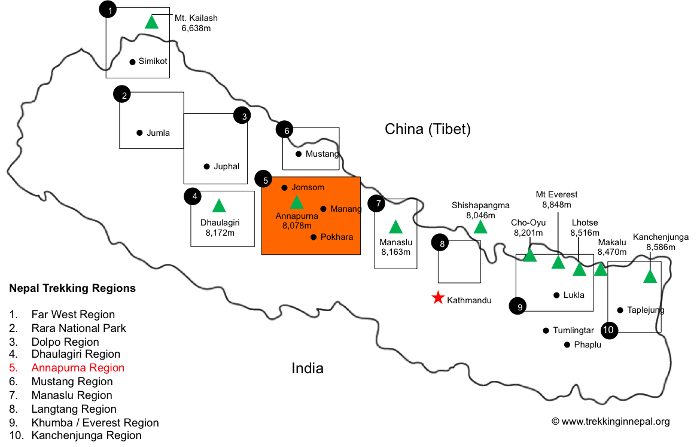 Unfortunately there aren't many great maps available online. The best schematic we have found is below, from Globe Trekker.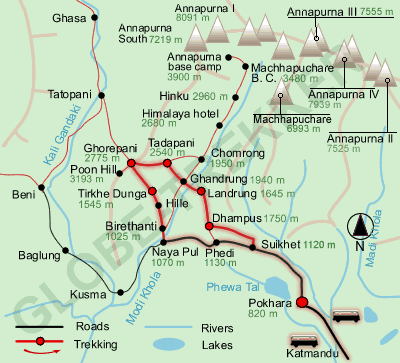 There are however some good trekking maps of the Annapurna region that you can purchase online. This one from National Geographic Maps is very good.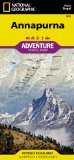 Annapurna Map By: National Geographic Maps
Year: 2000
Detailed trekking map for routes from Pokhara along the Marsyandi River, Thorung Pass, and the Kali Gandaki River in the Annapurna Conservation Area.
There are two excellent guidebooks that provide specific information on the Ghorepani Poon Hill trek.
Lonely Planet Trekking in the Nepal Himalaya By: Bradley Mayhew, Joe Bindloss and Lonely Planet
Year: 9th Edition (2009)
The best all-round trekking guide for Nepal. Includes 30 detailed itineraries on the most popular routes, including the Ghorepani Poon Hill trek, Everest Base Camp trek and the Annapurna Circuit.
Annapurna: A Trekker's Guide By: Sian Pritchard-Jones and Bob Gibbons
Year: New edition – 2013
The most authoratitive guide on the Annapurna region with specific information on the Ghorepani Poon Hill trek.
Frequently Asked Questions
Below we have provided detailed answers to the most frequently asked questions on the Ghorepani Poon Hill Trek.
There are essentially three ways to do the Ghorepani Poon Hill trek. 1) Unassisted (i.e. no guide or porter), 2) Assisted (with a guide and/or porter) and 3) With a tour operator. Costs vary depending on which way you choose to organise your trek but generally the following costs can be expected.
Flights to and from KTM-Pokhara: US$150
Taxis to and from Pokhara-Nayapul: US$30
Teahouses (Average of 350 Rupees per night for 5 nights): US$20
Food (Average of 300-400 Rupees per meal / 15 meals): US$50
Water (Average of 3 litres a day at 60 Rupees a litre / 15 litres in total): US$10
Permits (Annapurna Conservation Permit + TIMS Trekking Permit + Commission): US$35
Guides / Porters (US$25 per day for a guide, US$15 for a porter): US$200
Rentals of gear (assume US$50 on average): US$50
Spare cash for miscellaneous things: US$50
 US$600-700 pp on average
You could shave this down to US$200 pp if you went unassisted, used a bus to get to Pokhara and budgeted carefully through-out. You should expect to pay closer to US$900-1300 pp. (including airfare and accomodation in KTM and Pokhara) is you used a trekking company to organise the full tour. If you would like a recommendation on a tour company feel free to use our recommendation service below.
Yes, two permits are required if you are to undertake the Ghorepani Poon Hill trek: the Annapurna Conservation Permit, costing 1,000 Rupees per person – an earth-shattering US$12 – and the TIMS Trekker's Permit, which will set you back 1,825 Rupees – US$18 – per person. These can be secured for you by your guest house or tour operator, who will generally charge 500 Rupees commission.
It is possible to undertake the Ghorepani Poon Hill trek all year round. In the thick of winter, however, there may be much snow, and while you might enjoy playing in it, most people do not, and there are precious few tourists at this time of the year. Monsoon season – July to August – is not recommended because, in case you were unaware, monsoons make you very wet. The best seasons for the Ghorepani Poon Hill trek are spring, from March to May, and autumn, from October to December.
The Ghorepani Poon Hill trek ascends to some high altitude points. At its highest point you will reach an altitude of 3,210 meters (10,531 feet). There are steep section on this trek where you will ascend very rapidly.
Therefore, it is important to have a clear understanding of the risks associated with high altitude trekking and how the body acclimatises to high altitude. We recommend you read our detailed article on Nepal Altitude Sickness and Acclimatisation.
The Ghorepani Poon Hull Trek is considered one of the easier treks in Nepal and older hikers and young families often complete the trek. You will need a basic level of fitness as you will be walking for some miles for at least 5 days.
Hiking the Ghorepani Poon Hill trek requires a number of essential pieces of trekking gear. The Ghorepani Poon Hill trek is long and moderately difficult. It exposes you to a range of altitudes where temperatures fluctuate dramatically between night and day.
Much of your gear can be rented or bought in Kathmandu, but we strongly suggest bringing the most important pieces of gear and equipment with you.
To help you plan and prepare for your trek we recommend reading our gear section.
Trekking insurance is vital in Nepal. This is particularly true on the Ghorepani Poon Hill trek which is very remote. If an accident should occur that requires medical assistance and evacuation you will certainly want adequate trekking insurance that can cover the costs of air ambulance and treatment.
Make sure to have insurance that covers you for any travel related risks, like lost, damaged, stolen or delayed baggage; flight delays and interruptions; and tour operators default.
This article on travel and trekking insurance in Nepal provides great information on what type of insurance you need, as well as provides an easy quote calculator from a leading travel operator.
Food is available in most tea houses and very inexpensive (although more than you would pay in the main city hubs). The main dish is traditional Nepalese Dal bhat, which consists of rice, dal soup, vegetables, and achar chili sauce. It is actually rather good. The other common dish is vegetable noodles. You could save money by bringing muesli or cereal bars for breakfast, and we recommend taking snacks to eat along the trail.
Potable water is a scarce resource throughout Nepal. On the Ghorepani Poon Hill trek, bottled water is usually not difficult to come by, but is pretty expensive (~100 Rupees a litre) and not great for the environment. Many of the tea houses offer sanitised water which can be purchased at ~60 Rupees to refill your water bottle. We recommend taking water purification tablets / iodine tablets just in case.
If the most life-changing things you wish to take away from this trek are memories, vaccinations for Hep A, cholera and typhoid are recommended.
Whether to bring a guide on the Ghorepani Poon Hill trek is much-debated. It is possible to live without one, but although the trail is very well-maintained, the signs are not always great, and you may wish to stare at things other than your map. A guide costs ~US$25 a day and a porter, US$15. Guides are usually fluent in English, and you may appreciate them not only for their company but also their knowledge of villages, customs, altitudes and the like.
Get a Trek Operator Recommendation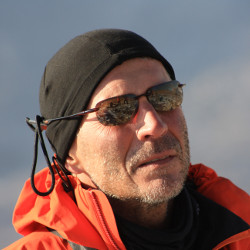 Brilliant service guys! The operator you recommended is absoultely fantastic. Fast, responsive, amazing track-record and great prices! Thanks
Pop your details in the form and you will receive a price competitive quote from our trusted trekking operator.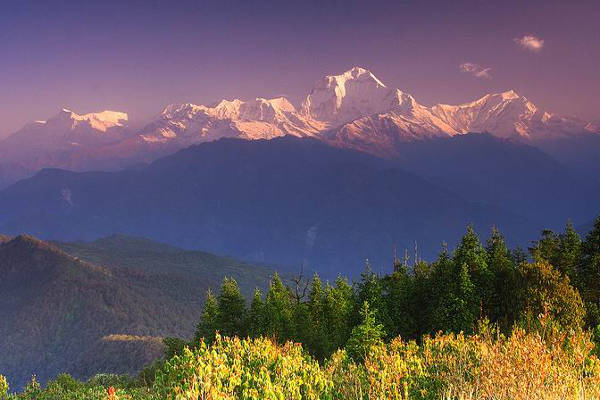 The Dhaulagiri Circuit Trek is one of Nepal's most demanding treks and requires previous experience of high altitude trekking. That being said, if you are an experienced hiker, then it is hard to beat the wilderness of this trek. Discover the Dhaulagiri Circuit Trek.
The Everest Base Camp Trek is one of the most popular and iconic treks in Nepal. Trekkers get to retrace the early footsteps taken by Sir Edmund Hillary and Tenzing Norgay on their historic Everest expedition in 1953. Discover the Everest Base Camp Trek.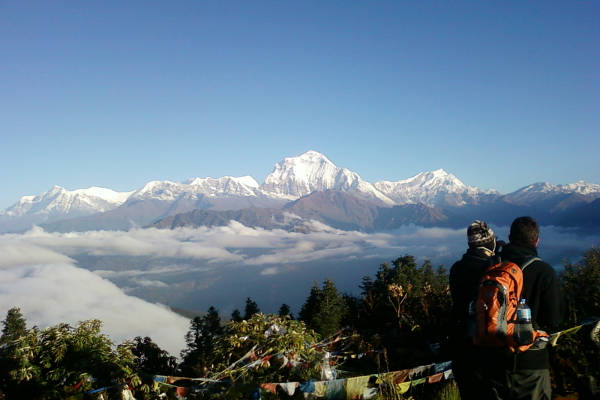 The Annapurna Sanctuary Trek is the best option if you would like to get spectacularly close to the Himalayas but have no time for the acclimatisation required of other treks such as the Annapurna Circuit or the Dhaulagiri Circuit Trek. Read more about the Annapurna Sanctuary Trek.