On this page you will find a comprehensive and impartial guide to the Gosainkunda Trek.
As this is a very long and detailed article on the Gosainkunda Trek, we recommend using the quicklinks below to navigate to the sections that interest you most. Alternatively, bookmark this page for future reference.
Please use the quicklinks below to navigate the guide.
The Gosainkunda trek takes hikers to one of Nepal's most beautiful lakes of the same name, located 14,374 feet above sea level. According to legend, it was formed when the Hindu god, Shiva, pierced a glacier with the trishul, his trident, so he could obtain water after he swallowed poison that made his throat turn blue and sting.
People have often claimed that they could see Shiva asleep in the water. If so, he is one of the few lifeforms present in the lake. This lake is oligotrophic – low in nutrients. As a result, there are few fish and little algae, the latter making the waters very clear and eminently drinkable. Gosainkunda Lake is 40 square miles in size and there are around 108 other lakes in the vicinity.
The lake is now a pilgrimage site for Buddhists and Hindus, with the peak period being the full moon festival of Janai Purnima in August, when over 25,000 visit the lake! It is believed that bathing in the lake will wash away one's sins. There is much dancing at the fesrival. Shamans demonstrate their skills to teachers to qualify for the post of village shaman. Sadly, many pilgrims fall prey to altitude sickness, having climbed too fast. Dehydration can also make the situation worse if they are fasting.
The inhabitants of the Gosainkunda area are mostly Tamangs. The Tamang people constitute 5.6 percent of the population of Nepal and have their own language.
The Gosainkunda trek is one of the shortest treks in Nepal and a relatively easy hike. However, altitude sickness is still a problem, although less of a risk than on some other major treks in the region such as the Langtang Valley trek.
The highlight of this trek is sunrise at Laurebina, where there is a panoramic view of Langtang ridge. This is the sunrise of a lifetime. At 15,120 feet, this is the highest point you will reach.
The Gosainkunda trek can take anything from 8 to 16 days, depending on how pushed for time you are.
A beautiful video overview of the Gosainkunda Trek by Zayed Uddin Chy and set to the classic 'Rocky Mountain High by John Denver.  It's 04.57 long.
In this itinerary, accommodation is entirely at tea houses.
Please note that there are several Gosainkunda trek itineraries that can be done. Below we have laid out the most popular version – 10 days, leaving from Kathmandu. If you want to make your own way to Dhunche then you could probably organise this with your operator or guide.
You arrive in Kathmandu.
As your trek is prepared, you explore Kathmandu and the surrounding valley. Kathmandu overflows with attractions such as Durbar Square, whose temples date to the 12th century, Boudhanath Stupa, one of the largest in the world, and the Pashupatinath Temple, the most important Hindu temple in the country.
Your first move is a drive to Dhunche, which takes roughly eight hours by bus. As you go, there is a view of majestic mountains that include Ganesh Himal. Dhunche is a pleasing village containing large stone houses.
Your trek begins today. You start by walking up through forests of oak, fir and the beautiful rhododendrons. When you arrive in Sing Gompa, you find a monastery and a cheese factory that employs yak milk. You have a good view of Langtang Himal and Langtang Valley on the way.
You ascend up through forest once more, eventually arriving in Gosainkunda where you stay for the night. Visible are the mountains of Dorje Lakpa, Ganesh Himal, Langtang and Langtang Lirung.
The trail continues upwards. The path is quite rough and eroded. Moraines – patches of dirt and rock – are crossed. Laurebina La pass is also to be crossed. Next, you descend to Phedi. The path ascends once again before descending down among rocky hills and pine and rhododendron forest. You arrive in Ghopte where you stay for the night.
The trail now descends along a ridge, with forest to either side. You ascend to Tharepati, with a stream en route. Tharepati is in the lap of the mountain. You spend the night here.
You climb to a ridge above the village and enter a forest. You follow the Melamchi River and ascend to Melamchi Goan. You arrive in the village of Tarkeghyang where you stay the night.
After crossing a small forest, the trail leads to the small and beautiful village of Gangwal. There is a small monastery here. Your next stop is Sermanthang, another very pretty village.
It is a short way down to Malamchi Pul Bazaar. You board a vehicle to return to Kathmandu.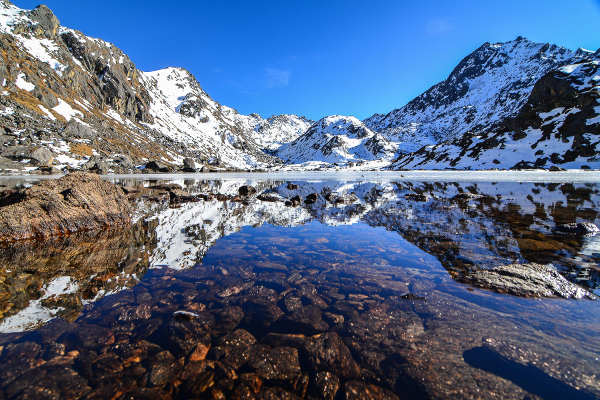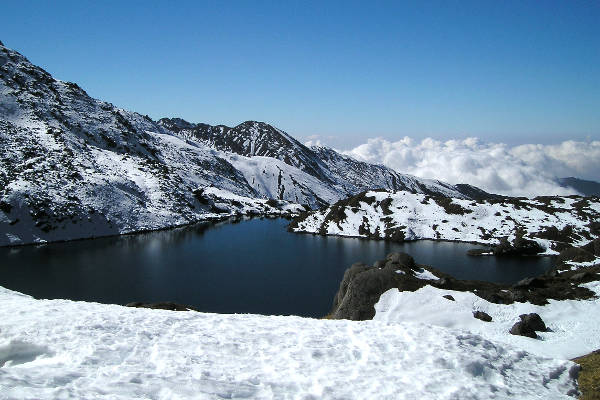 The Langtang region, where Gosainkunda is located, is a stone's throw north of Kathmandu. The lake is the source of the Trishuli River. It is frozen in winter, from December to February, although this period is growing shorter due to climate change. On a clear day, the Annapurna range can be seen to the north.
No paper maps are published. The only book dedicated to Gosainkunda Lake is Application Of GIS In Bathymetric Mapping Of Gosainkunda Lake by Sudip Raj Niroula, which discusses the lake's morphometry (shape, size, volume and depth) and is of little interest to trekkers.
In terms of a guidebook we recommend A Trekking Guide to Langtang: Gosainkund, Helambu and Tamang Heritage Trail by Sian Pritchard-Jones, Bob Gibbons and the Himalayan Map House
Frequently Asked Questions
Below we have provided detailed answers to the most frequently asked questions on the Gosainkunda Trek.
Prices range from $650 on the low end to $1500 on the top end.
You require a Langtang National Park Entry Permit ($30) and Trekkers Information Management System registration ($10 through a company, $20 as an individual).
The best time is autumn, from mid-October to mid-December, while the next best is spring, from the beginning of March to mid-May. Laurebina Pass may remain closed until early May.
The Gosainkunda trek ascends to some high altitude points. At its highest point, Laurebina, you will reach an altitude of 4,610 meters (15,120 feet). There are steep section on this trek where you will ascend very rapidly.
Therefore, it is important to have a solid understanding of the risks associated with high altitude trekking and how the body acclimatises to high altitude. We recommend you read our detailed article on Altitude Sickness and Acclimatisation.
The Gosainkunda Trek is considered moderately difficult and a good level of fitness is required. There are steep sections and you will be trekking for some miles each day.
Hiking the Gosainkunda trek requires a number of essential pieces of trekking gear. The Gosainkunda trek is long and moderately difficult. It exposes you to a range of altitudes where temperatures fluctuate dramatically between night and day.
Certain trekking gear can be rented or bought in Kathmandu, but we strongly suggest bringing the most important pieces of gear and equipment with you.
To help you plan and prepare for your trek we recommend reading our gear section.
Trekking insurance is critical in Nepal. This is particularly true on the Gosainkunda trek which is very remote. If an accident should occur that requires medical assistance and evacuation you will certainly want adequate trekking insurance that can cover the costs of air ambulance and treatment.
Make sure you have insurance that covers you for any travel related risks, like lost, damaged, stolen or delayed baggage; flight delays and interruptions; and tour operators default.
This article on travel and trekking insurance provides great information on what type of insurance you need, as well as provides an easy quote calculator from a leading travel operator.
Tags: Gosainkunda trek cost, Gosainkunda trek route, Gosainkunda trek itinerary, Gosainkunda trek map, Gosainkunda trek Nepal
References: (1) Cicerone Guidebooks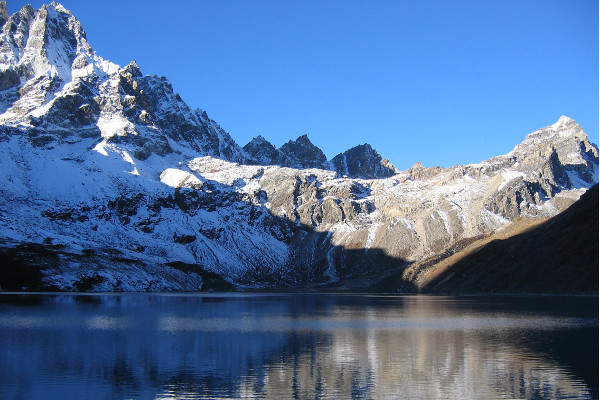 The Gokyo Lakes trek provides an excellent alternative to the Everest Base Camp trek. The trek is especially good if you have a little more time on your hands as it takes in all the highlights of the Everest trek with the added bonus of seeing the beautiful Gokyo Lakes!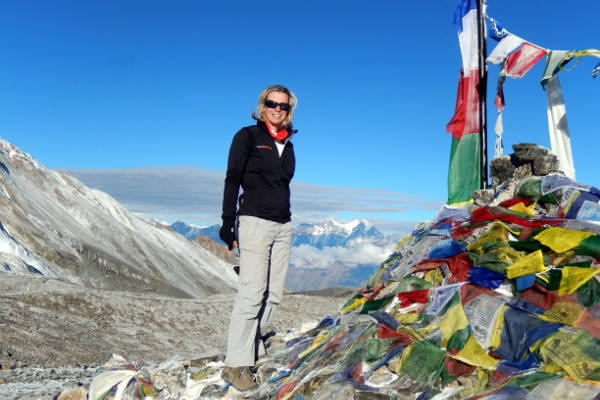 The Annapurna Circuit is one of the greatest treks in Nepal, if not the world. The scenery on the Annapurna Circuit is extraordinarily beautiful, taking trekkers through rice terraced paddy fields, subtropical forests, and glacial environments. Read more about the Annapurna Circuit.
The Everest Base Camp Trek is one of the most popular and iconic treks in Nepal. Trekkers get to retrace the early footsteps taken by Sir Edmund Hillary and Tenzing Norgay on their historic Everest expedition in 1953. Discover the Everest Base Camp Trek.