On this page you will find a comprehensive and impartial guide to the Manaslu Circuit Trek. We are not a tour operator, but we can put you in touch with our recommended partner, click here.
As this is a very long and detailed article on the Manaslu Circuit, we recommend using the quicklinks below to navigate to the sections that interest you most. Alternatively, bookmark this page for future reference.
Please use the quicklinks below to navigate the guide.
Manaslu, the Mountain of the Spirit, is the eighth-highest mountain on Earth (26,781 feet). The Manaslu Circuit takes in nine other peaks of more than 21,300 feet. This is a 110-mile path that is a great alternative to the Everest Base Camp and Annapurna Circuit Treks. Indeed, it resembles the Annapurna Circuit Trek of decades past. The area covers six climatic zones. Internet access is available at several villages. Robin Boustead, author of Nepal Trekking & the Great Himalaya Trail: A route and planning guide, pronounced, "Many would argue that the Manaslu Circuit trail is the best general trek in the country."
The trek usually takes between 14 and 17 days. There are some who do it in 12.
This trek takes place in a restricted area and, while growing ever-more popular, is nowhere near as developed as the Khumbu (ie Everest) and Annapurna regions. As the area is less developed, you will not encounter vendors selling trinkets.
Generally, there is snow on the ground, but it is not very steep and usually crampons are not required. This trek is suited to first time trekkers. The scenery is similar to that of the Annapurna Circuit and the level of difficulty is similar. Altitude will often be above 10,000 feet, which is more demanding, but acclimatisation is easy, with the trek starting at just under 2,000 feet and taking a week to reach 10,000 feet. The views of Manaslu are astounding.
Slightly more than 2,000 people undertake this trek each year, much less than Annapurna or Everest Base Camp, with over half coming in October. You will see more yaks and donkeys than trekkers. The first reason for this is that camping used to be inescapable because there were few tea houses and none below the Larkya La. This has since been resolved, and even more tea houses are under construction.
What tea houses now exist are basic compared to those found on the Annapurna Circuit, but most are comfortable and have electricity, which is often free. A sleeping bag should be taken as the bedding in some tea houses can be uncomfortable. Tea houses are more environmentally-friendly than camping, whose practitioners frequently bury their waste, polluting the ground. Tea houses use fresh, homegrown products and staying in one contributes to the local economy.
The second reason for the Manaslu Circuit Trek's lesser popularity is that the area is restricted and so requires a permit, at least two people in the party and a registered guide. It is possible to perform this trek alone by inventing a "ghost trekker" who exists only as a passport and some photographs (we don't recommend this though).
The highest point, both physically and in terms of entertainment, is Larkya La (5,213m), which is widely-regarded as one of the most dramatic pass crossings in the Himalayas. Sitting as it does in the near-permanent shadow of Manaslu's north face, snow conditions can be severe. It takes five or six hours to trek to the top.
Get a trek operator recommendation
Would you like to contact a responsible and trustworthy trek operator with competitive prices? Get some free, no obligation advice for your Manaslu Circuit Trek.
Get In Touch
Below is a detailed Manaslu Circuit Trek itinerary. Because of the spacing of tea houses at higher altitudes, this trek is best done anti-clockwise. It is possible to stay in nothing but tea houses, but in the itinerary set out below there is some camping. There are several Manaslu Circuit itineraries that can be done. Below we have laid out the most popular version – 19 days, leaving from Kathmandu.
You enter Nepal via Tribhuvan International Airport in Kathmandu. In this city, drivers have no compunction against sounding their horn at tourists, but all traffic comes to a halt if there is a pigeon or water buffalo on the highway.
The trek is arranged by the provider's staff on the second day, leaving you with a day to kill in Kathmandu. You could attend many interesting places – Kathmandu is, after all, a UNESCO World Heritage Site – or simply indulge in a shopping frenzy.
You are driven to Arughat, which is quite possibly the most uncomfortable stretch of this trek, taking from six to nine hours on a bumpy track.
Here your trek begins proper. You walk along the Budhi Gandaki river passing villages like Morder and Simre. From Arkhat River, you hike to Karyapani. Home will be a camp where there is a great opportunity for fresh water bathing.
The trail becomes interesting later in the day when you cut through forests. Look out for monkeys. You then ascend up onto a ridge above the gigantic rapids of the Buri Gandaki, before heading back down and continuing on a steep and rocky trail to the Gurung village of Labishe (880m). You will spend the night on the bank of Machha Khola.
You continue following the course of the Buri Gandaki river, ascending and descending many ridges. The trail becomes quite intense as altitude rises. On the way you will encounter hot springs and lush forests containing many endangered species. Eventually, the river valley widens and you continue along a good trail to Jagat where you stay for the night.
The trail crosses the river and ascends over a rocky ridge to the village of Salleri and then onto Setibas, where several 'mani walls' indicate to you that you are entering a region of Tibetan influence. This is one of the shortest days, with three hours bringing you to Philim where you camp for the night. You will have time on your hands, and a good way to spend it is enjoying the locally-grown coffee and tea.
Excitement stems from the changing elevation, topography and wildlife, not to mention the culture. You end the day at Deng.
You hike across farmland. Settlements are larger. You find yourself on intimate terms with Naike Peak, Manaslu North and Manaslu. You finish at Namrung after a final, steep climb.
The altitude produces an alpine climate. There are many mountain views in addition to pastureland and glaciers. The trail takes you through the village of Lho, where there are chortens and manis. Chortens, or 'spiritually significant places', are found at high places and are usually simple structures that are often adorned with prayer flags. Even in the most remote of places, there could be the remains of offerings by passing traders and pilgrims. They are believed to positively affect those who live nearby. Mani stones are stones inscribed with the mantra of the bodhisattva, Avalokiteshvara. A bodhisattva is something along the lines of an angel. The day concludes at Honsansha Gompa, where there is a stunning view of Peak 29 and Manaslu.
This a fairly short day. The trail comes onto a plateau at Shya (3,530m). From here the trail crosses a ridge, enters and then quickly exits a side canyon. You then descends onto a rock-strewn moraine. You then clamber across the boulders to arrive at a ridge overlooking the vast pastures and fields of Samagaon (3,541m). You rest or explore in the afternoon.
This day is entirely devoted to acclimatisation.
Today you trek to the settlement of Samdo which is nestled behind a ridge.
You hike along the Budi Gandaki river, which is constantly shrinking. Towering mountains surround you. Over the river is the huge settlement of Sumdu. Above this village is a stream that runs down the Gya La Pass, the gateway to Tibet, and the ruins of a village that was named Larkya Bazaar, which once thrived on trade with Tibet.
It is not long until you approach the northern facet of Larky Glacier, where the view of Cho Danda and Larkya Peak is momentous. The pass becomes steeper as you go. At the peak, catching your breath is very pleasant with Annapurna, Cheo Himal, Himlung Himal and Kangguru Himal before you. Then you hike to Tanbuche.
Today you trek along the river before descending through scrub forests to Dharapani.
Today you trek back to Jagat using a path on the classic Annapurna Circuit.
The trek ends at Nagdi.
You return to Kathmandu.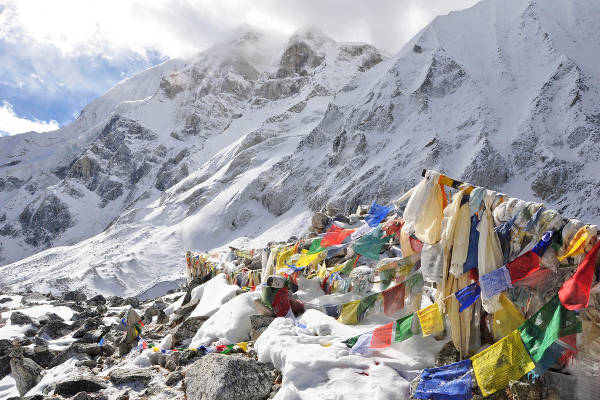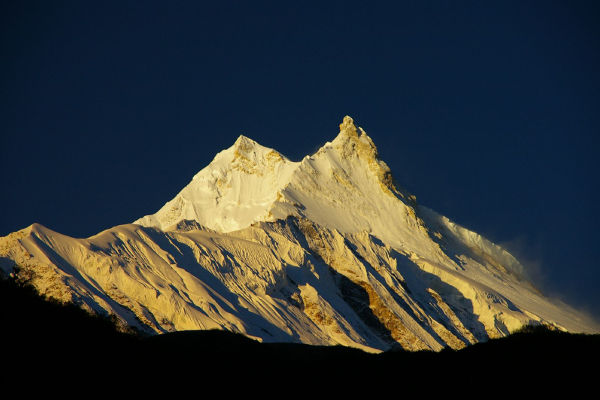 The trek is in western Nepal, a few miles from Tibet and 62 miles from Kathmandu. Having opened for trekking only in 1992, the landscape is far more untouched than that of Annapurna or Everest.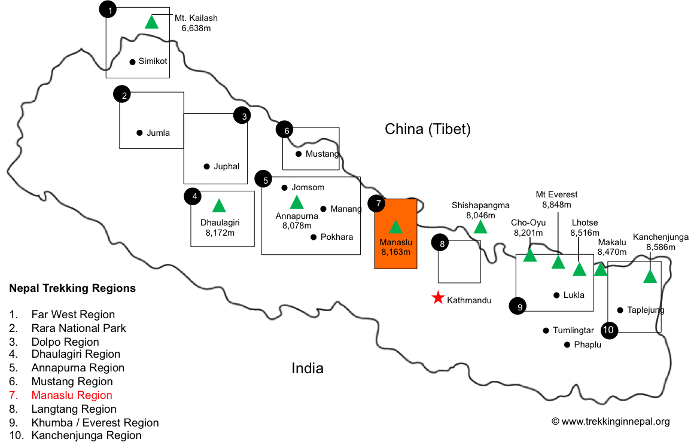 In terms of a good map, we recommed:
Manaslu and Ganesh Himals Region: 1:125,000 Trekking Map (The Great Himalaya Trail Series Maps) (NP106)
There are two guidebooks dedicated to the Manaslu Circuit Trek that we recommend. First and our favourite is A Trekking Guide to Manaslu and Tsum Valley: Lower Manaslu & Ganesh Himal by Sian Pritchard-Jones and Bob Gibbons and as a great alternative we recommend Manaslu: A Trekker's Guide by Kev Reynolds. It is mentioned in 16 other English books such as Lonely Planet Nepal our recommended general travel guidebook for Nepal.
A beautiful video overview of the Manaslu Circuit Trek by climbaddict. Although fairly long, the video gives a real in depth feeling as to what to expect on the Manaslu Circuit Trek.  It's 11:33 long.
Frequently Asked Questions
Below we have provided detailed answers to the most frequently asked questions on the Manaslu Circuit Trek.
Prices can vary widely, from $2,000 pp at the bottom end to $4,000 pp at the top end.
You need a Restricted Area Permit costing $50 a week, a Manaslu Conservation Area Project permit costing $30 and an Annapurna Conservation Area Project permit costing $30. Four passport-sized photographs will be needed.
The best time is October or November, with April and May being the next best.
The Manaslu Circuit trek ascends to some high altitude points. At its highest point, Larkya La , you will reach an altitude of 5,213 meters (17,100 feet). There are steep section on this trek where you will ascend very rapidly.
Therefore, it is important to have a solid understanding of the risks associated with high altitude trekking and how the body acclimatises to high altitude. We recommend you read our detailed article on Altitude Sickness and Acclimatisation.
Manaslu Circuit Trek is considered quite challenging, but still a possibility for first time trekkers. Altitude is often over 10,000 feet and there may be sections with snow. A good level of fitness is required as the trek is quite long and often steep.
Trekking the Manaslu Circuit trek requires a number of essential pieces of trekking gear. The Manaslu Circuit is long and moderately difficult. It exposes you to a range of altitudes where temperatures fluctuate dramatically between night and day.
A lot of your gear can be rented or bought in Kathmandu, but we strongly suggest bringing the most important pieces of gear and equipment with you.
To help you plan and prepare for your trek we recommend reading our gear section.
Trekking insurance is critical in Nepal. This is particularly true on the Manaslu Circuit trekwhich is very remote. If an accident should occur that requires medical assistance and evacuation you will certainly want adequate trekking insurance that can cover the costs of air ambulance and treatment.
Make sure to Purchase insurance that covers you for any travel related risks, like lost, damaged, stolen or delayed baggage; flight delays and interruptions; and tour operators default.
This article on travel and trekking insurance provides great information on what type of insurance you need, as well as provides an easy quote calculator from a leading travel operator.
Tags: Manaslu circuit, Manaslu trek, Manaslu circuit trek, Manaslu circuit map, Manaslu circuit cost, Manaslu circuit distance, Manaslu circuit length, Manaslu circuit itinerary
References: (1) Cicerone Guidebooks (Manaslu Kandoo Adventures)
Get a Trek Operator Recommendation
Pop your details in the form and you will receive a price competitive quote from our trusted trekking operator.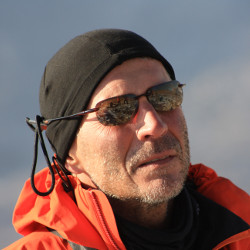 Brilliant service guys! The operator you recommended is absoultely fantastic. Fast, responsive, amazing track-record and great prices! Thanks
The Everest Base Camp Trek is one of the most popular and iconic treks in Nepal. Trekkers get to retrace the early footsteps taken by Sir Edmund Hillary and Tenzing Norgay on their historic Everest expedition in 1953. Discover the Everest Base Camp Trek.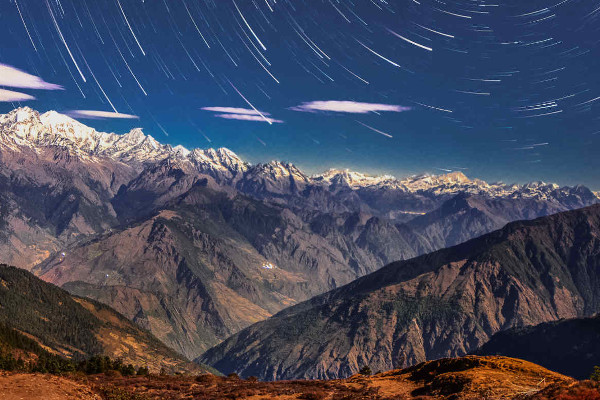 The Langtang Valley Trek is a relatively easy trek and is often far less busy than other popular treks in the Everest and Annapurna region. The trek can be done in seven days, however, it usually takes 10 to 12 days. Discover the Langtang Valley Trek.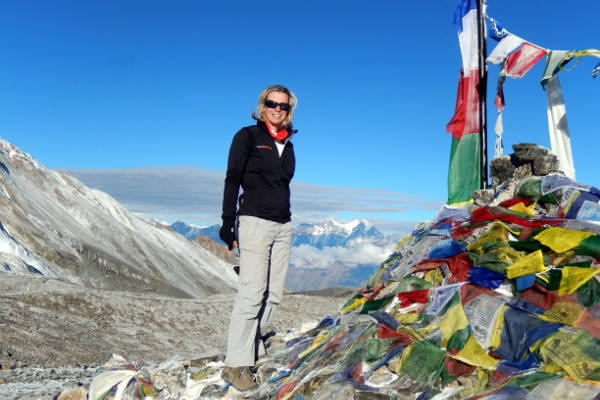 The Annapurna Circuit is one of the greatest treks in Nepal, if not the world. The scenery on the Annapurna Circuit is extraordinarily beautiful, taking trekkers through rice terraced paddy fields, subtropical forests, and glacial environments. Read more about the Annapurna Circuit.