On this page you will find a comprehensive and impartial guide to the Aconcagua Polish Glacier Direct Route. We are not a tour operator, but we can put you in touch with our recommended partner, click here.
As this is a very long and detailed article on the Aconcagua Polish Glacier Direct Route, we recommend using the quicklinks below to navigate to the sections that interest you most. Alternatively, bookmark this page for future reference.
Aconcagua Polish Glacier Direct Route
Please use the quicklinks below to navigate the guide.
At 22,834 feet, Aconcagua is the highest mountain on the South American continent. "Ackon cahuac" is "stone sentinel" in the native Quechua tongue.
The Polish Glacier routes to Aconcagua's summit are a more serious undertaking than the Normal Route. There are two variants – the Polish Glacier Direct Route and Traverse Route.
Ice climbing experience is necessary – multiple climbs at high altitude such as Denali with heavy loads and an intermediate to advanced winter mountaineering course are recommended. You must be in excellent physical condition, as must your equipment. Use of an ice axe and crampons may be called for.
The climb commences in the desert and ends among heavy snow. Weather is unpredictable and sometimes positively severe. On the Polish Glacier Traverse Route, there is one section of hard snow and a slope of a few hundred feet at an angle of 30 degrees, where crampons might come out.
Here are answers to frequently asked questions about the Aconcagua Polish Glacier route.
Get a trek operator recommendation
Would you like to contact a responsible and trustworthy trek operator with competitive prices? Get some free, no obligation advice for your Aconcagua Climb.
Get In Touch
This great little video gives you a real sense of how steep and high the Polish Glacier is! Video by mfbenning.
Below is a detailed Aconcagua Polish Glacier Direct Route itinerary. Please note that all operators offer slightly varying itineraries depending on season, weather etc.
It is wise to fly in two or three days before the beginning of your expedition to allow yourself to rest before climbing and take in the beauties of the city of Mendoza. Climbers who rested prior to their expedition have a better chance of making it to Aconcagua's summit. The Polish Glacier route is technical, so it is highly recommended that you do not acquire equipment in Mendoza – rental is out. This is because you should be familiar with your equipment and comfortable in your boots and know what works for you. Sure, some odds and ends can be obtained here, but the more important items should not. The guides will deal with paperwork, tell you of logistics and safety and check your equipment. For a full
Aconcagua gear list click here
.
You pick up a permit in person – currently, they cannot be obtained by post, but one day it is hoped that it will be possible to do the deed online. Then you are driven to the Penitentes, which takes around three hours, with incredible views along the way. This is the heart of the Andes. After arriving, you prepare the loads that will be transported by mule. The maximum is 66lbs per bag.
You depart Penitentes at 08:30 and are driven to the trail head at Vacas Valley. There follows a seven-mile hike to Pampa de Lenas, 8,858 feet up. Dinner is usually an asado – a barbecue.
You head north along the Rio de las Vacas to Casa de Piedra, 10,662 feet high. This will take five or six hours. If the weather allows, you can see Aconcagua from here.
Today, after six hours of strenuous hiking, you reach Base Camp at Plaza Argentina, 13,780 feet high, which sits at the base of the Relinchos Glacier.
This day is devoted to rest, although you could partake of a short hike.
You deposit supplies and your gear at Camp I (15,400 feet) before returning to Plaza Argentina for dinner and sleep. Around four-and-a-half hours are spent hiking.
This is another rest day.
You return to Camp I.
Your gear and supplies are brought to Camp II (19,300 feet), then it is back to Camp I.
Another rest day.
You come once more to Camp II.
If conditions are none too icy, the senior guide will test trekkers for readiness: fitness, the ability to self-arrest and climb at speed across snow and ice and knowledge of the running belay system, anchors and how to perform a basic crevasse rescue. Those who fall short will be taking the
Normal Route
. If you make the grade, you climb to Camp III.
Summit day begins before dawn. There will be 12 to 14 hours of activity. There is a steep elevation gain amidst snow and ice. After negotiating a 55 to 60 degree narrow gully where the entire glacier lies at your feet, you reach the Summit ridge. The final ridge is most lengthy and gentle and utterly awesome. From there, you have a 360 degree view and can gaze directly down Aconcagua's South Face, which is regarded as one of the best in the world. You then descend to Camp II to slumber. Extra days are allowed for in case of bad weather.
You traverse and descend to Plaza de Mulas (14,009 feet), which takes five or six hours. A porter will be available.
Rest day.
A good breakfast inside you, you descend the Horcones Valley for eight to 10 hours, with gear carried by mule. A van will take you to Usapallata for sleep and dinner.
A two-hour drive moves you to Mendoza. A celebratory dinner will take place at the restaurant, Don Marios.
Tags: Aconcagua Polish Glacier Direct Route, Aconcagua Polish Route, Aconcagua Polish Traverse, Aconcagua Direct Route, Climb Aconcagua, Trek Aconcagua, Aconcagua Glacier Route, Polish Route Acocncagua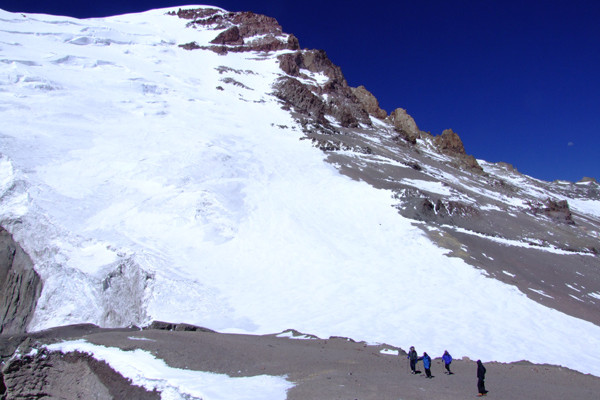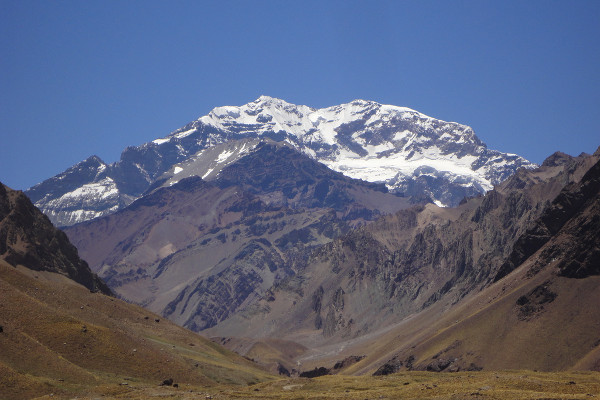 Below is a map detailing the various route up Aconcagua. The Aconcagua Polish Glacier Direct Route is highlighted in blue for the first section and then continues straight up the thin red line. The continuation of the blue line designates the Polish Traverse Route.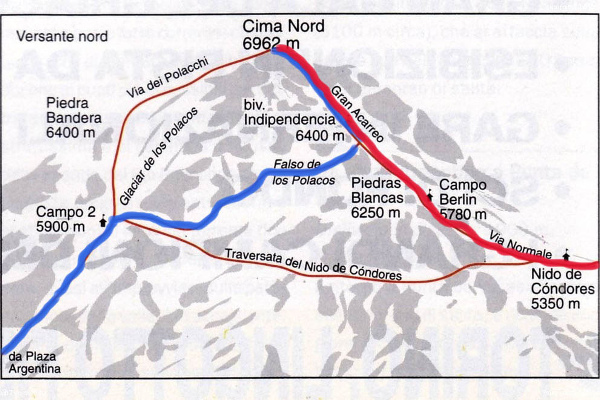 We recommend Aconcagua: Trekking and Mountaineering.
There are a few guide books for Aconcagua.
We recommend Aconcagua: Summit of South America by Harry Kikstra.
For more recommendations check out our Aconcagua library.
Frequently Asked Questions
Below we have provided detailed answers to the most frequently asked questions on the Aconcagua Polish Glacier Direct Route.
You can expect to part with around £30o0-£4000 (excluding flights) to climb the Polish Glacier route with a commercial tour operator.
A permit is required for entry to the Mount Aconcagua Provincial Park, which you obtain at the Department of Renewable Resources on the 1st floor of 1143 San Martin Avenue in Mendoza City, which is open from 8am to 6pm Monday to Friday and 9am to 1pm at the weekend. The permit costs vary depending on season (find
more information here
) and covers a consultation with the doctor at Base Camp, of which you will certainly take advantage, and possible helicopter evacuation, a service of which you will hopefully not need to avail yourself. You must be present in person with your passport.
Climbing season is from the middle of November to the middle of March. 80 percent of folk choose December or January.
Absolutely. Aconcagua is the tallest mountain in the Americas and is therefore very high and dangerous. More people than not each year have to turn back due to altitude sickness.
Therefore, it is important to have a detailed understanding of the risks associated with high altitude trekking and how the body deals with high altitude before attempting the Aconcagua Polish Glacier Direct Route. We suggest reading our detailed article on Altitude Sickness and Acclimatisation.
Only 40% of climbers who attempt the Aconcagua each year actually reach the summit! The difficulty of climbing Aconcagua is often underestimated as it is for the most part non-technical. We recommend that only experienced hikers who have previously been to high altitude to attempt the climb. You will need a high level of fitness, determination and endurance.
The Aconcagua Polish Glacier Direct Route requires some technical climbing skill and anyone who has no experience of this should not attempt this route.
Climbing Aconcagua requires a number of essential pieces of gear. The Aconcagua Polish Glacier Direct Route is cold, long and windy and exposes your body to varying conditions and altitudes.
Therefore, we strongly suggest purchasing the right gear and equipment prior to arriving in South America.
To help you plan and prepare for your climb we recommend reading our Aconcagua gear list article.
Because of the difficulty and altitude, insurance is vital for Aconcagua. If an accident should occur at altitude that requires immediate medical assistance and evacuation you will most assuredly want adequate trekking insurance that can cover the costs of air ambulance and treatment.
Make sure you have insurance that covers you for any travel related risks such as lost, stolen, delayed or damaged baggage. Makes sure you're also covered for interruptions and flight delays and tour operators default.
Please read our article on travel and trekking insurance on Aconcagua. The article provides great information on what type of insurance you need. It also provides an easy quote calculator from a leading travel operator.
Get a Trek Operator Recommendation
Pop your details in the form and you will receive a price competitive quote from our trusted trekking operator.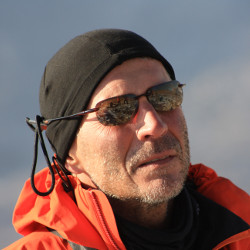 Brilliant service guys! The operator you recommended is absoultely fantastic. Fast, responsive, amazing track-record and great prices! Thanks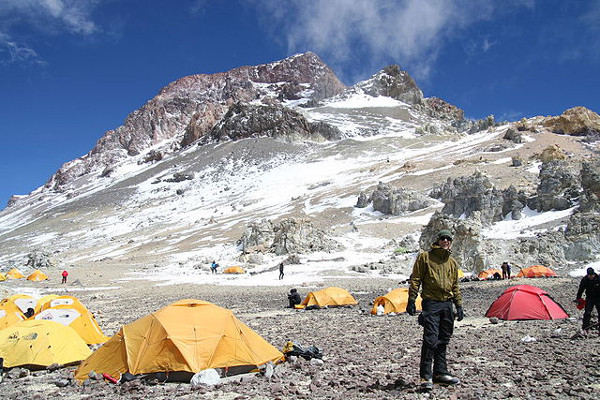 The Normal Route on Aconcagua is by far the most popular as it is a non-technical path to the summit. Find out all you need to know about the Normal route here.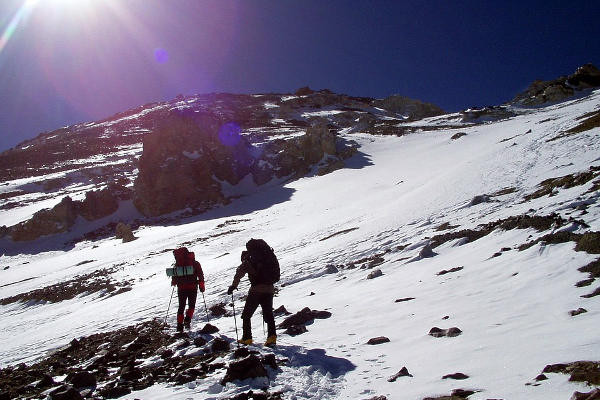 The Polish Traverse, or the 'False Polish Glacier Route', is a stunning option for trekkers looking to get into high altitude climbing. Find out more here.