Welcome to our guide to Climbing Kilimanjaro!
Our aim at Mountain IQ is to provide our readers with free information and useful advice to help you get ready for an incredible experience in the mountains.
The goal to climb Mount Kilimanjaro is a fantastic one, and standing on the highest point in Africa is incredibly rewarding.
Preparation is now the key to your success on the mountain.
Below we have provided a summary of useful information that you will want to read before you go. These are our most frequently asked questions. Where appropriate we have provided links to more in depth guidance articles within the Kilimanjaro section of our site.
Climbing Kilimanjaro – Overview
Soaring majestically above the African plains, Kilimanjaro is the tallest mountain in Africa and one of the most impressive in the world.  Its peak, which stands at an imposing height of 5,895 meters (19,341 feet), is visited every year by trekkers from all over the world who take home memories which will stay with them the rest of their lives.  As part of the iconic Seven Summits circuit, Kilimanjaro has been visited by nearly all the greatest climbers in the world.
The path to the peak of this dormant volcano will take the intrepid traveler through five distinct ecological zones.  As the ascent up the mountain begins, hikers leave the cultivated farmland surrounding Kilimanjaro (800 – 1800m) and enter a dense jungle, rich with flora and fauna (1800 – 2800 meters).  The jungle gives way to starkly-beautiful moorland (low alpine region), populated with heather and wild flowers (2800 – 4000 meters).  Still higher, nearly all vegetation ceases and hikers enter the highland desert (or high alpine) region (4000 – 5000 meters), where volcanic rock stretches all around.  Near the summit, the glacial region (5000 – 5895 meters) consists of scree fields on its lower slopes and huge glaciers higher up, leading to the mountain peak.
The climb to the top of Kilimanjaro has a reputation for being nothing more than a "long hike."  This perception leads many trekkers to underestimate its difficulty and fail to reach the summit. In fact, statistics from Kilimanjaro National Park suggest that on some routes as few 50% of hikers actually reach the summit!  What stops these hikers, you ask?  While many of the routes leading to the peak of Kilimanjaro offer little in the way of technical mountaineering challenges, altitude sickness can be a significant difficulty.  The sheer difference between the altitude of the surrounding landscape (800m) and the altitude at the summit (5895m) causes many hikers to exhibit symptoms of altitude sickness, which in its worst form causes brain swelling and death!  But not to worry, with proper preparation, these dangers can be avoided.
Here you will find a comprehensive overview of everything you need to know in order to reach the summit of the tallest mountain in Africa.
Happy Browsing!
Get In Touch
Get a trek operator recommendation
Would you like to contact a responsible and trustworthy trek operator with competitive prices? Get some free, no obligation advice for your Kilimanjaro Climb.
Get In Touch
For the intrepid trekker, there are several routes to the summit of the highest mountain in Africa.  See below for a short summary of the most popular routes up Kilimanjaro.  For more information, be sure to follow the links below to our detailed route pages.
Machame Route – Offered as a six or seven-day trek, the Machame Route has in recent years become the most popular route to Uhuru Peak, the highest point on Kilimanjaro.  According to statistics from Kilimanjaro National Park, about 50% of Kilimanjaro hikers choose to take the Machame Route.
Lemosho Route – Approaching from the west, the Lemosho Route offers trekkers a good chance to see wildlife on the mountain's lower slopes. Higher up the mountain, the Lemosho Route follows the same iconic path as the Machame Route, offering climbers good time to acclimatise.
Rongai Route – Approaching Mount Kilimanjaro from its remote Northern slopes, the Rongai Route receives the least amount of traffic of the five routes featured in this guide.  Hikers travel through unspoilt wilderness and occasionally see wild animals including antelope, elephants and buffalo.  Trekkers are also more likely to enjoy clear weather on the northern side of the mountain, as it receives less rainfall than the other slopes.
Northern Circuit Route – This relatively-new route to Uhuru Peak links together portions of the other routes.  Beginning in the West, the Northern Circuit Route follows the same path as the Lemosho Route before heading off towards the northern slopes. Circumnavigating the mountain towards its east side, trekkers reach the crater rim at Gilman's Point.  This route is usually completed in eight or nine days.
Marangu Route – Approaching the mountain from the southeast, the Marangu Route is the only route to offer hut accommodation to hikers for their entire journey to Uhuru Peak.  Via the Marangu Route, Kilimanjaro can be climbed in as little as five days.  This fact makes the Marangu Route the cheapest route up the mountain.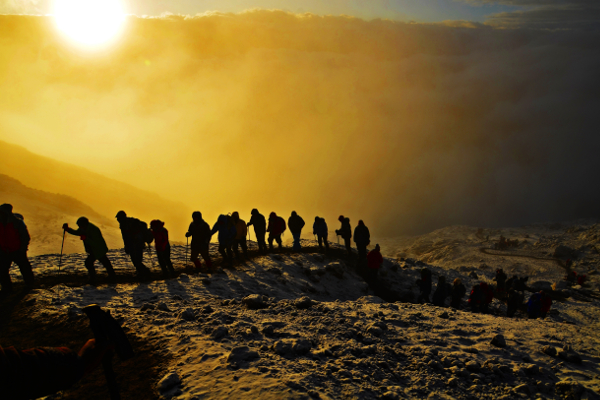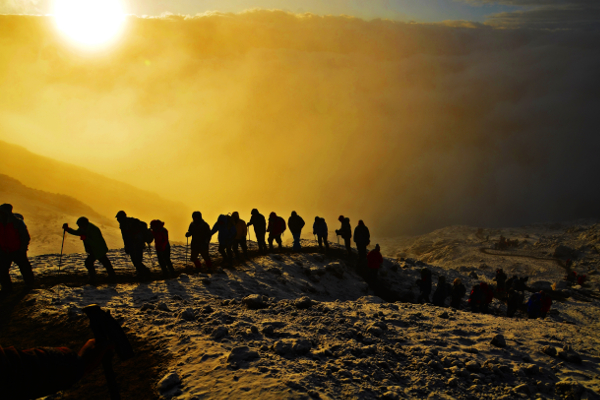 Best Time To Climb Kilimanjaro
As its close to the equator, the temperatures around Kilimanjaro are relatively stable and the mountain can be climbed at any time of the year.  That said, the winter months are the rainy season, so a climb between November and March is not generally recommended.  Many trekkers choose to climb between June and September as the weather is best.
Near the summit of Kilimanjaro, the weather can change drastically at any time of year.  Be sure to check our Hiking Gear List for recommendations of what to bring for your summit bid so you don't get caught out in the cold.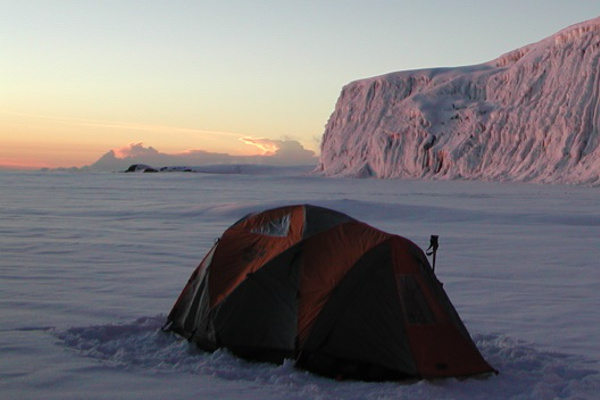 How Difficult Is Kilimanjaro?
To reach the summit of Mount Kilimanjaro is no easy task.  Trekkers must hike for between four and ten hours a day for multiple days in a row and experience significant changes in altitude.  It's a good idea to work on your aerobic fitness before taking on a summit bid.  Hikers of all ages, however, regularly reach the summit, so the goal is well within the reach of anyone who sets their mind to it.
The major difficulty encountered by trekkers attempting to reach the summit of Kilimanjaro is altitude sickness.  Hikers may experience Acute Mountain Sickness (AMS), High-Altitude Pulmonary Edema (HAPE) or High-Altitude Cerebral Edema (HACE), or a combination of these dangers.  It is essential that would-be climbers educate themselves about the risks and warning signs of altitude sickness before undertaking the climb up Kilimanjaro.  For more information, please see our detailed guide on Acclimatisation and Altitude Sickness.
Altitude Sickness And Acclimatization
Altitude sickness (aka Acute Mountain Sickness (AMS)) is a real issue when climbing Kilimanjaro. This is simply because of the high altitude climbers need to go to reach the summit. Hundreds of trekkers are forced to turn back every year due to the harmful effects of altitude sickness.
Acute Mountain Sickness is not the only problem, many trekkers often suffer from HAPE or HACE. These are both life threatening illnesses when left untreated.
Therefore, before you climb Kilimanjaro, it is vital that you understand the risks, symptoms, medications and treatments surrounding altitude sickness. The altitude on Kilimanjaro should not be taken lightly. Proper acclimatization is vital if you are to succeed in climbing the mountain.
To help you prepare for your trek to Uhuru Peak, the highest point on Mount Kilimanjaro, take a look at our comprehensive gear list.  There you'll find detailed recommendations for what to bring to the mountain, from your boots all the way up to the woolly hat.  Some of these items can be purchased in nearby Moshi or Arusha before your climb, while some should be brought from home.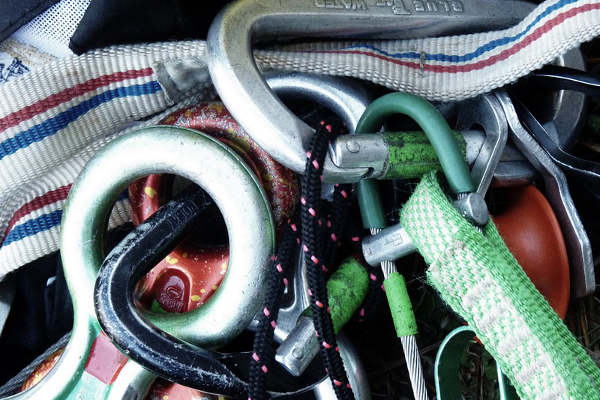 The cost of climbing Kilimanjaro can vary widely, from $3,000 to $5,000.  The cost varies based on which route you choose to take, how many days you spend on the mountain, how large your group is, and whether you work with a local guiding company or a Western trekking agency.  It's important to be aware of where your money goes, because many trekking agencies cut costs by drastically-reducing wages for the porters and guides who work hard to make sure your trip is a success.
When shopping around the various trekking agencies, look for those which partner with the Kilimanjaro Porters Assistance Project (KPAP).  KPAP has a list of partners on their website.  These agencies are guaranteed to pay their porters a fair wage, make sure they have adequate equipment such as good boots, and verify they're not carrying loads which are exceedingly heavy.  Please support trekking agencies which partner with KPAP, and promote sustainable business practices on Kilimanjaro!
A rough cost breakdown is as follows:
Visa, Vaccinations, Insurance etc: ~$300-$500
Equipment (buying and hiring): ~$200-$300
Flights to Kilimanjaro International Airport/Dar es Salaam/Nairobi: ~$800
Tour Agency: About $1,500 for a cheap local agency to ~$3,000 for an expensive Western agency. You could do an independent trek for ~$1,000 employing a local guide.  This includes the cost of the park permit, which ranges from $700 to $1200, or about $120 per trekker per day
Tips: ~$200-$300
Misc (additional food, unplanned travel / hotels etc): $200
Total Costs: $3,200 – $5,100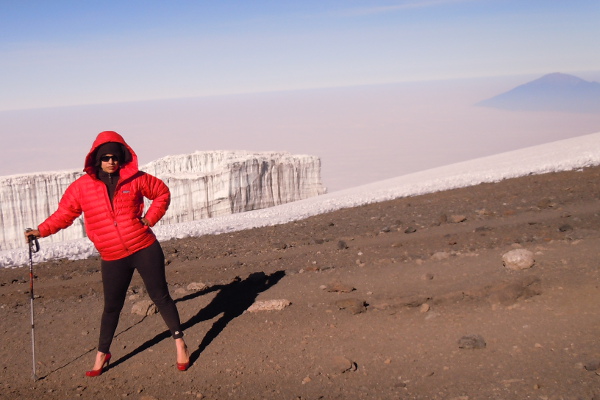 Climbing And Trekking Insurance
Trekking to the summit of Kilimanjaro carries with it certain inherent risks. Chief among these is the risk of altitude sickness.  It's a good idea to look into travel insurance before your journey.  Make sure your insurance covers trekking up to 6,000 meters, which does not come standard in most travel insurance packages.
Check out World Nomads for a quick calculation of the cost of travel insurance for your trip to Kilimanjaro.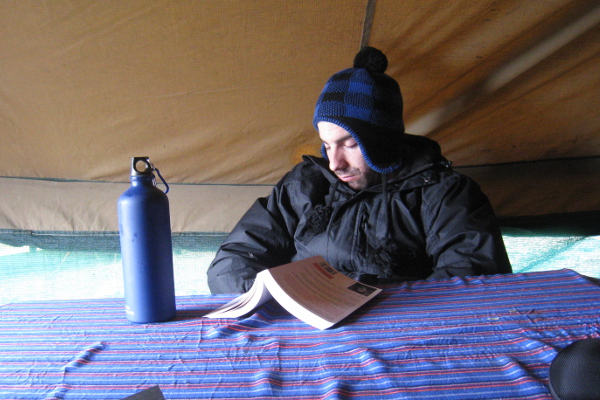 Get a Trek Operator Recommendation
Pop your details in the form and you will receive a price competitive quote from our trusted trekking operator.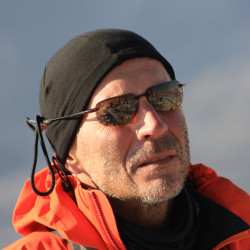 Brilliant service guys! The operator you recommended is absoultely fantastic. Fast, responsive, amazing track-record and great prices! Thanks
Mount Kilimanjaro is the highest mountain on the African continent and one of the Seven Summits (highest mountains on each of the seven continents). Below are 20 amazing Kilimanjaro facts and figures, which we hope [...]
If you have any other questions or queries regarding climbing Kilimanjaro, please contact us and we'll get back to you as soon as possible.
Thank you and best of luck!
Tags: Climbing Kilimanjaro, Climb Kilimanjaro, Kilimanjaro Trek, Kilimanjaro Climb, Trekking Kilimanjaro, Kilimanjaro Trekking