Looking for a Kilimanjaro packing list? Look no further.
Trekking Kilimanjaro can be daunting, and it is very important that you have the correct gear to accommodate for every condition and situation you may find yourself in.
We recognise that many of our readers are planning to undertake specific multi-day treks, like Everest Base Camp, Annapurna Circuit or indeed climb Aconcagua. We have therefore also written specific packing lists for these treks, see links below.
Kilimanjaro Hiking Gear and Three Influences
There are three important influences that will impact what you'll need to pack for your Kilimanjaro trek.
Weather
It is very important to be aware of the weather conditions during your Kilimanjaro trek, so you can pack according to the conditions you will encounter.
January-March is the dry season and a good time to trek. It tends to be colder that June-October and you will have a much higher chance of encountering snow.
April-May and November-December are not ideal times for trekking.
June-October is the second dry season of the year and encountering snow and rain will be rare.
The trek to the summit comes with vastly different conditions at each altitude level. In the rainforest level (800m-3000m) you will experience high humidity levels and mist.
The low alpine zone (3000m-4200m) is semi-arid and temperatures can drop to below zero at night.
The high alpine zone is an inhospitable region, during the day it is hot, and radiation is high whereas night time temperatures drop below zero.
The Glacial zone (5000m-5895m) is characterised by high altitude arctic conditions.
The solar radiation during the day is high and at night time the temperatures are below freezing. You can expect to encounter gale force winds and low oxygen levels.
Altitude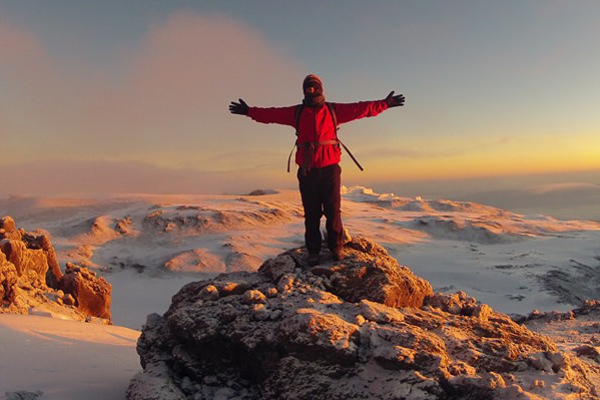 Weather in high altitude conditions can be unpredictable and volatile. You tend to feel colder at higher altitude conditions.
Conditions like frostnip and frostbite set in a lot quicker at high altitudes. The impact of the cold will be exacerbated by the low oxygen levels at high altitudes.
Length and Type of Trek
The Kilimanjaro trek is between 5-9 days, so you will need to pack enough gear to last you comfortably for that period of time.
Even though you will be using porters, it is important that your bag is light as they carry them on their heads.
Most porters specify that your duffel should not be heavier than 20kg and some even prefer 15kg.
Kilimanjaro Packing List
Clothing
Due to the diverse climates you will encounter when trekking Kilimanjaro, ranging from tropical rainforest to freezing cold temperatures, it is important that you are able to layer up or down depending on the conditions.
Each layer should support the wicking process and fit snug, but not tight. Make sure to avoid cotton as it prevents the wicking process.
Breathable Underwear
You will need 4-5 pairs of breathable sports underwear (not cotton). Icebreaker underwear is a great option, alternatively you could purchase underwear from any sports brand.
Women should bring at least 2 sports bras, Icebreaker is also a great option for this.
Check Price on Amazon.
Base Layer
No products found.
Your base layer is a snug layer that sits just above your breathable underwear. This layer will be important as you approach the summit.
You will only need one pair of a top and bottom base layer. You won't be using this layer every day, only when going above 3500m when the days and nights are the coldest.
Smartwool Lightweight Base Layers layers are a great option.
Patagonia Capilene lightweight base layers are also an option or Icebreaker base layers if you are allergic to wool.
Check Price on Amazon.
Trekking Shirts
You will want your trekking shirts to be breathable, lightweight and quick-drying. You will be sweating a lot, so you'll want a shirt that dries quickly.
We recommend bringing 4 short sleeve shirts and 2 long sleeve shirts. Once again, avoid cotton shirts.
Icebreaker, Craghoppers, Columbia and Patagonia all have great trekking shirt options.
Check Price on Amazon.
Trekking Trousers

You will need 1-2 pairs of trekking trousers, although 1 pair should be just fine. If you like wearing shorts you can bring 1 pair of trekking shorts.
It is important that these trousers are durable and water-resistant.
You can get your trekking trousers from Fjallraven or Craghoppers.
Check Price on Amazon.
Craghoppers also have a great pair of convertible trekking pants that you can convert to shorts if you feel the need.
Second Layer (Fleece Jacket)
The second layer, which sits above your base layer is for the colder stretches of the trek. You will need one midweight fleece jacket or parka top.
You should look for synthetic mid-weight Polartec fleece materials. They typically come in 100s, 200s and 300s.
You will be looking for Polartec-200 fleece jackets which are great for warmth and comfort.  North Face, Helly Hansen and Patagonia all have great polartec-200 fleece jacket options.
Check Price on Amazon.
Also look out for a fleece with a hood which can act as a built-in balaclava.
Third Layer (Insulated Jacket)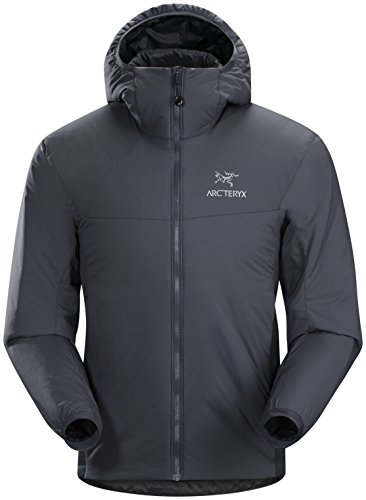 This core jacket needs to be windproof, waterproof and warm. You have two options with core jackets; down and synthetic.
Down jackets are lighter and generally warmer but can be more expensive, they also don't perform well in wet conditions.
Check Price on Amazon.
There are three considerations you need to make when choosing a jacket:
Weight and warmth: Down jackets provide the greatest weight-to-warmth ratio. You will want a mid-weight jacket (500g-700g) for your Kilimanjaro trek. The heaviest jackets tend to be the warmest but are more cumbersome.
Waterproofing: Down jackets, although warmer don't perform well in wetter conditions and tend to lose their insulation properties when wet. Synthetic jackets perform much better in wetter conditions. Look for Pertex Shield fabric for down jackets and nylon for synthetic jackets.
Versatility: You want a jacket that can perform well in all types of conditions outside of Kilimanjaro as well.
If you're looking for an affordable down jacket, go for the North Face Nuptse Jacket. Arc'teryx, Rab and Mountain Hardwear also provide great core jacket options.
Insulated Trousers
High altitude treks can get very cold, particularly at night so warm trekking trousers are an absolute necessity. Your trousers need to be water-resistant, sun protective, have a fleece inner material and be made of quick-drying polyester.
Craghoppers Kiwi Winter Trousers and Regatta Lined Hiking Trousers are fantastic options.
Hard Shell Jacket and Rain Gear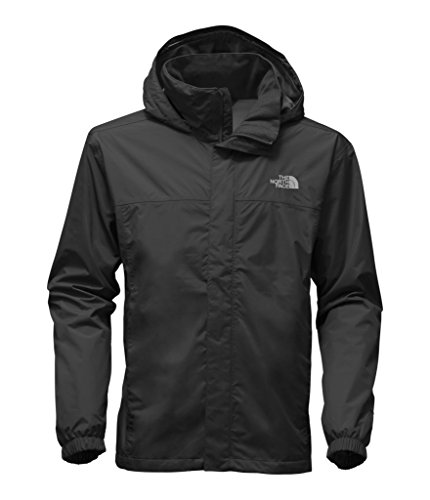 It is recommended that you get a hardshell jacket and some rain protective gear to protect you from the elements. North Face Resolve is great.
You may also want to bring a poncho for extra protective from the rain.
Check Price on Amazon.
Hiking Equipment
Headgear
Hat With Neck Cover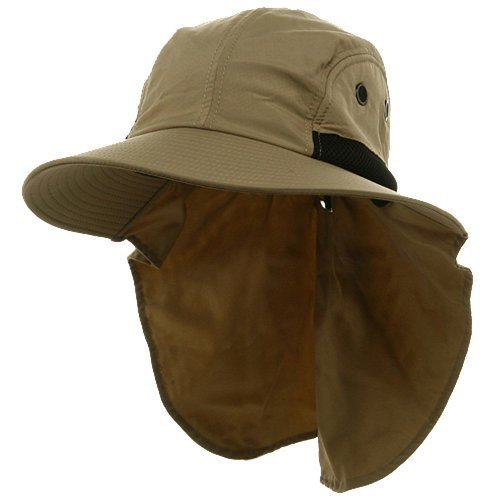 You want to have a good hat to protect your face from sunburn and keep your neck cool as you hike. Make sure the hat is made from breathable material and fits comfortably in your daypack.
Check Price on Amazon.
Beanie or Head Band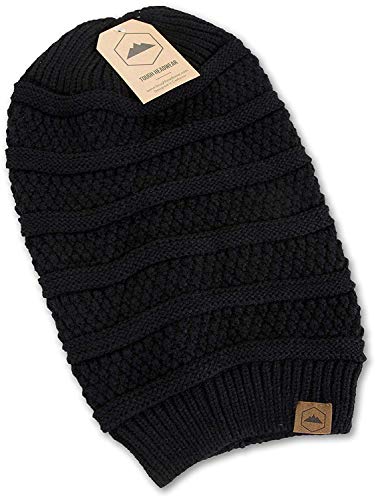 A beanie is absolutely essential for summit night. You want a beanie with a snug fit that is suitable for snowy conditions.
Check Price on Amazon.
Bandana or Neckband
You want to protect your neck and face from cold temperatures, especially when the wind picks up. You also want to protect your neck from the high UV rays during mid-afternoons at altitude.
Make sure you choose a lightweight, absorbent, breathable and quick-drying option.
TYTN neck warmers are affordable and reliable options.
Check Price on Amazon.
Headlamp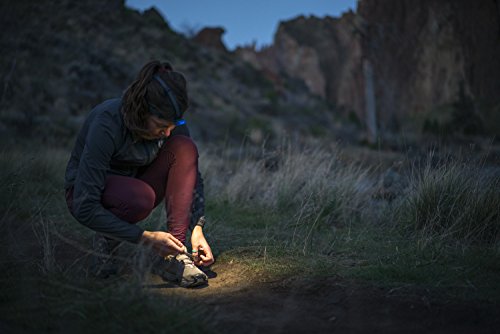 You will need a headlamp for night hiking, so you can keep your hands free. You will need it on summit night as you usually start making your way towards the summit at midnight.
You want a very bright headlamp, the brighter the better. You also want a headlamp with a long battery life. Make sure your headlamp is lightweight as well.
The best headlamp is the Black Diamond Icon and the best value headlamp is the Petzl Tikka XP.
Check Price on Amazon.
Sunglasses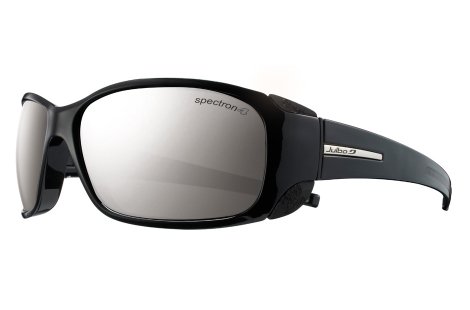 The UV intensity at high altitudes is very high and can be damaging to your eyes. The snow cover reflects and intensifies the light.
Wearing a good pair sunglasses is necessary to protect your eyes.
Julbo is the undisputed leader in high altitude sunglasses. You cannot go wrong with this brand.
Check Price on Amazon.
Hands And Walking
Inner Gloves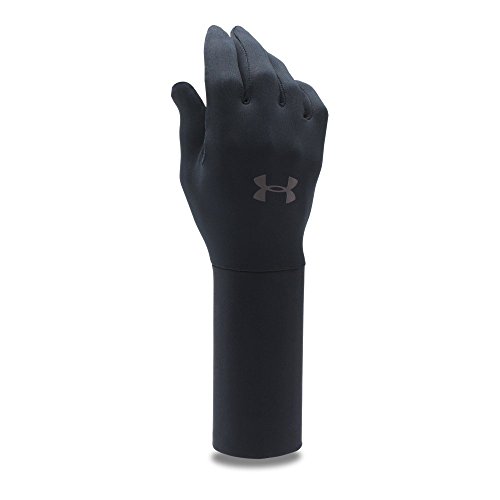 Inner gloves need to provide a good thermal lining and be lightweight. They must also have wicking properties and cannot be made from cotton.
Under Armour Liner Gloves are affordable and reliable.
Check Price on Amazon.
Outer Gloves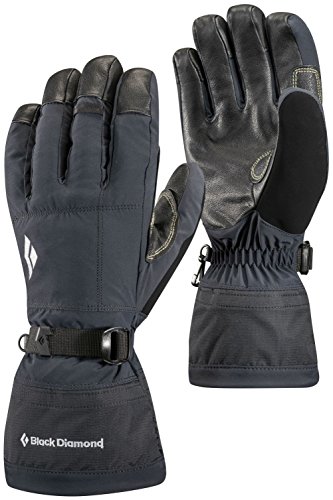 It is very important that you have a good pair of outer gloves, especially on summit night. They need to be warm, waterproof and durable. Cold hands can be debilitation and painful, so it is essential that you keep them warm.
Black Diamond Guide Gloves, Outdoor Research Southback Gloves and Dakine Scout are recommended.
Check Price on Amazon.
Trekking Poles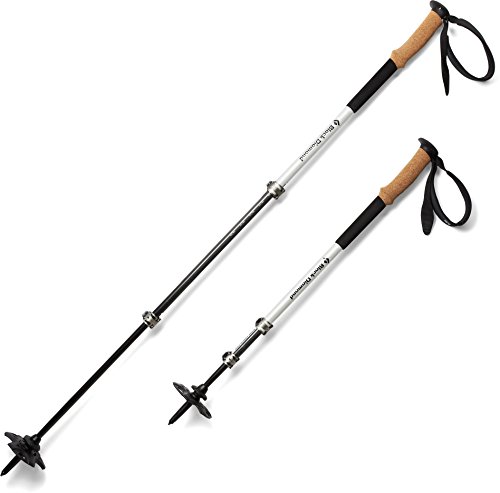 Trekking puts serious strain on your major leg joints and knees. You will be trekking for around 7 days for 5-8 hours each day on uneven terrain. Trekking poles help alleviate some of the impact on your joints.
You want heavier poles that are fully adjustable with a good grip. Look for poles that are made from lightweight aluminium or carbon fiber.
Black Diamond Alpine Carbon Cork, Black Diamond Ultra Distance and LEKI Corklite are the best.
Check Price on Amazon.
Footwear
Trekking Boots
Trekking boots are easily the most important item you will need on your trek. Look out for fit and quality.
The fit should be snug but not tight. While wearing thick socks slide your foot into your boot until your toes reach the end of the boot and then slide your index finger down the back. It should slide in with little resistance.
The Quality of your boots is also important. High/medium tops provide more ankle support. The sole should have a high rubber content and deep lugs for good traction. You want boots that are a medium/heavy weight and of course, they should be waterproof. You want your lacing system to involve D-strings and speed hooks for quick and efficient lacing.
Make sure to wear in your trekking boots extensively before you set off on your trek.
Asolo Power Matic, Asolo Men's Fugitive, Asolo Stynger (women), Salomon Quest and Hi-Tec Men's Altitude IV are great options for trekking boots.
Check Price on Amazon.
Trainers or Trekking Sandals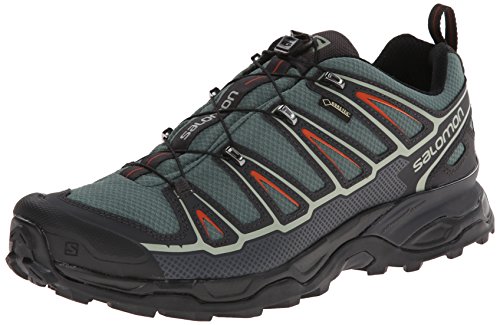 When you get to your camp the first thing you will want to do is take off your trekking boots. But you will need a pair of shoes to wear as you roam around your camp. A pair of trainers or trekking sandals are a great way for you to comfortably explore the area around your camp.
Merrel, Columbia, Keen and Karrimor have great options for shoes to wear after a long day of trekking.
Check Price on Amazon.
Trekking Socks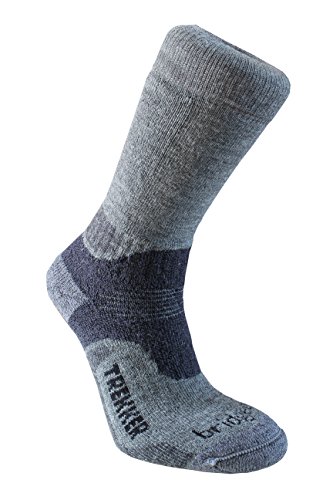 Good trekking socks are an absolute must. You want socks with good wicking properties to avoid moisture and blisters. You should bring 5 pairs of wool socks on your Kilimanjaro trek.
Point6, Smartwool and Bridgedale have great wool socks. If you're allergic to wool, you may want to go for acrylic or acrylic blend socks, you can get these from Wigwam. You want flat seams, thick socks and a snug fit.
Check Price on Amazon.
Thermal Socks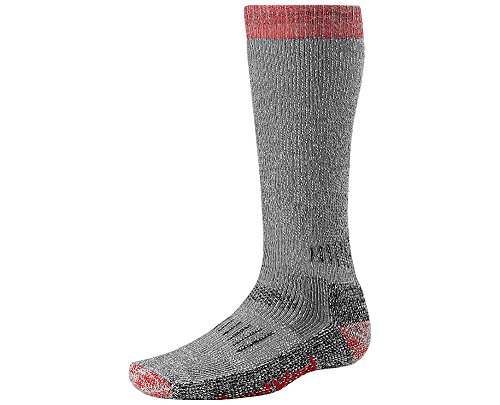 Thermal socks are needed for summit night. They are often made with Ragg wool material and some people like to get polypropylene liners to assist with the wicking process.
We recommend taking 2 pairs of thermal socks from Smartwool and 1 pair of liners from Bridgedale.
Check Price on Amazon.
Hiking Gaiters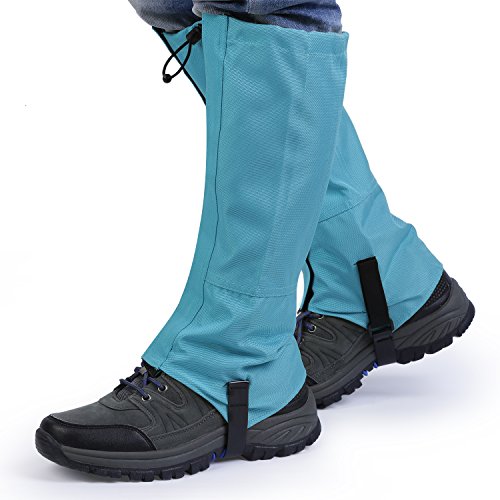 Gaiters are made from waterproof material and extend up from your boots to your calf. They keep unwanted materials out of your boots and prevent mud and water from entering your shoes.
Check Price on Amazon.
Rucksacks and Duffel Bags
You will need 2 types of bags for your Kilimanjaro trek; a duffel bag and a daypack.
Duffel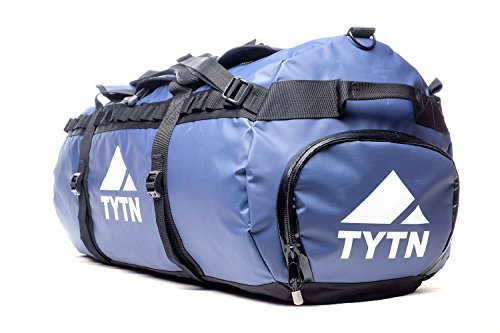 The duffel bag is what will hold all your gear including your sleeping bag. This bag will be carried by porters.
They carry the bags on the head, so it is very important that your duffel is not too heavy. In general, you want to limit the weight of your duffel to 20kg when fully loaded.
Check Price on Amazon.
Characteristics of your duffer bag:
Greater than 80l capacity.
Waterproof laminate material.
Pack gear into separate plastic bags or packing units to provide extra protection.
Strong zipper system.
A hand and shoulder strap to provide extra versatility.
The TYTN Duffel Bag and North Face Duffel are good options.
Daypack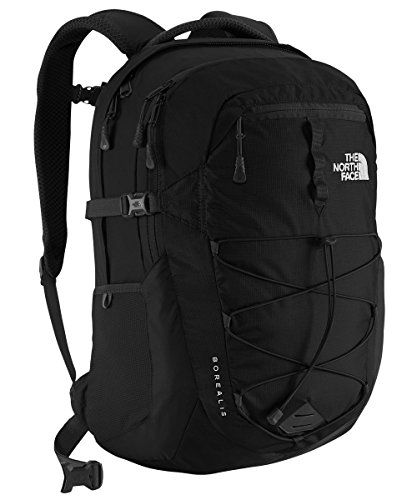 In addition to your duffel, you will also carry your own day pack. This bag is to keep all your important, personal or breakable items. You want this bag to be as lightweight and small as possible.
You want your bag to have compression straps to reduce strain on your back and side mesh pockets for easy access to your water bottle and other useful stuff.
When looking for a daypack, for the Osprey Talon 22 or the The North Face Borealis.
Check Price on Amazon.
Important Bag Accessories
Rain cover: depending on the time of year you choose to trek, you may encounter rain. If you choose the Osprey Talon 22 backpack you can choose to get the Osprey Daypack Raincover to protect your daypack.
Hydration bladder: The Platypus Hydration Bladder is the best on the market. The 3l version is perfect for the Kilimanjaro trek.
Travel bag organisers: You'll want to separate your gear for more efficient packing and access. It's a great way to separate clean and dirty clothes. Eagle Creek Packing System and Ecosus are great brands. If you want to save money you can just use clear plastic bags.
Dry bags: Buy 1 or 2 drug bags to protect your daypack and duffel in case of rain. The y can fit comfortably into your duffel. They can also double as a separator if need be. Use Duc-Kit pro bags.
Sleeping Gear

A warm sleeping bag is an absolute necessity. No matter what the season. You can rent a sleeping bag in Moshi or Arusa or from your tour operator. But we recommend that you purchase your own.
Sleeping bags are either down or synthetic. Down sleeping bags are better quality, lighter and more comfortable, but they are also more expensive. You want to consider the weight and cost of your sleeping bag.
Down is recommended if you're trekking often and want a long-term investment. You want a sleeping bag that has a rating of -10 degrees Celsius. Rather have one that's too warm.
You want a mummy-shaped sleeping bag. This style best fits the contour of your body and provides better insulation. Look out for an insulated hood and a 2-way zipping system.
Check Price on Amazon.
The best down sleeping bag is the Mountain Hardwear Phantom. The best synthetic sleeping bag is the Mountain Lamina and the best value sleeping bag is the Marmot Trestles 15.
Other optional sleeping accessories are an inflatable pillow and thermal mat.
Other Kilimanjaro Accessories
Water bottle or hydration bladder – You will need to stay hydrated to help with altitude sickness, you will need to drink between 2-3l of water per day. We recommend 2x1l water bottles or a 2-3l hydration bladder. The Camelback Eddy water bottle is ideal.
Water purification tablets – Water is collected from mountain streams and it is important to purify the water to avoid getting sick. 1×50 pack should be sufficient.
Baby wipes – To avoid smelling.
Sweat resistant sun cream – Need a high SPF. P20 is a good brand.
Camera (GoPro) – You will definitely want to capture your experience in HD so if you don't have a good camera now is the time to get one. Here are some recommended and affordable Digital SLR cameras. Remember, you want to make sure your camera is light but still able to capture high quality images. We like the Panasonic Lumex. If you are more inclined to take a video camera then you might want to consider the GoPro.
Spare batteries – For headlamp and camera.
Earplugs – If you are a light sleeper.
Zip lock bags – To protect your valuables.
Small lock – To secure your duffel bag.
Energy bars – These are the easiest, most efficient way to snack. We recommend 2-3 bars per day. High energy oat bars are good. Avoid milk-based bars as they are likely to freeze.
Energy drink supplement – Water doesn't taste great after the iodine tablets have been added. Mask the taste and provide extra energy with an isotonic or hypotonic solution.
Pee bottle (For women) – Freshette.
Medications – Bring paracetamol, valoid and Imodium. Your guide will be carrying a first aid kit so you don't have to go too crazy on the medications.
Blister plasters – Treat blisters early to prevent a greater issue in the future. Leukotape P or Compeed are good plasters.
Insect repellent – Repel is a good brand. Also, don't forget that Tanzania is a malaria area and you will want to take malaria tablets before and after your trek.
Trekking towel (optional) – A trekking towel is great to dry your face, hair and hands after rainy days.
Toilets and toilet paper – The toilets on Kilimanjaro are notoriously bad. You can request for your tour guide operator to organise a portable toilet. One roll of toilet paper should be efficient.
Book/kindle – For entertainment once you reach the camp.
For more packing lists see our hiking resources page or choose from one of our popular gear lists below: