When you factor in freezing conditions and the monsoon season, much of Nepal cannot be trekked for large portions of the year.
However, because of the Annapurna Circuit's location, weather is considerably different here than in the other major regions and actually makes trekking possible throughout the year!
Before planning any trek, it's critical to understand the local weather and climate. This is very true in Nepal as, depending on the region and time of year, weather and temperature can vary drastically.
[thrive_text_block color="light" headline="Get an Annapurna Circuit trek Quote"]We do not sell tours, we simply provide impartial advice. If you would like an exact Annapurna Circuit trek quote from our recommended operator click here.[/thrive_text_block]
Often considered to be one of the finest treks on earth, the Annapurna Circuit is second in popularity only to the Everest Base Camp trek. The trek is notable for its climatic changes, stunning views and wild scenery.
The trek begins at Besi Sahar and takes you through sub-tropical meadows and rice fields before heading up into the alpine peak section. The highlight is without doubt Thorung La Pass which, at 5,416m, provides one of the most spectacular views in all of Nepal.
After the pass, the climate changes again as you descend down into the much drier Mustang Region where the land becomes semi-arid.
Annapurna Circuit Weather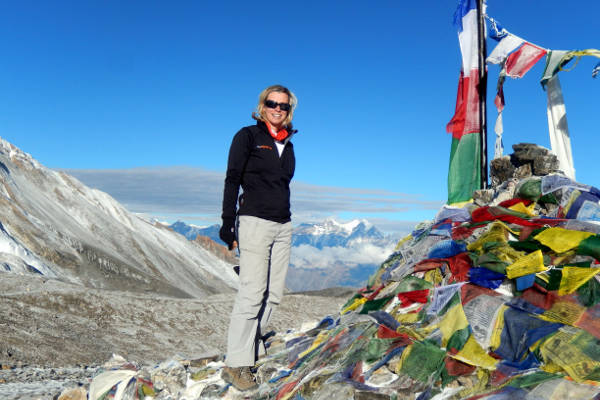 Location
The Annapurna Region is actually situated in what is known as a 'rain-shadow' area and, as such, receives far less rain than most other regions in Nepal. A rain-shadow area is protected from prevailing wind and rain by a large range of mountains – in this case the Himalayas.
Although not sheltered from all rain, the northern section of the trek can actually get less than 10% of monsoon rainfall.
Annapurna Circuit weather can be separated into four distinct season. Below we look at each season in more detail.
Annapurna Weather By Season
October to November
By far the most popular trekking season in the Annapurna region. Hikers flock to the region to experience the clean, fresh and vitalised area after the Monsoon period. On the lower reaches of the Circuit the weather is generally warm with an average day temperature of 15 degrees Celsius and night temperatures remain above freezing.
As you get higher in altitude temperatures drop quite considerably. From about 4000m up the days have a cold nip to them and evenings / early mornings are freezing.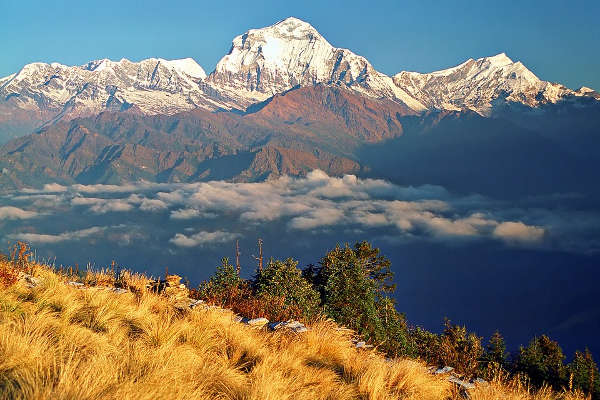 You will definitely need warm layered clothing and a 4-season sleeping bag. For a full Annapurna Circuit packing list, click here.
In Oct-Nov views are generally crystal clear, rain fall is very low and there are more sunny days during this period than any other.
The night sky is particularly good during this period and you'll be amazed at the billion stars that appear every night in bright clarity!
Because of the favourable weather, this is the busiest period.
December to February
This is the coldest weather period in the Annapurna region. Depending on your altitude, day temperatures will be very cool and night temperatures will drop well below freezing. Be prepared for delays or complete closure of the Thorung La Pass.
If the pass is closed you will have to back-track on yourself and won't be able to complete the Circuit. We therefore suggest skipping this period of the year.
Nonetheless tea houses remain open during the cold winter period and if you do decide to trek in this season you'll find a warm meal and place to rest your head each night.
The winter period generally consists of cloudy days that obscure views, however there are frequently crystal clear days that are often more clear than mid-summer!
Towards the end of the winter period around March you'll start to see the dazzling displays of Rhododendrons as they begin to bloom around Ghorepani. These are not to be missed and turn green hillsides into red, white and pink flames of colour!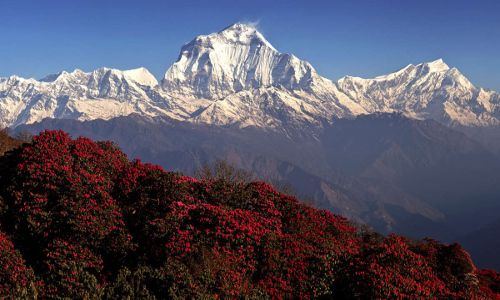 Although cold during this period, rain is not frequent and neither are other trekkers.
This is also the period where avalanches are most common and you'll need to be aware of this as you trek the higher passes covered in snow.
[thrive_text_block color="light" headline="Get an Annapurna Circuit trek Quote"]We do not sell tours, we simply provide impartial advice. If you would like an exact Annapurna Circuit trek quote from our recommended operator click here.[/thrive_text_block]
March to May
The flowering Rhododendrons and warmer weather bring more trekkers during this period. This is the second most popular trekking season and the snow that plagued the route is all but dissipated on the lower sections.
April is a beautiful time for crystal clear views, especially when you combine them with the bright red hills of Rhododendrons. The average day time temperature at lower altitudes is around 10 degrees Celsius whilst night are usually just on freezing.
Obviously the higher you go the colder it gets. Over 4000m is usually freezing cold in the evenings and mornings, with a cold nip in the air during the day.
During May a strange haze often appears over the mountains that can be seen at low altitudes. At high altitudes the view is vividly clear and scientists are still a little confused by this strange phenomenon.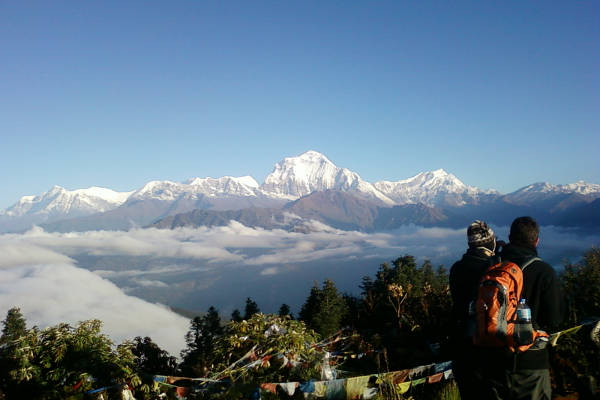 May is usually much warmer than April as the heat builds towards the Monsoon period.
Day time temperatures can get towards 20 degrees Celsius at lower latitudes and night temperatures are around 5 degrees (again, at higher altitudes you should expect freezing cold weather).
The lower sections of the Annapurna Circuit can get uncomfortably hot, particularly in the Mustang region where the climate turns arid. Drink plenty of water and remember to wear layers.
June to September
Mid-June sees the arrival of the Monsoon period.
Because of torrential downpours, hordes of leeches and huge mud-slides, characterise this period.
However, thanks to the Annapurna's location, much of the Circuit can be trekked during this period, particularly in the northern sections where rain fall is incredibly low. We however don't recommend trekking in the monsoon season.
The southern section around Pokhara gets heavy rainfall and is best avoided in the wet season, however, the Mustang region lies within the rain-shadow area mentioned above and makes trekking perfectly possible during the Monsoon. Whilst Pokhara get 800mm of rain per month during this period, areas such as Jomsom and Mapha get as little as 50mm!
You'll encounter very few other trekkers and you'll have the added benefit of seeing all the beautiful flora species flower at this time which makes the trek particularly lovely.
Be warned though that rain clouds will obscure much of the landscape and you'll still need to be watchful of mud-slides.
FAQ
If you have further questions about the Annapurna Circuit weather, please just leave a comment below and we'll get back to you shortly.
Thank you and happy trekking!
References: Government of Nepal, Department of Hydrology and Meteorology, Meteorological Forecasting Division