Portland, Oregon offers some of the most unique and sought-after hiking experiences in America, with beautifully diverse scenery. Don't miss the opportunity to explore the stunning northwest in all its glory.
One of the best aspects about Portland is its proximity to a variety of hiking trails and outdoor adventures. In fact, an impressive number of adventures lie less than two hours outside of the city.
Whether it be historic mansions, stunning waterfalls or babbling creeks in impressive canyons, you can certainly find great hiking options for the whole family and enjoy the incredible natural beauty and diverse landscapes of this area.
Living in the city is no longer an excuse to avoid nature!
Hiking Trails Near Portland You Can't Miss
Below is a list of the best hikes near Portland, so pick your journey and enjoy.
1. Wahclella Falls
2. Tamanawas Falls
3. Lower Macleay to Pittock Mountain
4. Tryon Creek Trail System
5. Eagle Creek Trails
6. Mount Tabor
7. Tom, Dick and Harry Mountain
8. Dog Mountain
Wahclella Falls Trail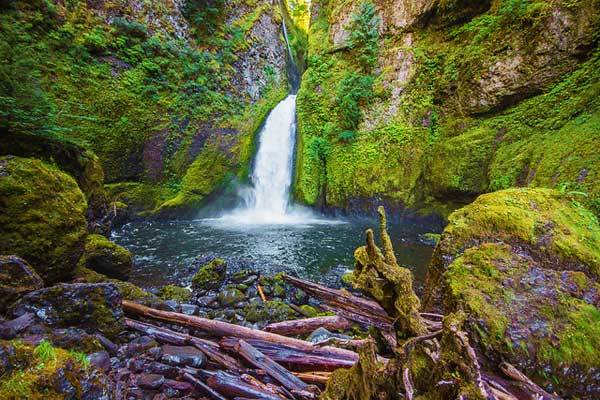 This beautiful family-friendly hike is located in the John B Yeon State Park less than an hour from downtown Portland. This is the perfect hike if you are looking to immerse yourself in nature without having to exert yourself too much.
The hike is a 2-mile round-trip that gently follows Tanner Creek, through a magically lush forest, past giant mossy boulders and on to the powerful waterfall straight from a fantasy novel or a movie set.
The hike, which can easily be done in less than an hour and is mostly flat, is very popular in the area due to its short length and accessibility.
The hike can also be walked during all seasons except after a winter storm.
One thing to note is that finding parking can be a bit of a struggle, but otherwise this trail, although short, is definitely worth traveling to from Portland. You will definitely leave feeling refreshed.
Tamanawas Falls Hike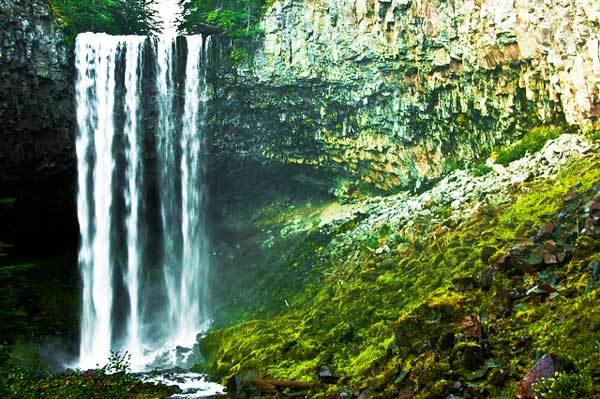 86-miles from Portland at the eastern base of Mount Hood in Cascade Mountains, lies a beautiful trail that runs along a babbling creek scattered with mini waterfalls as you make your way towards the incredible Tamanawas Falls.
This classic hike is a 3.6-mile round-trip and you can happily hike along the trail any time of year, although it is recommended that you wear snowshoes during the winter months as snow tends to get quite deep.
The hike begins at Sherwood Trailhead and you can expect it to be less crowded that other hikes in the area, making it the ideal option if you are looking for a brief escape.
Lower Macleay to Pittock Mansion Trek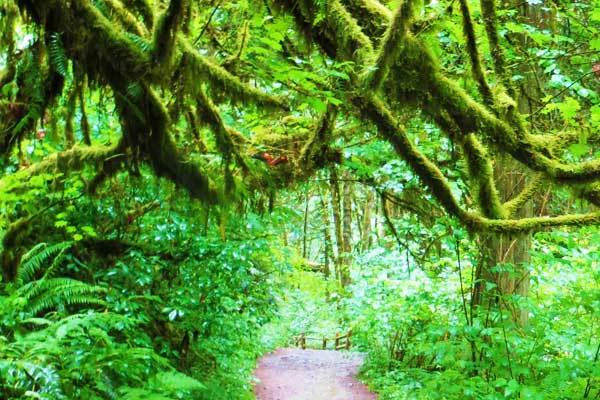 A mere stone's throw from Portland, this incredible trail is a great option for those looking to get their nature fix and work up a sweat without having to travel too far from the city.
In fact, the Lower Macleay Trailhead is only 3-miles from downtown Portland. So not having transport to a great hiking spot is no longer an excuse, even without a car you can easily walk to the trailhead (or taxi it if you have to).
The trail runs through Forest Park, which is 5,100 acres of incredible second growth forest, where you can enjoy the explosion of scenery: from bridges to mini waterfalls, to ferns as far as the eye can see.
The 5-mile round-trip trail takes you 800ft up to the historic home of an old Portland alderman that has been beautifully restored, and you can enjoy a tour of the interior for $10.
This hike is proof that you don't need to drive miles out of the city to enjoy the beauty and serenity of nature.
Tryon Creek Trail System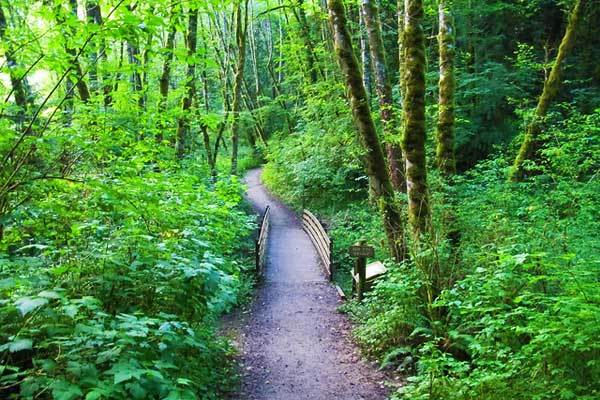 Only 7-miles outside of Portland, the Tryon Creek State Natural Area offers over 8-miles of routes through the dense patch of misty forest. At 650 acres of wooded and second-growth environments, it is one of the biggest parks near the city and really feels like you are wandering through a temperate forest right on the outskirts of Portland.
An interpretive nature center, various bridge crossings and near-guaranteed wildlife sightings are some of the highlights of the trail system.
All the trails are relatively easy, the Maple Ridge Trail is a recommended starting point and the 0.3-mile Ruth Pennington Trillium Trail is a popular and universally accessible route in Tryon.
Don't forget to bring your dog, as the park allows them as long as they are leashed.
Eagle Creek Trails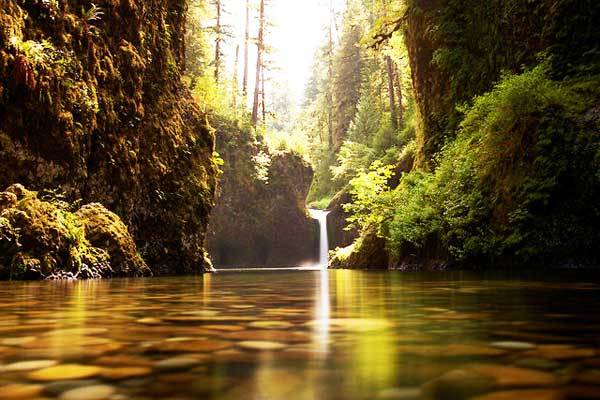 Travel just 44-miles outside of Portland and experience the definition of beauty within the Columbia River Gorge. There are several options of various difficulty; including the Eagle Creek to Punchbowl Falls Hike, the hike to Tunnel Falls and the hike to Wahtum Lake.
The Eagle Creek to Punchbowl falls hike is a popular choice, and for good reason.
The 3.8-mile out-and-back trail offers hikers a short yet beautiful hike through an impossibly green wonderland to the oasis that is Punchbowl Falls, the basin of which forms a lovely swimming hole.
You will walk next to the river the entire time and pass many waterfalls including Metlako Falls amongst other smaller ones.
For a longer option, try out the hike to Tunnel Falls which is a 12-mile out and back trip of moderate difficulty. The trail boasts dozens of waterfalls, moss-covered verdant forest and towering basalt cliffs.
You will pass over footbridges, talus slopes, traverse babbling creeks and a path carved into the cliff. There are also campsites along the way if you are looking to make it an overnight trip.
Finally, if you are seeking a challenge, then the 26.5-mile loop hike all the way to Whatum Falls may be for you.
Mount Tabor Trek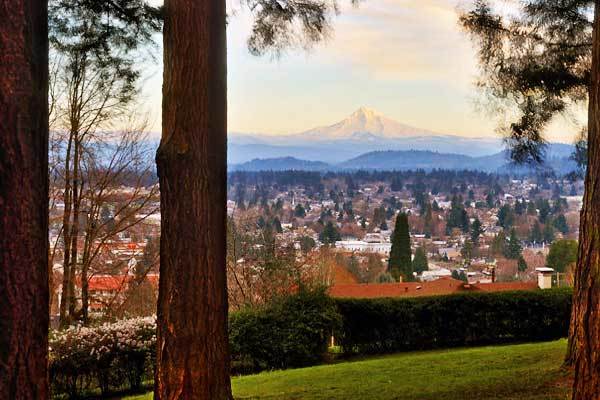 If you've ever wanted to hike up an extinct volcano, then look no further than Mount Tabor. Just 4.6-miles from downtown Portland, the Mount Tabor Park offers easy family-friendly and dog-friendly adventures.
The Blue Loop Trail is a popular 3-mile loop that encircles Mount Tabor weaving through forested trails, gorgeous reservoirs and open meadows. Add on an extra third of a mile to your hike and climb up Mount Tabor where you will be treated to views of Mt. Hood from the summit.
This hike is a great option for any season, but it should be noted that it can get quite crowded, so that should be something you take into consideration.
Tom, Dick and Harry Mountain Hike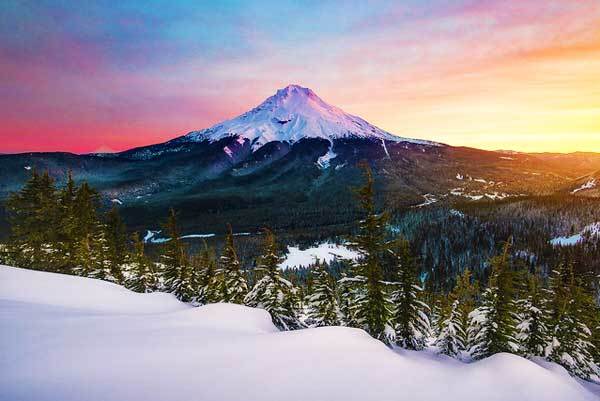 This trail is 54-miles from Portland and is known for its picturesque views of Mount Hood and Mount Jefferson, as well as its sunny switchbacks dotted with fragrant evergreens and wildflowers.
The 5.8-mile trail is a classic, with sweeping vistas Of the Cascade Mountain Range in the distance and Mirror Lake below. There are also a few walk-up campsites near Mirror Lake if you fancy spending the night in the wilderness.
The trail can be hiked all year and it provides a great opportunity to wear your snowshoes in winter. Parking can be a hassle, but it is definitely worth waking up early to find a spot.
Dog Mountain Trail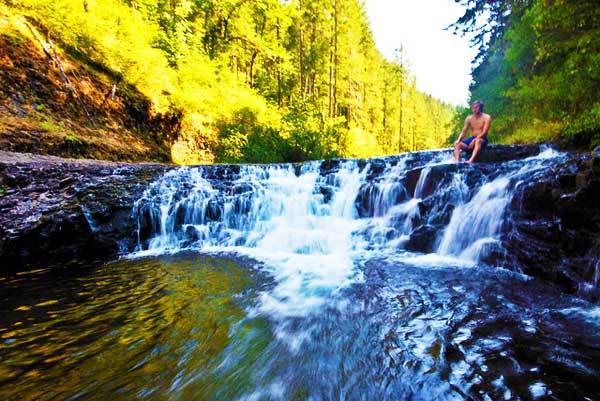 If you're looking for a challenge, look no further than the hike up Dog Mountain, just 1 hour outside of Portland. This popular hike is one of the most difficult of the Columbia Gorge Trailheads.
Wear hiking boots and prepare for one hell of a limb. The trail is 6.9-miles long and has an elevation gain of 2800ft. Don't let its difficulty scare you, once at the top you will be rewarded with some of THE most stunning views.
On a clear day you will be treated to panoramic views of Mount Hood, the Columbia River and Wind Mountain, and if you choose to attempt the hike in the months of May or June you will get the chance to view the gorgeous wildflowers in full bloom.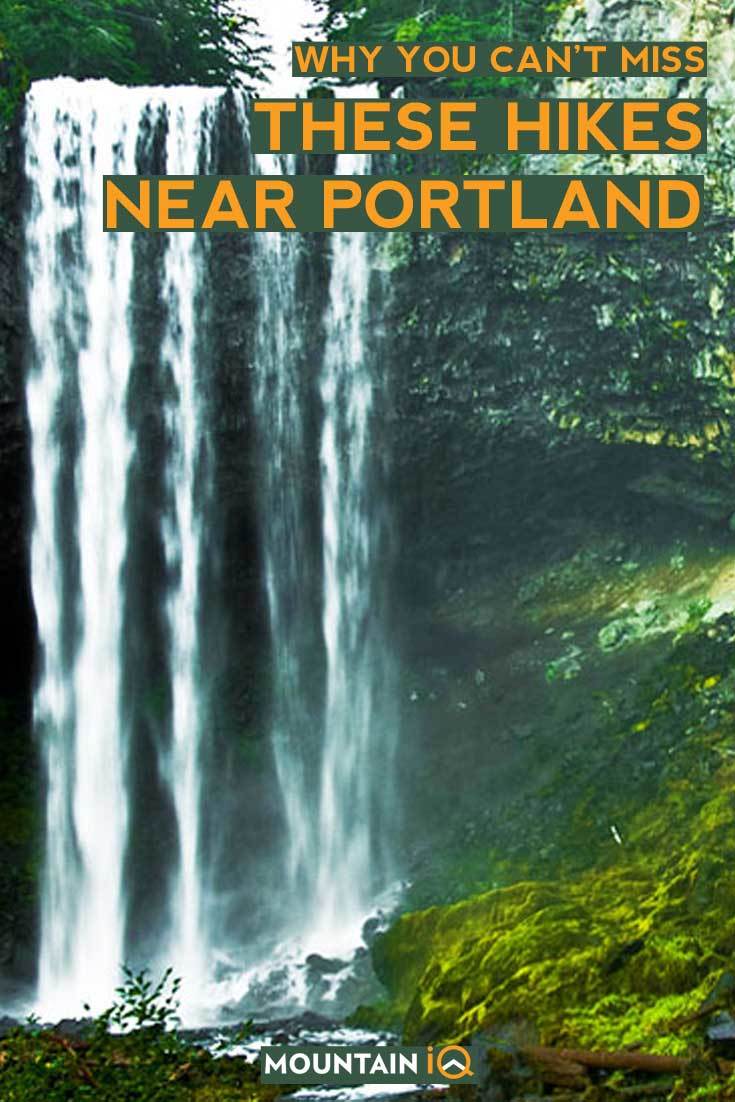 [adinserter block="6″]