Just this week sad news has reached us that the remains of a climber has been found on K2.
Researchers working on the mountain found the body last week but have so far been unsuccessful in identifying the body.
In an attempt to solve the mystery, the team have put out a request to the mountaineering community to help identify the fallen climber.
Researchers Michele Cucchi and Paolo Petrignani were working alongside Pakistani guides on K2 in order to assess the current state of the fragile glaciers in the region and the impact the environment is having upon them.
Once at Base Camp, the team of researchers headed up to Advanced Base Camp to view the damage done by the huge avalanche in July that swept away the tents, bottled oxygen and fixed ropes.
The avalanche essentially ended the 2016 climbing season on the mountain and all teams were forced to turn back without a single summit.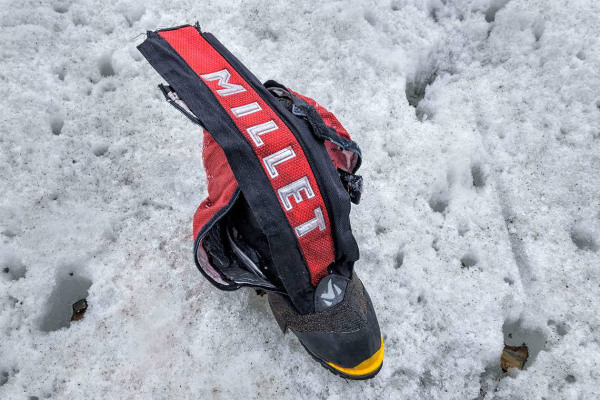 When sifting through the mass of rubble left by the avalanche, researcher Michele Cucchi found several tents, fixed ropes, canisters of bottled oxygen and the remains of a human body.
The body, which was lying under a thin layer of ice, was reportedly wearing a size 8 Millet Boot (pictured above). The boot is supposedly a fairly recent model which led the researchers to conclude that the climber must have been lost quite recently.
However, the team were unable to identify the fallen climber and are asking the climbing community for any more information to ID the body. If anyone reading this does have any information then please contact Montagna.tv as soon as possible.
One person has already noted that the Millet boot in question is actually an older version of the new boot and the fallen climber could have potentially died several years ago.
Another person has pointed to an article posted 8 years ago in which Rolf Bae (part of the 2008 disaster on K2) is pictured wearing very similar boots – see here. However, it will come down to experts to analyse if the boot could be the same one from 8 years ago or whether the one found is a more modern edition.
As is tradition on K2, the body was taken to the Gilkey Memorial to be laid to rest. All fallen climbers have been buried here since 1953. We can only hope now that some new information comes to light so that the unidentified climber can be mourned properly.