K2, the second tallest mountain on earth, will almost certainly see no more summit attempts this season as a huge avalanche brings the climbing season to an abrupt end.
The avalanche, which hit the camp III on Saturday morning (23rd July 2016), swept the entire camp away and forced all teams on the mountain to abandon their summit attempts. Over 100 climbers and 25 Sherpas were forced to turn back, however, the positive news is that no one was hurt.
The 8,611-metre peak of K2 is one of the most difficult ascents on earth and it is a great relief to the team's directors to have no casualties from the avalanche. A Sherpa quoting his clients stated that "All climbers and climbing Sherpas are safe as they had already returned to lower camps due to the bad weather".
"The avalanche struck the Camp III as climbers were waiting for next summit window (expected July 24)," the Sherpa said, adding that the teams had already abandoned two summit attempts due to bad weather earlier in the month.
Due to a number of records being attempted there were a few disappointed climbers after the avalanche ended things. Jamling Bhote and Mingma Dorchi Sherpa were attempting to become the first pair to scale K2 three times and Vanessa O'Brien, part of the K2 United Expedition, was aiming to become the first American-British woman to ascend the dangerous mountain.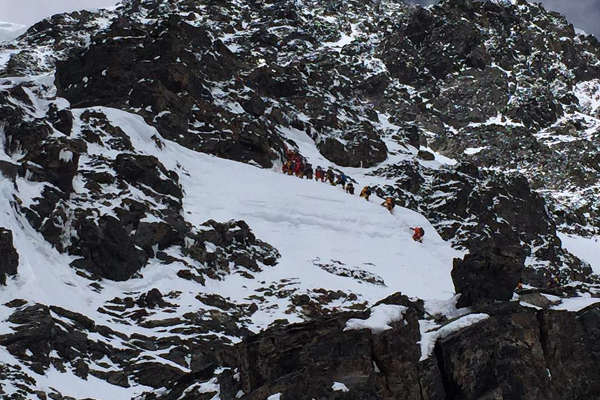 Whilst most teams have decided that the mountain is too unstable to continue, there are a few die-hard climbers who are attempting to rally some help together to push for the summit this season. However, the fixed ropes at camp III have all been wiped out and bottled oxygen canisters have been lost, therefore, the outlook for a successful summit this season is slim.
Meanwhile, on other mountains in Pakistan things are progressing steadily. Nanga Parbat and Broad Peak are currently seeing final summit pushes. Fern Latorre, Boyan Petrov and Helias Millerioux are currently pushing to reach the summit of Nanga Parbat whilst the Spaniard Oscar Cadiach and his pro team are nearing the summit of Broad Peak.
If Oscar and his tram are successful, this will be the Spaniard's 14th and final 8,000 meter peak having successfully summited the other 13 without any supplemented oxygen – huge effort!
Struggling slightly more is the Polish team on Gatherbrum II. Weather has been against them all season and the team, who hoped to summit earlier in the week, are currently confined to their tents once again due to storms. There are no further updates from them.