Camel's Hump is one of only five peaks higher than 4,000ft (1,219m) in Vermont, and the views atop its summit are outstanding.
Expect to spend much of your hiking time on peaceful forest trails at higher elevation, the trees clear, allowing you to soak up the magnificent views. You will encounter a gorgeous waterfall, some wildlife and few hikers if you start early.
With a variety of routes to choose from, it's an easy day hike, though there are various options to spend a night or more on the mountain, as well.
Camel's Hump Trail Overview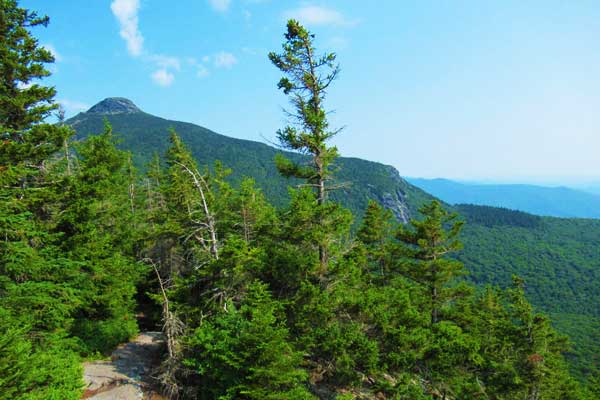 Elevation: 4,083 feet (1244.5 meters)
Difficulty: Moderate to Difficult
Time to Hike: 3-6 hours
Jurisdiction: Camel's Hump is located within a Vermont state park
Native: First named Tah-wak-be-dee-ee-wadso, or Saddle Mountain, by Waubanaukee Indians
Care of the mountain was given to the State Forester in 1911. The original protected area has grown from 1,000 acres (4 square km) to 20,000 (81 square km).
Parking: There are parking areas at trail heads on both sides of the mountain, as well as in Duxbury for the Long Trail.
Camels Hump Trail Itinerary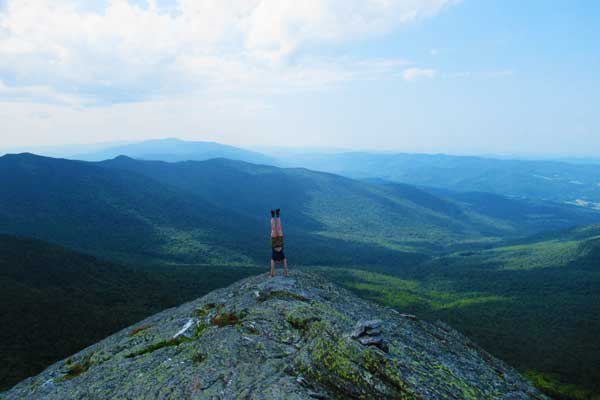 For an ideal loop, park at the end of Camel's Hump Road from Huntington Center, west of the mountain. Confusingly, there is another Camel's Hump Road on the east side that accesses the mountain via the Monroe Trail. This road, like others nearby, is dirt and gravel, so take it slow. You're likely to pass cyclists, and families on these roads.
Begin your hike on the short Connector Trail, which leads to the Forest City Trail. The Connector Trail is only approximately 0.1 mile, and before you know it, you're hiking through a gorgeous, peaceful, quiet forest, listening to and viewing nearby waterfalls flowing and birds chirping.
The trail is delightful: dirt and rocks, with some roots. Several short, wooden bridges provide extra variety. The air smells fresh and faintly of pine.
You're unlikely to see many, if any, other hikers here, especially if you started early. We encountered one friendly, young Caretaker. You are likely to see toads hopping just near your feet – be careful not to step on them!
From the junction of the Connector Trail and the Forest City Trail, it's a gentle 1.3 miles to the Long Trail, and 3.2 to Camel's Hump summit (making your total ascent 3.3 miles from the parking lot).
At the junction of the Long Trail, you can take a detour, about 200 feet to the south, to check out the Montclair Glen "Lodge" – it's an AT shelter, and there's a composting outhouse, but no indoor plumbing, no fires allowed, and no food service. Nonetheless, if you're a through hiker, it's a welcome respite from the elements, especially if you've been caught in a heavy downpour.
At this point on our hike, we met a fellow hiker who was checking off all of the 4,000 feet plus mountains of the Northeast.
We'd later learn he's from Massachusetts and has climbed 116 (of the 120) 4,000 feet mountains in the past 5 years! We also met two men who were hiking the length of the Long Trail to Canada, expecting to arrive there in eight days. These characters made our journey more interesting; we crossed paths with these gentlemen several times along our way, causing us to feel like we had "friends" on the trail.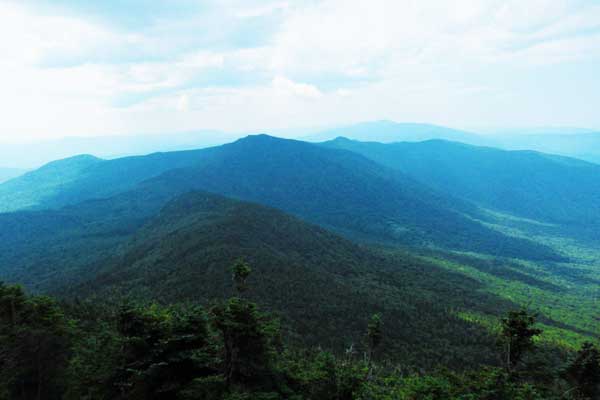 Regardless of whether or not you take this detour, you'll take the Long Trail North, 1.9 miles to the summit of Camel's Hump.
After another 0.2 mile of easy hiking, you'll come across another trail junction: If you'd like to extend your walk, you can take the Allis Trail, which rejoins the Long Trail after 0.3 mile. My husband and I skipped this detour and continued directly toward Camel's Hump.
It was a hot day, and although not brutally so, we were quite sweaty, especially due to our packs. As we progressed along the trail, we could feel the heat radiating up from the dry dirt trail, smelling fragrant from the pine needles strewn about, as the Long Trail climbed the ridge upward.
At 1.8 miles from the parking lot, we were treated to our first view – and it was expansive. The heat was building, and the views were hazy, but still quite impressive.
For the next 0.3 mile, the views are excellent, before plunging back into the forest. The trail emerges from the trees and becomes steep and rocky, with some scrambling required.
This added elevation leads to more magnificent views: You'll soon be walking along a ridge, which screams out, "Handstand here!" Or perhaps you'll want to jump for joy! We were also greeted by a welcome breeze and some cloud cover, helping to cool us. Beautiful, delicate Diapensia sprang from the gaps between slabs of lichen-covered rocks.
Out of the forest, we were guided by white blazes painted on the rocks, as well as warnings to avoid stepping on the fragile alpine vegetation. Near the summit we were welcomed by an "Arch Cairn" constructed by some talented hikers; if you're lucky, it may survive the winter and still be there on your journey.
When we arrived at the summit, it was surprisingly crowded (most folks came from the other direction, our return route). We chose a quiet spot to eat, just beneath the actual summit, and made friends with a cute caterpillar (after we removed it from my husband's shirt!).
After making our way efficiently across the hiker-clogged summit, we headed down the other side of the mountain, enjoying more views and encountering many folks making their way up.
Weaving our way gradually down through the throngs of people going the other direction, at 0.3 mile we emerged from forest into an opening, a junction with the Monroe Trail from the east, the continuation of the Long Trail to the north, and the Burrows Trail to the west; we took the Burrows Trail 2.1 miles to our parking lot.
This route down was considerably less steep – and more gentle on our knees – than our way up, and we could enjoy the forest while hubby kept a keen eye on his footing. Along our way, I spotted a beautiful heart-shaped rock, pausing to capture it with our camera.
As we descended, it became warmer again, but it was still much more comfortable than on the way up, exerting less energy on the moderate downgrade. Conversation once again turned to running, and our running-obsessed friends.
The final 0.6 mile passed in a breeze, and the parking lot snuck up on us. I quickly signed us out, and we were heading back down the dirt road toward our short-stay rental for some well-earned relaxation and snack.
Camels Hump Trail FAQ
When is the best time to hike the Camel Hump trail?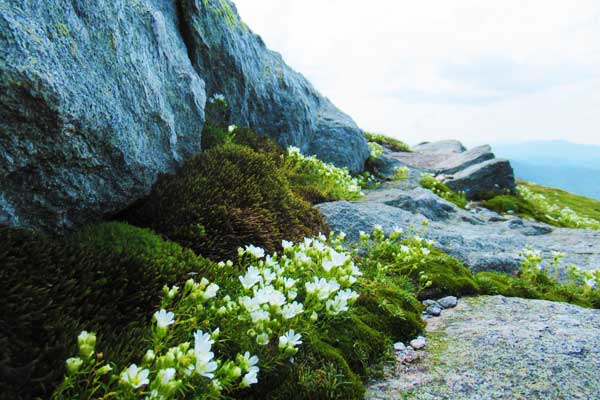 Like much of New England, the best time to hike here is June-October. May and November can also offer good hiking conditions, depending on the year. Even during the warmer months, it can get chilly, or you can experience heavy rain or thunderstorms, so carry appropriate layers.
Do you need a permit for the Camels Hump trail?
There are no permits or fees required for parking or hiking in Camel's Hump State Park, unless you are leading a group of 10 or more people, charging fees (as a guide), or publicizing your event.
What are the camping areas like in Camel's Hump State Park?
The state primitive camping guidelines allow primitive camping only in the lower elevations and away from water, trails, and roads.
Otherwise, camping is only allowed in Green Mountain Club shelters and "lodges," and at Hump Brook Tenting Area. There is a two-night limit at these locations, and a nominal fee. The shelters are open year-round, but only supervised by GMC from May to October. Reservations are not accepted. Open fires are permitted only in designated primitive camping areas and tent platform rings. Remember to leave no trace.
There are more camping facilities available at nearby Little River State Park.
Other lodging options for day hikes include short-time rentals nearby or small inns in neighbouring towns. Burlington, Vermont, less than an hour's drive, offers every type of lodging option.
How difficult is the Camels Hump hike?
The Forest City to Burrows Trail loop is moderate to difficult. It begins with a gradual climb through the scenic, tranquil forest, but the last push is steeper, and involves some scrambling. However, anyone with average fitness and motivation will have no problem with this lovely day hike.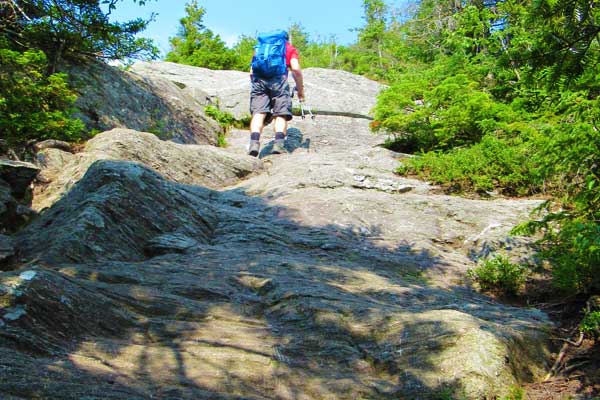 What gear do you need for this hike?
You'll want layers, a rain coat, a map (Green Mountain Club's waterproof Vermont's Long Trail: A Footpath in the Wilderness or Map Adventures Maps & Guides "Vermont: Mad River Valley Trail Map"), sunscreen, insect repellent, water, lunch, and sunglasses.
If you are concerned about your knees, trekking poles will help with the descent (and for the ascent, they'll provide a more full-body workout). You'll definitely want good footwear: hiking boots or trail runners, that you've worn before, are a must.
If you plan on camping, you'll need a sleeping bag and perhaps a lightweight tent, depending on your plans regarding the shelters.
Is the Camel's Hump trail suitable for families?
The trail is safe for families, and parents know their own children best. If you're unsure how your children will do when the going gets more tough, perhaps wait another year. But, if you can encourage them through to the summit, they'll be thrilled with their accomplishment.
Are there places to refill water on the Camel's Hump hike?
There are creeks that run through the forest. Be sure to filter and treat your water prior to drinking.
What wildlife might I see on this hike?
Bears live here, and have been known to eat hikers' food, destroy their equipment, and enter their tents. Be sure to keep your food bear-safe if you're staying overnight. Other wildlife includes toads, snakes, birds, fisher, coyote, porcupine, beaver, deer, the elusive moose, squirrels, and other rodents. Also, ticks can be found here, too, and they may carry Lyme disease. Take precautions.
Are dogs allowed on these trails?
Yes, but once you get to the higher elevation, where camping is no longer allowed, dogs are required to be on leash.
Other pro tips for the Camels Hump hike
Arrive early, by 8 a.m., on summer weekends, as the parking lots fill quickly (see below for more information on parking), and some of the trails become quite crowded.
Even the trails to the summit that are steep are well-maintained and manageable by anyone with an average level of fitness, ample time, and motivation.
Any route you take will begin in the forest, winding its way up the mountain. Some trails are more gradual than others; some are more direct, while others are more round-about. All have their merits, and all provide stunning views before you reach the peak.
Our favorite is the Loop: It starts at the Burrows Trail head, but rather than take the Burrows Trail up, instead take the Connector Trail to the Forest City Trail, and then the Long Trail to the summit, returning via the Burrows Trail.
What things can I do after my Camel's Hump hike?
You can find many other great hikes nearby, including two other 4000′ peaks, Mt. Ellen and Mt. Abraham, approximately 15 miles south, and Mt. Mansfield, the highest peak in Vermont, approximately 20 miles north.
There is excellent cycling on back roads, many of which are not paved, as well as mountain biking. Little towns dot the landscape, offering quaint streets on which to browse bookstores and other shops and tasty restaurants.
You'll also see plenty of cows and farms, some of which sell VT maple syrup, grass-fed beef, eggs, veggies, and fruits.
You may also like: