While not the highest mountain in the East, Mount Katahdin is the most imposing, most frightening of the Appalachian mountains east of the Mississippi River.
It's about 4,000 feet (1,200 m) of the vertical climb from base to summit (5,267 feet/1,605 m) is daunting. Thus, being apprehensive about making a summit attempt, is just a normal reaction to the dangers this mountain presents.
The name Mount Katahdin, derived from the aboriginal Kette-Adene, "the greatest mountain," is the most appropriate moniker. The highest mountain in Maine, USA, Katahdin is the imposing northern terminus of the Appalachian Trail, the icon of Baxter State Park.
Trees wither away at approximately 4,000 feet of elevation due to the severe microclimate. It is so steep at the top that many of the "trails" approaching the summit traverse approximately 2,000 vertical feet over the course of one mile, making them more like bouldering routes than trails.
Although, Mount Washington is higher, and often has worse weather, nothing in the East comes close to the exposure and precipitous drops on either side of the miles of high ridges of Mt Katahdin.
Furthermore, unlike Mount Washington, there are no comforts waiting for you at the top, or an Appalachian Trail refuge before the summit if the weather becomes severe. On Katahdin, if you get into trouble, it's often hard for help to reach you.
There's no way around it – if you want to summit this mountain, especially via the famous Knife Edge route, you're going to suffer. When deciding whether or not to hike it, you'll need to balance the torment of the terrain with the wow factor – once above the tree line, you're in the sublime territory, a world above the clouds, a hidden gem in the northern woods of Maine, a place unlike any other.
You may also like: guide to the Maine section of the AT
Hiking Mount Katahdin FAQ
When is the best time to hike Mt Katahdin?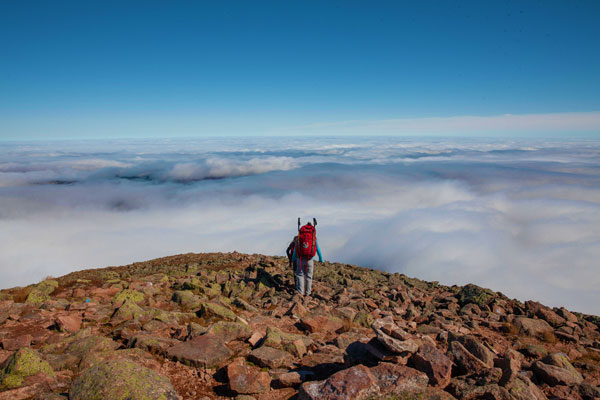 There's no great time to attempt climbing Mount Katahdin, but the lesser of the bad options would be September to early October. In late spring, there will likely be snow, and it's not suggested to hike these trails until July.
During July and August, you risk frequent afternoon thunderstorms, not to mention biting flies and other pesky insects. September and October bring the threat of snow and ice, and any time of year can have strong winds. All of these (well, except the biting insects) will cause you to turn around before setting foot on the Knife Edge.
In any event, you'll need to start early, as soon as there's daylight. The hike is long and arduous.
What accommodation options are there for Mount Katahdin hikes?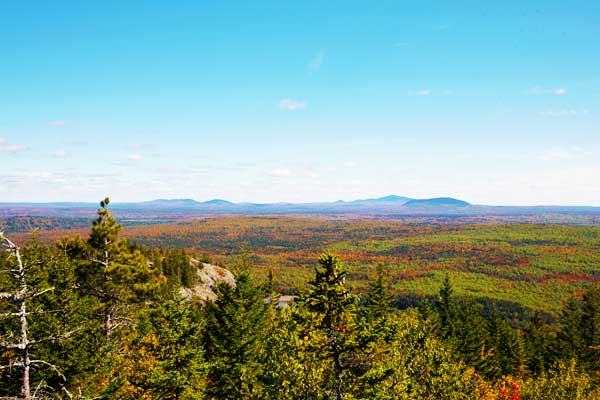 You'll have just a few lodging options. Stay in the Moose Inn, approximately a half hour from the trailhead, outside the park, which also has a good restaurant. Or, stay in the campground at the trailhead, Roaring Brook Campground. Other campgrounds on the western side of Katahdin offer routes to the summit, but will add mileage to your hike. Some campgrounds are accessible only by hiking, but staying at those will shorten the length of your summit hike.
There are a few options at Roaring Brook Campground – pitch your tent, stay in a lean-to, or enjoy a cabin. Because of bears, you'll need to be careful with your food – never leave it unattended, and when you're sleeping or out hiking, you'll need to lock it in your vehicle, with the windows closed. Tents have been torn by bears in search of food, so nothing with any scent should ever be brought into them.
Where can I make camping reservations for Mt Katahdin?
You can find out more about camping reservations, and more about the park in general. Camping reservations can – and should – be made up to four months in advance. If you have questions, you can call the reservation office at 207-726-5140.
Do I need a permits to climb Mount Katahdin?
As of this writing (October 2018), the entrance fee for the park is $15. A season pass, for entry only, can be purchased for $40. For a tent site or lean-to, it's $32 per night, for a tent site in the backcountry it's $21 per night, for a bunkhouse spot at the campground it's $12 per person per night, and cabins range from $57 – $135 per night. (Remember, no food in the cabins.)
Our Mt Katahdin Hike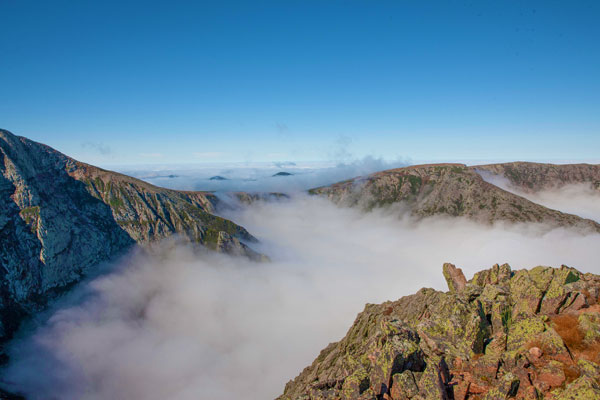 For years, I had dreamed of summiting Katahdin via the much-written-about Knife Edge route. We'd work our way to this iconic, narrow ridge, then carefully make our way across it, assuming the wind wasn't too strong, finally standing atop this towering peak.
The sense of accomplishment and fulfilment would be as massive as the mountain, and after enjoying the summit, we'd hike back down, enjoying different views on the second half of the loop.
The day had finally come. Campground is booked, food sorted, and gear ready. We arrived with plenty of daylight, and my husband and I set up our tent in the light rain, while the kids stayed dry and warm in the truck. After throwing our sleeping bags and pads into the tent, we headed out for dinner, at the Moose Inn, and then back to our tent home in the dark.
On the way, we saw a coyote run off the road, which was a treat. Despite the fact that there are numerous black bears and moose here, we managed to see none.
At our campsite, we gathered our sleeping clothes and hopped into our tent to change and prepare to sleep. The night was tough – my daughter kept me up for hours, squeezing my hand, afraid of the dark. Every time I drifted, she would squeeze.
My son asked for water a number of times. He also was having trouble sleeping. My daughter wanted my husband to take her to the bathroom, in the rain. After finally sleeping for a few hours (who knows how many?), it was time to get up for our long day of hiking.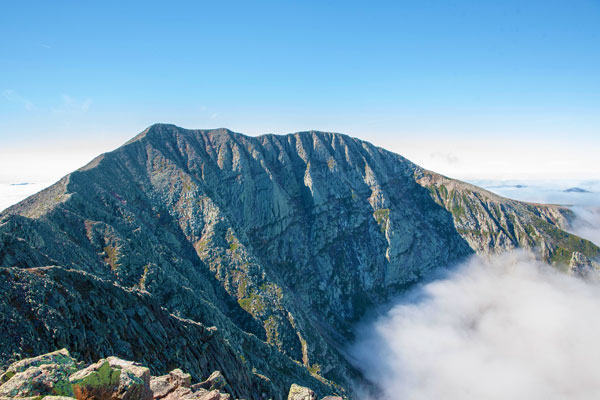 The Helon Taylor Trail
We chose the Helon Taylor trail, 3.2 miles and 3,413 feet (1,040 m) to the summit of Pamola Peak (4902 feet/1,494m.) Pamola Peak is the eastern end of the Knife Edge. (Note: As of this writing, the Dudley Trail is indefinitely closed. There was a rock slide near the Pamola Caves, and they were working to rebuild the trail, but perhaps progress has stalled?)
These 3.2 miles are strenuous and tiring. For the most part, it's a route rather than a trail. Whatever you call it, it begins along Roaring Book, and shortly (approximately 0.2 miles) turns left and heads up. Moderately at first, though over many rocks and roots, which were wet at the time of our visit. Be sure to take your time, not just to be sure of your footing, but also to enjoy the colourful autumn leaves.
At ~1.3 miles, you get your first view of the mountain ridge ahead, leading up to Pamola. You'll descend a short bit (approximately 30 feet) to cross rocks in a small creak, Bear Brook. (Note: All water in the park must be treated before drinking.)
The trail becomes steeper and more frustrating. Especially considering you'll need to come back down, either this trail or another. And it quickly became apparent to us that we'd summit Pamola and then return the same way we came. Instead of conquering the Knife Edge and the long loop, we'd return to camp earlier and head to dinner, capturing a great photo of Katahdin from our supper restaurant.
(By the time we were heading down, it was clear that we'd made a great choice – not because we would get a great view and picture – but because we were happy to just make it down before sunset.)
Pamola Summit
There is much climbing over boulders, but finally, you'll reach the transition of the tree line – and climb above it! The views would be stunning here, when not shrouded in clouds, as it was during our hike. I'd lost hope for amazing views at the summit of Pamola, but we were optimistic it would be clear enough to enjoy these during our descent. (We ended up being wrong on both accounts!)
As you approach the tree line, the trail becomes a completely different one. For a while, it's an easier, enjoyable jaunt-up. Leaving behind the magnificent forest (which you can barely enjoy due to the "trail"), you'll feel on top of the world! After a while, we were above the clouds, which provided us with our much-anticipated view – and what a view we had!
A rainbow within a cloud to the north, a sea of clouds beneath us to the south and east, the moon above that looked almost close enough to reach. Mountains and forest peaking out here and there.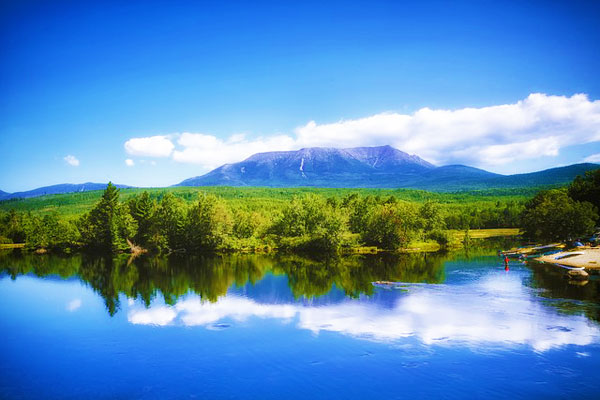 And then the scrambling up boulders – again enjoyable and to be expected above the tree line. At least these giant rocks were dry, adding to our more rapid progress (except for my son, who lagged behind, and my husband, who stayed with him, as my daughter led the way, with me following – for the most part closely – behind) and upbeat feelings.
Knife Edge led to the summit of Katahdin
At last! I saw a sign-up ahead! I pointed this out to my daughter, ahead of me, and my husband and son, a bit behind. Nearly there! A last 0.1 mile or so, and atop we stood! At the top was the couple who had passed us on the boulders, the man with grace and speed, and then the woman, who was working hard to travel more quickly to try to keep up with her partner. (We encountered a few people along this route.)
The views, despite the numerous clouds, were magnificent. The Knife Edge led to the summit of Katahdin, Baxter Peak – and after it, a long, flat ridge trail that looked delightful. Steep drop-offs in all directions.
Ecstasy at having reached this glorious spot countered my slight disappointment at knowing we couldn't go on. We had a light breeze and a warm sun for our summit lunch – perfection. The only nuisance was an extreme number of tiny flies; they were everywhere! Including our clothes, bodies, food, and packs. Ick! We removed as many as possible before packing up and starting down.
Coming down Mt Katahdin
Down. Down, down, down. Again, the above tree line was fine, enjoyable, and borderline efficient. But then the slick, treacherous forest trail. The route was still wet, making it even harder. At times, we had to slide down wet, angled boulders and assist each other to prevent falling. The progress was so slow that 0.1 of a mile felt like an eternity, leading to a feeling of dejection.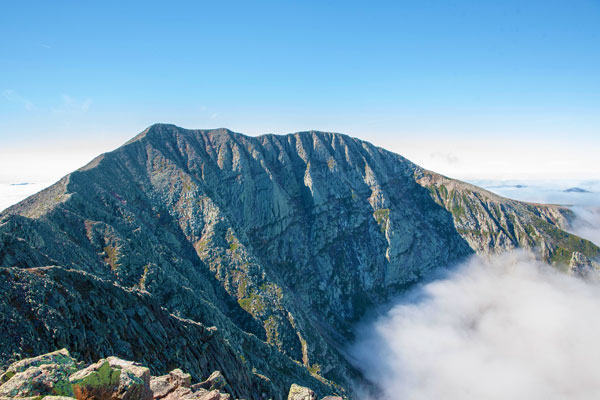 Twice, we removed packs to downclimb: I would go first, help both kids, take the poles and packs, and spot my husband before proceeding. (One of these times, it turns out a spur trail was created around the tough spot, which we didn't take, as I thought it to be a false trail. For the only time on this route, which was often over-marked, the markings for this detour weren't visible until we were down below, looking back.)
At other times, the trail would become easier – briefly – but we thoroughly enjoyed these moments, making quicker progress and heartening as the tenths of miles passed at a greater speed.
The wet conditions slowed us down considerably, in both directions. Progress on this trail would be a lot more efficient when dry – though those days are rare at Mt Katahdin.
Finally, the bottom of the trail, turning right and following the brook back to the campground! Tired, sore, hungry – but back to our truck.
You may also like: