Located in northeast Italy, the Dolomites are a mountain range that should be on very avid hiker's to-do-list. The mountains are a UNESCO world heritage site and with its breath-taking peaks and passes it's easy to see why.
Although hard to believe, the mountains were once a coral reef and are roughly 250 million years old. Consisting of 18 peaks, the tallest of which is 10,964 feet the Dolomites definitely offer a few once in a lifetime experiences.
Dolomites Hiking Highlights
The Hiker's overview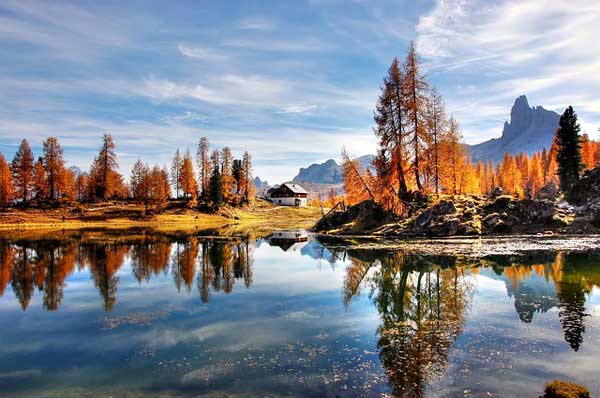 With it sweeping green valleys and high altitude peaks, the Dolomites offer amazing hikes for beginners and experienced hikers alike.
It's best to hike between spring and autumn, although hiking in winter is a possibility, snows shoes and a knowledgeable guide are then both a must.
There are roughly 450 kilometres of trails to choose from, with each trail offering a unique experience and awe-inspiring views.
The Dolomites are well-known for their 'rifugios', which are mountain huts that offer basic amenities. These mountain huts are particularly abundant when trekking in Gran Paradiso National Park.
Although they range in what they offer, they all have lodging, hot meals and showers – which is something most basic huts do not!
These huts make it possible to hike for multiple days with as little as a daypack, as you do not have to carry much in terms of food and gear.
As for getting there, the easiest way to reach the Dolomites is by car. You can choose to either rent a car, use a taxi or the bus system that runs to and from the Dolomites.
Generally the public transport in the area is thought to be pretty decent, if not maybe a little late.
Trek the Dolomites High Route (Alta Via 1) with our recommended trek operator, Get a Quote.
Something for Everyone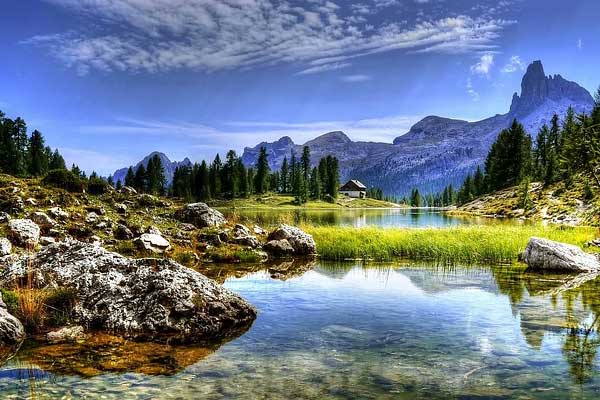 With its sweeping valleys and towering peaks, the Dolomites offer adventure to new and experienced hikers alike.
There are a myriad of trails to choose from but exploring the mountain range does not mean that you have to be an experienced mountaineer.
Although many of the Dolomite hikes are challenging there is definitely something or everyone. You can choose to day hike, overnight, multi-day excursions or even catch a gondola to the top.
Being such a spectacular mountain range the Dolomites attract many hikers each year. You can choose to hike with a guide, with a group or even go solo.
So whether you'd prefer someone to lead the way or you would rather have the solitude of travelling alone – the Dolomites is a place worth ticking off your bucket list.
Hike the Alta Via 1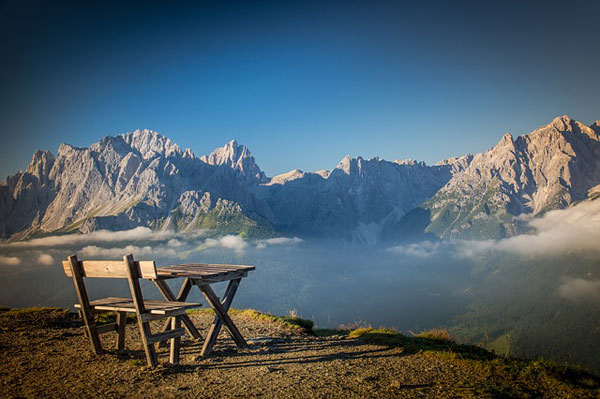 One of Europe's most spectacular hikes, the Alta Via 1 begins at the ski resort of Cortina and ends 120 km later in the town of Belluno – there are 8 Alta Via hikes in the Dolomites but 1 is the most popular.
Taking roughly ten days, the hike is manageable for anyone who has a basic level of hiking fitness.
During the hike you will overnight in mountain huts (rifugios), but at the start and end the choices range from luxurious hotels to campsites and hostels.
The rifugios provide you with meals so you won't need to carry food each day, as well as wifi (which can be unreliable) and a comfy place to sleep.
It is recommended that you book them ahead of time, as during peak time they can fill up rather quickly. You can complete this hike alone or with a guide, depending on your preference.
From old battle sites from World War One, to the immense limestone peaks and alpine meadows – the views offered by the AV1 are not to be missed, with the highest point on the hike towering at 9,029ft.
If hiking the whole AV1 is not for you, but you would still like to experience part of it, this won't be an issue as there are plenty of exit and entry points along the way.
So Much More Than Just Hiking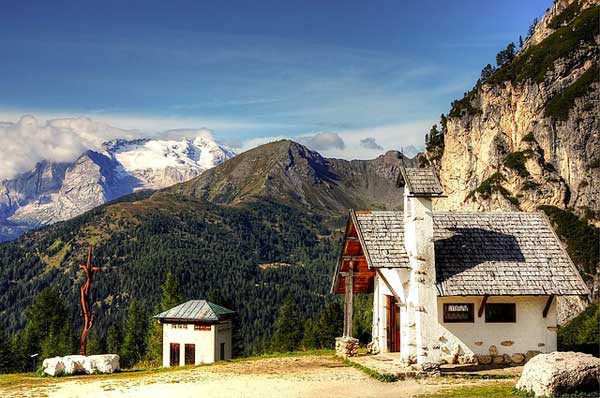 Aside from hiking, you can choose to climb, cycle or raft in the awesome mountain range. It is possible to rock climb in the Dolomites from spring until autumn and the routes are categorised according to difficulty, so that both beginners and advance climbers can enjoy the peaks.
From downhill trails to more leisurely cycles through valleys and over gentle pastures, exploring the Dolomites by bicycle is a wonderful experience to pair with any hiking adventure. Cyclists are rewarded by scenic panoramic views after their tougher uphill climbs.
If you feel like getting your feet wet, it is possible to go white water rafting in the Dolomites. From gentle streams to thundering rapids, there is something for everyone on the water. It is probably best to make use of a guide so as to avoid dangers and risks.
What To Pack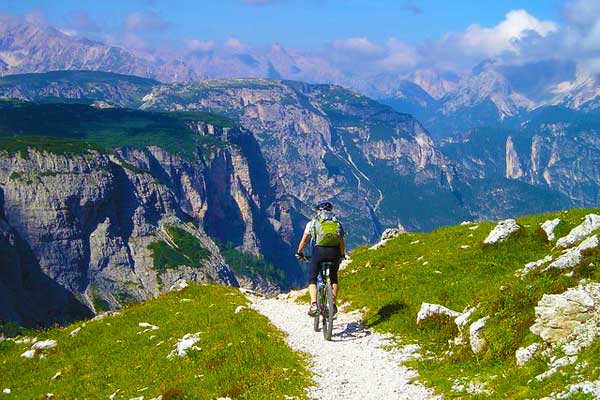 So now you know what to expect and what activities you can do when you get there – there is only one thing left to do. And that is pack for your adventure.
What you plan on doing will obviously influence what gear you decide to use but there are a few hiking essentials that can never go wrong in the Dolomites.
As always you can never go wrong with a good pair of hiking boots, rain jacket and backpack. Many of the Dolomite hikes accommodate day hikes, so you don't need a big bag and can get away with a nifty day back. And some of the multi day hikes include food at the overnight huts, so you don't need to carry much.
Another must-have for the Dolomite a good quality camera. Although you can always take your phone, as the cameras on them are fairly decent nowadays, nothing beats a good old fashioned camera.
There are a variety to choose from, but if you are planning on hiking for longer periods of time it may be a good idea to invest in something smaller and hardier – such as a Go-Pro.
The Dolomites spectacular mountains and valleys are definitely something worth capturing on camera. If you are taking cameras and other electronics it may be a good idea to invest in a dry bag as it will protect them from the elements.
Trek the Dolomites High Route (Alta Via 1) with our recommended trek operator, Get a Quote.