An Indian police couple have been banned from attempting any mountaineering activities in Nepal for 10 years after it was discovered recently that they faked their Everest summit photos.
The duo managed to dupe authorities and received their summit certificates shortly before departing Nepal.
However, when later inquiries were made an investigation was begun by the Ministry of Culture, Tourism and Civil Aviation.
After a month long investigation, the three member team found that the photos submitted by Dinesh Chandrakant Rathod and his wife Tarkeshwari Chandrakant Bhelerao had indeed been photo-shopped last spring and that the photos had been morphed together from other successful summit photos.
The investigation team then announced that their summit certificates would be cancelled and the couple banned from future mountaineering activities in Nepal for a period of at least 10 years.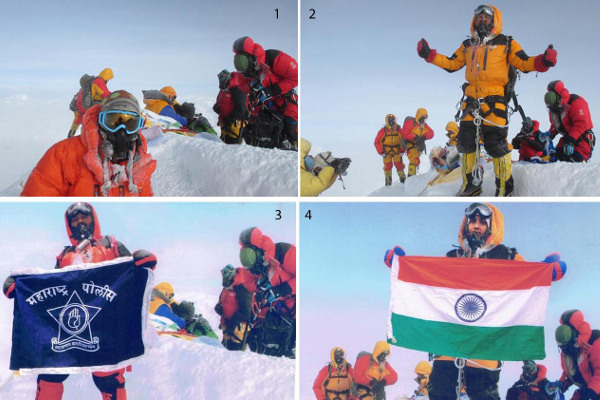 The photos submitted by the Rathod couple were only questioned to be fake when another Indian climber, Satyarup Siddhanta, accused the couple of doctoring their summit photos. See Photos above.
The two Sherpas who accompanied the Indian duo during their 'ascent' have also been removed from this years list of successful Everest summiters. The scandal also brought to light the fact that 15 of the 32 Nepalese liaison officers deployed to Everest for last years climbing season had not actually been at Base Camp!
However, this fact did not deter the liaison officers from stamping the summit certificates.
Although it may sound odd, apparently it is fairly common practice in Nepal for paid liaison officers to be absent from the expeditions. With this in mind, there has been remarkable little talk of taking legal action against the liaison officers absent from the camp.
A DoT official said this week that "The panel has failed to seek any action against government liaison officer as well as agency as there were over 40 government officers who charged up to USD 3000 each from the expeditions this season without serving the world climbers as prescribed in the mountaineering regulation,"
However, DoT Director General Sudarshan Prasad Dhakal, said that DoT would take action against the Rathods as per the panel's recommendations immediately after receiving the report from the ministry.