Kilian Jornet, one of the world's greatest alpine athletes, is about to attempt his most demanding challenge to date.
Jornet has ascended Denali, Aconcagua, Mont Blanc and Cervino in record times, however, the alpinist has now set his sights quite literally higher.
Next month Jornet will be attempting to scale the world's tallest mountain, Everest, in record time!  Like his other record climbs, the Spaniard will be climbing Everest in the most pure and minimalist form possible. The challenge is part of Kilian's personal 'Summits of my life' project.
Speaking on his blog, Kilian states that "Everest will probably be one of the most demanding climbs I've ever faced. It will be a great learning experience, from how my body reacts to the high altitude to how to apply the Alpine approach to the mountain. I've been preparing for this challenge for months and I'm keen to get started. The Summits of My Life project has always taken me to my limits and this time it won't be any different," 
As mentioned above, Kilian Jornet will be attempting the Everest record in a very minimalist fashion as is the Spaniard's style. This means that Jornet will attempt the summit in one go without any breaks at high-altitude camps.
Although not the normal alpinist style, this will give the Spanish climber the best shot at breaking the record. The base camps on Everest are traditionally used to allow climbers the time they need to acclimatize to the high altitudes, however, as Jornet notes, he and his team have spent the last few weeks at a high altitude camp in the Alps.
As Kilian's team mate Jordi Tosas explains: "It's a new approach to acclimatisation. Before we set off for the Himalayas we will have partly acclimatised having spent some days at altitude. This means we won't have to wait so long to start when we arrive at the Everest base camp." 
Kilian Jornet also adds: "This means we'll be stronger when we begin the ascent. It can make you weaker if you spend several days acclimatising yourself on the mountain. With this type of acclimatisation we can begin the challenge with more energy and a better chance of success."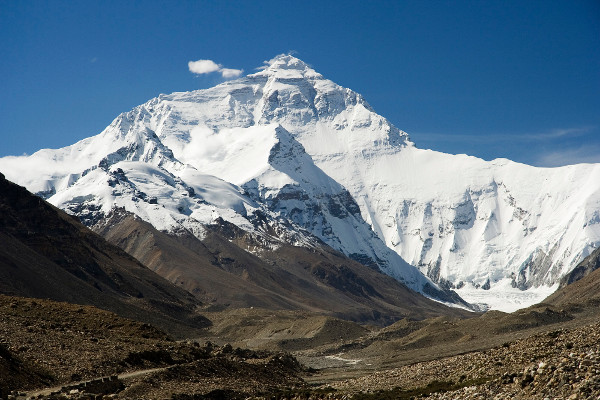 The team joining Jornet includes Jordi Tosas, Sébastien Montaz-Rosset and Vivian Bruchez. Unlike most climbers on Everest, the team will be taking a lesser known route up the north face (pictured above).
Like his previous records, Jornet and his team will begin from the last inhabited point from the mountain and set the clock until they return to that point. With this in place, the team will set off from Rongbuk Monastery before trekking some 30 km to reach the advance north base camp known as 'Zombie Camp' (6,500m).
From there Kilian and his team will ascend to Everest's summit at 8,848m.
Although Kilian has never gone beyond 8,000 meters, he is well aware of the dangers stating "We'll have to see how our body reacts at altitude. This expedition will be, above all, a learning exercise because we know there's a long road ahead. Preparation is key, but we will also need to be patient to learn about these great mountains."
Kilian also stated that "Reaching the summit depends on a lot of factors. There are external factors, such as the weather and the conditions on the mountain, but it also depends on us, if we are sufficiently prepared. Whatever happens, if we don't make it, for me it's not a failure. On the contrary, it's a lesson. I know that whatever happens we'll return from Everest having learnt something. In the end, it's the mountain that's in charge and we have to be humble. It will always be there, waiting for us, for another chance."    
Kilian Jornet will be attempting the record without bottled oxygen and with as little equipment as possible. "This is so I can move more quickly. With light equipment we can advance quicker, although we know this increases the risk. We're aware of this risk and we're taking it because ultimately this is the way we like to approach the mountain." 
No attempt like this has been tried on Everest before and the team are unsure how long it will take.
The expedition left Europe on August 7th and are now near base camp waiting for the best conditions to begin the record ascent attempt. "The day when we attack the summit we think there won't be anyone else on Everest. It's a period when there's no one there. Thanks to the monsoon the fixed ropes will be covered with snow and Everest will only allow you one chance," said Tosas.
All the details of this attempt can be followed Kilian's Social Media channels and Summits of My Life website.