Southern California is home to some of the most unique and breath-taking hikes. Whether you are looking for a serious challenge or something a little easier, there is definitely a hike available to satisfy your needs.
Don't forget to check out some of the best hikes to the Hollywood Sign and also see our best hiking regions in America for more hiking inspiration!
Best Hikes, Southern California
1. Mount Baldy
Mount Baldy (officially called Mount San Antonio) is one of the best and most challenging day hikes in Southern California. At 10,064ft, it is challenging in length, height and terrain.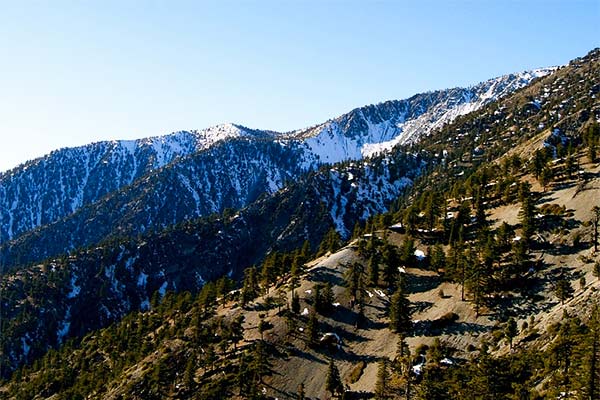 It is a 10-mile hike with a 3900ft elevation gain that's an absolute must-do if you're looking for an incredible high elevation hike. The trail will go from the Baldy Bowl Trail to Devils Backbone to Manker Flats Trailhead.
This is a daunting hike that offers thrills and stunning views. You can hike all-year round, however, in winter you will need special snow gear (see our multi-day gear packing list for more details) and mountaineering skills (check the list of the ones you might need in our Toubkal article, scroll down to Winter Ascent section).
This is a very popular trail, so it is recommended that you go during the week to avoid the crowds. The hike is pet-friendly, and you will need a National Parks Adventure Pass. The trail is beautiful and interesting. Definitely worth it.
2. The Bridge to Nowhere
The Bridge to Nowhere hike, located in the San Gabriel Mountains, is one of the most popular hikes in Southern California.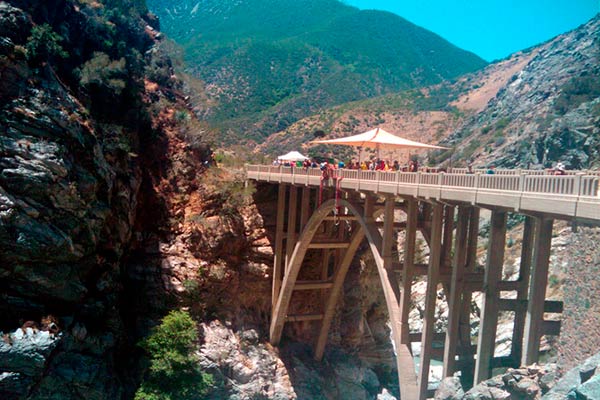 You will hike 5 miles to the famous bridge that was seemingly built in the middle of nowhere. On your way you will need to cross the ice-cold Gabriel River multiple times, which you will be excited about as this hike can be very hot and gruelling. Unfortunately, there is little to no shade along the whole duration of the 10-mile hike.
The lack of shade and the heat is what makes this hike so strenuous. Don't forget to pack lunch and water to keep you going. Luckily, after you reach the bridge, you will be rewarded with plenty of pools and mini waterfalls to cool down in, which is a welcomed relief from the heat.
If you are a thrill seeker, the bridge is also a popular spot for bungee jumping. You will need a National Forest Adventure Pass in order to do this popular hike.
3. Malibu Creek State Park
Malibu Creek State Park is a great option for both families and more serious hikers as you can make the hike whatever you want it to be. There are plenty of trails to choose from ranging in difficulty.
Malibu Creek State Park is a great destination to escape the busy city whether you are looking to take a gentle stroll or a more strenuous full-day loop. If you plan on hiking one of the longer trails, make sure you bring plenty of water and sunblock.
The 25-mile long creek is a great way to cool down from the hot weather. Parking is $10, and you also have the option to camp in the park.
4. Mt. San Jacinto
Mt. San Jacinto is the second tallest peak in Southern California and one of the most prominent peaks in the whole of the United States.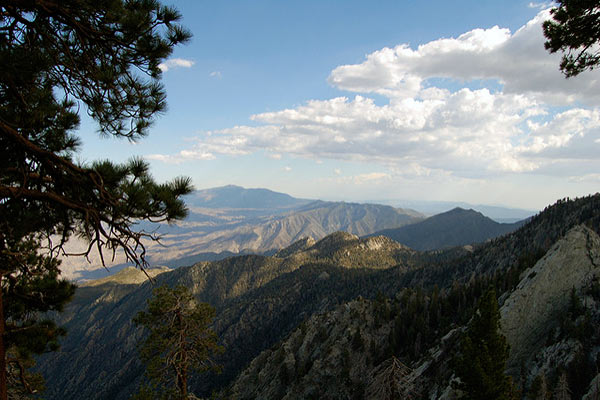 The 11.5-mile hike is a must-do for all outdoor enthusiasts. There are several routes to the summit, but the Mountain Station route is the shortest route with the least amount of elevation gain.
The hike offers exquisite scenery such as pine forests and lush meadows. From the peak you will have gorgeous and unobstructed views of Southern California.
If climbing up the entire mountain is too strenuous for you, there is the option to take the Palm Springs Tram up 8000ft before you hike from the drop-off point to the summit 6-miles away.
This is a difficult hike at high elevation, bring lots of water.
5. The Switzer Falls
The Switzer Falls hike, in the San Gabriel Mountains, is possibly the nest known waterfall hike in Los Angeles County. This hike is short and simple and excellent for families.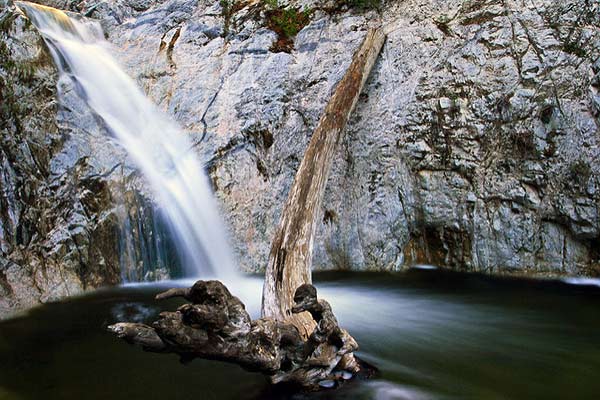 The trail to the 50ft waterfall follows a completely shaded babbling creek down a wooded canyon and is 4.5-miles long there and back and should only take you around 2 hours and 15 minutes.
You will however need a National Forest Adventure Pass to access the trail. The trail is pet friendly and is an incredible way to escape the city and enjoy nature without physically exerting yourself.
You are also able to go swimming in the falls, given that there is enough water. Water can be sparse due to the drought.