The best hikes in San Diego, California have been chosen for a number of reasons – the scenic beauty of the trails, the physical challenge imposed by the climbs, and their unique hiking experience.
We have also tried to cater for all types of hikers, so if you are very fit and looking for a multi-day expedition or if you are just looking to fill your afternoon, there should be something on this list for you.
Because each of these hikes are so different, it is impossible to compare them – so don't worry about the order in which they appear. Elevations are given when the hike is predominantly uphill, such as for summiting a mountain.
See also: hikes in Southern California
Epic San Diego Trails
The Razor Point Trail
Location: Torrey Pines State Park, La Jolla
Distance: 3.2 km (other options available)
Duration: ~1 hour
Difficulty: Easy
The Razor Point Trail is one of several options offered by the Torrey Pines State Park, which is open from sunrise to sunset. Other even shorter options, like the Guy Fleming Trail are available.
These trails are famous for being some of the easiest but most rewarding hiking experiences in the region.
The coastal scenery provides an idyllic backdrop to motivate you to go on a casual afternoon stroll for as long or as short as you please.
Note that the trails are extremely popular, so this is unlikely to satisfy you if you're in the mood for a secluded getaway. Razor Point boasts strange rock formations and panoramic vistas of the coastline and ocean beyond.
Los Peñasquitos Canyon Trail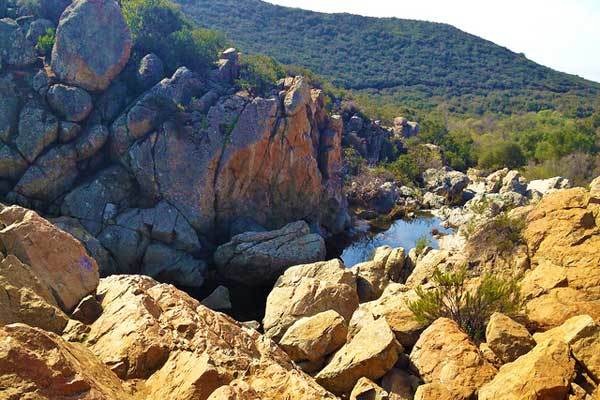 Location: Los Penasquitos Canyon Preserve
Distance: 11.2 km
Duration: 3 hours
Difficulty: Easy
The Los Peñasquitos Trail is a conserved ecosystem of lush, swamp-like land bordered by suburban development. Hiking the Canyon Trail, it is hard to believe that just a few hundred metres away is the characteristic semi-arid chaparral of San Diego county.
This excursion is a great escape from the dry and hot California climate, and offers views of waterfalls, perennial streams and creek crossings along the way.
Consider opting to follow the trail at the eastern portion of the canyon, where bikers are less common and the crowds are more dispersed than on the alternative routes. Keep your eyes peeled and you might get lucky and spot one of the resident deer population.
Oak Canyon Trail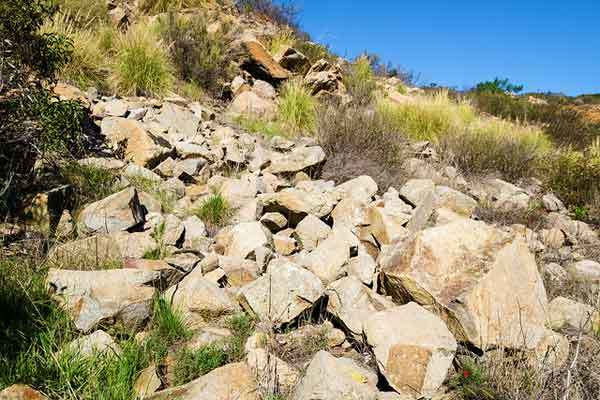 Location: Mission Trails Regional Park
Distance: 5.1 km
Duration: 1.5 hours
Difficulty: Easy to moderate
The Mission Trails are an expansive weave of over 60 km of pathway over this urban national park.
There are endless options to choose from, and one of the most well-loved is the Oak Canyon Trail which follows the banks of a ravine snaking north of the Old Mission Dam.
As you descend the canyon, you will pass through the shades of sycamore and oak trees, enjoy the bright colours of wildflowers and listen to the gentle bubbling of the stream and subsequent waterfalls.
Mount Woodson
Location: Lake Poway Road
Distance: 12 km
Elevation gain: 711 m
Duration: 4 hours
Difficulty: Moderate
The Mount Woodson hike is famous for the incredibly photographic Potato Chip Rock. Crowds of youngsters swarm to pose for a picture on the bizarrely thin sliver of granite that protrudes over a glorious view of San Diego – but there are other reasons to take this hike.
The other granite boulders piled along the way are an interesting geological oddity. Moreover, although the route is immediately steep and challenging, it offers stunning views of the surrounding city all along the way.
After you've summited the peak, we recommend that you include a walk along the tranquil shores of Lake Poway. Note that this hike can get extremely hot in midday, summertime, so avoid walking at this time. Also, look out for rattlesnakes.
Cowles Mountain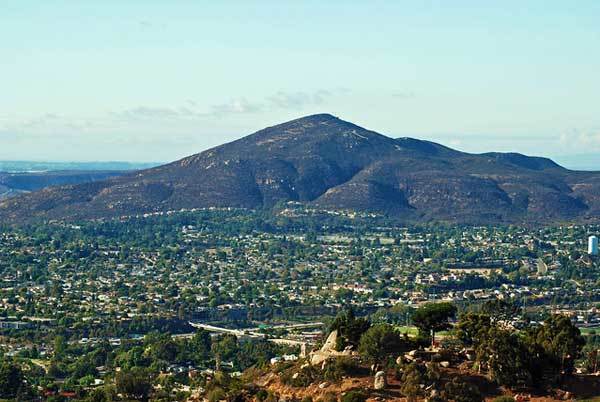 Location: San Diego City
Distance: 6.9 km
Elevation gain: 357 m
Duration: 2 hours
Difficulty: Moderate
Cowles Mountain is the highest point in San Diego, and as such is also one of its most popular hikes. If you're in the mood for an adventure, there are less crowded routes that can be taken to its summit to avoid the worst of the crowds.
However, this hike is so popular for a reason: it is short, steep, easily accessible and, although you shouldn't expect to be walking through spectacular vegetation, it does provide gorgeous views as far as Mexico.
It is also a particularly dog-friendly hike, which may or may not be a bonus for you. Again, look out for rattlesnakes.
Iron Mountain Trail
Location: Near Poway
Distance: 9.3 km
Duration: 2-3 hours
Difficulty: Moderate
The Iron Mountain Trail is the perfect half-day excursion if you're in North County. Its popularity is also only second to that of Cowles Mountain, so don't expect peace and quiet along the way.
The trailhead is easily accessed, the trail is relatively challenging but doable for casual hikers, and offers some incredible views of the surrounding land (all the way from Mexico and to the ocean).
The trail is, however, very exposed and is scorching in the summer months – plan an early start to avoid the heat and the crowds.
Palomar Mountain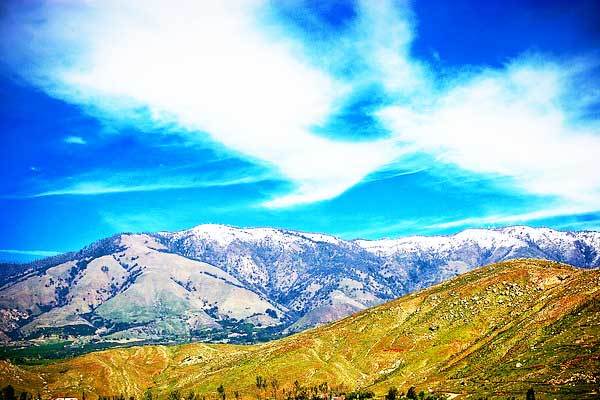 Location: Palomar Mountain State Park
Distance: Variable
Duration: 4 hours
Difficulty: Moderate
Palomar Mountain is surrounded by a web of intersecting trails, all of varying lengths and difficulties. The site is well known for its stargazing – the Palomar Observatory is located here.
Because of the elevation of the region, the vegetation and atmosphere of the park resemble those of the northwest, including pine trees, gentle mists and verdant plant life.
If you want to hike to the summit of the mountain, realise that it is a difficult climb and come prepared with plenty of water and a savvy companion.
Cedar Creek Falls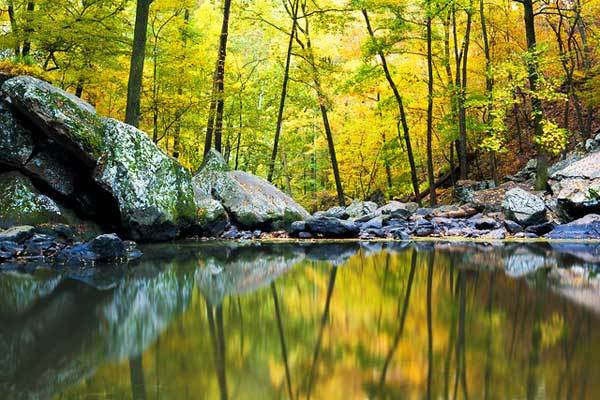 Location: Ramona
Distance: 8.3 km
Elevation gain: 335 m
Difficulty: Moderate to strenuous
Along with Cowles Mountain, Iron Mountain and Mount Woodson, Cedar Creek Falls is one of San Diego's hiking greats.
The trail is one of the most challenging on this list, but the destination is legendary for any San Diego local. The ~25m waterfall is a rarity in this desert, and many reckless visitors are tempted to attempt cliff jumping – this is not advised.
We do, however, recommend that you go for a refreshing dip in the glorious swimming hole. Because of the raucous parties and numerous rescue missions (resulting from overheating and generally irresponsible behaviour), the Forest Service has imposed a permit requirement.
While the party-culture of the trail has not changed, you can expect well-maintained and demarcated trails and a generally fun experience.
Pacific Crest Trail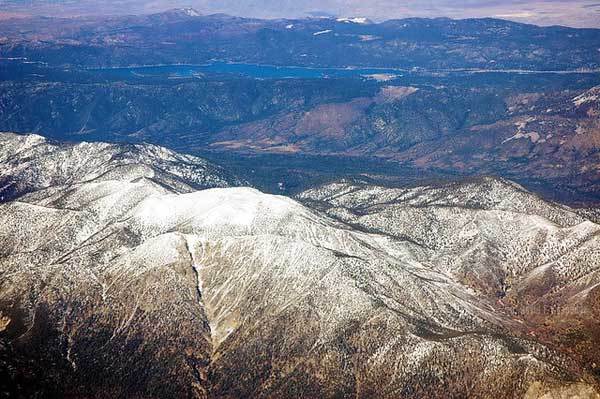 Location: From Mexico to Canadian Border
Distance: 4,264 km in total
Duration: Variable
Difficulty: Strenuous
The Pacific Crest Trail runs from the Mexican border all the way up to the Canadian border, with every kind of scenery and challenge in between.
However, if you opt to hike just a section of the trail, you can tailor your experience to your requirements.
The Laguna Mountains, for example, offers the alpine lakes, forests and meadows of wildflowers to rival any North American classic. San Gorgonio Mountain Trail is 77 km and is perfect for beginner backpackers who want to push themselves out of the single-day comfort zone.
At other points in the trail you can walk through Californian desert or snow-covered mountains – there is really something here for everyone. You can also decide how long you want to hike for, with the option of extended multi-day hikes or a simple afternoon excursion.
Three Sisters Waterfall
Location: South of Julian
Distance: 6.4 km
Duration: 6 hours
Difficulty: Moderate to Strenuous
The Three Sisters Falls is a remote destination, which in recent years has gained popular attention. The trail passes a series of three cascading waterfalls which feed refreshing pools of fresh water, perfect for an afternoon swim.
Although until recently the trail included a fair amount of technical scrambling, the Forest Service has cut out a route which makes the walk a lot more manageable. Even so, this hike is not one for beginners, and should not be undertaken without a fair amount of preparation.
Avoid hiking in the intense heat, pack plenty of snacks and water, make sure your hiking boots are of good quality.
Double Peak Trail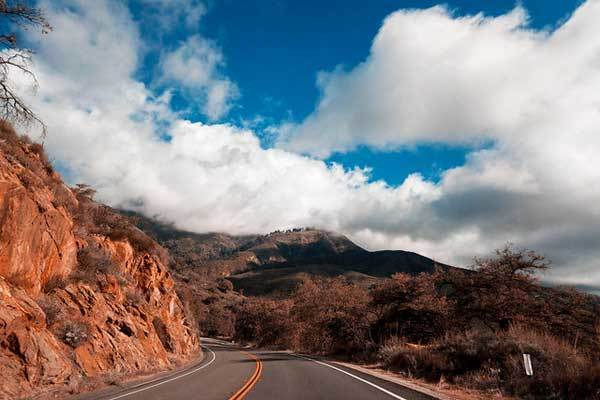 Location: Lake Discovery Park
Distance: 8 km
Elevation gain: 300 m
Duration: 2 hours
Difficulty: Moderate
The Double Peak Trail is an accessible, stimulating climb rewarded by enjoyable views and a pleasant park at the summit. The park is perfect to stretch your city legs, and contains picnic benches, shady trees and toilet amenities.
The trail starts at Discovery Lake, crosses through a housing development, winds along a roadside and eventually takes you up the peak itself.
From the summit, you will soak in the view of the Santa Ana Mountains, Camp Pendleton, the Palomar Mountains and the surrounding suburbs. If the day is particularly clear, you will be able to spot local landmarks, which will familiarise you with the area as well as any bus tour.
Many locals can even play "spot my house" using the viewfinder.
El Cajon Mountain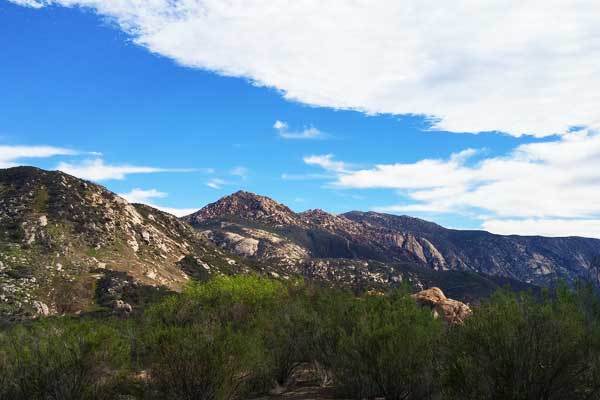 Location: El Cajon
Distance: 17.7 km
Elevation gain: 1,147 m
Duration: 7 hours
Difficulty: Strenuous
El Cajon Mountain is one of the most strenuous, least-used hikes in San Diego County. The climb will physically challenge even the fittest of mountain adventurers with the seemingly endless ups and downs over rugged, at times treacherous terrain.
However, the breath-taking views of the surrounding mountains and extraordinary granite rock formations turn this physical battle into a source of pleasure for its heroic conquerors.
If you do decide to take on this epic trek, pack more water than you think is necessary and check the weather forecast to avoid hiking on hot days. It may also be a good idea to bring along hiking poles to stabilise you on the more precarious sections of the trail.
Cabrillo Monument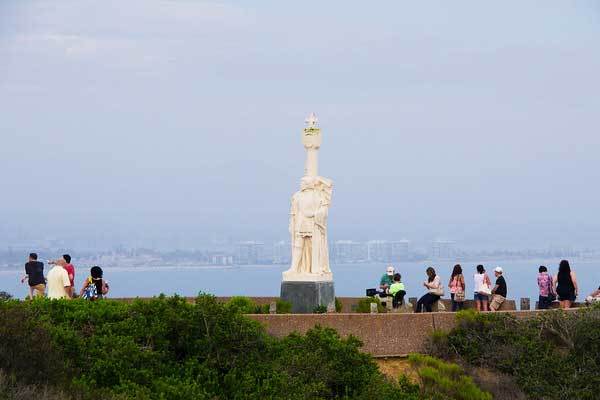 Location: Point Loma
Distance: 3.2 km
Duration: ~ 1 hour
Difficulty: Easy
The Cabrillo Monument was erected in 1913 in honour of the landing of Juan Rodriguez Cabrillo in San Diego Bay in 1542, the first European voyage to land the west coast of the USA. Nearby is the Old Point Loma lighthouse, which was used during World War II to store artillery and other military equipment, on the picturesque shoreline.
In addition to the historical significance of this area, there are also several trails, such as the Bayside trail, through the sage scrub, chaparral and past tidal pools teaming with coastal wildlife.
The walk is also educational, with informative signs dotted at intervals to inform visitors about the indigenous plants and animals.
Borrego Palm Canyon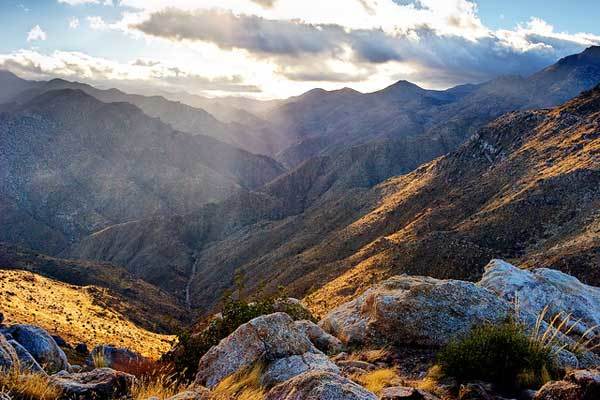 Location: Anza Borrego Desert State Park
Distance: 4.6 km
Duration: 1.5 hours
Difficulty: Easy
On the east of San Diego County, the Borrego Palm Canyon is one of the last natural Californian palm groves and features cacti and colourful flowers. As such, the hike is particularly interesting for aspiring botanists.
This oasis trail is popular as a day hike, culminating in a shaded and rejuvenating pond.
As with many of the San Diego hikes, the weather can get dangerously hot so ensure that you plan your excursion on a cool afternoon and pack plenty of water – more than you think you'll need.
Want more hikes? Check out this ultimate list hikes in USA: