If you're looking for a complete gorilla trekking guide, we've got you covered.
Gorilla trekking is one of the most popular African safaris. It doesn't hurt that getting to them is also a breathtaking adventure.
From the stunning Virunga Mountains to the ethereal butterflies in the morning mist, Gorilla trekking in Africa is an unforgettable experience.
Below is a list of frequently asked questions about gorilla safaris.
Gorilla Safaris (15 FAQs)
What is Gorilla Trekking?
Gorilla trekking is an experience that involves tracking habituated gorillas in the mountain forests of Rwanda, Uganda, and the Democratic Republic of Congo.
Gorilla habituation is the practice of training wild gorillas to be comfortable around humans. The park rangers conduct the training and it takes about 2-years to complete.
Like most wildlife, gorillas are territorial and protective of their families. They are gentle creatures, as long as they don't view you as a threat. However, if you come across an unhabituated gorilla, it can be dangerous. This is why only habituated gorillas are tracked.
Habituated gorillas are very unlikely to view humans as a threat and will be passive during your visit.
Mountain gorilla trekking is available in Uganda, Rwanda, and the Congo. There are safety concerns regarding the Democratic Republic of Congo. Thus, in this guide, we only focus on Rwanda and Uganda.
In Rwanda, the mountain gorillas live in Volcanoes National Park. Gorillas in Uganda call two parks their home. Namely, Bwindi Impenetrable National Park and Mgahinga Gorilla National Park.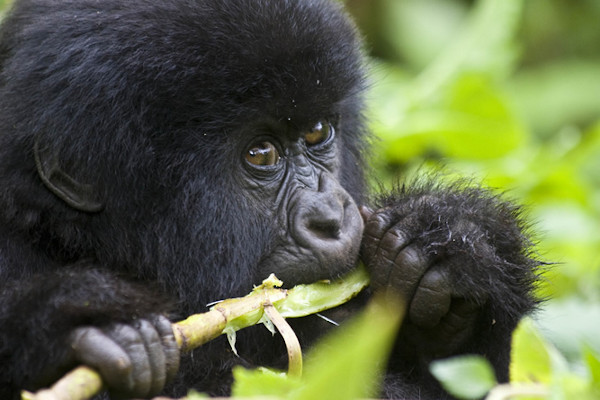 What to expect on a gorilla trek in Volcanoes National Park, Rwanda
You will begin your gorilla trekking experience with a 30-minute briefing at 7:30 am. Refreshments and entertainment (traditional Kinyarwanda song and dance) are available from 7 am. All free of charge and you can have as much coffee as you want.
Before the briefing, groups of 8 get assigned to a gorilla family to track.
The gorilla trekking kicks off at 8 am. The ranger/guides will lead you through the tropical rainforest. The beauty of the Virunga Mountains is difficult to miss. You could end up climbing steep inclines. It all depends on which gorilla family you are tracking.
It could take between 3-6 hours to track the gorillas.
Some groups prefer the lowlands while others frequent steep slopes. Hiking speed, weather, and terrain also factor into the trekking time. Your guides will also make frequent stops to give you a break.
Under current Covid restrictions, once you find the gorillas your guides will tell you to sanitize again. You are to maintain at least a 10-meter distance and to keep your voice low. Your guides will answer questions and pictures are welcome (no flash though).
After one hour with these gentle giants, the guides will lead you back out of the forest.
Be sure to keep a watchful eye for wildlife during the trek. Volcanoes National Park is also home to the golden monkey. Seeing them, while mountain gorilla trekking, is a real treat.
There is a large population of butterfly species and over 50 bird species. The other mammals will be difficult to spot in their natural habitat. The animals are easier to spot in the dry months when the vegetation is less dense.
What to expect on a gorilla trek in Bwindi Impenetrable National Park, Uganda?
Bwindi Impenetrable Forest is home to half of the world's mountain gorilla population. Gorilla trekking in Uganda begins at 7:30 am with a 30-minute briefing. You are placed in groups of 8 and then the staff explains the trekking rules.
After the current COVID safety checks, you will set out at 8 am. Your guides will lead you through the dense forest. Pay close attention as they point out wildlife and unique vegetation. The dry months are the best time to spot animals. You may even encounter the rare forest elephant, buffalo, or giant forest hog.
When encountering wildlife remember to listen to your guides. Their rules are for your safety.
Gorilla trekking could take between 2-6 hours. This depends on which gorilla family you are tracking. The mountain gorillas move around a lot for food. You may end up climbing steep slopes before you encounter them.
Your hiking speed and the weather also factors into gorilla trekking.
When you reach the gorillas, the guides will remind you to keep a 10-meter distance and to keep your voice low. The flash on your camera must be off before you take pictures.
You will spend up to an hour with the great apes, and your guides will answer any questions.
Once back at Bwindi National Park headquarters, you can view one of the many traditional dances (at a fee). It is a great way to end your gorilla trekking experience.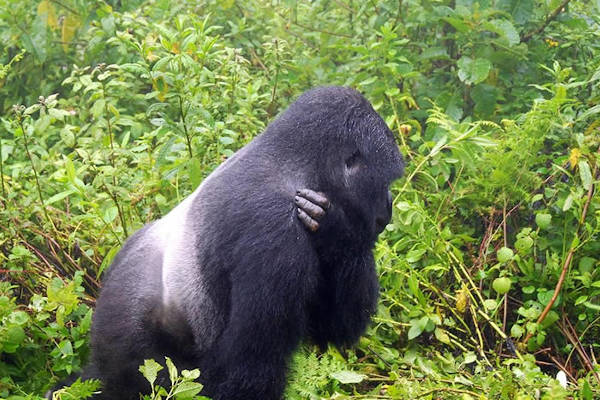 What about gorilla treks in Mgahinga Gorilla National Park, Uganda?
Mgahinga Gorilla National Park is not as popular as in Rwanda and Uganda.
There is only one habituated gorilla family in this park. This means that only one tour group can trek per day. They are usually found in the Nyakagezi area.
As with Bwindi Impenetrable Forest, the briefing is at 7:30 am. The gorilla trekking begins at 8 am with a group of 8.
The area they prefer is very open and the trek is not very difficult. It takes about 2-4 hours to find them. You can visit the gorillas for an hour before returning to headquarters.
How Difficult is Gorilla Trekking?
You need a good fitness level to track gorillas. You will be tracking gorillas through a mountainous rainforest. Certain routes are steeper than others. Even the easiest route will need a moderate level of fitness and experience.
You can ask to join a route that will suit your fitness level.
It also depends on the season you trek in. Gorilla tracking is easier in the dry seasons. During the rainy season, the slopes will be slippery and muddy. Vegetation is denser in the wet season, as well. You will exert more energy faster than in dry terrain.
How Many Habituated Gorilla Families Are There?
Bwindi Impenetrable Forest has 12 mountain gorilla families available for tracking. There are 7 gorilla family groups in Volcanoes National Park.
Mghinga Gorilla National Park only has one habituated group.
Bwindi Gorilla Families
Rushegura: 19 members; 1 silverback
Habinyanja: 17 members; 2 silverbacks
Mubare: 8 members; 1 silverback
Bitukura: 14 members; 4 silverbacks
Oruzongo: 25 members; 2 silverbacks
Kyuguriro: 15 members; 2 silverbacks
Nkuringo: 19 members; 2 silverbacks
Mishaya: 12 members; 2 silverbacks
Nshongi: 26 members; 1 silverback
Kahungye: 13 members: 3 silverbacks
Bweza: 25 members; 1 silverback
Bsingye: 9 members; 1 silverback
Volcanoes Gorilla Families
Susa: 39 members; 3 silverbacks
Sabyinyo: 9 members; 2 silverbacks
Amahoro: 15 members; 1 silverback
Group 13: 20 members; 1 silverback
Umubano: 7 members; 1 silverback
Kwitonda: 18 members; 2 silverbacks
Hirwa: 9 members; 1 silverback
Mgahinga Family
Nyakagezi: 10 members; 5 silverbacks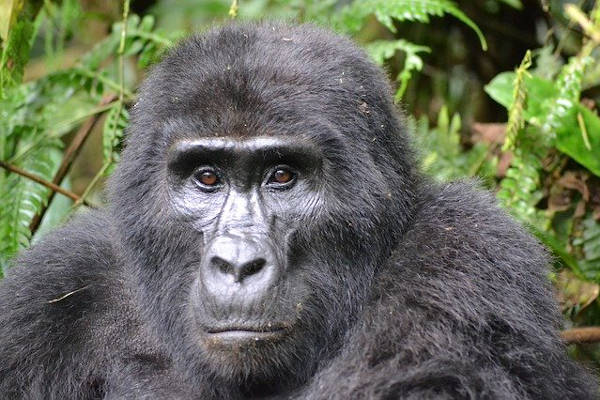 How do I Acquire a Gorilla Trekking Permit?
All permits include a park entrance fee, guide fee, and community contribution.
75% of the fees are for conservation. It provides a means of protection for the national parks and their inhabitants.
Uganda
Gorilla permits in Uganda are US$700 per person. Permits can be purchased at Uganda Wildlife Authority (UWA).
If you are visiting as part of a tour group, the agent will likely buy the permit on your behalf. Gorilla tours often include the permit price in the tour fee.
Booking in advance is essential to avoid disappointment. Using an authorized agent will be to your advantage.
Rwanda
Gorilla permits in Rwanda are US$1,500 per person. You can buy the permits from the Rwanda Development Board. Their headquarters is in Kigali. Or, you can get a permit from an authorized agent.
The second option may be a better choice. The travel agency will often include the permit in your travel/tour package.
Booking in advance is essential and an authorized agent can do this for you.
When is the best time to go Gorilla trekking?
Uganda
January or February is the best time to see mountain gorillas in Uganda. It is one of the dry seasons which makes tracking and viewing wildlife easier. There are also fewer trekkers so less competition for gorilla permits.
The trekking seasons in Uganda split into high and low periods:
High Seasons: June-September; December-February
Low Seasons: March-May; October-November
Due to its location on the equator, Uganda has a tropical climate. The temperatures average around 23⁰C (73⁰F) in the afternoon. There are two rainy seasons in Uganda.
Wet Seasons
Long: mid-March – end May
Short: October-November
Dry Seasons
Short: December-February
Long: June-September
The national parks are open year-round. Gorilla tours are available even during the rainy seasons. Due to its climate, the sun usually peaks through as soon as the rains stop. Lodges and permit rates are usually reduced during the wet season.
The rainy season brings an increase in food along the lower slopes. This makes finding the gorillas easier (usually only about 2-hours of trekking). The forest will also be lush with vegetation; perfect for photography.
While the option is available to trek in the low seasons, you should consider the terrain. The rains will have turned the routes muddy and difficult to trek. This likely won't be a concern for experienced trekkers. But it will still be uncomfortable, especially if it starts raining during your trek.
Rwanda
February to March is the best time to track gorillas in Rwanda. It is close enough to the wet season that Volcanoes National Park will not be too busy. It is also still the dry season and this makes trekking easier.
The trekking seasons in Rwanda split into high and low periods:
High Seasons: mid-May – October; December – mid-March
Low Seasons: mid-March – mid-May; October – November
Rwanda has a tropical highland climate and is considered an all-year destination. The temperatures average 30⁰C (86⁰F) in the lowlands and 14⁰C (57.2⁰F) in the highlands.
Wet Seasons
Long: mid-March – mid-May
Short: mid-October – November
Dry Seasons
Short: December – mid-March
Long: mid-May – mid-October
Viewing wildlife is considered easier in the dry season. Tracks are easier for the guides/ranges to spot and point out to you.
The park is beautiful in the dry season, but the rains bring out a breathtaking lushness. The entire forest comes alive after the rains. The terrain will be slippering though, and trekking while wet will not be pleasant.
On the plus side, the lodges usually reduce their prices during the rainy seasons.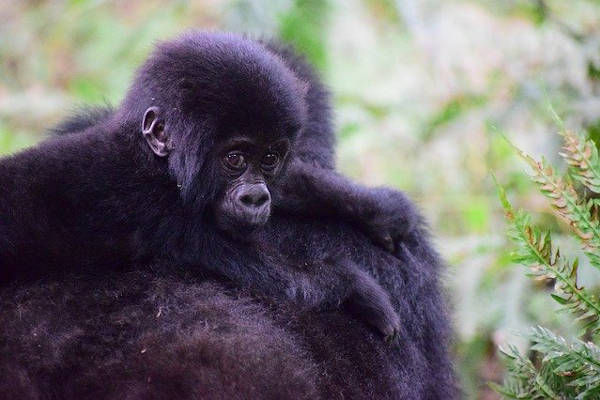 What does an average gorilla safari cost?
If you want to trek with gorillas, it is best to do it as part of a tour or safari. Most of these safaris are all-inclusive and the agents see to everything for you. Some tour companies add accommodation in their fees as well.
Keep in mind, that factors such as food, visas, and border crossing, extra gear, etc, all factor into the cost. And that's not mentioning the plane ticket and transportation costs during your stay. If you are working with a strict budget, be sure to consider all factors.
Gorilla safaris fall into 3 categories:
Here are the costs of gorilla trekking in Uganda and Rwanda.
Uganda
The cheapest cost of a gorilla safari in Uganda:
1 Day Gorilla Trekking: US$1,100
2 Days Gorilla Safari: US$1,280
3 Days Gorilla Tour: US$1,450
These are the lowest average costs for gorilla tours in Uganda. Luxury packages can range between US$4,000 – US$6,000.
Rwanda
The cheapest cost of a gorilla safari in Rwanda:
2 Day Gorilla Tour: US$1,736
3 Days Gorilla Safari: US$1,850
These the lowest average cost for gorilla tracking tours in Rwanda. Luxury packages can range from US$3,000 – US$4,000.
What are the best lodges for gorilla trekking?
Uganda
The 5 best safari accommodation in Uganda, from the lowest price to the highest.
Lake Mulehe Gorilla Lodge: from US$173
Gorilla Safari Lodge: from US$233
Mahogany Springs: from US$240
Gorilla Height Lodge: from US$700
Sanctuary Gorilla Forest Lodge: from US$760
Rwanda
The 5 best safari accommodation in Rwanda, from lowest to highest price.
Rushel Kivu Lodge: from US$70
Hakuna Matata Lodge: from US$110
Amata n'Ubuki Boutique Hotel: from US$124
Nirvana Heights Resort and Spa: from US$171
Da Vinci Gorilla Lodge: from US$259
What gear do I need for Gorilla trekking?
You will need to wear the correct clothing to trek through tropical rainforests. It will not be wise to track the gorillas in a shorts and t-shirt. The humidity will make it tempting, but long-sleeves and long pants are safer.
Here's what you should wear when gorilla trekking.
Waterproof hiking boots
Long-sleeve shirt
Long pants (trousers)
Long socks (consider tucking your pant legs into your socks)
Rain jacket/poncho
Consider taking robust gloves (like gardening gloves)
Other gear to bring includes:
Walking stick (can be acquired at the park headquarters)
Day pack with the following:

Extra sweater
Camera or cellphone (don't use the flash for pictures)
Insect repellent
Bottled water
Energy snacks
Binoculars
Basic first aid kit
Any chronic medication (allergy medication or EPI Pens, if applicable)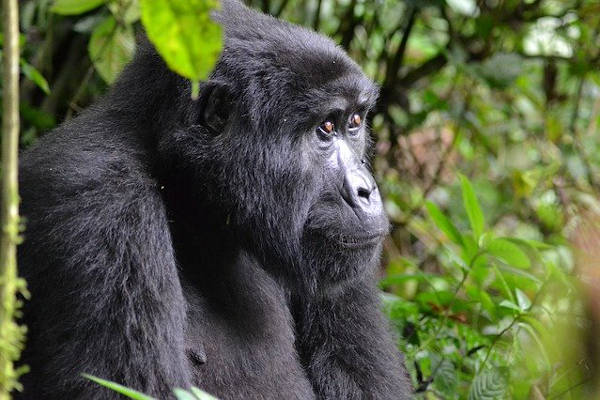 What are the safety tips for Gorilla Trekking?
Whether you choose to go gorilla trekking in Uganda or Rwanda, there are regulations you need to follow.
Pay attention during the debrief; the information is important.
Follow your guide/ranger's instructions. It is for your safety.
Do not make direct eye contact. The gorillas will view that as a challenge and charge at you to assert their dominance.
Maintain a 10-meter distance from the gorillas.
Do not use a flash when taking pictures. It will startle and scare them, and they may charge at you.
No loud noises.
No sudden, aggressive movements.
No eating, drinking, or smoking when encountering the gorillas.
Do not cough or sneeze near the gorillas (cover your nose and mouth if you must).
You cannot go near the gorillas if you are experiencing any symptoms of sickness.
All human waste must be buried at least 30 cm (2 ft).
What is the minimum age for Gorilla Trekking?
The minimum age requirement for both Bwindi Impenetrable National Park in Uganda and Volcanoes National Park in Rwanda is 15-years-old.
Is Gorilla Trekking Ethical?
Gorilla tracking is ethical as long as it's done right.
The majority of the permit fee is for conservation efforts. It aids in the security of the gorillas in their natural habitat. Protection from poachers is one of many concerns.
All visitors get briefed for 30 minutes before the tracking begins. The staff will explain the regulations and rules. This ensures everyone's safety (yours and the gorillas) during the experience.
The rangers are not only your guides. They will also ensure you follow the rules.
Gorillas, like most wild animals, are territorial and protective. Only gorillas habituated are tracked.
Habituation is the practice of training mountain gorillas to be comfortable around humans. This ensures that they are in no way distressed by the visitors.
Uganda or Rwanda: Which is best for Gorilla Trekking?
Deciding which country is the best for gorilla trekking is a personal preference.
Below is a comparison of the highs and lows of visiting each country and their respective national parks.
Uganda
Pros
Trekking permits are cheaper.
They have 12 habituated gorilla groups.
You might see the rare forest elephant during the trek.
Cons
The drive from the airport is long. Transportation can be costly.
The roads are not always smooth.
Rwanda
Pros
Volcanoes National Park is only a couple of hours from the airport.
You might see golden monkies during the trek.
Cons
Trekking permits are more costly.
There are only 7 habituated gorilla groups.
The real deciding factor should be the trekking itself. But you won't know your preference unless you trek in both parks.
Tour companies often offer multi-day packages that begin in one park and end in the other. You will cross the Rwanda-Uganda border during this type of tour.
COVID-19 Regulations
As we currently live in a post-pandemic world, here is a list of the Standard Operating Procedures (SOP) for tourism for Uganda and Rwanda.
Please note these are subject to change (they are current as of May 2021).
At the briefing points, all visitors and staff will go through the standard COVID-19 checks. Wash and/or sanitize hands and check body temperature.
Once the briefing is done, visitors get separated into groups of 8. They are then assigned to gorilla groups. Debriefing is done in those same groups of 8.
If any of the visitors or staff show symptoms of being sick they are not allowed to track. These can include flu-like symptoms, reports of diarrhea or upset stomach, malaria, etc.
All persons must wear masks.
The visitors will keep a minimum distance of 10-meters from the gorillas.
A 2-meter distance must be kept among the group while tracking (where able). The guide rangers will ensure this.
Due to the side-effects of wearing masks for long distances in high altitudes, the group will stop for frequent breaks for fresh air. The guides will monitor proper social distancing during these breaks.
Everyone will sanitize again once they reach the gorillas.
Tourists are only allowed to carrying light equipment. Porters should be used as little as possible.
If someone in the group experiences health problems the guides will implement established first aid and evacuation guidelines and affected individual(s) will then be moved from the field.