Singaporean mountaineer Jeremy Tong talks about turning round at 8600m on Everest, and why he will be returning next year. This year, Jeremy attempted to become the youngest Singaporean to summit Everest, as part of a team of three, raising money for Singapore Cancer Society. He was climbing with his university professor Dr A Saravana Pillai, and teacher Yusrina Bte Yaccob.
I caught up with him to ask a few questions about his expedition, and his plans for the future.
Everest Interview Series
Maybe this is a stupid question, but what in particular about Everest inspired you?
I guess Mount Everest inspires everyone. Because it is the highest peak in the world, people have always found a connection with the biggest, the highest and the toughest. But for me, there's a lure to climb it simply because I know I can.
Reading famous books on Reinhold Messner, who was the first to climb it without supplemental oxygen, Ed Viestus who did it as well without (oxygen), Bear Grylls who was the youngest Brit to climb it, I was sure that if these people, these ordinary humans could achieve these extraordinary feats, I could do it as well.
Singapore is hardly well-known for producing mountaineers, so how did you get into mountaineering?
Yes, indeed it is a very small country and an even smaller group of climbers. Our highest mountain is 163m in height! I started trekking when I was 14 years old and started doing higher peaks around the region, in Indonesia and Malaysia. My second mountain I ever climbed, at the age of 15, was Mount Kinabalu, the highest mountain in Southeast Asia.
It stands at 4095m, and reaching the summit made me realise that I liked climbing, and that if I could climb 4000 metres, maybe I could climb another 4000m, up to 8000m peaks. As time went by I got more adventurous and started doing mountaineering trips in India, Nepal and Bolivia. Very soon, I decided to attempt 7000m peaks in Central Asia, and found myself planning for Mount Everest.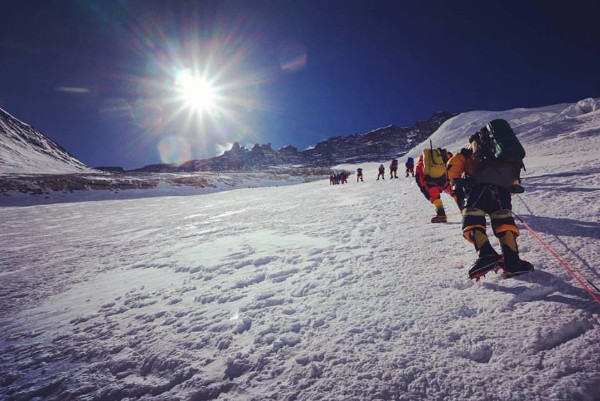 Tell us about why you chose to raise money to support the fight against cancer
When I was 15 years old, one of my paternal uncles was diagnosed with stage 3 nose cancer and it was pretty serious. He went through chemotherapy and struggled to survive. However, one of the key things that struck me was his will to survive and he said, "I don't want to die because of this disease. I have my family and children to live for!" I was inspired by his words and actions and when I summited Lenin Peak (7134m) in Kyrgyzstan, I decided that I should climb for a good cause and cancer it would be.
When you attempted to climb Everest earlier this year, you were forced to turn back at 8600m due to hypothermia. Looking back, you must have a mix of emotions about this decision: how do you feel about the decision to turn round, and the trip as a whole now, and how did you feel immediately afterwards? Have your emotions and thoughts changed over time?
The decision was a painful one. After all that hard work to get myself the golden opportunity to accomplish one of my life dreams, I had to turn back a mere 1.5 hours from the top. However, I was already happy to have reached that height, after having been evacuated to Kathmandu early on in the expedition (due to altitude sickness). However, I came back strong and managed to attempt a summit push. I am extremely satisfied with my performance throughout the 2 month expedition.
The trip as a whole was extremely satisfying as well as it was my first time above 8000m and my first time using oxygen. The friends that I made and lost in this journey made me cherish life far more.
At first, I was a bit disappointed that I didn't reach the summit because I knew that I was feeling very strong and I would have made the summit in 9 hours from South Col. I still have dreams sometimes that I have reached the summit of Everest. I guess these dreams will continue to spark my passion to reach the top next year, or until I achieve this dream. However, now, I have come to terms with this fact, and I'm making plans to be the youngest Singaporean to scale Mount Everest from the north side.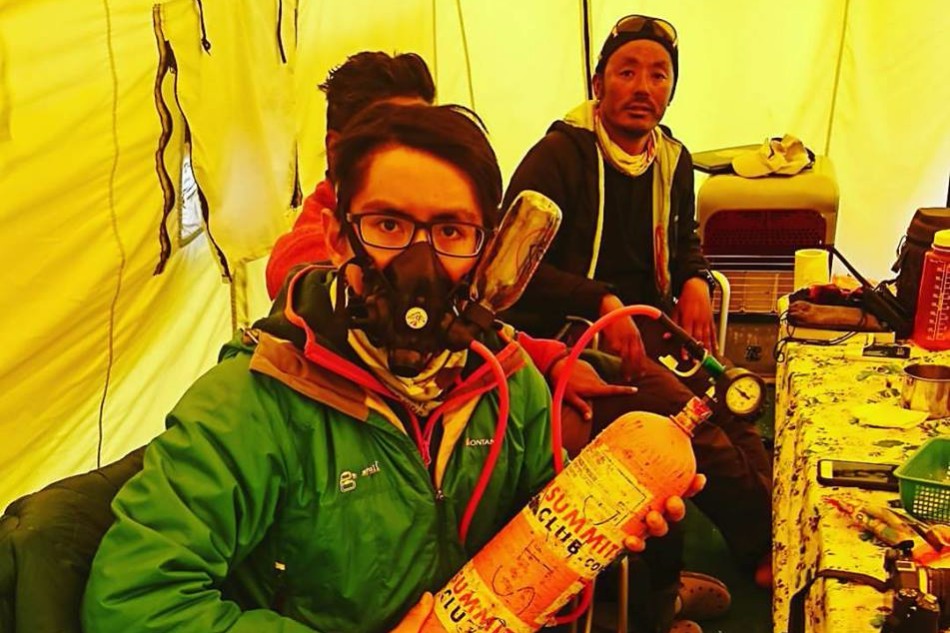 Were you immediately sure that you would like to go back and try again?
When I was at South Col, I felt that I wanted to try again for the summit the next day. However, I thought about my cold feet, and the possibility of the same situation happening again. The idea of heading back to Everest came about when I headed down to Camp 2 within the same summit day and when I reached camp 2. I met a Nepalese climber who had never climbed anything above 6500m but had reached the summit.
He was lucky and mentally strong to attempt this without much prior experience, and this made me realise that I had to go back. I know that Everest has things planned for me. This year just wasn't my year to reach the top and we should let fate take its course.
You are very personable, and always smiling and chatting with different people in the base camp. Would you say that meeting new people is an important part of mountaineering for you, and if so in what way?
Thank you! I always feel that climbing is not just about the mountains, but a mountain culture, which I thrive on. I love making friends with people who have similar climbing ambitions and abilities. Sometimes, it's these people who will spark another awesome project or opportunities that otherwise would not have been possible. Also, it's about getting help from these people if you urgently need help. This year on Everest, two Sherpas saved another two climbers who were left for dead from the south summit.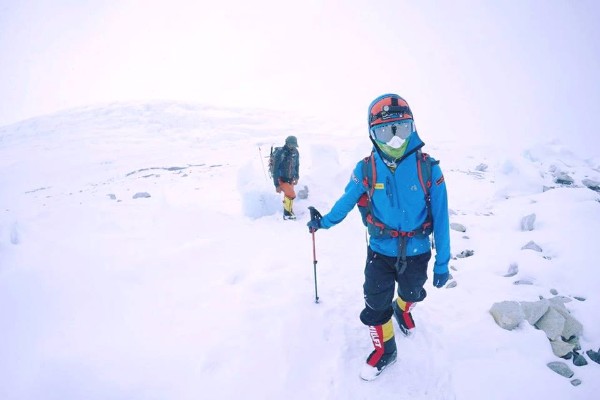 What are your ambitions for the future? I know you want to complete the seven summits: how far are you from achieving this goal, and why is it an important one for you?
My ambitions for the future include opening my own company which will focus on specific treks throughout the world, as well as coaching and providing consultation to Asian teams to achieve their own Everest, or Everest itself. I would also like to start a family, and I will be getting married this year. Another of my ambitions is to run an ultramarathon, like the Gobi Desert march.
For the 7 summits, I have climbed on 3 of them and had success on just one: Mount Kilimanjaro. For Aconcagua, I only reached 6400m after a solo attempt at the summit.
This is a special challenge for me, as I love travelling, and climbing around the world has always been one of my dreams. My intention is to complete the 7 summits between December 2018 and June 2019, after summiting Mount Everest in May 2018.
Lastly, I know you regularly give motivational speeches, so any advice for budding mountaineers?
For budding mountaineers out there, any dream you conceive can be achieved if you believe, as long as you work hard for that dream. Work as hard as your lungs want to breathe when you're underwater. And never ever give up. Sometimes, when failure seems like an easier option, just keep pushing on and you will walk out of hell. Last but not least, enjoy the suffering! That's what we love right?