The Japanese climber, Nobukazu Kuriki, is once again attempting to climb Everest solo. This will be his sixth attempt. What's more, he's doing it with the use of only one finger! 
Last year after the severe earthquakes hit Nepal, Kuriki was the first man to attempt the summit once again.
Tourism agencies were desperately hoping the Japanese climber would make it in order to give Nepal a springboard in which to bounce back from.
However, it was not to be and Kuriki had to turn back just 400 meters from the summit due to heavy snow and strong winds. Everest remained unclimbed during the autumn season of 2015.
This year though, Kuriki is back and is going for his 6th attempt! The 34 year old climber says that he is attempting the mountain solo and without the aid of bottled oxygen.
Unlike his previous attempts, Kuriki is going to tackle the worlds highest mountain from the Tibetan North side. The north side of Everest is not as popular as the Nepalese side due to its technical difficulty, however, it is quicker which often suits solo climbers.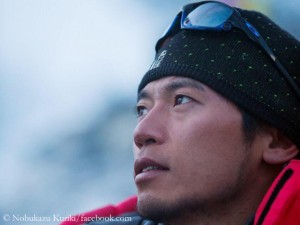 The most impressive part of this story is that during Kuriki's fall attempt in 2012, the climber suffered severe frostbit and nine of his fingers had to be amputated.
The climber was left with one complete thumb and nine stumps. This clearly has not deterred the man who has since attempted both Everest and Annapurna. Sadly, both climbs were cut short due to bad weather.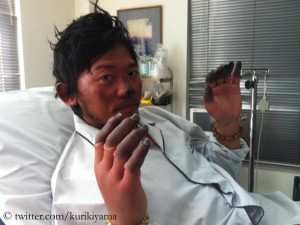 Climbing Everest is no cheap task and to finance his 6th attempt, the Japanese climber used a crowdfunding project.
The aim of the crowdfund was to raise the equivalent of US$180,000, however, the project ended up raising quite a bit more. "I think it's good if people have specific goals and go after them," says Kuriki.
Kuriki is not alone in his goal of a solo attempt this fall. The Spanish alpine athlete Kilian Jornet has already arrived in the Himalays to make a record breaking solo attempt on Everest.
Jornet is also going solo without bottled oxygen from the north side. The athlete is hoping to set the worlds fastest Everest climb and is due to leave in the next several weeks when the weather is right. "You need to go for it if conditions are good and if I'm feeling good, I should try," said Kilian. "But it's important to have the patience to wait for this good moment."
This is good advise for the Japanese climber also. The last time a climber ascended Everest in the fall was Eric Larsen 6 years ago, along with his team of 5 Sherpas.
Mountain IQ will keep you updated on Kuriki's 2016 attempt.