Located on the southern tip of South America, Patagonia is one of the last untouched wildernesses on earth. With thousands of miles of trails, there are almost unlimited day hikes in Patagonia.
While recently backpacking Patagonia, I wasn't always in the position to pre-book multi-day treks. The benefit of this was that I got to enjoy some of the best single-day trails of my life!
In this article, I have chosen 5 of my all-time favorite hikes in Patagonia.
Why You Shouldn't Miss Patagonia Day Hikes
Surreal Landscapes And An Abundance of Fauna and Flora
A landscape of jagged mountains, forests, and pristine glacial lakes. When hiking in Patagonia, you will find that you often need to pinch yourself to believe what you are seeing!
The region is also famous for its wide diversity of vegetation. From giant, prehistoric-looking jungle plants to tiny succulents living in the harshest conditions on mountaintops. Even if you are not a plant enthusiast, you are likely to be impressed.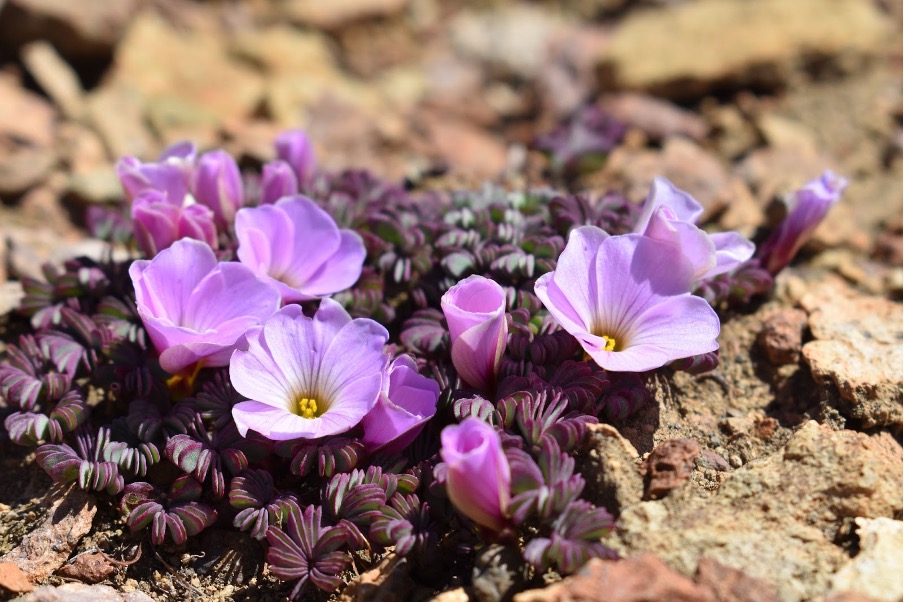 The plant diversity is matched only by the bird and animal species that call this region home. Wildlife here can be shy but lucky hikers can spot foxes, armadillos, deer, and even the occasional puma.
To experience most of Patagonia's diversity, it's worth planning an extended trip that includes both the Chilean and Argentinean sides.
If you're a hiker then Patagonia will be your heaven! With countless trails, stunning vistas, and very few tourists.
Day Hikes Vs Multi-Day Treks
Don't get me wrong, I love a multi-day trek. However, sometimes it's nice to hit the trail bright and early knowing you'll be back for dinner and a hot shower.
The other major convenience of day hikes in Patagonia is that you don't need to hike with a heavy backpack. I love the freedom of trekking with the bare minimum.
Opting for single-day trails also means you do not need to bring all the gear for overnight camping. Of course, you can rent gear but this works out very expensive in the long term.
No Need To Book In Advance
A huge factor in favor of day hikes over Patagonia's multi-day treks is that you do not need to plan months in advance. Another great thing is that you don't need a guide to hike in Patagonia.
Popular hikes like Torres del Paine's W Trek and O Trek need to be booked at least a few months in advance in order to secure a campsite. Most of the day hikes I did in Patagonia didn't require any form of prior reservation.
Only permits for major parks (Torres Del Paine) needed to be booked and paid for online. You can do this the day before your hike.
Top 5 Patagonian Day Hikes
There are day hikes available in Patagonia to suit all levels of fitness. New conservation areas spring up every year which means this trail network is constantly growing! For example, check out this new trail that just launched in Chile.
With so many options, it can be tough to decide.
To help you out, I've summarised 5 of the Best Day Hikes in Patagonia.
1. Refugio Frey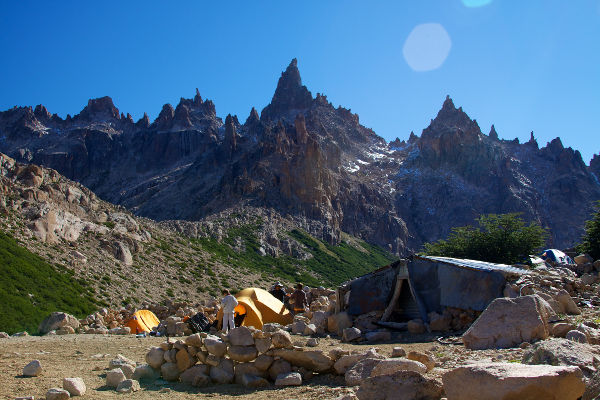 Where: Bariloche, Argentina
Difficulty: Moderate
Distance: 10km/ 6.2 miles
Average Trekking Time: 6-8 hours
Entrance Fee: None, but you need to fill out a registration form 48hrs beforehand
Consistently ranked as one of the best day hikes in Patagonia, the Refugio Frey is classed as a moderate hike and will take you all day.
The trail begins at the Cerro Cathedral Ski resort. You can get here by number 55 bus from Bariloche. There are several routes up – the slower (and easier) forest path, or the direct path over the rocks and boulders.
Get started early with the aim of ascending to the Refugio Frey for lunch.
In my opinion, the best option is to turn the trail into a loop by choosing the boulder route up and the forest walk on your way back down. Once at the top you'll get stunning views of the surrounding lakes and be able to chill out in the nice bar and chat with some locals.
2. Laguna Cerro Castillo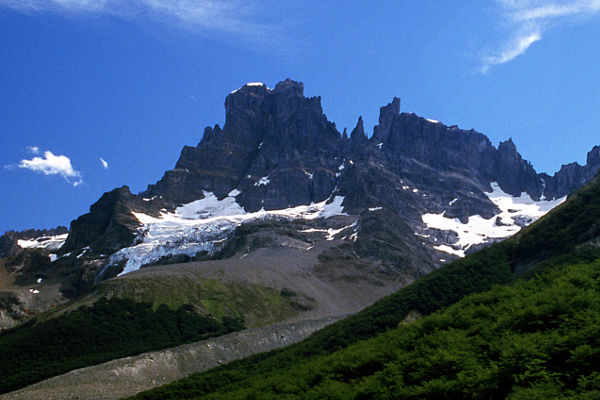 Where: Villa Cerro Castillo National Park
Difficulty: Moderate
Distance: 15km/ 9 miles
Average Trekking Time: 5-6 hours
Entrance Fee: $25pp (20,000 CLP)
If you want to see one of the famed blue glacial lakes of Patagonia then this trek is for you. With its extraordinarily clear blue waters, the Cerro Castillo lake looks like something out of a fairytale. You will be truly amazed at the quality of the crystal clear waters.
Although a fairly long hike, it's certainly possible to do it in a day. There is a long ascent but none of the routes is too technical. Set off early from Villa Cerro Castillo to arrive at the Mirador with plenty of time to enjoy the lake before you come back down.
Once at the top, you'll be rewarded with panoramic views of the surrounding mountains! If you're feeling very brave, maybe take a dip in the bright blue waters!
3. Exploradores Glacier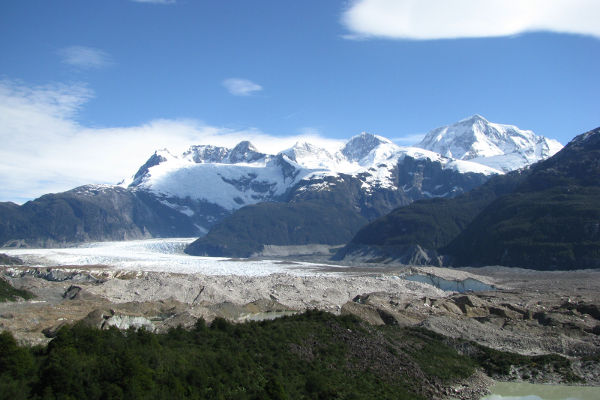 Where: Puerto Rio Tranquilo, Chile
Difficulty: Moderate
Average Trekking Time: 6 hours on the ice
Cost: Tours from $100/ 80,000CLP
You can only reach the Exploradores Glacier if you book an excursion. The full-day tour includes transport, a guide, a box lunch, and crampons to walk on the ice.
If you're after ice caves then this is the day hike for you! Many parts of Patagonia are only now becoming open to the public and
Exploradores Glacier is one of them. Even the locals were unaware of this glacier until 5 years ago and, as such, the area is still very much unexplored by tourists.
You set off from Puerto Rio Tranquilo from where it is a solid 3-4 hour hike each way. The last couple of hours requires a fair amount of climbing over rocks on glacier moraine. The reward is a stunning array of ice caves to explore!
Note: If you have your own car, you can drive the narrow gravel road to Laguna San Rafael National Park. You will need to pay the 8, 200CLP (about $10) entrance fee then you can walk the steep trail up as far as the Glacier viewpoint. You cannot access the ice caves without a guide.
4. Alatavista Trail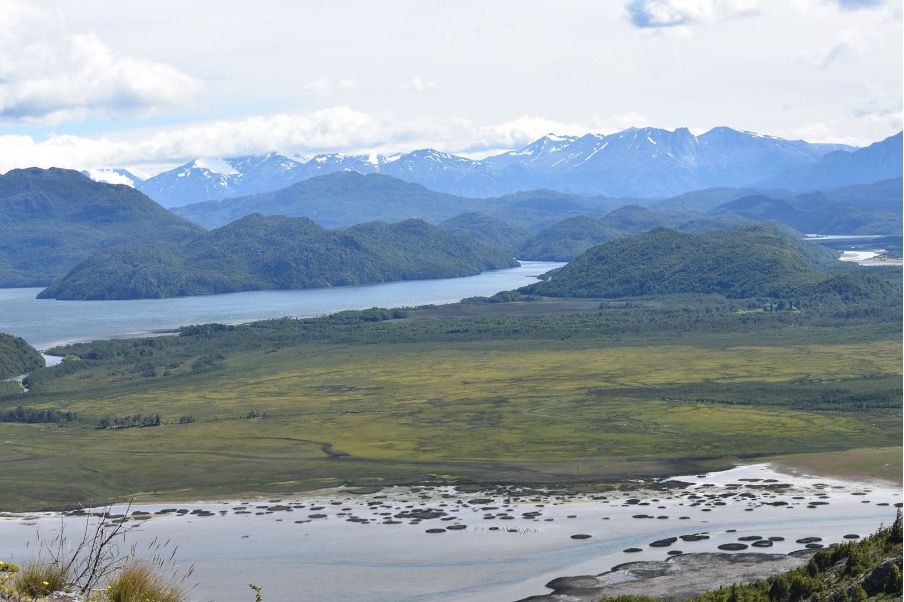 Where: Villa O' Higgens, Chile
Difficulty: Moderate
Distance: 14km/ 8.6 miles
Average Trekking Time: 6-7 hours
Entrance: Free
As far as I'm concerned, this is one of the most underrated day treks in Patagonia. I spent the entire day out without seeing another soul. You also have almost constant views of the surrounding lakes, rivers, and glaciers.
The starting point is about 3 km outside of Villa O' Higgen's. Follow the road that leads out of town towards the end of the Carretera Austral. This stretch is flat and easy to walk but you could try to hitch-hike.
Once you cross the bridge, you will see the start of the trail on the right. The first two kilometers are fairly easy through the forest.
After this, you steadily climb up and find yourself walking along the slopes with the most amazing views into the valley below.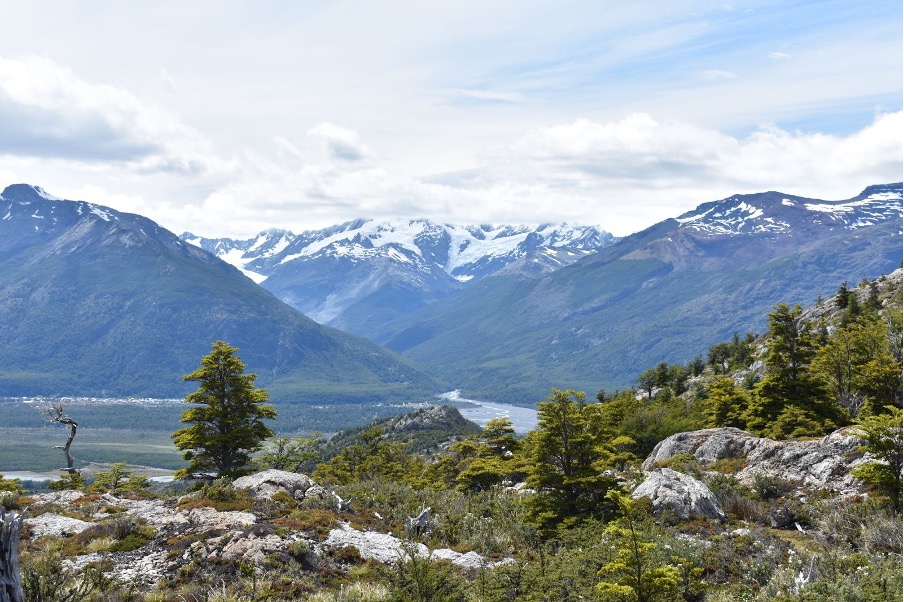 Wind gusts are increasingly strong the higher you get.
Eventually you get to a lookout point to Rio Negro. Rest here a while before heading back to town.
5. Fitz Roy Day Trek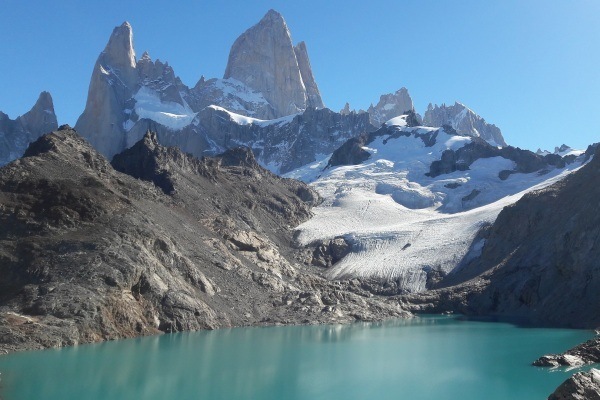 Where: Villa O' Higgens, Chile
Difficulty: Moderate with a challenging ascent
Distance: 14km/ 8.7 miles
Average Trekking Time: 6-8 hours
Entrance: Free
No hiking list in Patagonia would be complete without seeing Mt Fitz Roy! Made famous by the Patagonia brand emblem, Mt Fitz Roy is, without doubt, Patagonia's most recognisable landmark.
Although there are several multi-day trekking options around the mountain, it is perfectly possible to do a day hike to the Fitzroy viewpoint above El Chaltén.
The Trail starts on the eastern edge of town (i.e. the road that goes to the waterfall and Laguna Del Desierto). It's good to start around 6/7 am to beat the crowds.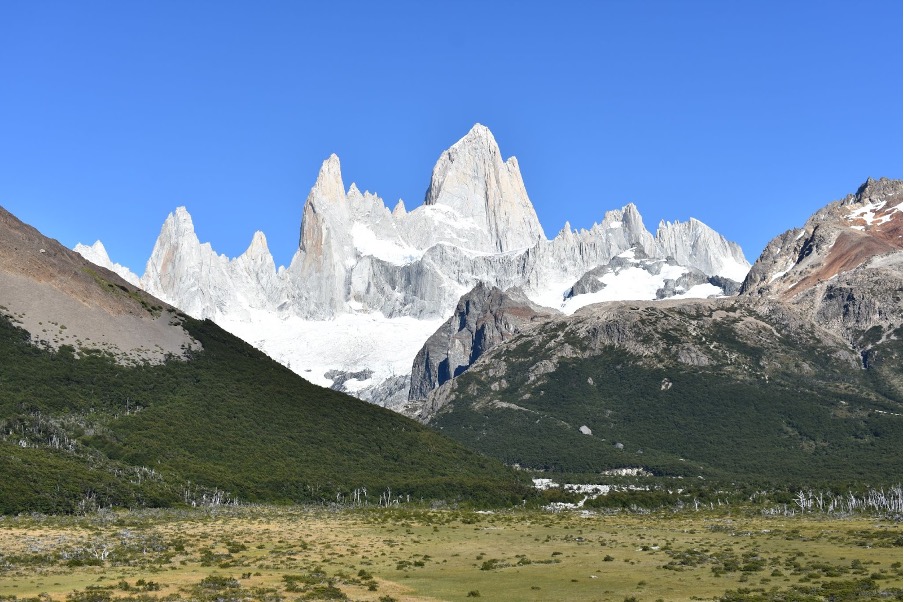 Most of the hike is easy with a lot of flat sections. However, the last 800M is fairly steep and you will need to be fit enough to handle this climb.
Its an out and back route. However, you can loop back a different by going past Laguna Madre and joining the Laguna Torre trail. back to town.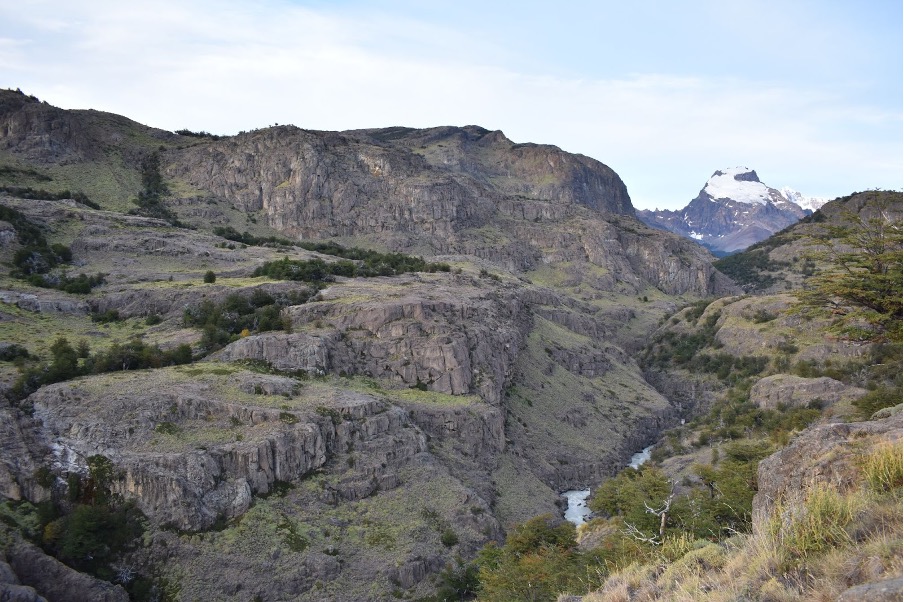 Day Hikes In Patagonia – The Essentials
Which Are The Best Towns For Patagonia Day Hikes?
Almost all towns in Patagonia are near some sort of hiking trails. However, these are the best in terms of variety and easy trail access.
Ushuaia
If you make it all the way to 'the end of the world' you will discover that there's so much more to Ushuaia than an access point to Antarctica. There are several free access trails which go to glaciers and lagunas. there is also a whole network of hikes in Tierra Del Fuego National Park.
El Chalten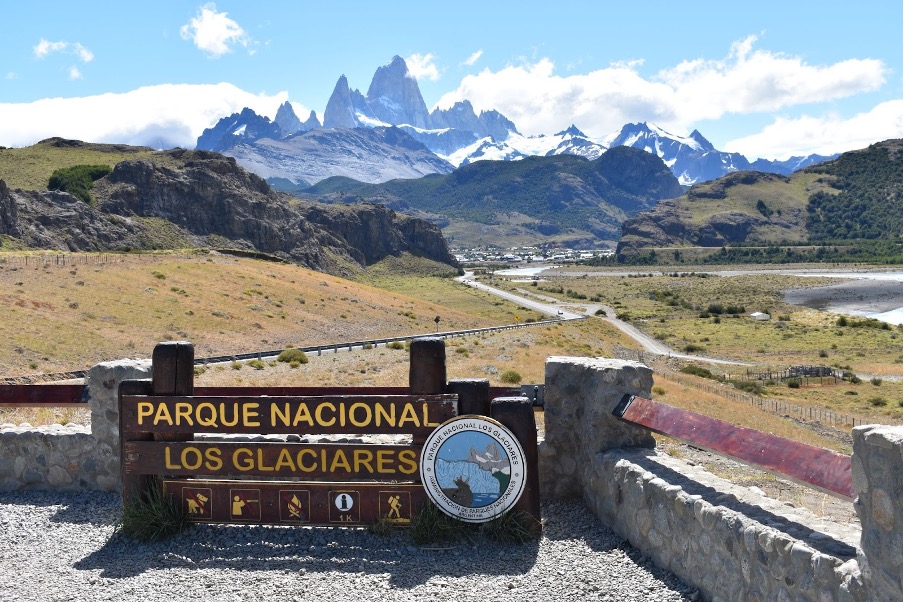 El Chalten is the favorite stop for many adventurers in South America. The town is small and sweet with good restaurants and an amazing gelato shop.
From El Chalten, you have access to a heap of day hikes including the Fitz Roy trail. You could spend a week here and not get to all the trails.
Full disclosure, El Chalten was not my favorite Patagonian stop. This had everything to do with the crowds and nothing to do with the town itself. If you, like me, enjoy quieter trails, avoid El Chalten over peak season (November- March).
Villa O'Higgens, Chile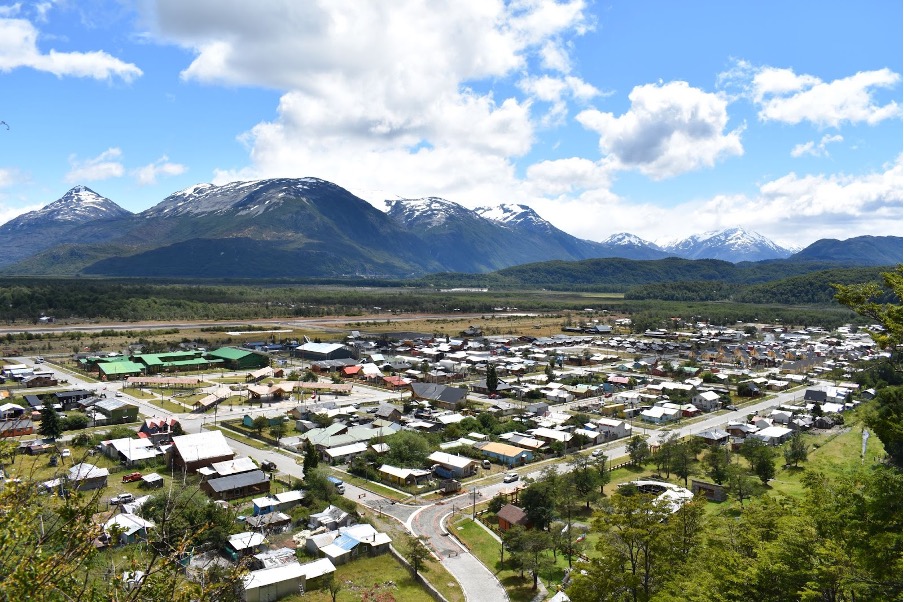 The sleepiest village at the end of Chile's Carratera austral. O'Higgens is often overlooked as a stop to catch the ferry to Argentina. However, there are several great day hikes right on the edge of town. I'd recommend spending a few days here to make the most of the trails.
Accommodation
Even though you will not be overnighting on the trails, camping remains the most affordable accommodation in Patagonia. Campsite generally cost around $10- $15 per person with access to bathrooms and, if your lucky, a kitchen. In peak season, campsites may be the only places that have space for last minute bookings.
If your getting back from a full day hike, its amazing to have a hot shower and a real bed to climb into! There are loads of hostels and hospedajes in Patagonia's small towns. These are fairly cheap ($10-$20) and make a great base to set off from on a different route each day.
If you want even more luxury, there are some really fancy hotels to check in to. If you are staying for an extended time, you can often get a good deal on Airbnb.
What To Pack For A Day Hike In Patagonia
As mentioned before, the best thing about day hikes is the simplicity. That doesn't mean you shouldn't prepare. A good day pack (like this one) should contain the essentials for a full day out on the trail.
These are your most essential items for day hikes in Patagonia:
A 1.5l water bottle. You will be able to refill often from clean rivers on most routes.
Snacks and lunch for the day
A windbreaker to keep off icy gusts
Gloves
Cap
Sunscreen
Basic first aid kit (a roll of bandages, and bandaids, is a good start)
Prescription medicine. if you use an inhaler and allergy pens, bring it with.
Finally, I'd suggest stocking up on Bug spray. Horseflies in Patagonia are BIG and nasty!
Looking For More Info on Hiking Patagonia?
See here for my guide to Trekking in Patagonia and best time to hike in Patagonia.
If you still have questions, feel free to drop them in the comment section below. We will respond to you as soon as possible.