Sedona is an American desert town in Arizona surrounded by red-rock buttes, steep canyon walls and lush pine forests. With numerous trail heads and limitless hiking opportunities, it is certainly worth visiting Sedona to experience some of Arizona's most iconic hikes.
Here are our picks of Sedona hikes worth exploring.
Sedona Hikes
It is no secret that Sedona is one of the most scenic areas of Arizona, offering casual hikers the opportunity to wonder along the red rocks or through dramatic canyons. Sedona is also home to a number of energy vortexes which revitalise, re-energise and heal your soul.
Whether you are looking to utilise one of the various energy vortexes or explore the numerous natural landmarks, Sedona provides you with countless hiking opportunities.
Since you are spoilt for choice when choosing a great Sedona hike, here is a list of the best hikes Sedona has to offer to make your decision a little easier.
Soldiers Pass Trail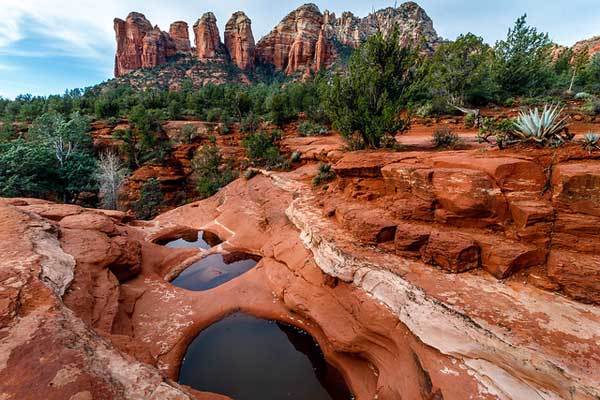 Soldiers Pass trail is definitely one of the most interesting hikes in the Sedona area with a number of exciting key sites to view along the way; such as the Devil's Kitchen Sinkhole, the Seven Sacred Pools as well as 3 natural arches. The trail is approximately 4.1-miles long and should take you around 2 hours to complete.
The trail takes you through the Red Rock Secret Mountain Wilderness area and ultimately leads to scenic views of Sedona and red cliffs in the wilderness. As you get closer to the pass, you can expect the trail to get steeper and rockier until it ultimately levels out with panoramic views.
An important factor to consider is parking, unfortunately parking at the trailhead is extremely limited and you are unable to park along the street. It is recommended that you arrive early in order to snag yourself a prime parking spot right at the trailhead, otherwise you will have to park further away, extending your hike by about 1-mile.
Devil's Bridge Trail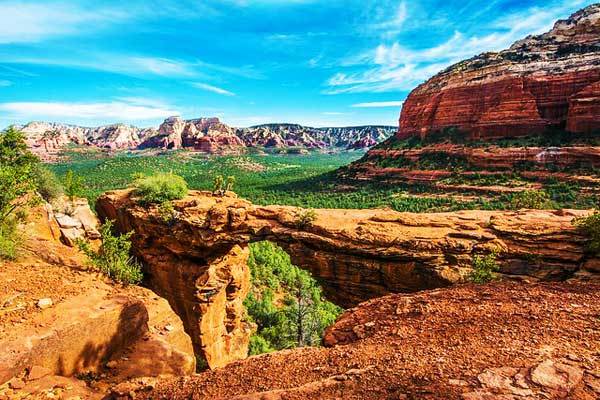 The Devil's Bridge trail is hands down one of the best hikes in the Sedona area. It is also the most frequented trail in Sedona, obviously due to its popularity, but also because almost anyone can do it.
The 4.2-mile out-and-back trail begins at the Devil's Bridge parking and leads you to the beautiful natural sandstone arch that is Devil's Bridge, it is also the largest natural sandstone arch in the Sedona area.
One thing to note is that this trail can get quite busy and you will not only be sharing the trail with other hikers; but also, jeeps, ATVs and mountain bikes.
The trail is of moderate difficulty with the first half of the hike being wide and easier and the second half becoming narrower and steeper. The trail has virtually no shade, so be sure to be prepared with plenty of sunblock and water. Parking is also quite hard to come by, it is recommended that you choose a time to hike outside of the most popular times.
West Fork Trail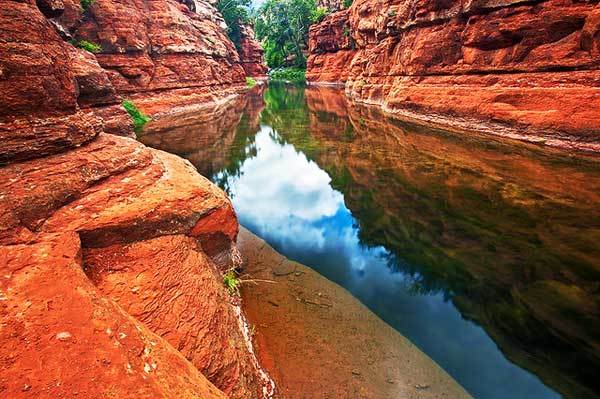 Another very popular hiking trail in the Sedona area is the West Fork Trail which is located in the stunning Oak Creek Canyon.
The 6.9-mile trail runs along and crosses the West Fork Creek around 13 times – make sure to bring water resistant shoes – the trail also passes a number of rock formations that have been sculpted by the water over the years.
The beauty of the trail is that you can make it as long or as short as you desire, as it is an in-and-out trail. The trail is great for families and provides shade, water and plenty of tree cover. The West Fork Trail can be hiked all year round and provides you with natural beauty, towering cliffs and lush greenery.
It is well-maintained for the first 3-miles, but as you hike further along the trail it the level of maintenance tends to decrease slightly. You will be required to pay $10 per car, but the parking lot fills up quickly so make sure to get there early.
Mornings and weekdays are the best times to hike as the trail is less crowded.
Boynton Canyon Trail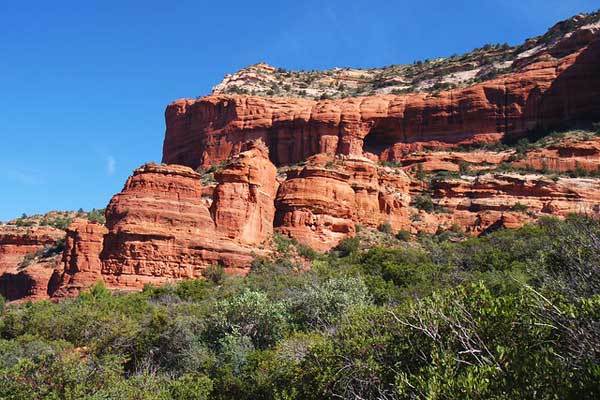 The Boynton Canyon Trail is definitely one of the most diverse and exciting trails in the area. The6.1-mile out-and-back trail takes you through the picturesque Boynton Canyon, which is possibly the most beautiful box canyon in the Sedona area.
Along the hike you will transition from beautiful forested landscape with varied plant life to awe-inspiring desert landscape with incredible scenery like tall towering buttes and red sandstone rock.
This trail is of moderate difficulty and should take you between 3 and 4 hours to complete.
If you are a particularly spiritual person, it is worth noting that there is an energy vortex near the beginning of the trail, with both masculine and feminine energies. You will leave the hike feeling energised and refreshed.
Cathedral Rock Hike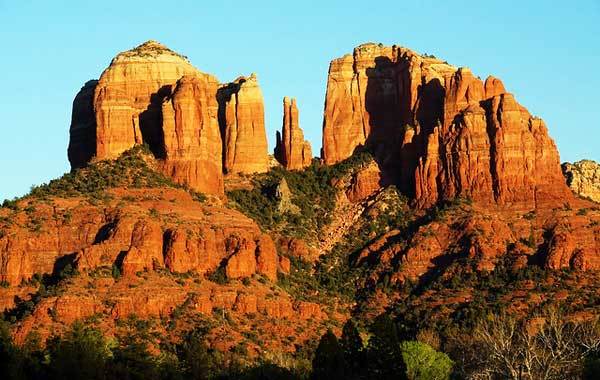 Another popular Sedona hike is the Cathedral Rock Hike. Although the hike is relatively short being a 1-mile round trip hike, it certainly isn't easy. Some sections of the hike are quite steep and will require the use of your hands and feet to hoist yourself up.
The hike offers fantastic views of Bell Rock, Courthouse Butte, the colorful Mogollon Rim and of course Cathedral Rock.
The trail runs up the east side of Cathedral rock across a relatively flat area and then ascends up the rocks, crossing the Templeton trail. Once you reach the saddle of Cathedral rock you will be treated to spectacular vistas of Sedona.
Not only is this hike incredibly beautiful, it is also home to one of Sedona's famous energy vortexes, so you can look forward to being re-energized in a gorgeous setting. You will, however, have to pay a $5-day fee, but it is certainly a small price to pay for such an enchanting experience.
Fay Canyon Trail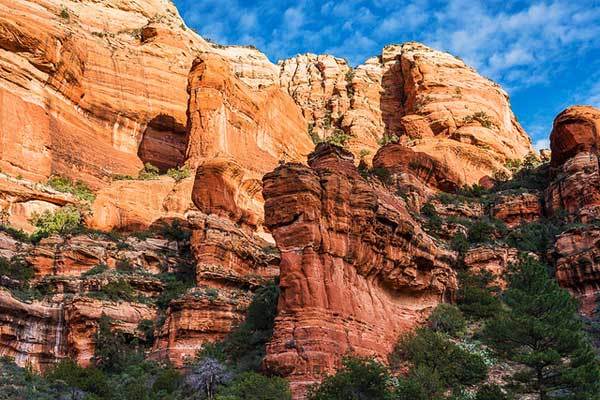 The Fay Canyon Trail is a short and sweet trail perfect for families. Unlike many of the other trails in the area, this trail is relatively flat and allows for an easy and relaxing hike through the Red Rock Secret Wilderness.
The trail, located in one of the most beautiful areas of Sedona is 2.4-miles long and leads you right into the heart of the red rocks, walking below the dramatic cliff walls and hanging gardens.
The trail runs through a treed area and offers a good amount of shade for the majority of the way, particularly in spring and summer when there are leaves of the trees.
The trail ends at a towering rock formation with canyon walls on either side.
Although short, this hike is easily one of the most picturesque, packing in a lot of scenery in such a short amount of time.
The trail starts off good and just keeps getting better. If you are looking to take your family on a hike, the Fay Canyon Trail is an absolute no-brainer.
Sedona Hiking Trails FAQ
1. What is the most popular hike in Sedona?
The most popular hike in Sedona is the Cathedral Rock Trail. This trail offers stunning views of the surrounding red rock formations and the city of Sedona. The hike is moderately difficult and takes about 1.5 to 2 hours to complete round trip.
2. What is the best hiking app for Sedona?
There are several hiking apps for Sedona, but the most popular ones are AllTrails, Hiking Project, and Trailforks. These apps provide detailed information about the trails, including distance, difficulty level, and user reviews.
3. Is hiking in Sedona free?
Yes, hiking in Sedona is free. Most of the trails are located in the Coconino National Forest, which is a public land managed by the US Forest Service. However, there may be fees for parking in some trailheads or for accessing certain areas of the forest.
4. What are the 4 vortex hikes in Sedona AZ?
The four vortex hikes in Sedona are Cathedral Rock, Bell Rock, Boynton Canyon, and Airport Mesa. These hikes are believed to have powerful energy vortexes that can enhance spiritual experiences and personal growth.
5. What is the best month to hike Sedona?
The best month to hike in Sedona is from March to May and from September to November. During these months, the weather is mild, and the crowds are smaller compared to the peak summer season.
6. How many hikes can you do in a day in Sedona?
The number of hikes you can do in a day in Sedona depends on your fitness level and the difficulty of the trails. Most people can do 2-3 hikes in a day, but it's essential to pace yourself and allow time to rest and rehydrate between hikes.
7. Is it safe to hike alone in Sedona?
It is generally safe to hike alone in Sedona, but it's always recommended to hike with a partner or a group. Make sure to tell someone where you're going and when you expect to return, carry plenty of water, and stay on designated trails.
8. How many days do you need in Sedona to hike?
The number of days you need in Sedona to hike depends on your hiking goals and preferences. If you want to explore the main trails and see the popular sights, you can do it in 2-3 days. However, if you want to experience the lesser-known trails and spend more time in nature, you may need 5-7 days or more.
More US hiking guides: