Washington State is a hiker's paradise, with an abundance of stunning landscapes and hiking trails to explore.
From rugged coastlines and pristine alpine lakes to towering mountains and lush rainforests, there is something for everyone in this beautiful state.
Whether you're a seasoned hiker looking for a challenging trek or a beginner seeking an easy day hike, Washington has it all.
In this article, we'll take a look at some of the best hikes in Washington State, including some of the state's most popular trails and some hidden gems that are off the beaten path.
Top Washington Hikes
Cape Flattery Hike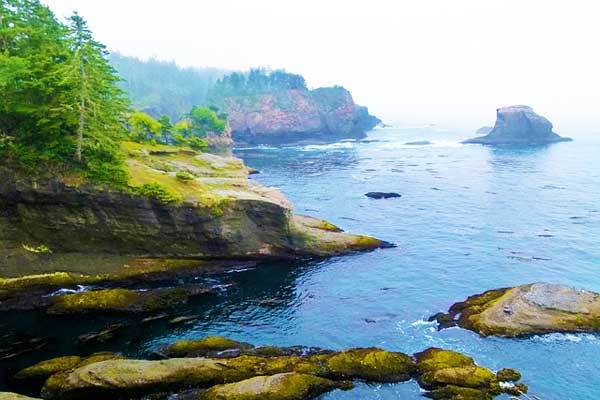 Trailhead: Cape Flattery Road, Makah Reservation
Distance: 2.4 km
Elevation gain: 66 m
Duration: ~30 mins
Difficulty: Easy
The Cape Flattery is located in a nature sanctuary that is known for its extraordinary wildlife and sunsets.
Along the coast, you will see impressive headlands, deep coves, squawking seabirds (such as puffins, guillemots and oyster-catchers), and possibly even whales and sea lions.
Walking along the trail is leisurely as it is well-maintained and provides boardwalks and steps to traverse any tricky areas.
Start the walk in a fog-obscured forest of Sitka spruce which you'll emerge from to catch views of the ocean out to the lighthouse on Tatoosh Island. You should expect drizzle, so pack a raincoat.
Mount Rainier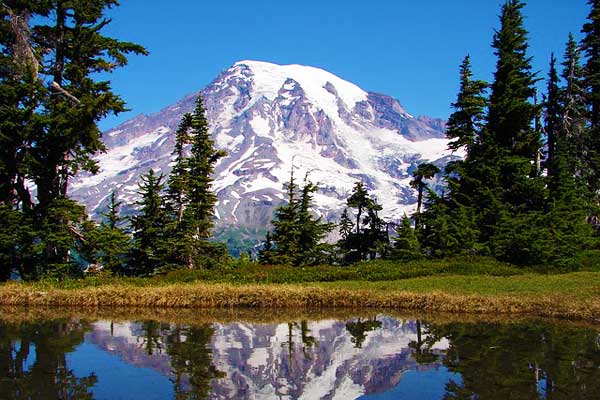 Trailhead: Mount Rainier National Park
Elevation gain: Over 2700 m
Duration: 2 days
Difficulty: Very strenuous
Mount Rainier is one of the most beautiful mountains in North America, and, as one of the infamously challenging "fourteeners", attracts over 11,000 intrepid climbers each year. The mountain is also known as Tahoma or Tacoma, literally "Great Snowy Peak".
To successfully summit Mount Rainier, a high level of fitness, as well as rigorous conditioning is required beforehand.
This is critical to avoid careless mistakes on the mountain which occur due to fatigue. Apart from fitness, the most significant challenge to a successful and enjoyable climb are the unpredictable and dramatically variable weather conditions.
Winter-like snowstorms frequently strike even in the middle of summer. The most popular, and most straightforward routes up this daunting massif are Disappointment Cleaver and Emmons-Winthrop Glacier, but we recommend even for these routes that prospective have some prior experience.
Mount Storm King Hike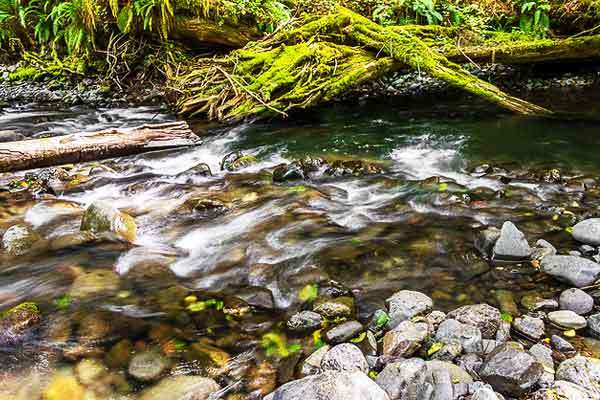 Trailhead: Lake Crescent, Olympic National Park
Distance: 4.5 km
Elevation gain: 519 m
Duration: 3-5 hours
Difficulty: Strenuous
The hike up Mount Storm King is one of the most popular in the peninsula, known for its gorgeous views of Lake Crescent as well as its steep gradient. The trail zigzags through an old-growth forest and passes two spectacular lookouts.
The first lookout is simply a clearing of the forest, from which you will see over the lake and all the way to the Straits of Juan De Fuca. The second lookout requires the use of precarious ropes to scramble to the summit of Mount Storm King.
If you are looking to push yourself a bit further, there is also the option of the "grand traverse", for which you start at Barnes Creek, travel up to Lookout Dome, only after which you tackle Mount Storm King.
Poo Poo Point Hike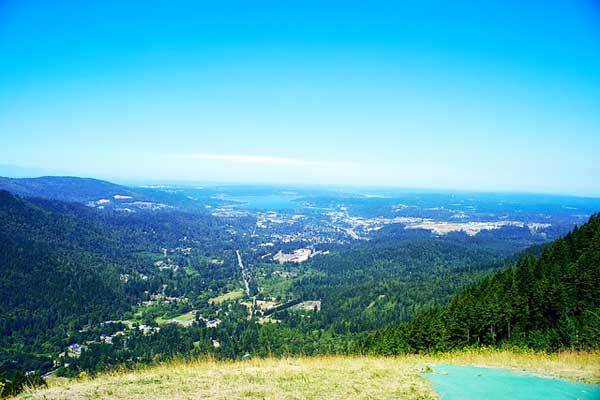 Trailhead: Issaquah Alps, Chirico trail
Distance: 6.1 km
Elevation gain: 500 m
Duration: 1 hour
Difficulty: Easy to moderate
Poo Poo Point is a knoll protruding on the shoulder of the West Tiger Mountain, which is a launching pad for paragliders soar.
The point hosts a couple of picnic tables with a spectacular view of the legendary Mount Rainier.
The walk along Chirico trail is child-and-dog-friendly and provides you with lovely views, after which you can head to downtown Issaquah for a post-hike visit to a restaurant or brewery.
Mount Si Hike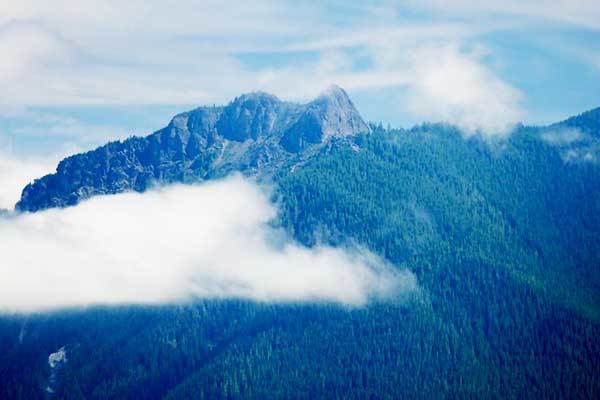 Trailhead: Mount Si road, Snoqualmie Region
Distance: 12.9 km
Elevation gain: 960 m
Duration: 2-3 hours
Difficulty: Moderate
Mount Si is one of the most heavily-trafficked hikes in the Seattle area and avid hikers use it to kick-off the season, while the mountain is less crowded.
The trail consists of a series of switchbacks that start off relatively flat and then steepen slowly until you reach the summit, first winding through a forest which thins out to shrubbery dotted by boulders.
From the top, you will have a view of Mount Rainier, and many locals use this short trek as part of their preparation for hiking this iconic massif.
You will also be rewarded with views of downtown Seattle, Snoqualmie Valley and the Olympic Peninsula. If you're particularly fearless, you might want to continue on after the trail breaks off to Haystack, the true summit of Mount Si.
This requires a bit of dangerous scrambling next to a steep drop-off, but you may enjoy this exhilarating end to your afternoon's climb.
Hurricane Hill Hike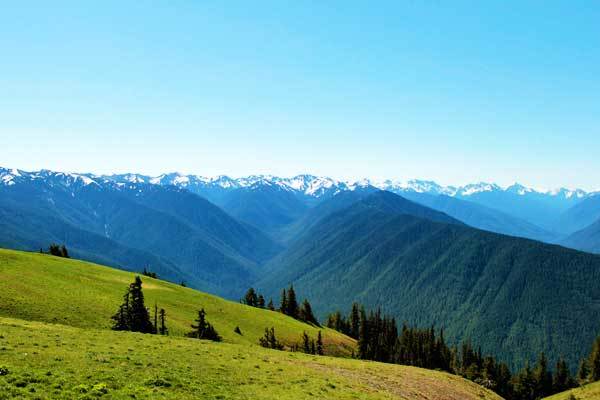 Trailhead: Olympic National Park
Distance: 5.1 km
Elevation gain: 240 m
Duration: 1-2 hours
Difficulty: Easy to Moderate
Hurricane Hill is the perfect introduction to hiking in Olympic National Park, and can serve as the starting section of several longer hikes, such as the 22-km round trip from Elwha River Valley trails.
The trail is usually snow-free from July until September; it is well maintained and even paved for much of the walk.
Along the way, it offers sprawling views of the Baily Range right from the get-go as it winds through pine forests, indigenous shrubbery and past helpful signposts identifying notable landmarks along the horizon.
From the top, you will access panoramic views of the Olympic Range, Vancouver Island and Puget Sound. Return to your car via the same route.
Gothic Basin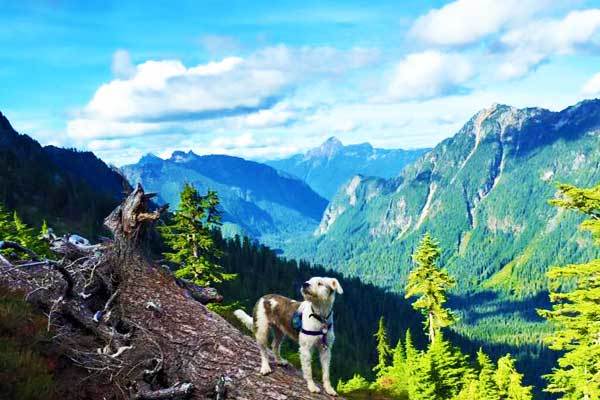 Trailhead: Barlow Pass
Distance: 16 km
Elevation gain: 865 m
Duration: 6-9 hours
Difficulty: Strenuous
Gothic Basin is an intense, full-day hike with the option of setting up camp and staying overnight.
Despite the relatively manageable elevation gain, the hike is very steep and tough at times, as the miners who originally built the trail couldn't be bothered with designing comfortable switchbacks or distributing the gradient.
The trail starts off on a flat dirt road which leads you over Weden Creek. When the incline starts, it is dramatic and you will ascend almost 1000 m in under 5 km.
The scenery will quickly evolve into craggy granite, passing alpine lakes and overlooking the North Cascades. We recommend that you stretch your expedition over two days to give yourself time to absorb the unique, rocky scenery.
Cape Disappointment – North Head Trail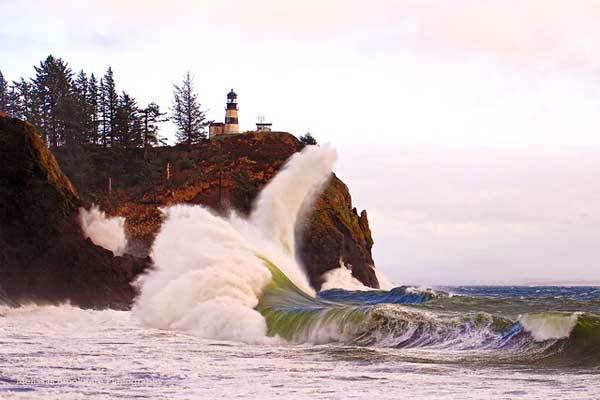 Trailhead: North Head Lighthouse Parking
Distance: 4.6 km
Elevation gain: 117 m
Duration: ~1 hour
Difficulty: Easy
The North Head Trail of Cape Disappointment is a quick walk on the southern-most tip of the Washington coastline.
Although the sounds and smells of the ocean are ever-present, you won't really see views of the water.
Instead, this walk is characterised by the moss-covered ancient trees, rugged coastal vegetation and the muddy-trail-manoeuvring.
After several steep descents, you will turn inland and climb through a coastal meadow to end up on the road. If you also want an impressive view of the ocean, McKenzie Head across the road is perfect to continue your hike.
La Push Second Beach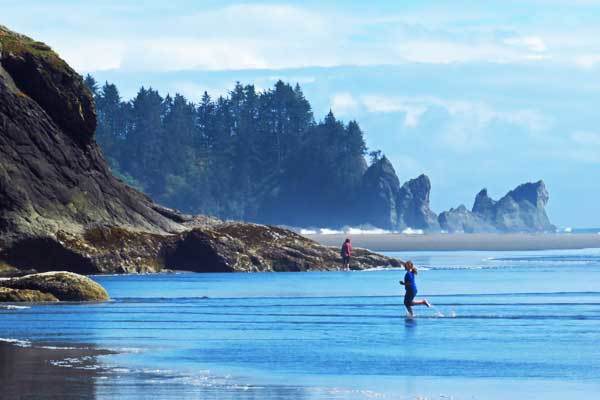 Trailhead: La Push
Distance: 6.4 km
Elevation gain: 94 m
Duration: ~ 1 hour
Difficulty: Easy
The hike to Second Beach is short and interesting, as you will descend down onto the shoreline and observe the dramatic sea stacks and an arch through which wind spookily moans when the storms hit the beach.
Make sure you check the tides before your hike so that you have plenty of time to wander up and down the shore.
Stop and turn back at Teahwhit Head to the south or at the rocky outcrops to the north.
Dirty Face Lookout and Peak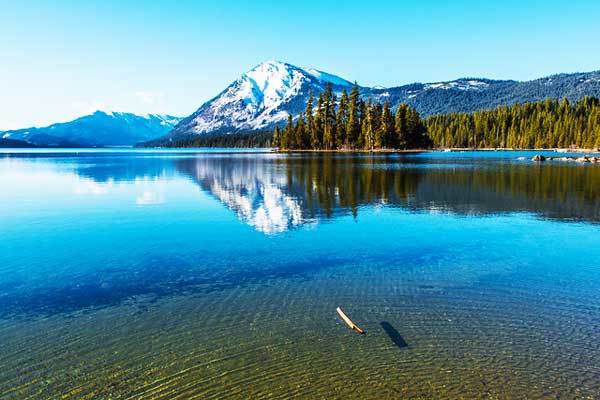 Trailhead: Lake Wenatchee, Central Cascades
Distance: 14 km
Elevation gain: 1200 m
Duration: 7 hours
Difficulty: Strenuous
Dirty Face Lookout is one of the earliest trails in the region to thaw, making it the perfect way to kick-off the hiking season.
The trail boasts gorgeous views as well as a huge variety of wildflowers, each of which thrive at a different altitude. For the first section of the hike you will be making your way through a forest of ponderosa pines and big leaf maples until you reach a small waterfall.
Hereafter, there are a number of switchbacks as the gradient increases as the view starts to open up and the vegetation becomes drier. The final stretch is marked by land which has been scarred by a fire, which is only now welcoming tentative saplings and fireweed.
At the summit, the views are extraordinary and you will be able to see as far out as Sky Glacier Peak, Mount Stuart and even, on clear days, Mount Rainier. Head back via the same route and consider rewarding yourself with a milkshake at the 59er Diner.
Colchuck Lake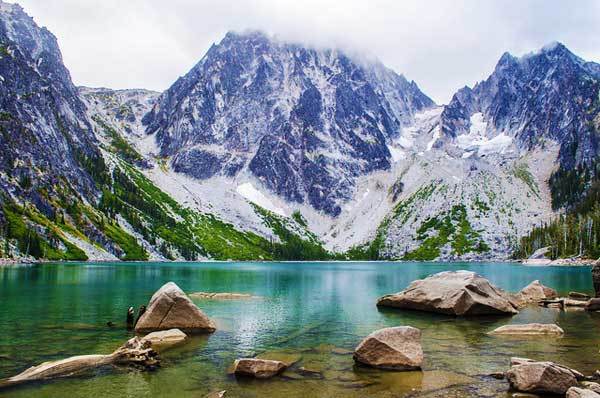 Trailhead: Central Cascade, Leavenworth
Distance: 12.8 km
Elevation gain: 700 m
Duration: ~8 hours
Difficulty: Moderate
Although long and at times steep, any memory of the Colchuck Lake hike is overshadowed by the stunning final destination. The icy waters shimmer in every shade of blue and looming on the horizon are the dramatic, double massifs of Dragontail and Colchuck.
This gorgeous view is also quite easily accessed, with the elevation gain over the entire walk remaining relatively modest making it doable for hikers with a range of abilities. Most of the trail meanders through dense forest which eventually, as the trail steepens, thins out in favour of rockier terrain.
Once you reach the lakeshore, you can continue by scrambling through the larches and subalpine firs until the path eventually gives way to the Aasgard Pass. Spend some time soaking in the scenery and then head back before the formal becomes too disjointed to follow.
Pacific Crest Trail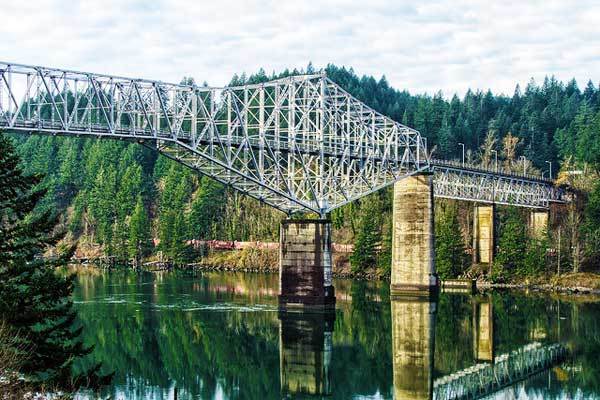 Trailhead: From Mexico to Canadian Border
Distance: 4264 km in total
Duration: Variable
Difficulty: Variable
The Pacific Crest Trail (PCT) links the Mexican to the Canadian border, winding through every type of scenery and challenge along the way.
Hiking along the trail in southern Washington, you can expect glorious views of the Columbia River, as well as Mounts Adams, Rainier and St Helen as you hike the 240 km from The Bridge of Gods to the White Pass. Alternatively, you could choose to hike any of the 120 km from Stevens Pass to Snoqualmie Pass through the Cascades.
Some sections of the PCT are perfect for beginner backpackers who want to push themselves out of the single-day comfort zone, while others are more suited to rugged adventurers – there is really something here for everyone.
You can also decide how long you want to hike for, with the option of extended multi-day hikes or a simple afternoon excursion.
Palouse Falls Hike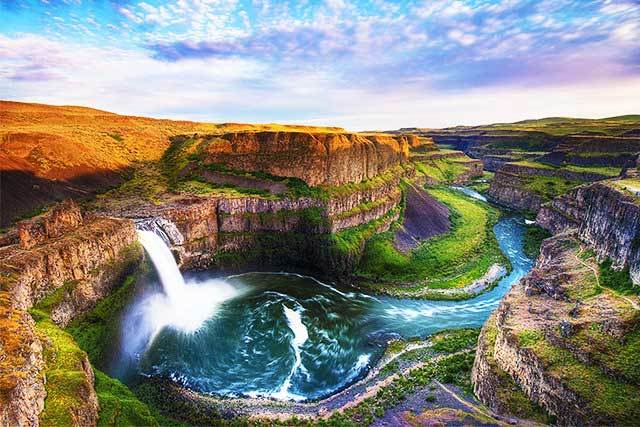 Trailhead: Palouse Falls State Park
Distance: 3.2 km
Elevation gain: 243 m
Duration: ~1 hour
Difficulty: Moderate
Palouse Falls is known as the "official waterfall" of Washington state, standing at 60 m tall.
The falls are uniquely located along a glacial path which is thousands of years old, and are therefore an intriguing geological landmark. From the parking lot, a gravel path neatly leads the way through grassy land where you can spot colourful wildflowers.
Once you arrive at the falls, you may see a dirt trail leading to the bottom of the canyon. The park officials advise against following this path as the terrain can be loose and dangerous.
Washington Hiking Trails FAQ
What is the best time of year to hike in Washington?
The hiking season in Washington runs from late spring to early fall, with the peak season being from June to September.
Late spring (May and early June) can be a great time to hike in Washington, especially in lower-elevation areas, as the wildflowers are in bloom and the weather is mild. However, higher-elevation areas may still have significant snow cover, which can make some trails impassable.
Summer (June to September) is the most popular time to hike in Washington, as the weather is generally warm and dry, and the trails are generally snow-free. However, the summer months can also be crowded, particularly on popular trails.
Fall (September to early November) can also be a great time to hike in Washington, as the weather is generally mild, the fall foliage is beautiful, and the crowds have thinned out. However, higher-elevation areas may start to see snowfall in the fall, so it's important to check trail conditions before embarking on a hike.
What is the most popular hike in Washington?
The most popular hike in Washington State is probably the trail to the summit of Mount Si.
Do you need a permit to hike in Washington?
Many hiking trails in Washington do not require permits or fees, but some do.
For example, if you plan to hike in any of the National Parks in Washington (Olympic National Park, North Cascades National Park, or Mount Rainier National Park), you may need a permit for backcountry camping, climbing, or other activities. Some other popular hiking areas in Washington, such as the Enchantments or the Mount St. Helens area, also require permits for backcountry camping or day-use.
It's important to research the specific trail or area you plan to hike in and check with the managing agency to see if any permits or fees are required. Additionally, some popular hiking areas in Washington may have limited access and require advanced reservations, especially during peak season.
You may also like these US hikes by State: