Alan Arnette is well known in the mountaineering community for his epic blog, alanarnette.com.
The site is a tome of mountaineering information, with loads of insights and personal accounts from Alan's many expeditions, as well as a great resource for anyone interested in Mount Everest – the site features Alan's yearly chronicles of the Everest climbing season, dating back to 2004!
Among Alan's personal climbing accomplishments, which he is super modest about, are a successful summit of Mount Everest in 2011 and Mount Manaslu in 2013. In July 2014 Alan summited K2 at the young age of 58, making him the 18th and oldest American to summit the second highest peak in the World!
Alan is a huge advocate for helping to find a cure for Alzheimer's, a currently incurable disease that his mum succumbed to in 2009. He has used climbing as a platform to fundraise for Alzheimer's, and to date has raised well over $350,000 for research and reached over 50 million people for awareness.
We recently caught up with Alan to ask him about his most recent expedition to climb Island Peak in Nepal.
Enter Alan.
Alan Arnette Interview
Climbing Island Peak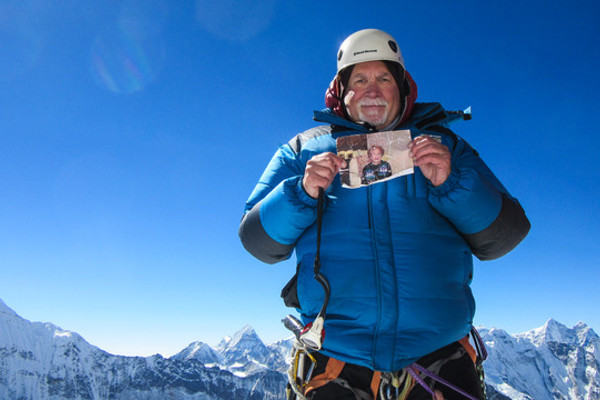 It sounds like you have had a really eventful 18 months. Can you tell us a bit about what led you to decide to climb Island Peak?
Yes, "eventful" is a good word. I was excited to continue my quest of climbing the 8000ers with a planned expedition to Dhaulagiri in April/May of 2017.
While training in Colorado, I was climbing with my regular partner Jim Davidson on a simple Colorado walk-up, Twin Sisters at 11,000-feet/3350-meters. It was windy that day but became extremely gusty as we broached tree line. A gust estimated at 100 mph/160 kph sent me spinning downhill into a rock field. Upon I landing, I smashed my nasal cavity and broke the tibia and fibula in my right leg in three places. Thanks to Jim, and local Search and Rescue operations, nine hours later I was in the hospital and about to begin a year of recovery that included three operations to repair the damage.
While a setback, the "incident" has been nothing but a positive in my life providing me the opportunity to reframe it as something outside of my control, yet I could control my response. I have chosen to view the positives including gratitude to my close circle of friends for their unwavering support, my family for their endless love and of course that so many things went right that day.
However over the past 18 months, I've had to work on many facets of my climbing that previously came easy – balance, managing my emotions in difficult conditions and, of course, dreams.
It is this last point where climbing Island Peak came into focus. I knew I wanted to go back to altitude but lacked the confidence, and fitness, to attempt an 8000er.
So when an unexpected opportunity came about to help establish a dental clinic in the Khumbu plus check on donated clean-cook stoves to Nepali families, I decided to use the trip to continue my close relationship with Kami Sherpa and his family. Kami was instrumental in my summits of Everest and K2. We have now been on five expeditions together.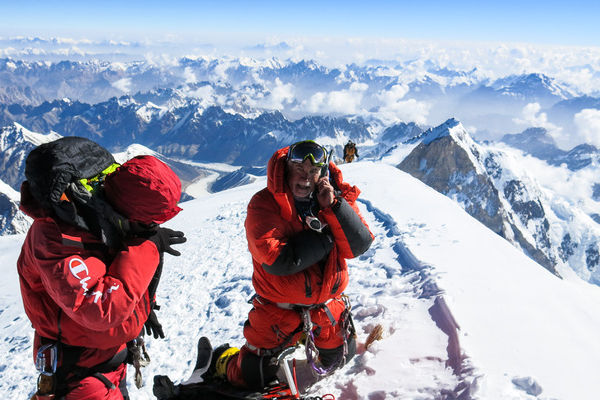 Also, I use my climbs to raise awareness and research funds on behalf of Alzheimer's non-profits. I'm grateful to my followers for donating over $40,000 for the Cure Alzheimer's Fund during this climb. 100% for research, zero to overhead, marketing or ever to me.
So we spent the month of October touring the Khumbu by way of the stunning Goyko Lakes route, then summited Island Peak on October 20th.
How was the trek into Island Peak base camp? Did you follow the main track up to EBC to acclimatize or did you take another acclimatization route?
My first trip to Nepal was in 1997 where I took the Goyko Lakes route to Everest Base Camp. I say today what I said after that trip over 20 years ago, that "A trek in Nepal will change your life." This was when my love affair began with Nepal, the people, culture and of course, the mountains.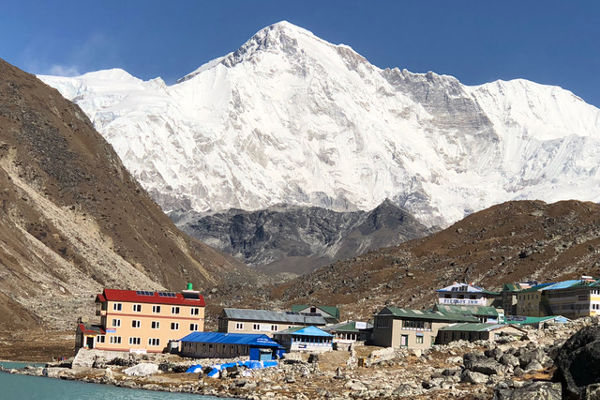 So this trip I made a last minute change from the standard trek on the EBC route to a new variation, for me, of the Goyko Lakes route then over the Cho La pass. It was simply stunning. Less crowded, beautiful views of Ama Dablam, Lobuche, Cholatse and of course the 8000ers, Cho Oyu, Everest, Lhotse, and Makalu. While more developed than in 1997, it still has a simple charm that touches you deeply.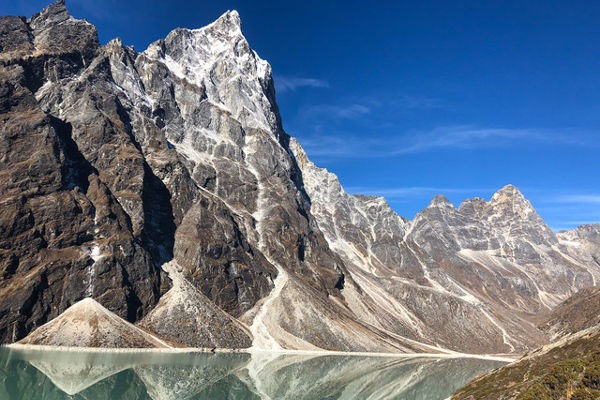 What did you think of the facilities in Chukkung? We've heard the gear rental facilities are really good. Can you provide some insight on what one can rent and the approximate costs?
Chhukung is a small village of about five teahouses. It was clean, remote and isolated with no cell service from NCELL but there was WiFi. We stayed at the Sunrise Lodge who also run the base camp for Island Peak.
Yes, they rent everything one might need to attempt Island including boots, layers, down jackets, ice axe, crampons, ropes – the works. Mingma Sherpa, the owner, told me it would cost about $100 to rent everything for the two-day climb. A bargain if you consider hiring a porter to haul gear from Lukla and other associated costs.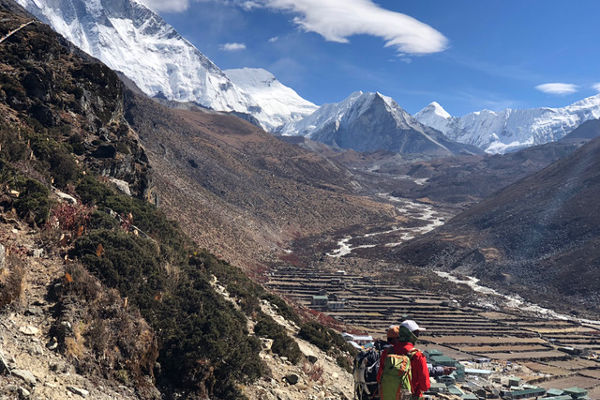 He also runs a base camp about three hours walk from Chhukung. It costs about $60 and that includes a spacious three-person tent plus nice thick sleeping pad and all the meals you need.
What sections of the climb did you find most challenging? Could you briefly take us through your climb from base camp to the crampon point, and then onto the glacier, headwall, and summit?
Let me start with a definition. Nepal puts Imja Tse aka Island Peak in the "Trekking Peak" category. I strongly disagree and believe this sets the wrong expectation for anyone considering it. I summited another Trekking Peak in 2011, Lobuche East and it was a straightforward walk-up. Island was nothing of the sort.
We left base camp at 1:00 am, obviously using headlamps to show the route. It wasn't until we descended later in the day that I saw what we had been climbing – huge boulders, narrow ramps pressed up to steep rock walls and some sections with significant exposure.
It took us about 2 hours to reach Advanced Base Camp, a small outpost of tents used by some expeditions to split the climb into two days. After another couple of hours, we reached Crampon Point where the glacier begins. There we put on our harness and crampons and took out our ice axes.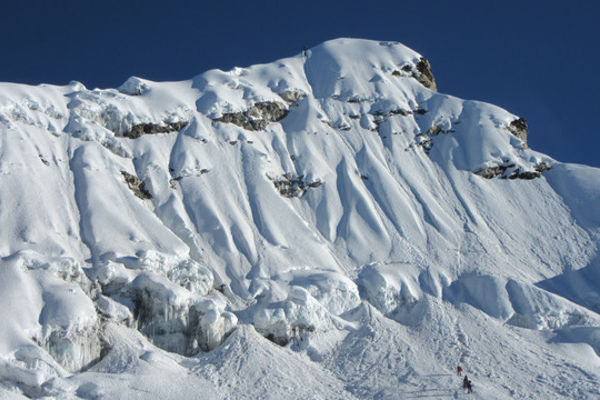 The glacier was another surprise in that it was full of crevasses and a couple of steep snow walls and gullies. There was one wall with four ladders lashed together to help the climb. Finally, it flattens out to a large snowfield that leads to the Headwall, a 300-foot snow-covered hillside with angles from 30 to 60 degrees.
It was fixed with three ropes that allowed for simultaneous up and down traffic. The final section to the tiny summit was short, narrow and steep. We shared the summit with a large group of 15 people, all trying to get selfies!
While I wouldn't characterize Island Peak as overly difficult or significantly technical, it has spots of both so anyone going should be well informed and prepared.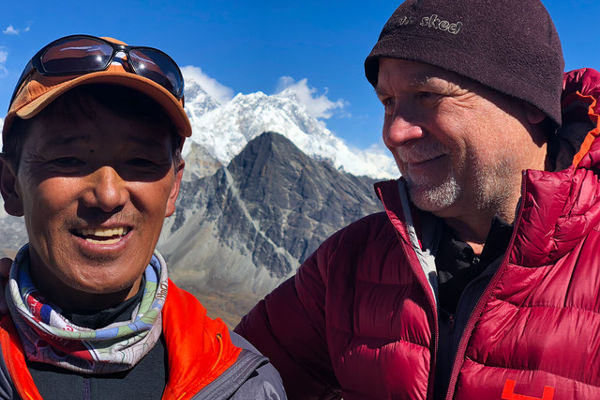 For folks who may be interested in climbing Island Peak, what would be your top three tips or recommendations?
Get some snow climbing/hiking experience and know how to use crampons, an ice axe, and a jumar properly.
Second, understand how your body performs at altitude with climbs on lesser peaks before Imja Tse.
Finally, be prepared for a wide range of temperatures. It was very cold just before dawn and I was happy to have a thick down jacket Also it was extremely windy on the summit, so again protecting hands, feet, face is critical.
What does the future hold for Alan Arnette? Are you planning any other climbs? Is there another 8000er in sight? Or are you hanging up the crampons for now?
The best answer I have is that I just don't know. I developed a breathing problem on Island Peak that slowed me down a lot. Now, two weeks later, I still have it.
I do know, I will always spend time in the mountains, whether it's here in Colorado with an unlimited selection of easy to ridiculously impossible routes on our 12, 13 and 14,000-foot peaks.
I'm 62 years-old. I started climbing when I was 38 so it's been a good run for a guy born on the banks of the Mississippi River – 300-feet in altitude! I'm grateful to have all my fingers and toes and a lifetime of wonderful memories and a rope filled with great friends. While I will always think about the next 8000er, if I never climbed again, I would still be happy and filled with gratitude.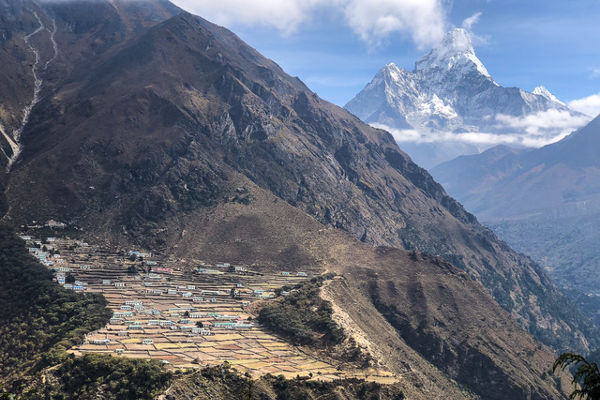 We noticed you have launched Summit Coach. This looks like an amazing service for mountaineers looking to level up and get inside insight and coaching advice? Could you tell us a little about Summit Coach and how people can best contact you for more information?
Thanks! I launched Summit Coach two years ago and have enjoyed working with a steady stream of clients. We don't sell any products, receive commissions or have any financial association with any guide, gear or travel company – pure consulting at affordable prices.
We help climbers go into their climb well prepared, knowledgeable and knowing what to expect. We want them to avoid unpleasant surprises.
While the summit is always nice, we focus on helping our clients have a positive experience. As you know there are many events out of your control on a climb but you can control how you react. We help clients select a guide that matches their experience and objectives, gear that matches their budget and an extensive series of conversations to help them understand the climb and go in prepared. There is more information at www.summitcoach.org.