On this page you will find a comprehensive and impartial guide to the Island Peak Trek. We are not a tour operator, but we can put you in touch with our recommended partner, click here.
As this is a very long and detailed article on the Island Peak trek, we recommend using the quicklinks below to navigate to the sections that interest you most. Alternatively, bookmark this page for future reference.
Please use the quicklinks below to navigate the guide.
At 20,305 feet high, Island Peak or what the Nepalese know as Imja Tse is not one of the Himalayan giants but does provide a mountaineering experience that is exhilarating.
As one of Nepal's trekking peaks, Island Peak can be conducted as an extension to the Everest Base Camp Trek. A registered and experienced Sherpa guide is recommended. While you are not made to take porters, you will most likely want some.
Angles are mostly low, with one significant exception being a long section of 40 to 50 degree snow which will necessitate a fixed line. Some knowledge of rope work and technical climbing is required, but not significant experience. You can be informed of everything you need to know in the course of the trek – cows' tails, jumars, fig 8s and screwgates.
The rate of elevation throughout the trek makes altitude sickness a potential risk.
Perhaps, like Sir Edmund Hillary, this trek will prepare you to tackle Everest. In fact if you decided to climb Island Peak in April you will likely be on the mountain with people who are climbing Everest later in the season.
Island Peak was so named in 1952 by Eric Shipton's party because they thought it resembled an island in a sea of ice.
The trek usually takes about 19 days, including a visit to Everest Base Camp (EBC).
Get a trek operator recommendation
Would you like to contact a responsible and trustworthy trek operator with competitive prices? Get some free, no obligation advice for your Island Peak Climb.
Get In Touch
A beautiful video overview of the Island Peak Trek by Karine Collet. The video is 04.39 long.
Except for Island Peak Base Camp and the climb segment if you stay at High Camp, you will for the rest of the time be staying in tea houses along the route. Please note that there are several Island Peak trek itineraries that can be done. Below we have laid out the most popular version – 19 days, leaving from Kathmandu. If you want to make your own way to Lukla then you could probably organise this with your operator or guide. Here's a typical itinerary:
You arrive Kathmandu.
Your second day can be used to explore Kathmandu as your trek is prepared. The city is a UNESCO World Heritage Site and has loads of great cultural sites to visit.
The 45-minute flight to Lukla offers sensational views of the Himalayas. You have a couple of hours to yourself before your trek begins. You then hike to the village of Phakding along the impressive Dudh Kosi river.
The pace of the second day is rather more challenging. You continue to follow the Dudh Kosi river, passing through a beautiful forest. If the weather is good, you will get your first sight of Everest here. There is also a variety of plants and wildlife to look out for. After several hours of fairly steep climbing, you arrive at Namche Bazaar, the heart of the Sherpa community and entrance to Sagarmatha National Park.
The day is spent acclimatising. This gives you with the opportunity to explore the delectations of this vibrant and prosperous village: a visit to the Sherpa Culture Museum or Mount Everest Documentation Centre with some time devoted to the local cafés, markets and shops. The Everest View Hotel above the village provides a great view of Everest and the other Khumbu peak. The hotel is also noteworthy for being the highest in the world!
This day is pleasant, taking in the beauty of fir, pine and rhododendron forest as you head for Tengboche. The monastery there is hugely significant to the Buddhist mountain people and is a great place to visit – it is well worth your time. You will see a 20-foot sculpture of Buddha, lama robes, musical instruments and ornate wall hangings. A prayer ceremony can be observed.
The trek to Dingboche entails a number of gradual climbs with remarkable mountain views. You pass through birch, fir, juniper and rhododendron forest in addition to some open hillside. From Dingboche, Island Peak can be seen, along with many other stunning mountains. Be sure not to miss the French bakery in Dingboche.
Acclimatisation again.
The challenge deepens today, commencing with a steep ascent to the ridge over the Pheriche Valley. Views are dramatic, encompassing peaks and snowfields in both Nepal and Tibet. Later on, at Tukla, you will advance past memorials dedicated to the Climbers and Sherpas who have perished on Everest in the last half century. This is where you can see the memorial to Scott Fischer, the famous American guide and founder of Mountain Madness, who sadly perished on Everest during the 1996 tragic climbing season. You will end the day at Lobuche, just south of the village you will see the peak of Lobuche East, another popular trekking peak in Nepal.
Today you trek from Lobuche to Gorak Shep. Depending on time you can climb to Kala Patthar (5,643m) to get the finest view of Everest in the region. You can also see uninterrupted views of Changtse, Khumbutse, Lingtren and Pumori. These views will stay with you forever. You will over night in Gorak Shep (5,164m).
Today you will wake early to either trek up Kala Patthar, if you didn't get a chance yesterday, or trek for two hours to Everest Base Camp. Most people return to Lobuche for the night.
See the detailed Climb Section below.
After you have completed your Island Peak climb and returned to Chukkung (see The Climb section below), you then trek back to Dingboche where you will overnight again. From Dingboche it is possible to trek all the way back to Namche Bazaar for another night and then onto Lukla to catch a flight back to Kathmandu. You may want to break up this return leg with another stop in Monjo or Phakding.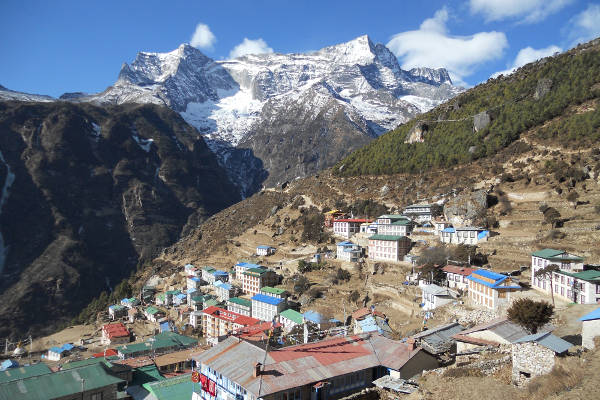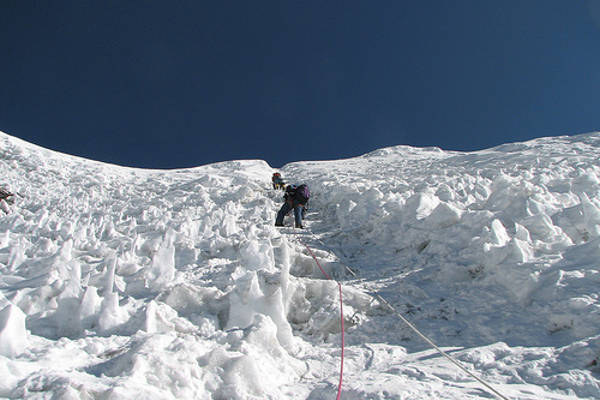 Island Peak, part of Lhotse's southern peak, is just off the main Everest trail, between the Lhotse and Imja glaciers. It is generally regarded as one of the easiest trekking peaks, but be fooled, Island Peak is a serious challenge that involves a glacier crossing and ice climb up a steep headwall. Having recently completed the climb in April 2016, I can assure readers that the climb up Island Peak is not a 'trek'!
According to statistics I could gather from the Nepal Mountaineering Association, Island Peak lures more than a thousand "trekkers" a year.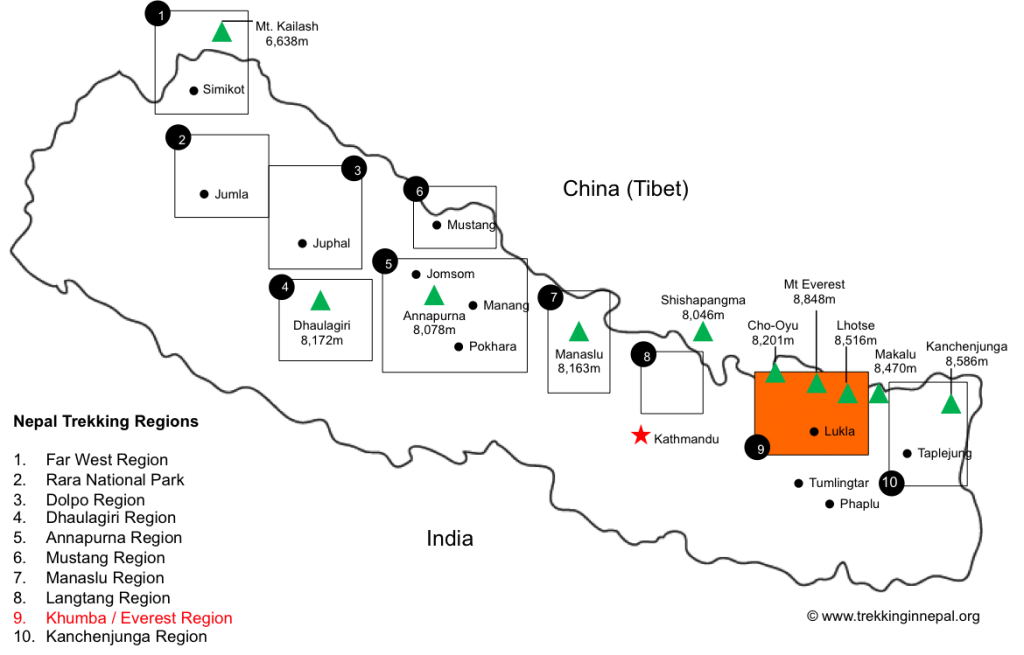 We recommend the following maps:
In terms of a guidebook we recommend
Frequently Asked Questions
Below we have provided detailed answers to the most frequently asked questions on the Island Peak Trek.
Costs vary but for a good Western operator you can expect to pay around $3,000.
This is a
Group B trekking peak
, so a permit costing ~$350 for up to four people is required. A permit is also needed for Sagarmatha National Park. A $250 deposit ensures that garbage regulations are adhered to. A Trekkers Information Management System card is another necessity. Be careful with insurance: some companies cover you for hiking but not mountaineering (see recommendations below).
The appropriate seasons are March to May and September to November.
The Island Peak Trek ascends to some high altitude points. At its highest point, Island Peak, you will reach an altitude of 6,189 meters (20,305 feet). There are steep sections on this trek where you will ascend very rapidly.
Therefore, it is very important to have a clear understanding of the risks associated with high altitude trekking and how your acclimatises to high altitude. We recommend you read our detailed article on Altitude Sickness and Acclimatisation.
The Island Peak trek is challenging. You will need a very good level of fitness and some experience with crampons and ice axes. Although trekkers do turn up with zero experience, this is not recommended. The summit bid is both long and exhausting if you are new to mountaineering. Read The Climb section below to see what you will be getting yourself into.
Island Peak requires a number of essential pieces of trekking gear and some climbing gear.
Much of your gear can be rented or bought in Kathmandu. You can also rent important climbing gear in Chukkung (the last village before Island Peak Base Camp), but we strongly suggest bringing the most important pieces of gear and equipment with you.
To help you plan and prepare for your trek we recommend reading our hiking gear section.
Trekking insurance is vital in Nepal. This is particularly true on Island Peak where the risk of incident is higher than a standard trek. If an accident should occur that requires medical assistance and evacuation you will certainly want proper trekking insurance that can cover the costs of air ambulance and treatment.
Make sure to have insurance that covers you for any travel related risks, like lost, damaged, stolen or delayed baggage; flight delays and interruptions; and tour operators default.
This article on travel and trekking insurance provides great information on what type of insurance you need, please note Island Peak is classified as mountaineering and goes over 6000m in altitude so most insurance companies will not cover you. The few that we do recommend are Snowcard, Dogtag or your national mountaineering association like the BMC in the UK or the American Alpine Club in the States.
Day 12-15: The Climb
From Lobuche there are two ways to get to the Imja Khola Valley – the first and easiest (but longest) is to trek back to Dingboche (overnight) and then head for the small settlement of Chukhung. The views are tremendous along the path. The second is to cross the Kongma La Pass (5,535m), which will get you to Chukhung on the same day, but is of course a tough slog! See the map below to get your bearings: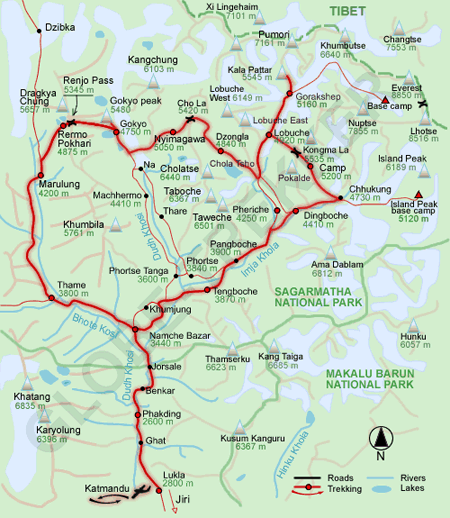 Chukhung (4,730m) consists of two teahouses, both are well equipped and serve awesome food! You can rent technical equipment, like crampons, hard sole boots, a harness, jumar, ice axes and helmets in Chukhung.
The hike from Chukhung to Island Peak Base Camp (5,087m) takes about 3-4 hours. Base camp is cut off from a fresh water supply (the nearest water is about an hour walk back down the valley). You will camp at base camp and prepare for the summit push.
Please note: the push from Island Peak Base Camp to the summit is about 2 hours longer than the push from High Camp. It definitely makes the summit push easier if you leave from high camp (~5,300m) than from base camp, but you will need water supplies and porters to carry tents up to high camp to make this possible.
Assuming you leave for the summit from base camp, you will follow a gradual path for about 30 minutes. Just past the Imja Tse lake you will start to climb a relatively steep gravel and rocky path to High Camp (+- 1.5 hours). From high camp you continue up a rocky gully, that is usually icey in the early hours of the morning until you reach the crampon point. This is where you will get your first glimpses of the headwall and summit ridge of Island Peak, although it might not be light out yet.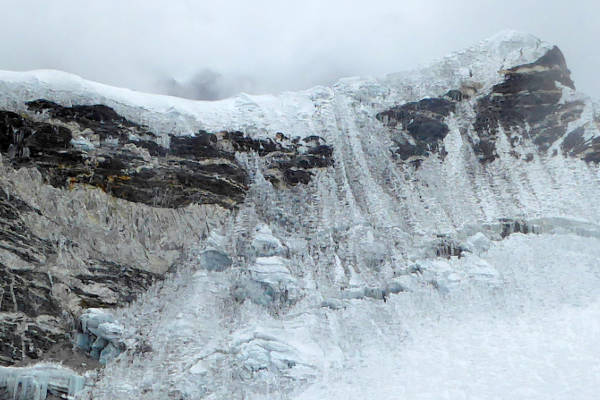 Important notice: Since the 2015 Earthquake the glacier that leads up to Island Peak has fragmented in places, as of 2016 there where two large exposed crevasses that necessitated ladder crossings (see the picture below of one of the ladder crossings). These crevasses may have closed in recent times or more crevasses may have opened up. You should be prepared for sections of the glacier that require ladders to cross.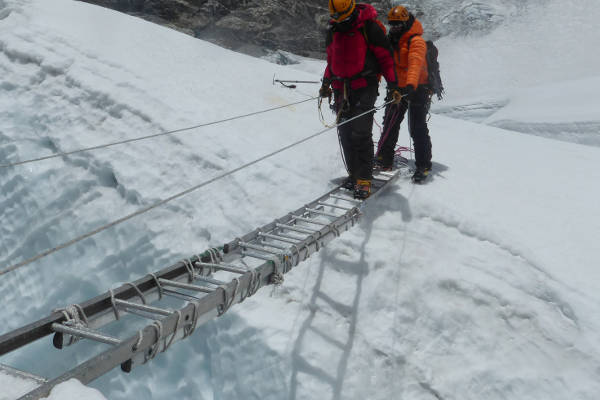 Once you have crossed the glacier and reached the headwall the first this you will notice that the ice on the wall has broken and fragmented a lot, partly due to the 2015 Earthquake but more to do with advancing climate change. Below are a few pictures of the headwall as of 2016. The wall is about 120m of vertical ascent at 40-50 degrees, with sections that have 70-80 degree steps. If you have not used a ascender or jumar it is worth undertaking a basic winter mountaineering course before joining an Island Peak expedition.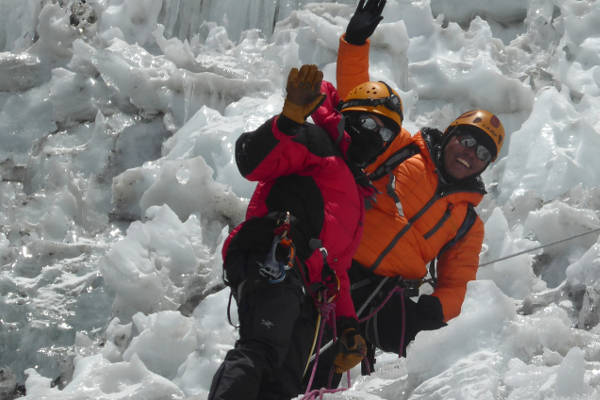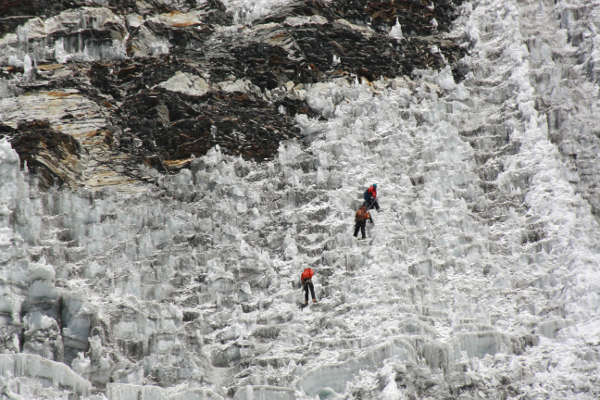 After navigating up the headwall, then all that is left is the knife-edged ridge to the summit. In the past it was common for climbers to walk along the narrow ridge to the summit, but because of the fragmentation on the mountain face, it is now easier and safer to traverse along the ridge to the summit. You can see the traverse path in the picture below. The summit itself is about the size of a large round dining table. You can comfortably get 4-6 people onto the summit at a time.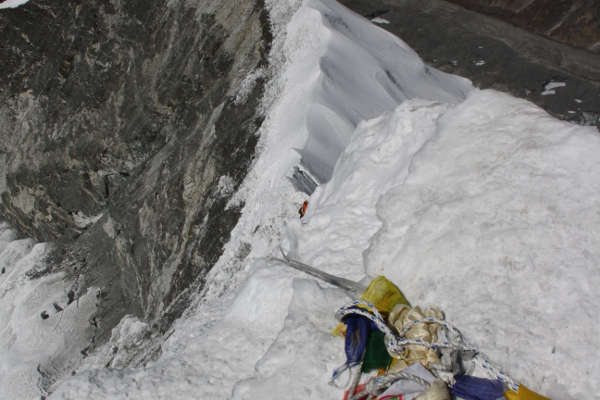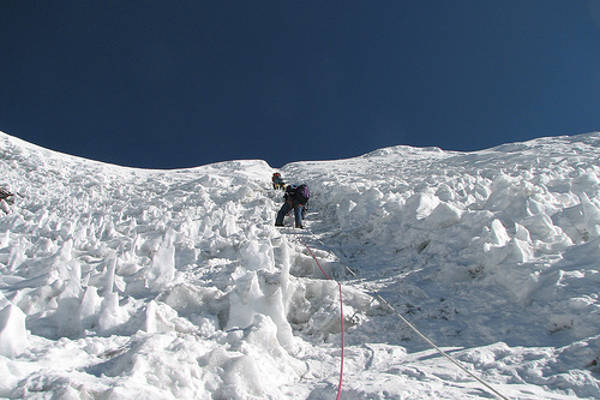 From the summit the descent back to Base Camp takes about 5 hours. Be careful going down the headwall and on the glacier as that is where most mistakes happen!
Tags: Island Peak trek, Island Peak cost, Island Peak difficulty, Island Peak climb
References: (Kandoo Adventures)
Get a Trek Operator Recommendation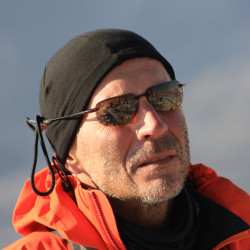 Brilliant service guys! The operator you recommended is absoultely fantastic. Fast, responsive, amazing track-record and great prices! Thanks
Pop your details in the form and you will receive a price competitive quote from our trusted trekking operator.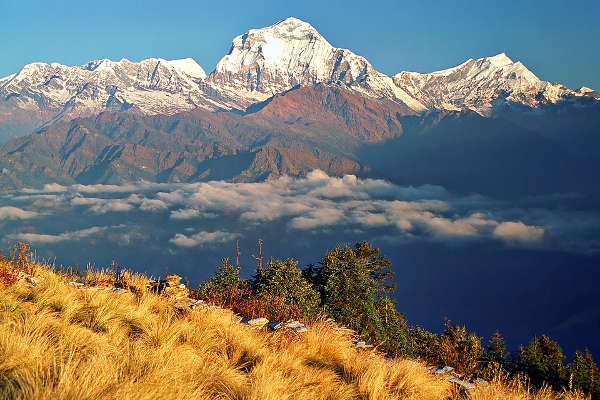 The Annapurna Base Camp trek is one of the most popular hikes in Nepal. The scenery and trekking experience in the Annapurna Sanctuary is quite simply amazing. You will see the complete Annapurna massif on the ABC trek. Discover the Annapurna Base Camp Trek.
Mera Peak is the highest trekking peak in Nepal. It provides an amazing introduction to mountaineering for novice climbers and can be completed by anyone with experience of high altitude trekking and an adventurous attitude. Discover the Mera Peak Climb.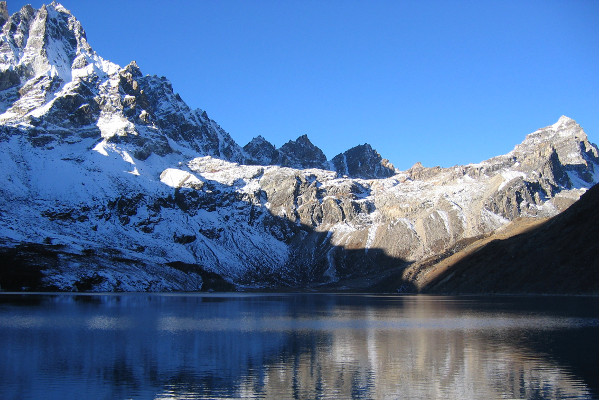 The Gokyo Lakes trek provides an excellent alternative to the Everest Base Camp trek. The trek is especially good if you have a little more time on your hands as it takes in all the highlights of the Everest trek with the added bonus of seeing the beautiful Gokyo Lakes!