Trekking the Nepal is truly the experience of a lifetime.
However, sometimes we're just a little pressed for time. Maybe it's work, maybe it's your schedule. Classic mountainous treks in Nepal generally require at least two to three weeks of your time.
Don't panic though.
If you don't have this sort of time then there are some simply stunning short treks in Nepal that can be done in under a week, some as short as 3 days!
Whether you're an experienced hiker or looking to complete your first real trek, the options below provide something for everyone who only has a short period of time in the beautiful country.
Best Short Hikes in Nepal
Ghorepani Poon Hill trek – 3-5 days (Annapurna Region)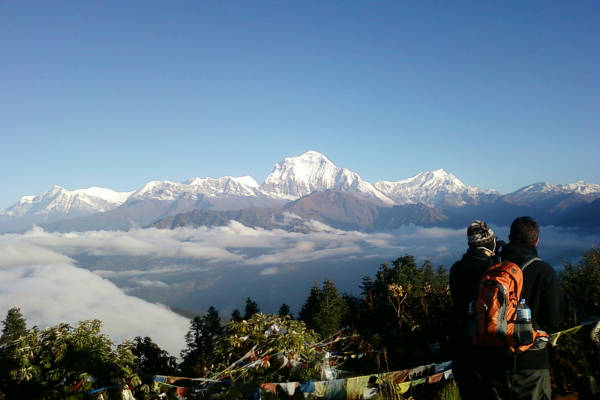 The Poon Hill Trek is a gorgeous little trek that is often considered to be one of the most beautiful treks in the Annapurna Region of Nepal.
It is also one of the most popular in the region. This is because of its short distance and ease of walking. You don't need a particularly high level of fitness to trek this route, retirees and young children will be fine.
There is also no need to carry much gear as you will be able to stay at tea houses each night where there is warm food and comfortable beds.
The diverse scenery along the trek makes Poon Hill a favourite of ours. You'll trek through alpine areas, lush green vegetation and rice fields. The sky line is dominated by the lovely fluted peak of Machhapuchhare (Fishtail Peak).
There is very little risk of altitude sickness on this trek as the highest altitude you'll reach is 3,210 metres. This is at Poon Hill where you are greeted with one the most spectacular mountain views in all of Nepal!
The view takes in the snow-capped summits of some of the giant Himalaya peaks including Dhaulagiri and Annapurna I, both more than 8,000 metres high. When the sun's rays hit the mountains, they glow a beautiful gold.
The Royal Trek – 4 days (Annapurna Region)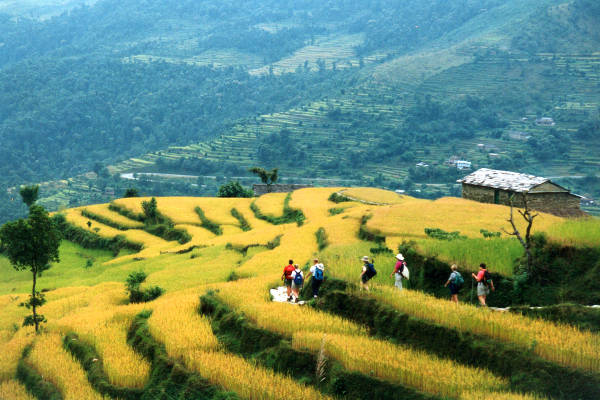 The Royal Trek received its name because Prince Charles and his 90 camp followers explored the route in 1981.
The route is also used by Nepal's royal family. If you want a short trek that gets 'off the beaten path' and away from the crowds, then this is it!
Beautiful mountainous scenery combined with authentic local culture make this one brilliant little trek.
Altitude sickness is not an issue on this trek and the paths are well maintained. There are some long uphill sections, but in general the path is fairly easy and can be trekked by people with minimal levels of fitness. Tea houses are dotted along the route so no need to carry camping gear.
The trek takes in gorgeous views of hillside rice terraces and the highly-impressive Annapurna mountain range which includes Machapuchhre (fishtail) and Langtang Mountain. The trek finishes by arriving at the lovely Begnas Lake.
Jomsom Muktinath Trek – 5 day short version (Annapurna Region)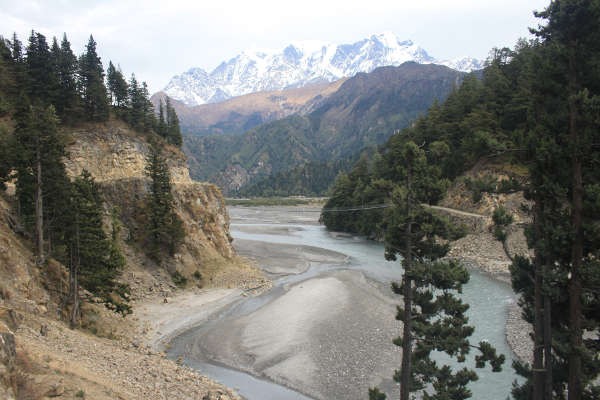 Although typically longer, if you're pressed for time, the Jomsom Muktinath Trek can be completed in as little as 5 days. This beautiful trek is actually part of the larger and far more famous 'Annapurna Circuit trek'.
You never trek higher than 12,000 feet, so altitude sickness is rarely a problem.
The trail follows an ancient trade route along the Kali Ghandaki river. The route takes in caves, ruins of ancient forts and Buddhist monasteries.
The lush scenery consists of forests of dazzling rhododendrons to desert and rocky cliffs. Occasionally the landscape on this trek resembles the moon!
It is possible to see eight of the 20 highest mountains on Earth during this trek: Dhaulagiri Annapurna I (26,538 feet); (26,788 feet); Annapurna II (26,040 feet); Annapurna South (23,684 feet); Nilgiri (23,097 feet); Annapurna III (24,787 feet); Mt. Annapurna IV (24,688 feet); Machhapuchhare (22,959 feet) and Annapurna South (23,684 feet).
Everest View Trek – 5 days (Everest Region)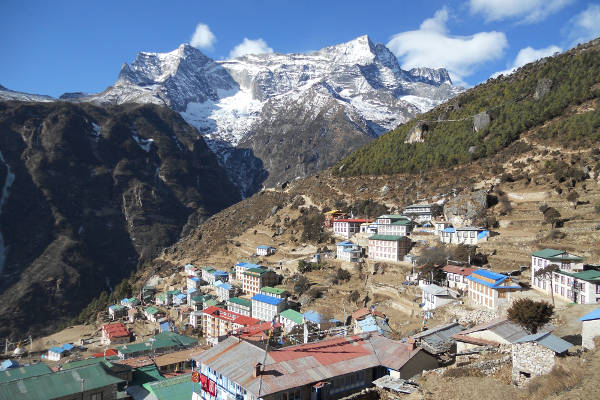 If you're desperate to see Mount Everest but just don't have the time to do the 15 day Everest Base Camp trek, this might just be the ideal option for you.
Although you don't get anywhere near as close to the colossal mountain as you would on the EBC trek, you still get some awesome views!
The best views of Everest and Ama Dablam come from just above Namche Bazaar.
The trek starts with a short but exciting flight to the small (and very short) mountain airstrip at Lukla. From there you trek to Phakding and then onto Namchee Bazaar (seen above).
You spend a day in Namchee and trek up to the Mountain View Hotel to get a great view of Everest. Although this a great short trek option, by the time you're viewing Everest, you'll probably wish you had booked the full EBC trek!
Helambu Trek – 5 days (Langtang Region)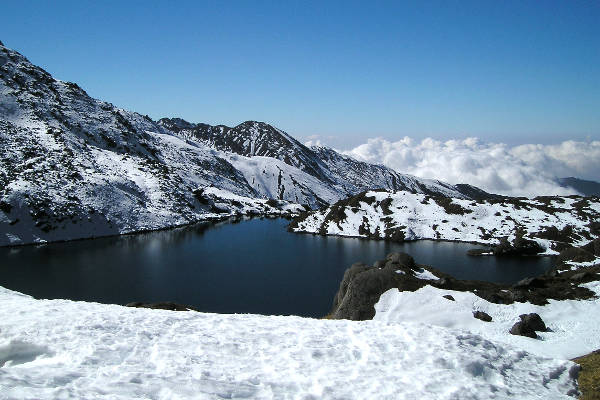 The Helambu trek requires no prior experience and is recommended for families and anyone else who prefers a short, pleasant hike to an overlong, strenuous trek.
Because the altitude is fairly low – from 2,600 to 12,400 feet, the temperature is generally warmer, which adds to the trek's popularity.
However, there are far less crowds here than on the Annapurna and Everest treks – it never gets crowded, even in high season. The trek is very tranquil and one of the most accessible from Kathmandu.
Considering you do not go very high, the views are incredibly impressive still. The greatest attraction being the views of Langtang (23,734 feet), Ganesh (24,429 feet) and many other peaks of more than 20,000 feet.
Despite being relatively close to Kathmandu, the locals maintain a very authentic and rustic lifestyle.
The Helambu trek is considered more of a cultural trek than a true mountain trek. A high level of fitness is not required.
Langtang Valley Trek – 7 Days (Langtang Region)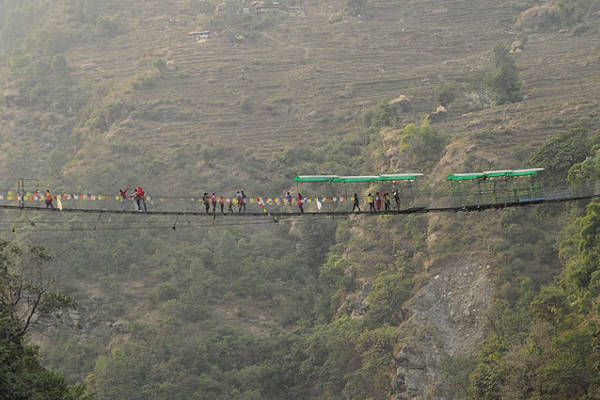 Last, but certainly not least, is the famous Langtang Valley trek. The famed British travel writer and mountaineer, Bill Tilman (1898-1977), called the Langtang Valley "one of the world's most beautiful valleys."
The Trek is relatively easy and is often much less busy than other popular treks in the Annapurna and Everest region. The trek usually takes 10 to 12 days, however, it can be done in seven days.
The trek is set in a wild, rural landscape. The terrain is ever changing on this trek, from deep gorges and sub-tropical forests, to farming pastures and semi-arid areas.
The highlight of the trek is the view of the Langtang Lirung range, which is simply amazing. The eponymous mountain is 23,773 feet high and dominates the entire valley.
Tags: Short hikes in Nepal, Short treks in Nepal
You may also like: