On this page you will find a comprehensive and impartial guide to the Langtang Valley Trek. We are not a tour operator, but we can put you in touch with our recommended partner, click here.
As this is a very long and detailed article on the Langtang Valley Trek, we recommend using the quicklinks below to navigate to the sections that interest you most. Alternatively, bookmark this page for future reference.
Please use the quicklinks below to navigate the guide.
The famed British mountaineer and travel writer, Bill Tilman (1898-1977), called this "one of the world's most beautiful valleys." The Langtang Valley Trek is a relatively easy trek and is often far less busy than other popular treks in the Everest and Annapurna region. The trek can be done in seven days, however, it usually takes 10 to 12 days.
The local people are mostly of Tibetan origin and, according to legend, the valley was first discovered by a lama – a teacher of Tibetan Buddhism – who was pursuing a runaway yak. "Lang" is Tibetan for "lama" while "tang" is Tibetan for "follow."
The highlight of this trek is the sight of the Langtang Lirung range, which is simply stunning. The eponymous mountain is 23,773 feet high and dominates the valley.
Get a trek operator recommendation
Would you like to contact a responsible and trustworthy trek operator with competitive prices? Get some free, no obligation advice for your Annapurna Circuit Trek.
Get In Touch
A beautiful video overview of the Langtang Valley Trek by Suchan Bajracharya.  It's 04:41 long.
It is possible to conduct this trek staying only at tea houses, but there is some time under canvas in this particular itinerary. There are several trek itineraries for this route, however, the one below is the most popular. You could also possibly arrange to meet your operator in Syabrubesi if you want to make your own way there.
You arrive in Kathmandu.
You have the second day to spare while the provider arranges things. Kathmandu is a UNESCO World Heritage Site, so you could use the time to explore some the incredible local sites. Or you could do some last minute shopping around the markets.
Leaving early in the morning, you embark upon a seven-hour drive to Syabrubesi at the bottom of the Langtang Valley, the valley of glaciers. The second half is unpaved and the drive becomes quite rough. You might share a bus with goats and chickens. Sometimes, during the rainy season, the road is blocked by landslides. The route is dazzling, passing through high ridges and with a marvellous panorama of the Himalayas that includes the Annapurnas, Ganesh Himal, Manaslu and the peaks of the Langtang range. There are many waterfalls and wild bee hives. You could also potentially see yellow-throated martins, Himalayan black bears or red pandas, which are endangered. There will certainly be no shortage of monkeys.
Here the trek begins proper. The trail takes you across the Bhote Kosi, which emanates from Tibet and lies in a deep gorge. You then climb through sub-tropical forests that teem with bird life, connecting to the trail from Syabru. One of these birds is the danphe, which is colourful bird and the national bird of Nepal. You follow the river, ascending through uninhabited forests of oak and rhododendron, catching sight of langur monkeys if fortune smiles upon you. Vegetation becomes sparser as you go. You camp in a forest.
This day sees more climbing, with the occasional glimpse of Langtang Lirung visible through the trees. The trail leaves the forest at Ghora Tabela, now a Nepalese army post. The trail climbs comfortably and the valley grows wider. In summer, you will pass the temporary settlements of herders whose livestock grazes here. There are numerous chortens and mani walls, structures featuring inscriptions. In Tintin in Tibet, Captain Haddock was informed that you should always walk to the left of a chorten or demons will be released, but this was an invention of the author, so there is no cause for worry. Shortly before the village of Langtang, there is a monastery for your delectation. The village is the headquarters of the Langtang National Park, which opened in 1976, the first in the Himalayas and the most unspoiled in Nepal. Houses there are of Tibetan style, with flat roofs and surrounded by stone walls.
You climb slowly through small villages and yak pastures. The valley opens, allowing for even better views. Having crossed a few small streams and moraines (patches of dirt or rock), before lunchtime, the trail arrives at the settlement of Kyangjin. Here there are facilities for the production of spiritual fulfilment and cheese: a small monastery and a famous government-owned factory. The factory makes Swiss cheese from yak milk and is supported by the Swiss government. Really, it should be called nak milk, as that is the female. This is just a small, three-roomed building, but it churns out prodigious quantities of cheese in summer. The snow-covered peaks in every direction make this spot very dramatic and beautiful.
This is a rest day you will probably use to explore. The glaciers of Langtang Lirung are sensational. You could even summit Kyangjin Ri (14,209 feet), known locally as Brana Chumbo, which is immediately behind the village and provides a breathtaking 360-degree view of the Langtang peaks.
You retrace your route towards Langtang village. The trail heads is down hill through forest following the river. You pass through ethnic Tamang settlements who strictly follow religious and cultural  practices similar to that of the Tibetans.
You continue the return journey, finishing at Syabrubesi. This is roughly a 5 hour walk and the easy trail goes mostly downhill through lush green vegetation.
Now, you go back to Kathmandu, a gruelling nine-hour journey.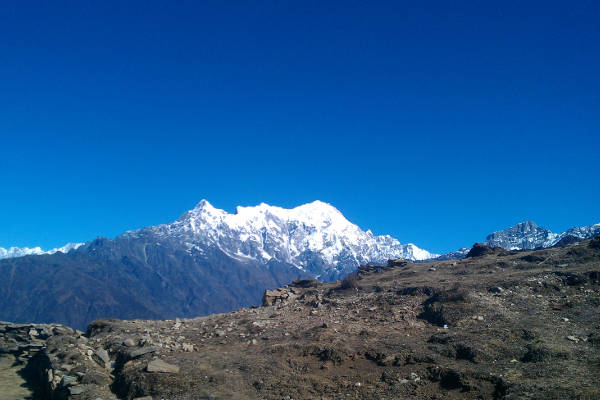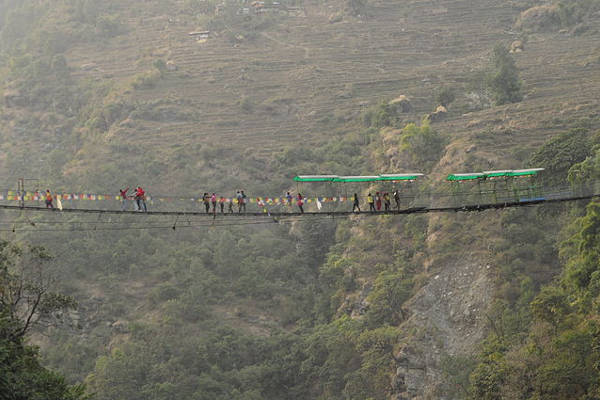 The Langtang valley region is in central Nepal, around 19 miles directly north of Kathmandu and near the border with Tibet. Although close to Kathmandu, closer than any other trek, this is as wild as it gets. The valley runs from east to west, sandwiched between the Himalayas to the north and the slightly lower Langtang Lirung range to the south.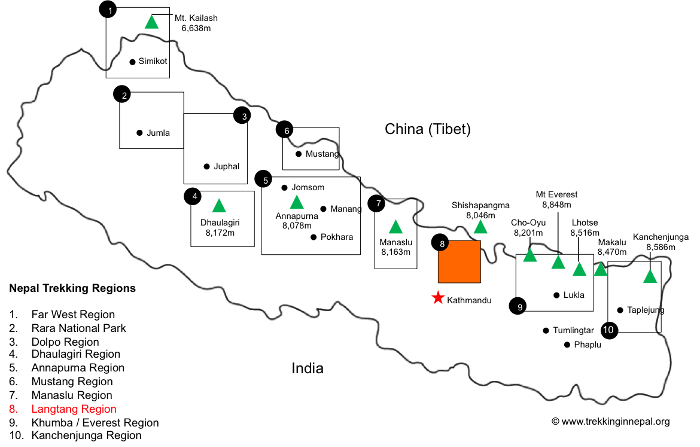 We believe the best map of the Lantang region is the the Langtang & Helambu Map of the GHT which can be purchased online via Amazon. The map is produced based on that data collected from the National Geographic Information Infrastructure Programme (NGIIP).
The Langtang Valley trek appears in many guidebooks. We recommend A Trekking Guide to Langtang: Gosainkund, Helambu and Tamang Heritage Trail by Sian Pritchard-Jones and Bob Gibbons or if this guidebook isn't available then Trekking the Tamang Heritage Trail of Nepal by Alonzo Lucius Lyons.
Frequently Asked Questions
Below we have provided detailed answers to the most frequently asked questions on the Langtang Valley Trek.
Prices range from $1000 on the low-end to $2,000 on the top-end.
You must be registered with the Trekkers Information Management system. An entry fee of $30 is charged by the Langang National Park.
Autumn, from mid-September to mid-December, and Spring, from March to May, are the best seasons for this trek, when the sun is out during the day but nights are cold. Winter is a possibility, if you don't mind the cold.
The Langtang Valley trek ascends to some high altitude points. At its highest point, Tserko Ri, you will reach an altitude of 5,000 meters (16,347 feet). There are steep section on this trek where you will ascend fairly quickly.
Because of this, it is important to have a good understanding of the risks associated with high altitude trekking and how the body acclimatises to high altitude. We recommend you read our detailed article on Altitude Sickness and Acclimatisation.
The Langtang Valley Trek is considered to me of moderate difficulty. There are steep sections that require a good level of fitness, however, the trek is relatively short and most people with a good attitude and high level of determination should be okay.
Trekking Langtang Valley requires a number of essential pieces of trekking gear and equipment. The Langtang Valley trek is long and moderately difficult. It exposes you to a range of altitudes where temperatures fluctuate dramatically between night and day.
Much of your gear can be rented or bought in Kathmandu, but we strongly suggest bringing the most important pieces of gear and equipment with you.
To help you plan and prepare for your trek we recommend reading our gear section.
Trekking insurance is vital in Nepal. This is particularly true on the Langtang Valley trek which is very remote. If an accident should occur that requires medical assistance and evacuation you will certainly want adequate trekking insurance that can cover the costs of air ambulance and treatment.
Make sure to have insurance that covers you for any travel related risks, like lost, damaged, stolen or delayed baggage; flight delays and interruptions; and tour operators default.
This article on travel and trekking insurance provides great information on what type of insurance you need, as well as provides an easy quote calculator from a leading travel operator.
Tags: Langtang Valley Trek distance, Langtang Valley Trek cost, Langtang Valley Trek itinerary, Langtang Valley Trek length, Langtang Valley Trek Nepal, Langtang Valley Trek difficulty
References: (1) Langtang trek, Nepal
Get a Trek Operator Recommendation
Pop your details in the form and you will receive a price competitive quote from our trusted trekking operator.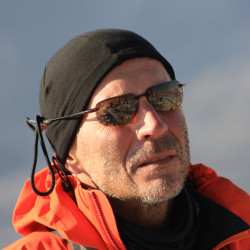 Brilliant service guys! The operator you recommended is absoultely fantastic. Fast, responsive, amazing track-record and great prices! Thanks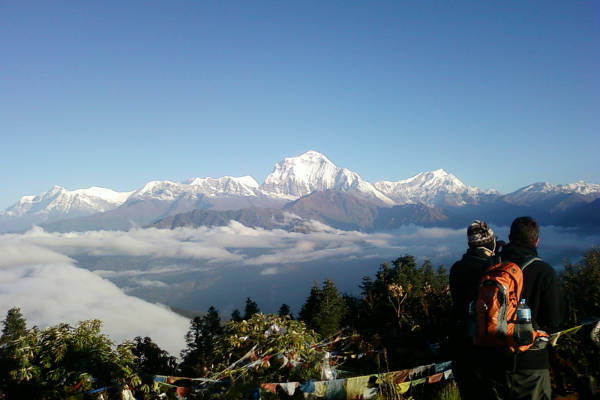 The Ghorepani Poon Hill trek (aka the Poon Hill Trek) is generally regarded as one of the best treks in the Annapurna Region of Nepal. The trek is popular as it relatively easy and short, taking only 4-5 days to complete. The scenery along the trek is amazing. Read more about the Poon Hill Trek.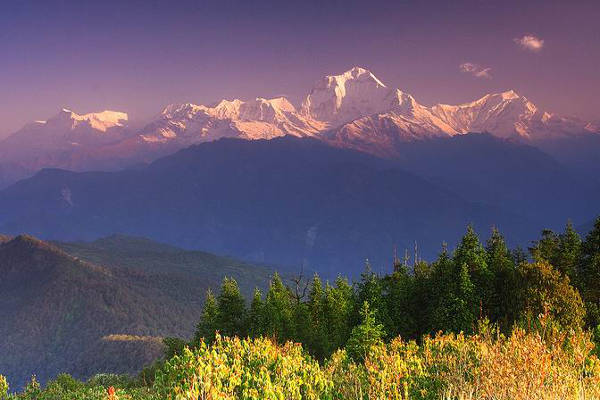 The Dhaulagiri Circuit Trek is one of Nepal's most demanding treks and requires previous experience of high altitude trekking. That being said, if you are an experienced hiker, then it is hard to beat the wilderness of this trek. Discover the Dhaulagiri Circuit Trek.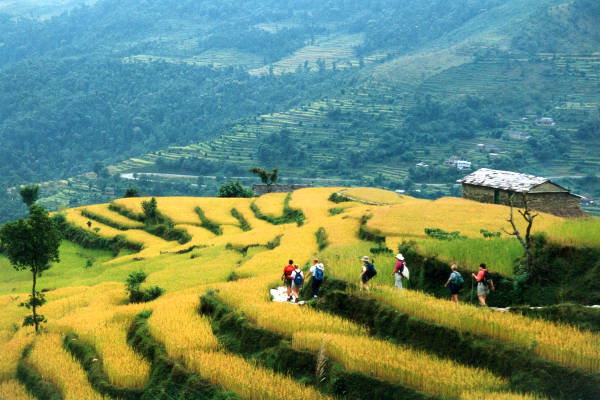 The Royal Trek is so named because Prince Charles and his 90 camp followers explored the route in 1981 shortly before he married Princess Diana.  It is a relatively easy and short trek that is great for hikers with children or retirees. Discover the Royal Trek.