Planning a mountain-scenic or adventurous wedding this year?
Here are some of the great locations that are home to best resorts or hotels who frequently manage exotic, destination weddings, as well as a few locations where only a few extremely adventurous couples got hitched.
Best Mountain Locations for Weddings
Malibu Rocky Oaks Estate Vineyard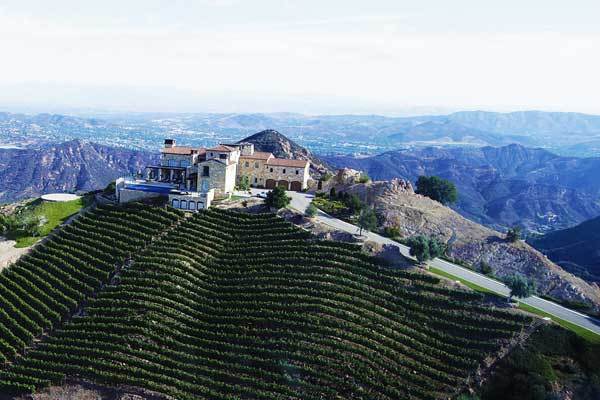 Location: Malibu, California, USA
Capacity: ~600 guests
Adventure rating: 1
Luxury rating: 9
Malibu Rocky Oaks Estate Vineyard is a luxurious, 37-acre plot with panoramic views of rolling hills, the Santa Monica Mountains as well as the Pacific Ocean.
This venue is sophisticated and glamorous, styled in the Tuscan theme, and includes bridal suites and changing rooms in its amenities.
The venue is well-used to planning weddings and other celebrations, which make the planning logistics more manageable.
However, the fees probably put it more in the reach of high-profile celebrities than regular mountain explorers – check out this mountain venue for wedding-planning inspiration.
Utah Canyons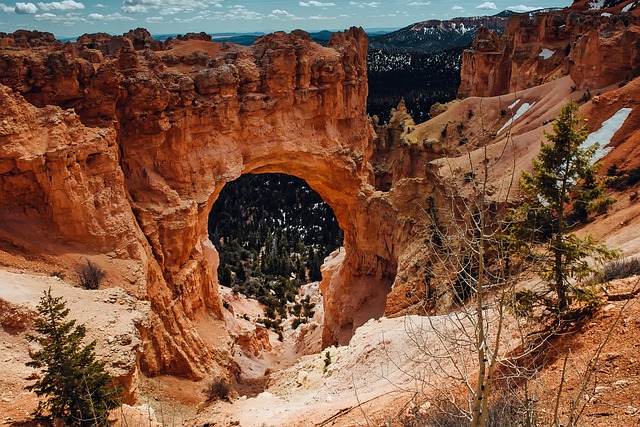 Location: Utah, USA
Capacity: 5 people
Adventure rating: 10
Luxury rating: 3
The Utah Canyons (Bryce Canyon and Zion Canyon) is not a typical wedding destination – but one couple of daredevils organised for their wedding to be suspended 400 ft. over the ground on what is called a "Spacenet".
The Spacenet was invented by the best man, who designed the aesthetically beautiful net to look somewhat like a spider's web.
The couple are slacklining enthusiasts, and met at a slacklining festival, so it made sense to commemorate their union in a similar fashion.
The wedding itself was a circus-like affair and included base jumpers ceremoniously leaping off the cliffs of the canyon, with 5000 petals bursting from their parachutes, as well as aerial acrobats suspended from silk threads hanging off the net.
While this destination wedding is definitely not for everyone, you might be inspired to think outside the box and to put yourself "out there" – literally – on your big day.
Stein Eriksen Lodge in Utah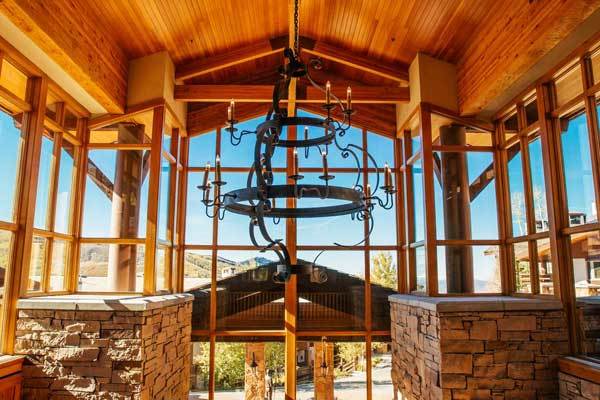 Location: Park City, Utah, USA
Capacity: Up to 500 guests
Adventure rating: 2
Luxury rating: 7
The Stein Eriksen Lodge is the only destination in Deer Valley that accommodates luxury weddings and is perfect for both a winter-wonderland theme, or for a summertime ranch-like atmosphere.
Say your vows in front of breath-taking mountain scenery, with all the comforts, amenities and services offered by a resort to help reduce your organisational load.
The lodge offers a number of wedding specials, you can choose from a variety of gorgeous settings. In addition to its excellent facilities, the lodge also offers a range of outdoor activities to entertain your guests before your big day.
These include biking, fly-fishing and golf. If you plan to have your wedding at the Stein Eriksen Lodge, you can trust that you are in experienced hands.
Agave of Sedona in Arizona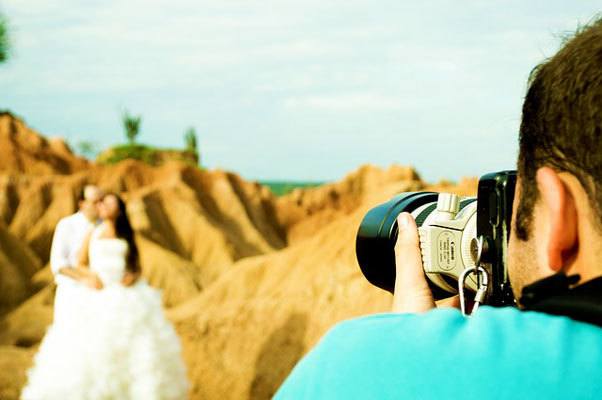 Location: Sedona, Arizona, USA
Capacity: Up to 200 guests
Adventure rating: 1
Luxury rating: 9
Agave of Sedona is conveniently located just a mile from the Sedona airport, making it the ideal destination venue for out-of-towners.
The scenery is characterised by desert colours over the wide-open horizon with over 5000 square feet for guests to absorb the views from outdoors.
The Event Centre is harmoniously decorated in the typical southwestern style, with many of the building materials comprised of the organic, surrounding rock formations.
The ceremony venue is picturesque and the banquet hall is well equipped to handle a sizable reception.
Book a wedding here from a range of available packages, and know that experts will be on top of the food, seating, sound and lighting to ease your wedding day anxiety.
You may also like: Hiking in Sedona and When to visit the Havasupai Falls
The Little Nell in Colorado
Location: Aspen, Colorado, USA
Capacity: 500 guests (standing)
Adventure rating: 1
Luxury rating: 10
The Little Nell is the only five-star, five-diamond resort in Aspen, America's most famous and arguably the most luxurious mountain town.
The hotel includes ski-in, ski-out access to the slopes and accommodates 92 guest rooms with and 12 additional suites – perfect to put up your two hundred closest friends!
However, what really secures The Little Nell as the most stunning wedding venue in Colorado is its exclusive access to locations at the top of Aspen Mountain.
Your guests take a gondola ride from downtown Aspen up the mountain to reach The Wedding Deck which sits at 11 212 ft above sea level.
From here, you will have spectacular vistas of the Maroon Bells, Colorado and Rocky Mountains – an unbeatable backdrop for wedding pictures.
It is not for nothing that The Little Nell sets the standards by which other mountain wedding locations are assessed.
You may also like: hiking in Colorado
Cielo Farms in Malibu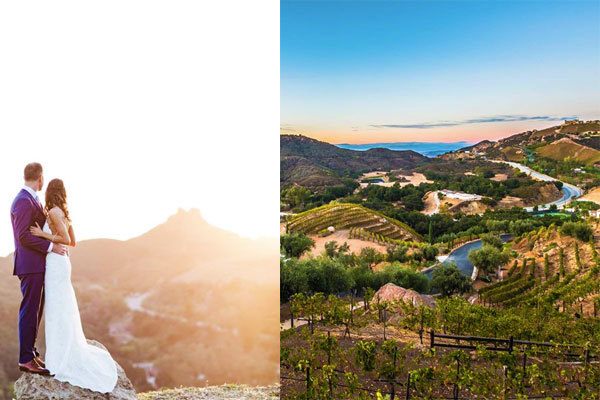 Location: Malibu, USA
Capacity: 200 guests
Adventure rating: 2
Luxury rating: 6
Cielo Farms is a perfect location for a bohemian-style, casual yet chic wedding.
Located atop the foothills of Santa Monica Mountains, with breath-taking views of the picturesque city and the ocean beyond, this cobblestone barn is ideal for an intimate, sophisticated ceremony.
Say your vows surrounded by vineyards and greenery in a convenient location which is conveniently catered and furnished as part of the arrangement.
While many brides will want to arrange the details on their own, there is enough support from the venue to make the organisation manageable.
Inn at Tern Lake in Alaska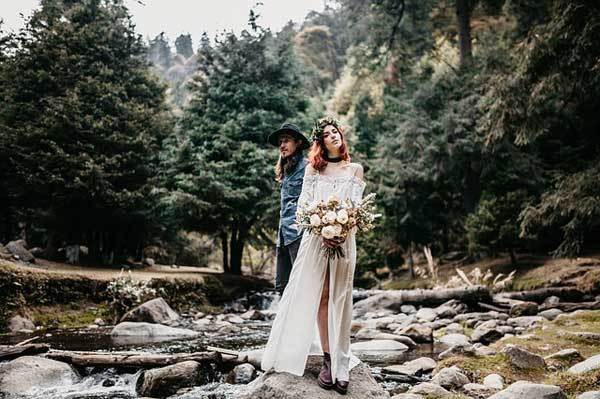 Location: Alaska, USA
Capacity: 90 buffet and 150 standing
Adventure rating: 4
Luxury rating: 6
The Inn at Tern Lake defines rustic elegance, with a lush putting green surrounded by towering Alaskan mountains and dotted with charming wildflowers, this venue is sure to commemorate the most special day of your life in style.
The property is located on 9 private acres of land, next to Tern Lake and the Chugach National Forest.
While the facilities are conveniently suited to hosting wedding ceremonies and receptions, there is also plenty of room for the bride to design the aesthetic of the day according to her own taste, helped by professional event staff who are accustomed to managing elegant occasions (and frantic brides).
You may also like: hikes in Alaska
Kualoa Ranch in Hawaii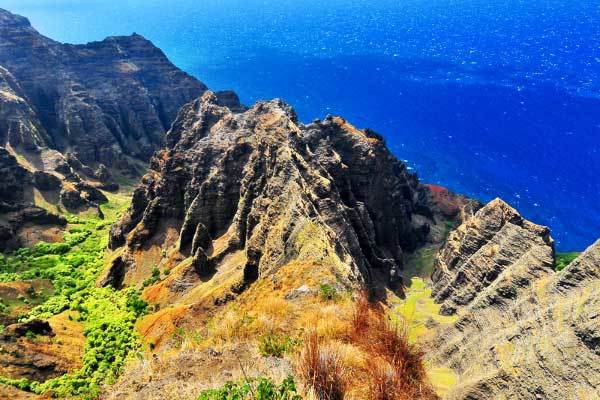 Location: Hawaii, USA
Capacity: Up to 250 guests
Adventure rating: 4
Luxury rating: 6
Getting married at Kualoa Ranch promises the option of lush gardens, beach and Pacific Ocean views all watched from above by the sacred 1000 ft high Kanehoalani Mountain peak.
There are a number of rolling lawns on which you can arrange to say your vows and the event planning is facilitated by on-site amenities such as bridal suites and changing rooms.
The venue offers certain Kualoa-grown meats, as well as seafood and vegetables that you can organise for an authentic "farm-to-table" experience. It is often easier, however, to outsource your catering which can give the bride a lot more control with her specific food requirements.
You may also like: Best Kauai hikes
Lonesome Valley in North Carolina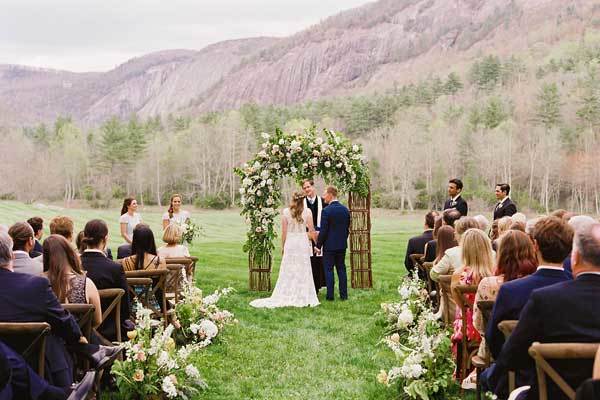 Location: North Carolina, USA
Capacity: 250
Adventure rating: 2
Luxury rating: 6
The ironically named Lonesome Valley has been the location of generations of joyous wedding celebrations. Say your vows in front of the most impressive box canyon east of the Mississippi.
You will be surrounded by the simple charm and style of the residential mountain farm community where your guests can stay overnight after the celebrations.
Use the award-winning resident chef who collaborates with each couple to come up with the perfect, customised menu. The dinner and reception can be hosted in the Jennings Barn, which oozes rustic elegance, or in a marquee on the lawn underneath the stars.
The venue requires that you have a professional wedding planner to lessen the stress of the bride and to facilitate the planning process.
Pearson's Pond in Alaska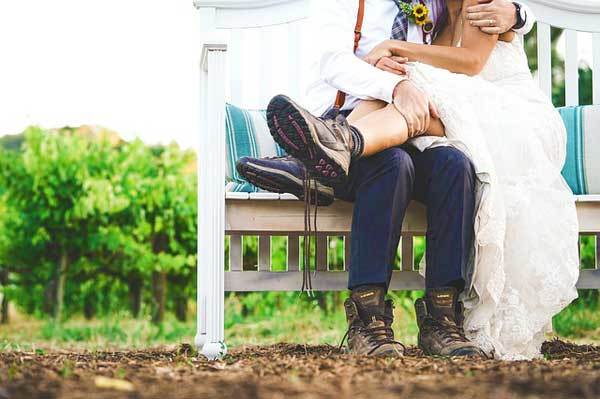 Location: Juneau, Alaska, USA
Capacity: 20
Adventure rating: 5
Luxury rating: 4
Pearson's Pond Luxury Inn offers all-inclusive wedding packages, as well as those specifically arranged by the couple, to ensure a carefree, affordable and enjoyable wedding celebration.
Adventurous couples decide to host their nuptials on top of Mendenhall Glacier, reached by helicopter and encircled by the jagged, snow-capped peaks of the surrounding mountain ranges.
This makes for a thrilling and intimate ceremony and uniquely dramatic wedding pictures taken by the resident professional photographers.
Staying at the inn also offers the options of glacier cruises, wildlife viewing, hiking and whale watching so it is perfect for an extended stay as your honeymoon.
Hawaii Volcanoes National Park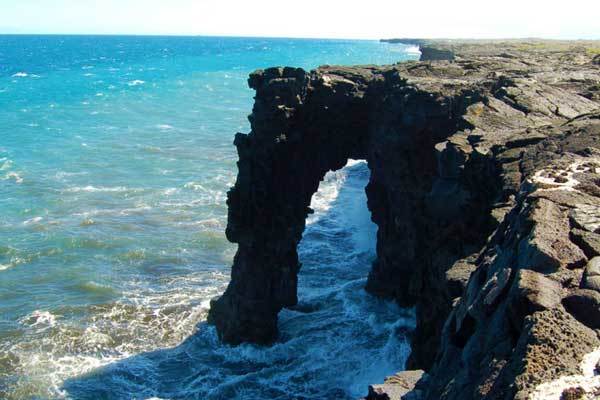 Location: Hawaii, USA
Capacity: Limited to "Intimate affairs"
Adventure rating: 7
Luxury rating: 2
The Hawaii Volcanoes National Park Service specifically stipulates that small, private wedding ceremonies are permissible anywhere on the park except for on Halema'uma'u Crater or the hula platform near the Kīlauea Visitor Center.
Many couples choose to host their nuptials with views overlooking Kīlauea Caldera or the Kīlauea Iki Crater, or in tree-lined areas such as Kīpukapuaulu. To simply host such a wedding in the park, you need to fill out the application form and pay a comparatively modest application fee.
However, if you want to expand the celebration and include a festive after party, the Volcano House Hotel is the only accommodation on the park, and welcomes the opportunity to host the reception.
This lodge is located right next to the active Halema'uma'u Crater and guests might be treated to the awesome view of the sputtering and steaming lava as the couple celebrates their own officiated passion.
Mount Everest Base Camp in Nepal
Location: Nepal
Capacity: 3 (including photographer)
Adventure rating: 10
Luxury rating: 1
A wedding at Mount Everest Base Camp is reserved for the seriously mountain-mad. One California couple, Ashley and James Schmieder, embarked on the two-week trek to Base Camp Everest where they finally threw on their formal wedding clothes and said their vows, literally on top of the world.
They are the first couple to successfully do so.
The couple was accompanied by their enthusiastic and tenacious professional photographer, who captured probably the most dramatic and incredible wedding picture ever taken – husband and wife standing in front of the famous Khumbu ice-fall and the ethereal Nuptse Face.
The couple faced a number of physical challenges on the way were relieved when they heard the faint juddering sound of the approaching helicopter – but what better way to symbolise a lifetime of overcoming hardship at your partner's side?
Death Valley in California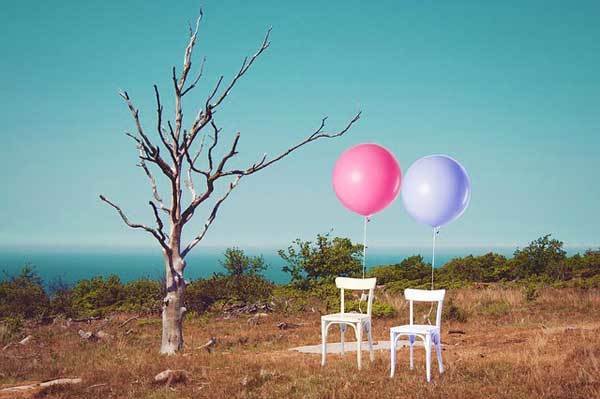 Location: California, USA
Capacity: 50 guests
Adventure rating: 5
Luxury rating: Varied
Death Valley National Park offers permits for intimate wedding ceremonies to be held in the sprawling, awesome scenery of the Mojave Desert.
The most popular sites for nuptials include Dante's View, which provides panoramic vistas of the Death Valley basin, and the jagged, eroded landscape of Zabriskie Point.
Both of these locations are surrounded by epic mountain peaks – perfect as a wedding photo background. It must be noted that wedding parties are not permitted to restrict other park visitors from their chosen sites, so do not expect a private occasion.
There are plenty of hotels and resorts that can be hired out for the reception, such as the four-diamond Inn at Death Valley, which is located in a dreamy oasis and boasts a plush pool and manicured gardens.
Other, more affordable venues, are also available for you to celebrate your union under the sparkling desert stars.
See: Best hikes inn SoCal
Fairmont Chateau Lake Louise in Canada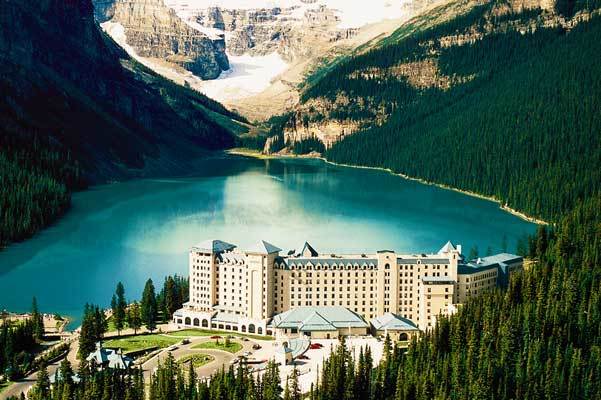 Location: Canada
Capacity: 200 guests
Adventure rating: 4
Luxury rating: 8
The scenery surrounding Fairmont Chateau Lake Louise is graced with all the features of a spectacular wedding celebration.
The snow-capped, pine-covered mountains rising in the distance next to glistening glaciers beyond the immense icy lake provide the backdrop for exchanging your wedding vows.
The Chateau itself is also well-equipped to handle your arrangements with style.
Accommodation for your guests, catering, and a bridal suite are all offered by this world-class venue and many couples choose to stay a while longer to enjoy their honeymoon here as well.
Seneca Rocks in West Virginia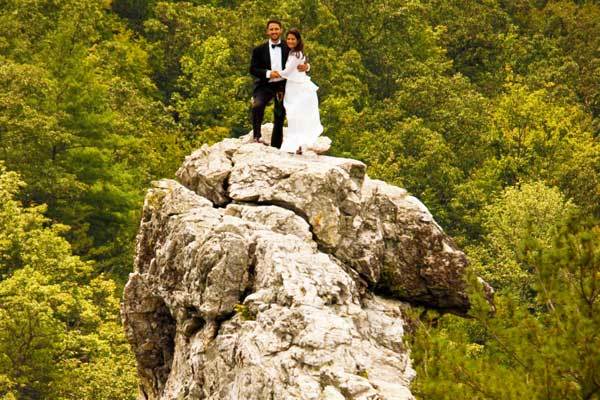 Location: West Virginia, USA
Capacity: 5
Adventure rating: 8
Luxury rating: Depends on venue
Seneca Rocks is an imposing crag located in the lush Monongahela National Forest and is a popular destination for recreational rock-climbing.
The top of the 900 ft sheer south peak was the chosen location of Bob Ewing and Antonie Hodge Ewing, who said their vows in full wedding regalia.
After becoming engaged on the same spot, the couple decided that they would also get married here – in their "favourite place".
However, the peak is inaccessible except by technical climbing, which meant that only 5 guests could attend the ceremony.
Fortunately, this intimate group included the bride's climbing-novice mother who was happily able to make the ascent. This brave and adventurous couple should encourage everyone to think outside the box and really make their wedding day their own.
Table Mountain in South Africa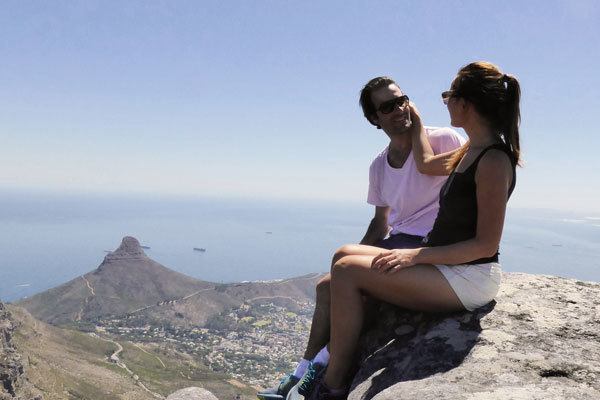 Location: Cape Town, South Africa
Capacity: 80 guests maximum
Adventure rating: 6
Luxury rating: 4
Table Mountain is the characteristic landmark of trendy and beautiful city of Cape Town – which is full of perfect wedding venues.
However, if you really want to commemorate your special day in style, consider hosting your celebration on top of the flat-topped mountain itself.
With panoramic views of the city bowl, the iconic Lion's Head and the ocean beyond, you will surely remember this jaw-dropping scenery for the rest of your life.
There are several restaurant venues located on the mountain top which would gladly cater for your event, as well as a convenient aerial cableway that can transport your guests to the top, without any effort required.
See: best hikes in South Africa
Bøverdalen in Norway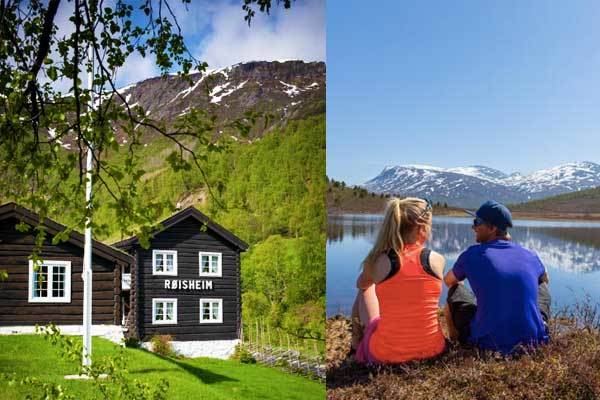 Location: Norway
Capacity: 46 guests
Adventure rating: 6
Luxury rating: 5
Enjoy a cosy, traditional wedding in a local, medieval chapel and then head out to the mountains to take some truly spectacular photos.
The historic Røisheim Hotel is located nearby the Jotunheimen National Park and conveniently just 15 minutes from the town of Lom.
The hotel is traditionally used by adventurous mountaineering tourists who have come from all around the world, but is perfect for an intimate wedding tailored to you, with the caterers and chapel supplied by the boutique hotel.
Afterwards, consider spending your honeymoon traversing the peaks of Jotunheimen, which boasts extraordinary scenery in both summer and winter.
See: hikes in Norway
Emerald Lake in British Columbia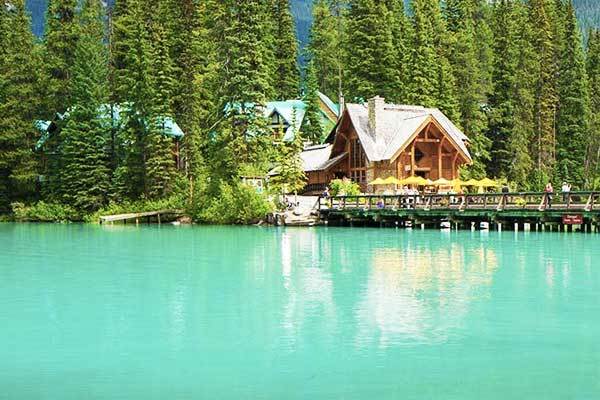 Location: Canada
Capacity: 88 people
Adventure rating: 4
Luxury rating: 8
There are several locations around Emerald Lake, nestled in the surrounding snowy peaks, which are ideal for a romantic and memorable occasion.
Emerald Lake Lodge can accommodate a number of different wedding styles – from intimate weddings on the shores, overlooking the sparkling aquamarine waters, to larger ceremonies in the cabin-style Cilantro restaurant.
The lodge is experienced and offers all the facilities you could want to help plan and successfully execute your big day.
There is also more than enough space for your guests to stay overnight to keep the festivities going as long as possible.
Point Imperial in Arizona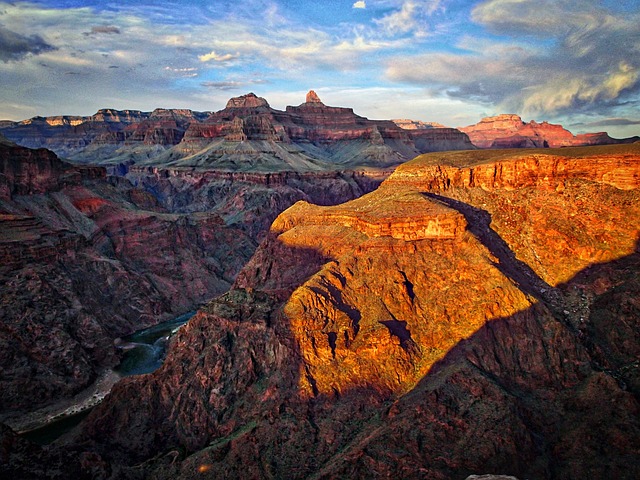 Location: Grand Canyon, Arizona, USA
Capacity: 10 people
Adventure rating: 8
Luxury rating: 1
One way to guarantee that your wedding ceremony will be intimate, is to require all your guests to trek up to the highest viewpoint of the Grand Canyon National Park.
Although the park requires a permit to get married within its perimeter, these are relatively easy to obtain and the epic views are more than worth the effort.
Only 10 people can strictly fit on the viewpoint, but there is a little extra space at a nearby picnic area if you want to squeeze in a few more friends.
There are also several churches within the national park if you want to keep some semblance of tradition, as well as multiple venues in town for you to host your reception.
Lake Wakatipu in New Zealand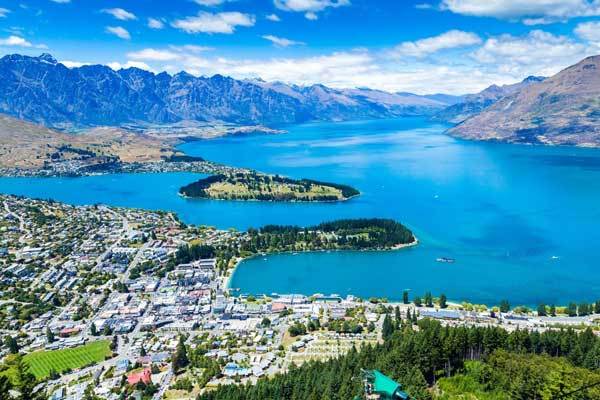 Location: Queenstown, New Zealand
Capacity: Variable
Adventure rating: 5
Luxury rating: Variable
Exploit the spectacular scenery of Lake Wakatipu and get married on its gorgeous shores.
The gleaming, immense lake, surrounded by imposing mountain peaks will serve as the perfect background for an intimate, romantic ceremony.
There are many venues in the nearby town to host a festive reception, and a variety of planners and hotels to facilitate your wedding planning process.
See: amazing hikes in New Zealand