Although many people come to Everest to get away from the rat race and escape the hectic lifestyle that city living brings, receiving internet and mobile signal is still very important.
In this article we look at the various wifi and internet options on the EBC trek.
Internet and the EBC Trek
Mobile coverage
Up until 2010 there was zero mobile coverage throughout the Everest region. However, thanks to the Nepalese telecommunication company called Ncell, 90% of the Nepalese population now has mobile 3G or 2G signal and internet access.
Ncell is the Nepalese subsidiary of Swedish phone company TeliaSonera, who have set up a 3G mobile broadband station in the remote town of Gorak Shep. Located just miles from Mount Everest at an altitude of 5,200 metres, the station has provided much needed signal to hikers along the Everest Base Camp trek for the last few years.
There have been 8 mobile base stations set up in the region with the last being installed in Lukla – the popular landing point for Everest trekkers. The mobile strength in most places is good enough for internet use and is certainly strong enough to make video calls.
The 3G signal is particularly helpful for climbers actually climbing Mount Everest who need a stable way of reaching their friends and family throughout their journey. The signal reaches all the way to the peak of Everest and allows live feeds from climbers back to base camp.
Be warned that signal often goes down and you will lose signal depending on where you are on the trail.
Laptop/Computer Internet
In terms of actual computer internet, there is very little. As of 2016, there are no free wifi hot spots along the trek after Namche and, because of this, bringing a laptop is usually discouraged. This may have changed.
The only two places that offer free wifi when I was last on the EBC trail were Starbucks coffee in Lukla and the Everest Bakery in Namche. If you want to bring your own laptop, you have the option of leaving it in Namche and picking it up again on your return journey.
There are a number of internet cafes along the route. There is one in Lukla and several in Namche Bazaar. After that there are several dotted along the route, including a good one in Gorak Shep. Be warned though, these internet cafes are not always reliable and signal is often poor/lost.
Most tea houses will offer wifi, however, this will come at a cost that is usually more expensive than an internet cafe.
The internet service along the route is provided by Everest Link. Because the entire region is provided by the same provider, when Everest Link goes down, all wifi along the route also goes down.
Be prepared for this as it happened twice on my last trek. The wifi is generally quite slow so you probably won't want to do any serious browsing, however, for basic email and things it's more than capable.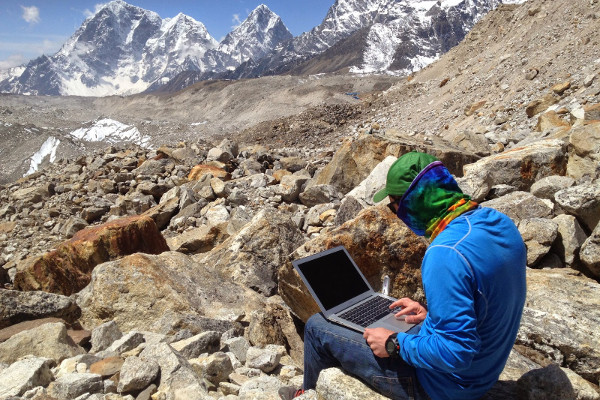 Wifi hot spots, signal strength and mobile service
Please note we can only go on what we experienced at the time of travel (2016). Signal strength can vary from day to day, as can mobile service. At the time of writing this article the Nepalese Rupee was worth 106 to 1 USD.
Lukla
WiFi: We stayed at the trekkers lodge where the wifi signal was good and cost 400 RS for unlimited use. There is free wifi in town though at Starbucks coffee – signal good.
Charging: Solar charger for 150 RPR/hour.
Cell Service: NCell 3G
Phadking
WiFi: No WiFi available at local tea house. WiFi is available though at local bakery for an hourly fee.
Charging not available
Mobile Service: NCell 2G
Namche

WiFi: WiFi very weak in tea house. Everest Bakery WiFi signal very good and free with purchase.
Also check out Herman's Bakery for excellent WiFi and Cafe Daphne. Usually WiFi is 200 Rs for 60 minutes but is occasionally given free.
The internet cafe in town has very good signal normally.
Charging is available and free in certain tea houses
Mobile Service: NCell 3G
Duboche
WiFi: Poor signal gnerally
Charging is available for 200 Rs/hr
Mobile Service: NCell 3G
Tengboch
WiFi: Poor signal
Charging is Available when tea house power is turned on.
Mobile Service: NCell 2G
Dingboche
WiFi: Very good WiFi signal – Bakeries had the best WiFi in town.
Charging is Available
Mobile Service: NCell 2G
Lubuche
WiFi: Good signal – 1000 Rs/day
Charging is Available
Mobile Service: NCell 2G
Gorak Shep
WiFi: Good signal – 700 Rs/hr
Charging is Available – 350 Rs/hr and 500 Rs/hr for laptops.
Mobile Service: NCell 3G
Everest Base Camp area has a strong 3G service thanks to the cell tower at Gorak Shep.
Pheriche
WiFi: Good signal – 500 Rs/24 hrs
Charging is Available – 150 Rs/hr
Mobile Service: NCell 2G
Khumjung
WiFi: Good signal – 350 Rs/hr or 500 Rs unlimited
Charging is Available – 150 Rs/hr
Mobile Service: NCell 2G
FAQ
We hope this article has helped you understand what Internet access on an Everest Base Camp Trek you can expect. If you have any further questions please just drop us a note below and we'll respond quickly as possible.
More EBC hiking articles: