With more than 30,000 tourists a year, the Everest Base Camp trek (EBC) is the single most popular trek in Nepal.
The name alone conjures visions of soaring peaks and sky-high altitudes, but just how difficult is the Everest Base Camp trek for the average walker?
A few individuals every year will actually stand atop the world's tallest mountain, however, for most it will be a trek to Base Camp.
With no road in, the only way to see the incredible mountain is by trekking through the Khumbu Valley from Lukla (unless you can afford a helicopter!).
Depending on your operator, the trek usually takes exactly two weeks. This length of time can often be off putting to a novice trekker, especially as much of the trek is at high altitude.
Don't panic though, the journey is very achievable!
Firstly, it should be noted that the Everest Base Camp trek requires no climbing expertise and there are certainly no technical climbing sections.
With determination and a basic fitness level, you should be able to trek the route. We have seen old and young, overweight and underweight complete the trek – all with a smile on their face!
With that being said, there are certainly some factors that should be considered prior to your trek, such as altitude, length and training that will enable you to better understand what you are getting yourself into before deciding.
EBC Difficulty
Altitude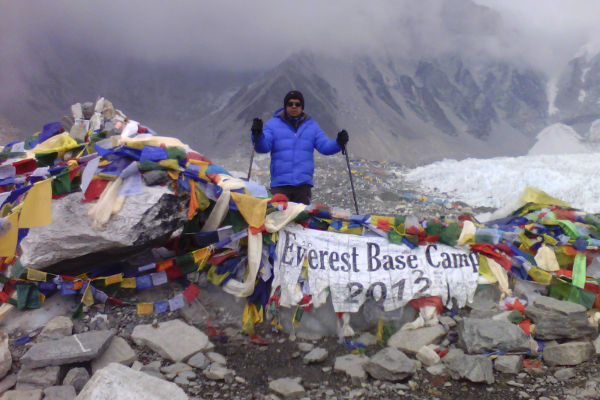 Without a doubt the most difficult and underestimated aspect of the EBC trek is the altitude. The high altitude profile of the trek certainly makes the going more difficult.
In fact, if it were not for the altitude, the EBC trek would be very basic indeed. Acute Mountain Sickness (AMS) should not be taken lightly nor underestimated, especially at the altitudes reached on the EBC trek.
The hike begins at Lukla which stands just below 3,000 metres – already high enough to induce altitude sickness. The trek then steadily climbs as the path winds its way up to Base Camp.
The view point from Kala Patthar on your return journey is the highest point standing at 5,554 metres.
The key to high altitude trekking is to go slow.
It is up to you to make sure your tour operator has an itinerary that allows for acclimatization. This means having at least 2 acclimatization days built into the schedule.
These acclimatization days are not wasted as they can be used to explore the area. Your outward journey should be far longer than your return journey because of this. Most operators take 9 days to get to Base Camp and 3 days to return!
Please remember to seek professional medical advice before trekking at these altitudes and research altitude sickness to make yourself fully aware of the symptoms and treatments available.
It is also important to be aware that there is no proven correlation between altitude sickness and fitness levels, gender or age – everyone is potentially at risk.
Length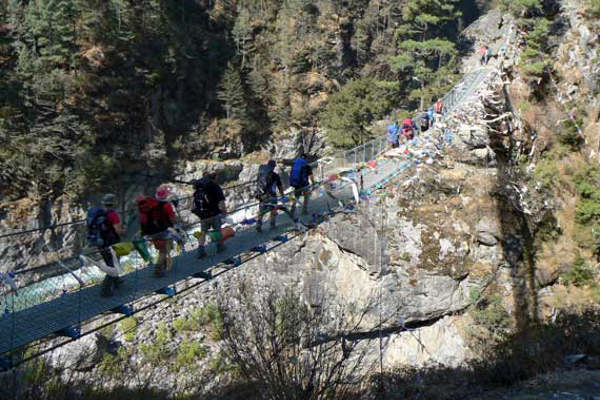 The trek begins after arriving at Lukla from Kathmandu. Here your 65 km journey to Everest Base Camp begins (130 km round trip). Depending upon your trekking experience, 65 km may or may not be a formidable distance.
In reality, 65 km, even for an inexperienced trekker, is not very far when you realise that the average walking speed of a human is 5 km per hour.
Unless you are trekking unsupported, your gear will be carried for you by a porter or yak, which is a nice bonus!
On a standard 14 day tour itinerary, you'll be walking for 12 of these days, with an average EBC hike distance each day of roughly 15 km.
Although 15 km a day does not sound like much, the terrain is often rocky, steep and fairly slow going. Depending on when you trek, the paths can also be covered in snow!
Please bare in mind that this is a wilderness trek and the route has no paved sections. Like many mountain treks, the path ascends and descends often and you will need to make sure you rest often enough to prevent over-tiredness.
Training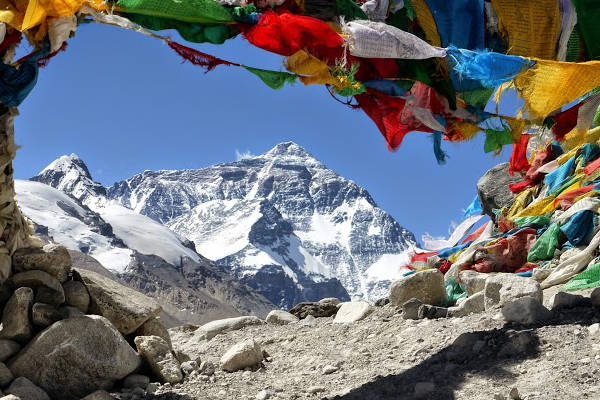 Many people believe that the EBC trek requires a super high level of fitness. Although a good level of fitness will certainly make the trek more enjoyable, you certainly don't need to be an olympic athlete.
An EBC trek does tire most people because of the altitude and the hilly nature of the route, however, we believe that with a little basic training, any novice-trekker can tackle the hike.
Some days are certainly easier than others and it is sensible to prepare for the tough days, not the easy ones. Walking for 6 hours a day to EBC will take it out of you if you have minimal fitness.
Therefore, building up your strength before you leave is crucial. We suggest setting yourself an EBC hike training plan roughly 6-8 weeks before your trek.
Your training plan should include the following:
Several long hikes/walks a week, building up the distance slowly until 5 hours doesn't bother you.
Strength training at the gym. This should be heavily focused on your legs. Squats are a great option.
Aerobic exercise. This is used to build up your endurance for those long days. Good aerobic exercises include jogging, swimming, rowing etc.
We hope this article has given you a good idea as to the Everest Base Camp trek difficulty and the best way to prepare for it. Good Luck!
FAQ
If you are still unsure if you're suited for this trek, or if you have any other queries regarding the article, please leave a note below and we'll respond within 24 hours.
Tags: Everest Base Camp Trek, Nepal Trekking, How Difficult is the Everest Base Camp Trek, training for Everest Base Camp, EBC Trek
References: 1. Personal experience, 2. Google Maps