On this page you will find a comprehensive and impartial guide to the Chadar Trek. We are not a tour operator, but we can put you in touch with our recommended partner, click here.
As this is a very long and detailed article on the Chadar Trek, we recommend using the quicklinks below to navigate to the sections that interest you most. Alternatively, bookmark this page for future reference.
Please use the quicklinks below to navigate the guide.
The Chadar Trek is one of the most wild and beautiful hikes on the planet. Frequently covered by the worlds top adventure channels and media outlets, the Chadar Trek takes hikers through a frozen river valley into the very heartland of India's Zanskar region.
The region's harsh desert environment and towering mountains make the Chadar trek one of the most popular treks in the Ladakh area. Very few treks are as remote as the Chadar and even fewer are conducted in high winter. The trek is not for light hearted as temperatures are often lower than -10 degrees celsius in the day and -20 at night.
Cut off entirely from the outside world, the Zanskar river is the only outlet for locals wishing to venture further into the Ladakh region. The trail has been used for nearly a 1000 years by the Buddhist monks living in the region. You'll trek the same route, walking over the frozen river as you cut a path towards Naerak.  You will need to have a good level of stamina and fitness to have a really good time. Accommodation is riverside camping.
The Chadar trek is ideally suited to seasoned trekkers looking to experience one of the most remote places on earth.
Get a trek operator recommendation
Would you like to contact a responsible and trustworthy trek operator with competitive prices? Get some free, no obligation advice for your Chadar Trek.
Get In Touch
A beautiful video overview of the Chadar Trek by Chiwalker. The video gives great insights into the landscape and people you are most likely to encounter along the way. The video is 25:37 long.
Below is a detailed Chadar Trek itinerary. Please note that this is a typical itinerary that we would expect many operators to adhere to. Some tour operators however, offer variations on this route.
Arrival in Leh (3500 m)
After taking a flight from Delhi you will arrive in Leh – the highest airport on earth! Take in the cool mountain air as you explore town before bedding down in your hotel for the night.
Drive to Chilling – Hike to Tilad Do (3100 m)
After breakfast your operator will take you by car to your starting point at Chilling roughly 3 hours away. Along the way you will no doubt visit the important Buddhist temple of Shanti Stupa. Once in Chilling you will drive a little further to Tildad Do where your hike begins. The drive is fairly high and windy and you'll need to hold your nerve as the road becomes tighter and more narrow.
You will then trek for several kilometres to reach your first coming ground. Along the path you will walk for the first time on the river ice and get to grips with the cold weather of the region. Set up your tent quickly before the cold night sets in!
Tilad Do to Shingra Koma (3170 m)
Today you will be walking for almost 12 km as you venture along the valley floor towards your campsite at Shingra Koma. Make sure to follow the lead guide as you will be walking on river ice that can often crack.
As you walk make sure to take in the incredible rock faces and surrounding snow-capped peaks as you walk in the footsteps of generations before you. The landscape is truly spectacular during winter and very few people get to witness such remote valleys.
Shingra Koma to Tib Cave/Tibb (3225 m)
Today you continue your journey along the river valley taking in the incredible gorges and frozen inlets as you venture towards Tib Cave.
The cave is a huge opening in the rock face in which you will camp the night to shelter from the snow. Make sure to drink plenty of butter tea to keep your body warm and strong.
Dib Cave/Tibb to Camp at Naerak (3390 m)
Today you'll be walking for roughly 10km as you trek the most beautiful section of the valley. Along the route you'll be dazzled by one of the worlds largest frozen waterfalls and large prayer flags fluttering in the cool breeze.
In the late afternoon you'll reach the village of Naerak where you have the chance to explore and talk to the locals – maybe share a drink or two!
Naerak to Tibb
Today your return journey begins as you proceed back to Tibb. However, your path may very well be different as the river reacts to the slightest temperature changes. Sections that were frozen may now be running and vice versa. Always follow the steps of your guide.
Tibb to Shingra Koma
As you return down the river valley you'll have plenty of time to react on the stunning landscape and take pictures to show your relatives and friends back home. Keep a sharp eye out for wildlife including foxes, ibex and the elusive snow leopard. Although rarely spotted, you can be assured the leopards are watching.
Shingra Koma to Chilling – Chilling to Leh
This is your last day on the Zanskar River. You'll trek back to Tilad Do where you will say a final goodbye to the locals before taking a car back to Leh. Relax in a warm and cozy bed for the night to rest your tired muscles.
Departure
Today you say farewell to your crew and depart Leh for Delhi. Here you will take your international flight home.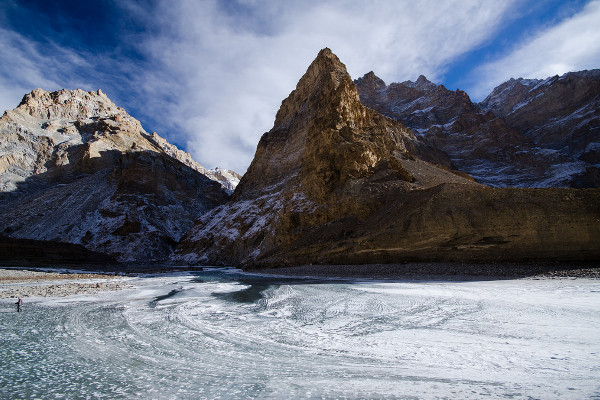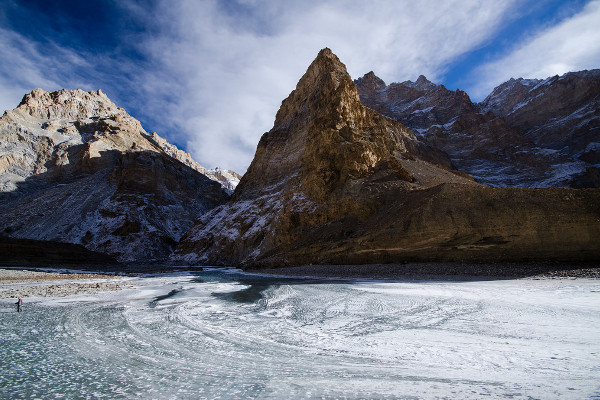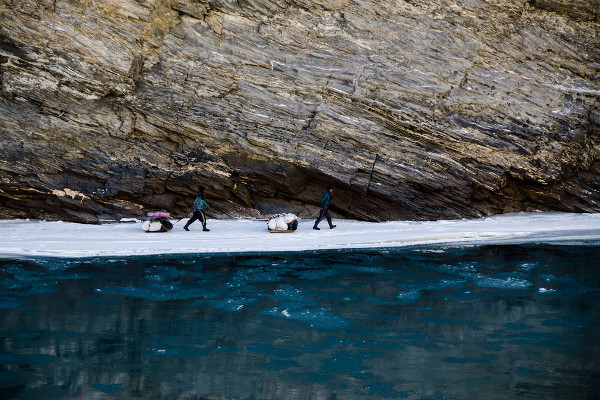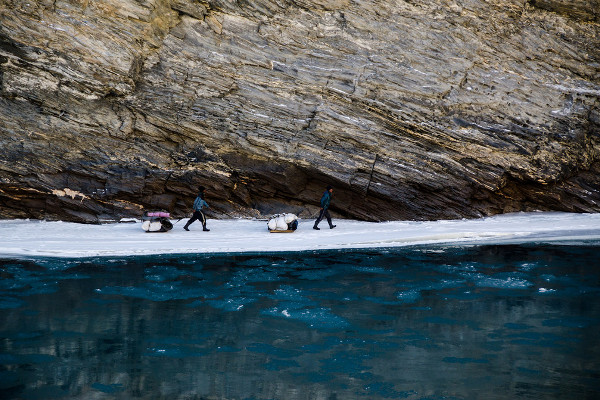 The Chadar Trek is located in the Zanskar region of Ladakh which is part of the Indian state of Jammu and Kashmir.  Please see map below for details.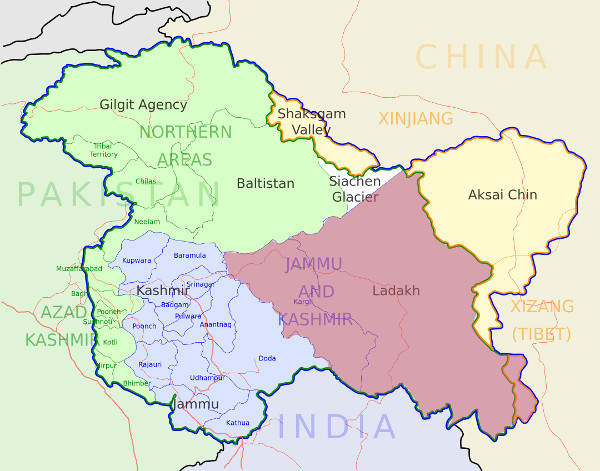 There are a number of excellent guides we recommend for the Chadar Trek. These are:
Trekking in Ladakh by Radek Kucharski.
Trekking in the Indian Himalaya by Lonely Planet
Trekking Guide to the Western Himalayas by Depi Chaudhry
Ladakh: the Essential Guide: Including Kashmir & Manali by Partha S. Banerjee
Trekking in Ladakh by Trailblazer (Charlie Loram and Jim Manthorpe)
Frequently Asked Questions
Below we have provided detailed answers to the most frequently asked questions on the Chadar Trek.
The cost of the Chadar Trek varies depending on what operator you use. Local agencies often offer a guided trek for as little as US$250 per person (excluding flights). However, for an established western operator you should look to pay at least double this. The trek can be dangerous and finding the right operator is important as your safety should be paramount.
You will also need to factor in flights, equipment, visas, vaccinations and food and drink. Each operator will offer a slightly varying package when it comes to food and drink on your trek.
Visa, Vaccinations, Insurance etc: ~$300-$500
Equipment (buying and hiring): ~$500-$800
Flights to Leh: ~$1,000
Tour Agency: ~$250 – 350 for a cheap local agency to ~$500 – 1000 for a Western trekking agency.
Tips: ~$50-$100
Misc (additional food, unplanned travel / hotels ect): $200
Total Costs: $2,200 – $4,000
Permits are generally included with your trek costs. However, operators will often ask you to pay around US$50 for a wildlife/environment charge levied by the Indian government.
The best time to trek the Chadar Trek is January and February during the peak winter season. This is when the river is frozen and can be walked on (gently).
The Chadar Trek does not operate at any other point in the year.
Yes, the entire area is at high altitude and you'll want to make sure you arrive several days before your trek to acclimatise to the thin air.
It is important to have a detailed understanding of the risks associated with high altitude trekking and how the body acclimatises. We recommend you read our detailed article on Altitude Sickness and Acclimatisation.
The Chadar Trek is considered to be one of the toughest treks in the Ladakh Region. The trail is cold, icy, often steep and always at high altitude. Only experienced trekkers are recommended for this trek. You will need to be in good physical condition before attempting the route and have a good stamina built up.
The freezing temperatures also make the trek difficult with temperatures often exceeding -20 degrees at night and -10 degrees during the day.
Trekking in the Ladakh region requires a number of essential pieces of trekking clothing and equipment. The Chadar trek however requires some cold weather gear that is often not nesscary on the summer treks.
Many pieces of equipment can be rented or bought in Leh, but we recommend bringing the most important pieces of gear with you. The important thing is warmth. You'll need a winter sleeping bag (may be provided) and good quality thermal gear.
To help you plan and prepare for your trek we have written a detailed multi day hike packing list.
Trekking insurance is a must on multi day hikes. This is particularly important on the Chadar Trek which is extremely remote. If an accident should occur that requires medical assistance and evacuation you will definitely want trekking insurance that can cover the costs of air ambulance and treatment.
Moreover, it is prudent to have insurance that covers you for any travel related risks, like lost, stolen, damaged or delayed baggage; flight delays and interruptions; and tour operators default.
This article on travel and trekking insurance provides detailed information on what type of insurance you'll need in the Ladakh Region, as well as provides a quote calculator from a leading travel operator.
Get a Trek Operator Recommendation
Pop your details in the form and you will receive a price competitive quote from our trusted trekking operator.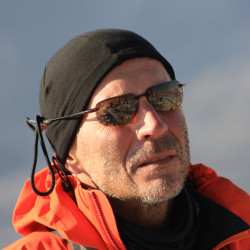 Brilliant service guys! The operator you recommended is absoultely fantastic. Fast, responsive, amazing track-record and great prices! Thanks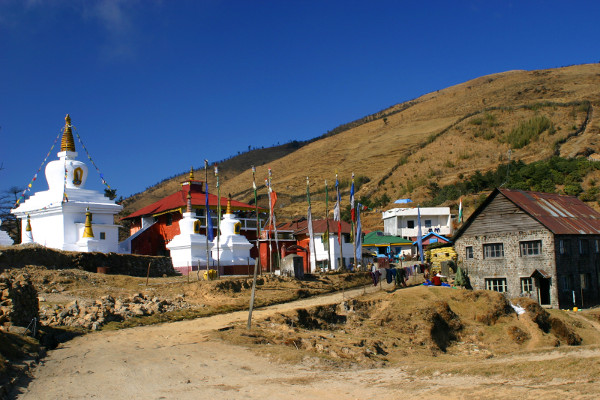 The Singalila Ridge Trek is one of the most spectacular treks in India and follows the northern ridge that separates the vast country from that of its smaller neighbour – Nepal. Not only do you experience incredible views, you're also greeted with a wide array of flora and fauna along the trek. Discover the Singalila Ridge Trek.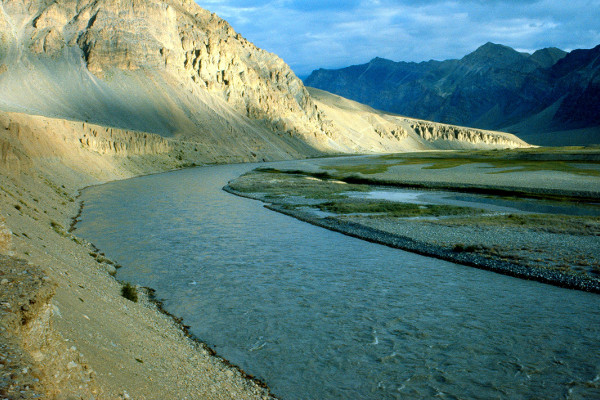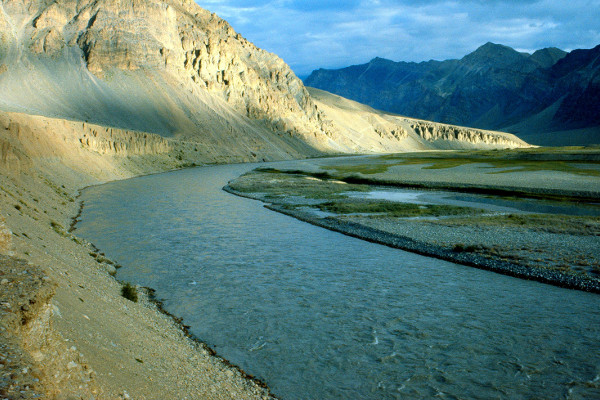 The Markha Valley Trek is one of the most spectacular and famous treks in the Ladakh Region of India. Located in the north western area of India, the Ladakh region is famed for its wildness and untouched beauty. Discover the Markha Valley Trek.