On this page you will find a comprehensive and impartial guide to the Annapurna Sanctuary Trek. We are not a tour operator, but we can put you in touch with our recommended partner, click here.
As this is a very long and detailed article on the Annapurna Sanctuary Trek, we recommend using the quicklinks below to navigate to the sections that interest you most. Alternatively, bookmark this page for future reference.
Please use the quicklinks below to navigate the guide.
The Annapurna Sanctuary Trek is one of the most popular treks in Nepal after Everest Base Camp. Its climate varies from sub-tropical to Alpine, so there is a wondrous selection of flora and fauna, and you will come across many ethnic groups.
This trek is somewhat strenuous but requires no prior trekking experience. Most people take between 10 and 16 days to carry out this trek
The Annapurna Sanctuary Trek is the best option if you would like to get spectacularly close to the Himalayas but have no time for the acclimatisation required of other treks such as the Annapurna Circuit or the Dhaulagiri Circuit Trek. The highest altitude attained is 13,550 feet which, although still high, is lower than most treks in the region.
The Annapurna Himal is a huge massif with several peaks above 23,000 feet. A section of this range forms an amphitheatre by the name of the Annapurna Sanctuary, containing Annapurna I, Fang, Gangapurna, Glacier Dome, Hiunchuli and Machapuchhare. With so many surrounding mountains, sunlight is restricted to only 7 hours a day in summer.
At 26,545 feet, Annapurna I is the tenth highest mountain in the world. It was the first of more than 26,000 feet to ever be summitted – in June 1950 by a French party led by Maurice Herzog. Herzog's classic account of his summit went by the title of Annapurna: The First Conquest of an 8000-Metre Peak –which we highly recommend.
The only entrance to the Sanctuary is a narrow pass between Hiunchuli and Machapuchhare. The sanctuary is regarded as the dwelling place of Shiva, the harvest goddess. It was not entered by outsiders until 1956, and only recently was the bringing of eggs or meat or the admission of women and Dalits – untouchables – permitted. The Annapurna Sanctuary Trek winds its way through the valley below the mountains. The route has been used by traders for centuries and you will share the trail with locals hefting bags of rice and crates of chickens.
The trails are generally good, however, they can often be fairly steep and the path through the forest when you approach the sanctuary can be slippery. It is possible to trek without a guide. You will meet many other trekkers along the way. A map and guidebook ought to be sufficient (see below for recommendations). Please remember to plan your day to avoid trekking after nightfall.
Accommodation on the trek is usually in tea houses. The teahouses are almost always family-owned and are usually of good quality. Toilets are usually housed in an outside structure and will sometimes be squatters. "Flushing" is effected by means of a bucket of water. Hot showers are usually available at additional cost.
The Kali Gandaki river is one quarter of a mile wide and ensconced by the world's deepest gorge. In winter, it is virtually dry but during the monsoon in summer it is gorged with rainwater. Fossils can be found on the banks of the river.
Get a trek operator recommendation
Would you like to contact a responsible and trustworthy trek operator with competitive prices? Get some free, no obligation advice for your Annapurna Sanctuary Trek.
Get In Touch
Please note that there are several Annapurna Sanctuary trek itineraries that can be done. Below we have laid out the most popular version – 13 days, leaving from Kathmandu. If you want to make your own way to Pokhara then you could probably organise this with your operator or guide.
A typical itinerary looks as follows:
You arrive at Tribhuwan International Airport in Kathmandu, where you stay overnight at a hotel. This is the City of a Thousand Temples, where every second day is a festival and there are several UNESCO World Heritage Sites.
There is a 30-minute flight to the lakeside city of Pokhara then a drive of less than an hour to Nayapul. You start your trek here. In 15 minutes or so, you reach Birethanti, a large village featuring many shops and tea houses. The trail goes along the north bank of the Bhurungdi Khola, climbing steadily until Hille is reached. At the end of a short climb is Tikhedhunga where you stay for the night.
After Tikhedunga, there is a steep climb to the large village of Ulleri. The ascent then continues, but more gently. You will pass through forests of oak and rhododendron before reaching Banthani. You then continue to Nangethanti. An hour after that, you come to Ghorepani where you stay for the night.
You arise early this morning and hike to Poon Hill. Here you are presented with the best possible view of the fabulous Annapurna and Dhaulagiri ranges. You then return to the tea house for breakfast and walk to Tadapani.
At first, the trail leads sharply downhill through forests but later it eases as you approach the village of Gurjung. The walk to Chhomorung is fairly easy. You stay at Chhomorung for the night. There are many chalet-style, wooden lodges in Chomrong (2210m) which have great views out toward the prominent Machhapuchhre (Fish-Tail Peak). A brilliant place to end the day!
The trail descends to Chhomorung Khola and then ascends to Khudighar where there is a checkpoint. In less than 2 hours of trekking we reach the village of Sinuwa where we take a welcome break. From here, the trail continues to climb through terraced fields and then through forest of rhododendron and bamboo to the ridge crest at 'Sinuwa Hill Top' which you should reach after a further hour. You stay the night at Bamboo.
You begin the day by traversing the bamboo and rhododendron forests before arriving at Dovan where you stop for lunch. You will stay the night at Hinko, or in particular, Deurali, which is on the ridge above.
This day, the trail rises on the way to Annapurna Base Camp. Here, the mountain scenery is at its most spectacular with towering mountains surrounding you.
Now it is time to explore the Hidden Valley before returning to Dovan. You will have the option to walk from your camp to Annapurna South Basecamp (4130m) which is a distance of only 4 kilometres. Along the walk you will witness increasingly impressive mountain views and jaw-dropping scenery. At South Basecamp you will be rewarded with views of the entire south face of Annapurna.
You trek to Jhinu Danda, where there is a hot spring in which you will doubtless spend time in the evening.
Trekking now takes you in the direction of Pothana via Landruk. Look out for the waterfalls along the way. Today is a relatively easy trek with a fairly level 2 hour trail.
Two hours is spent walking downhill to Phedi, which is fairly easy. At Phedi, the road links to Pokhara, a half hour drive away.
You return to Kathmandu.
Tags: Annapurna Sanctuary Trek, Annapurna Sanctuary, Annapurna Sanctuary Trek Nepal, Annapurna Sanctuary Nepal, Annapurna Sanctuary Trail, Annapurna Sanctuary Map, Annapurna Sanctuary Weather, Annapurna Sanctuary Trek Cost
References: (1) Personal experience, (2) Guidebooks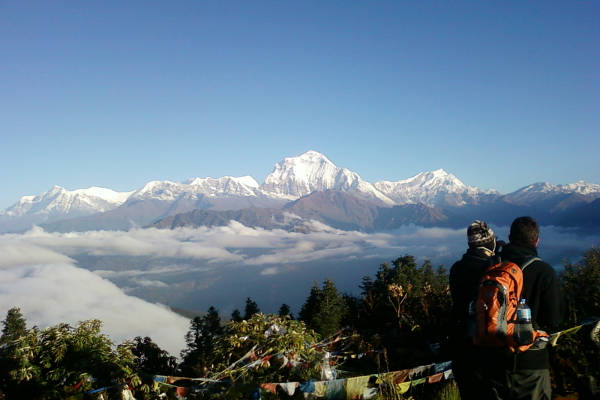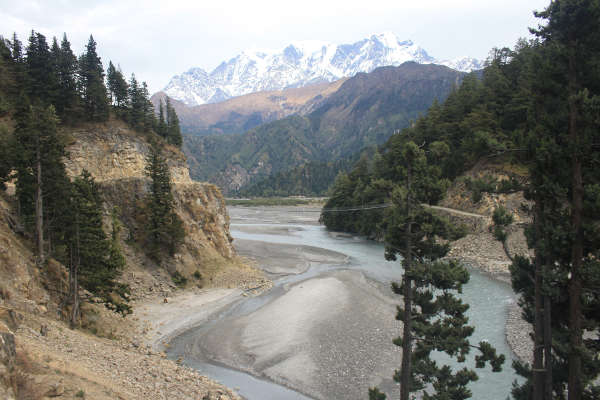 The Sanctuary is located 29 miles due north of Pokhara, Nepal's second city, 13,120 feet above sea level. See the map schematic below.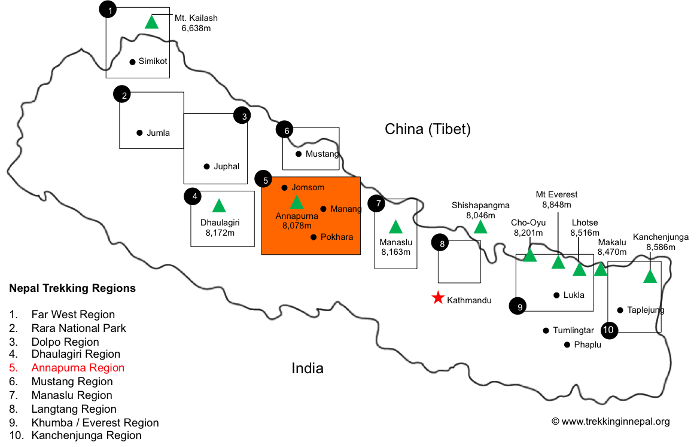 Click the map below to download and view in detail the Annapurna Sanctuary Trek route. Note: The map is from Shangri-La Maps and was published in 2002 so it is a little outdated. We have provided links and recommendations to new guides and maps below.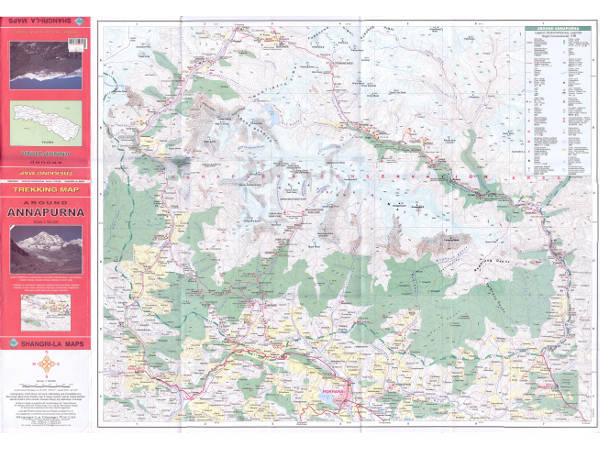 Books dedicated to the Annapurna Sanctuary Trek are Trekking the Annapurna Circuit and Annapurna Sanctuary in the Nepal Himalaya by Ian P Johnson and Annapurna Sanctuary and Circuit by Alonzo Lucius Lyons. There are two maps – we recommend [/easyazon_link] by Ian P Johnson and Around Annapurna 1 : 125 000: Annapurna Conservation Area – Annapurna Sanctuary. It includes detailed trails – walking distances – altitudes.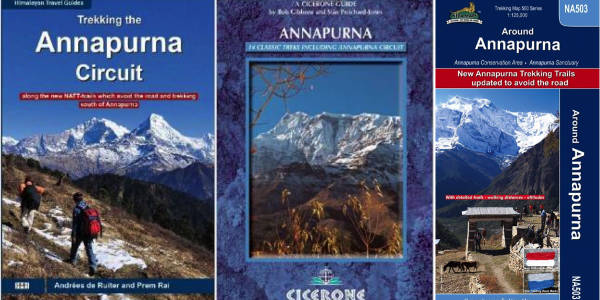 A beautiful video overview of the Annapurna Sanctuary Trek by The Globe Less Travelled.  It's just over 3 minutes long.
Frequently Asked Questions
Below we have provided detailed answers to the most frequently asked questions on the Annapurna Sanctuary Trek.
To complete the trek using a tour operator and guide service you can expect to pay between $2,000 and $3,500. Completing the trek unsupported could be done for as little as $1,000.
An Annapurna Conservation Area Project permit and Trekker Information Management System registration are required for the Annapurna Sanctuary trek. If you are part of an organised tour group these will be arranged for you, but if you are trekking unsupported you will have to bring four passport-sized photographs and go to the offices of the Nepal Tourism Board in Kathmandu to apply for permits. We recommend bringing copies of your passport and insurance policy. The offices follow government working hours and days, and are not open on Sundays.
The Annapurna Sanctuary Trek is of moderate difficulty. You will be trekking for 4-7 hours a day for over a week, so you will need to be relatively fit. The best way to prepare is to get as many miles under foot on trails in your home country.
Get a Trek Operator Recommendation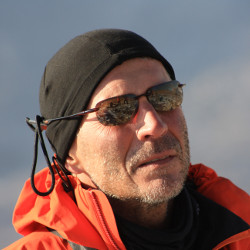 Brilliant service guys! The operator you recommended is absoultely fantastic. Fast, responsive, amazing track-record and great prices! Thanks
Pop your details in the form and you will receive a price competitive quote from our trusted trekking operator.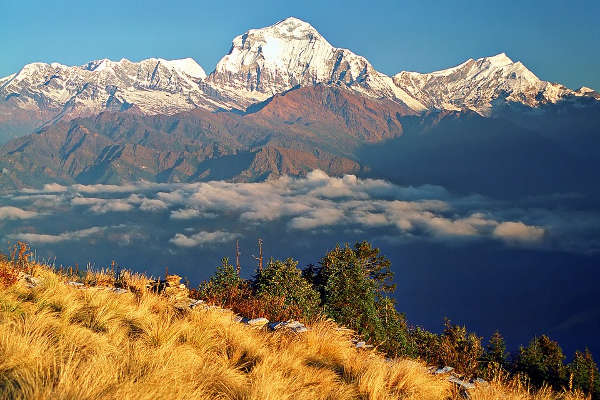 The Annapurna Base Camp trek is one of the most popular hikes in Nepal. The scenery and trekking experience in the Annapurna Sanctuary is quite simply amazing. You will see the complete Annapurna massif on the ABC trek. Discover the Annapurna Base Camp Trek.
The Everest Base Camp Trek is one of the most popular and iconic treks in Nepal. Trekkers get to retrace the early footsteps taken by Sir Edmund Hillary and Tenzing Norgay on their historic Everest expedition in 1953. Discover the Everest Base Camp Trek.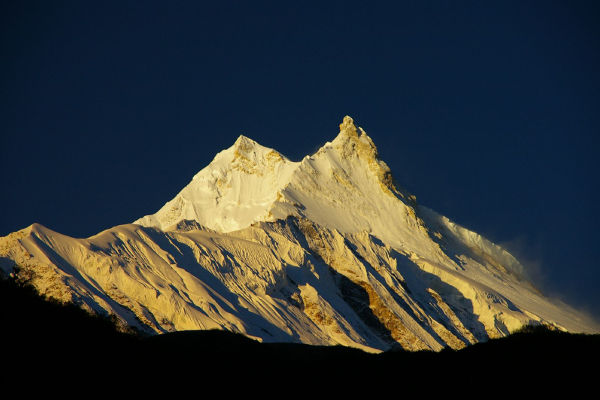 Robin Boustead, author of Nepal Trekking & the Great Himalaya Trail: A route and planning guide, pronounced, "Many would argue that the Manaslu Circuit trail is the best general trek in the country." Discover the Manaslu Circuit Trek.