The Annapurna Circuit trek is one of the most beautiful treks in the world. Its changing climatic zones and incredible scenery bring people back to the region time and time again.
Like many fabulous treks, the Annapurna Circuit does come with certain costs, most notably the the cost of a tour operator or personal guide. However, our readers are often unsure of what other costs are associated with trekking the Annapurna Circuit.
This article has set out a detailed overview to help our potential trekkers budget for the trip.
If you are unsure of what gear to bring it might also be worth reading our detailed Annapurna Circuit Packing List.
Annapurna Circuit Cost
There are often more costs associated with trekking overseas than most people realise. Below we have laid out the main cost considerations to budget for.
Annapurna Circuit Cost- Visas
No matter your country of origin, you'll need a visa to enter Nepal. Although you could arrange this prior to leaving, most people simply get a visa upon arrival at the airport. The cost of your visa will vary depending on your length of stay. All visas allow for multiple entry into the country within the visa time frame.
15 day visa – US$15
30 day visa – US$40
90 day visa – US$100
For more information on visas visit Nepal's Department of Immigration website.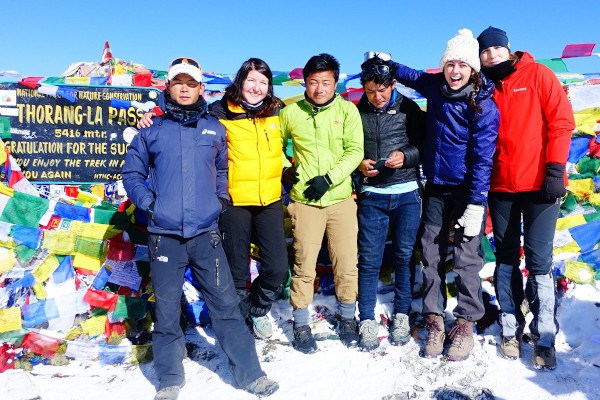 Annapurna Circuit Cost – Vaccinations
Depending on your country of origin, your vaccination requirements may vary. However, there are certainly some key vaccinations you should always consider. Please note that these are purely recommendations – we are not medical experts and you should always consult with a medical professional prior to leaving for Nepal.
We recommend to our readers to get Tetanus, Diphtheria, Hepatitis A, Polio and Typhoid vaccinations. If you want to be super careful, you could also consider Rabies and the Japanese Encephalitis jab, however, the risk of contracting these diseases are very rare.
If, whilst in Nepal, you decide to travel to the Southern region of Terai or Chitwan (low risk) in the monsoon period, you may want to consider taking Malaria pills and prophylactics for Cholera. Once again though, please consult with your doctor first.
Also note, drinking water in Nepal is not suitable for foreigners to the country. Make sure you purify all water before drinking. You can either boil water or use iodine water purification tablets.
Average cost of vaccinations = US$200
Annapurna Circuit Cost- Insurance
Trekking at altitude will always come with certain risks and this is of course true of the Annapurna Circuit also. Therefore, we always recommend strongly to our readers to purchase travel insurance prior to their trip.
Make sure your insurer covers you for all your basic travel needs such as lost/delayed baggage, flight cancellation, tour cancellation and medical cost cover. However, if you are trekking at altitude, which you will be, you'll need a policy that covers you for this.
Most travel insurance policies will not cover you over 4,000 metres, therefore, it is important to read the fine print and make sure you are covered for not only high altitude, but also medical air support.
If you plan on combining you Annapurna Circuit trek with some proper climbing (e.g, ropes, ice axes and crampons), you'll need mountaineering insurance on top of this. Read our article on trekking insurance.
Average cost for trekking insurance (not including mountaineering) = US$150 (based upon 30 days cover)
Annapurna Circuit Cost- Equipment
Equipment is a difficult cost element for us to factor in as it really depends upon how much equipment you already own and how much equipment you are willing to hire. Renting is often a good option, especially if you are not planning on trekking again. However, it does come at cost also and you wont have as much say on quality.
We believe that there are certain key items you should always bring with you. These include:
Total estimated budget = US$500 – $1,000
For a detailed Annapurna Circuit Packing List click here.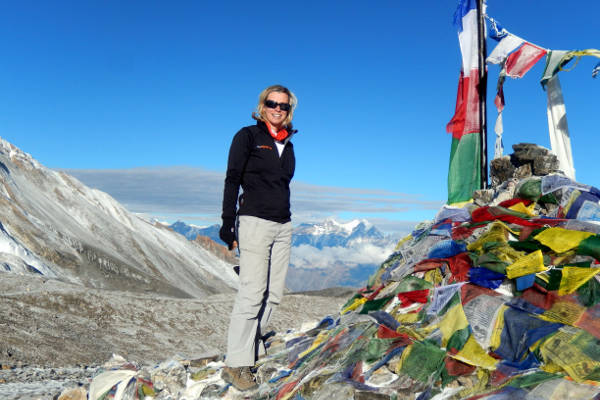 Annapurna Circuit Cost- Flights
Flight costs to Kathmandu can vary considerably depending on what season you travel in. The high season between Feb-May and Sept-Nov are generally more expensive. Obviously, the further ahead you book your flights the cheaper they are. To get from Kathmandu to Pokhara (the start point for all treks in the Annapurnas) usually means catching an internal flight (it is possible to get a bus / private taxi, but this is a long journey).
We recommend budgeting US$$1,000 for flights
Annapurna Circuit Cost- Tour Operators
Although the Annapurna Circuit can potentially be trekked alone, most people travel with a tour operator as there are hundreds of intersecting paths in the region and having a guide to lead the way is invaluable. A tour also has the added benefit of providing a porter to carry your heavier gear, and full organisation for permits and teahouse accommodation.
If you were to trek unsupported, expect to pay between US$700 – US$1,000. This includes your trekking permit, food and lodgings along the way.
Assuming you are planning on trekking with an organised tour operator, you will have two choices. Either trek with a local agent or a Western operator. Local operators charge anywhere from US$1,200 – US$3,000. Beware of the cheaper ones though as they are often poorly run, use the worse tea lodges, provide cheap food and poor equipment. Safety should be your highest priority when choosing an operator.
Most Western operators are quite professional and you should expect to pay between US$1,500 – US$4,000. Check what your operators include in their price as this varies quite significantly. Most organisers will include your flights from KTM to Pokhara return as well as hotel accommodation pre and post your trek, however some exclude food, lodging etc.  A good option is to ask other trekkers for their personal recommendations.
Budget cost for an organised tour = US$2,000
Annapurna Circuit Cost- Tips and Spending Money
Make sure your tour operator is a member of the Nepal Mountaineering Association (NMA). The NMA regulate the welfare issues of the porters and guides working in Nepal. Important policies include minimum wages, tips and equipment.
There is a fair amount of conflicting information regarding tipping in Nepal, however, from our personal experience we would suggest tipping your guide between US$150 – $200 for a 18 day trek (per person) and your porter between US$60 – $80 per person. The general rule of thumb is about 10% of your trekking cost. If you wish to pay more then that's great! On the flip side, if you are unhappy with how your guides and porters have performed, no tip will be required.
Lastly, you should always budget for general spending on activities, shopping etc. Kathmandu has some great markets where you can buy local crafts and some awesome sight seeing opportunities, so you'll want to budget for this.
Average budget for tips = US$250
Average budget for spare cash / spending money = US$100-$200
Total Annapurna Circuit Cost
Budget = US2,500 (incl. international flights)
Average = US3,500 (incl. international flights)
Top end = >US$5,000 (incl. international flights)
FAQ
If you have any further questions or queries about the cost of the Annapurna Circuit, please just leave a note below and we'll respond within 24 hours.
See our other guides to hiking in Nepal, including:
Tags: Annapurna Circuit trek cost, Annapurna Circuit cost, cost of trekking the Annapurna Circuit, how much to trek the Annapurna Circuit, how expensive is the Annapurna Circuit trek.