In the wake of the April 2015 tragedy this year, which saw 19 people die from an avalanche at Everest Base Camp, we have decided to write an article on Everest Base Camp trek deaths so that you understand what you are getting yourself into when you decide to trek to Everest Base Camp.
The first thing that should be noted is that the climbers killed at base camp in 2015 were just that – climbers. They were not trekkers.
Anyone on the EBC trek on the 15th April 2016 would not have been affected by the avalanche at base camp. The climbers who were killed were situated further up the valley towards the infamous Khumbu Ice fall.
This is not to say that the EBC trek is totally safe, but it certainly shouldn't be confused with the much more risky business of climbing Mount Everest. For more statistics and the death rate of climbing Everest's summit, read our article on Everest Facts.
Deaths on EBC Treks
There are no official statistics for Everest Base Camp trek deaths, however, we would estimate that somewhere in the region of two to four people die every year, although in some years there are undoubtedly no deaths and in others, more deaths.
With over 30,000 people trekking to Everest Base Camp every year, the death rate is actually very small.
Recent tragedies include Royal Navy scientist, Rachel Burke, who died on her trek to Everest after she started feeling ill from altitude sickness. She had to continue walking a further 10 hours and died the next day in a tea house dining room. Her death was reportedly the result of an underlying heart condition.
Debra Wilding was trekking with her daughter and a team of 12 hikers from the UK when she began to struggle with her breathing. The 49-year-old spent the night at a hotel in Khumjung with her daughter after returning from the trek, however, she died the next day from apparent altitude sickness.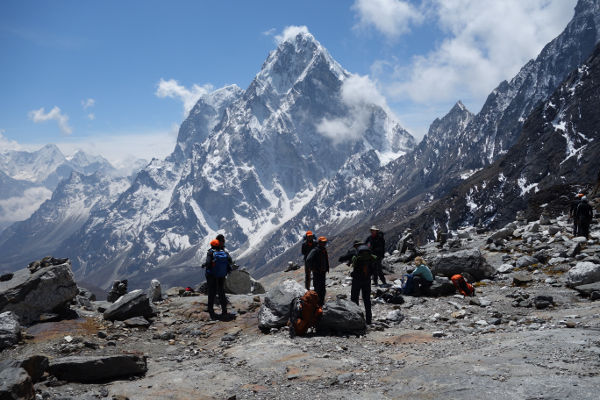 Deaths in the Everest Region
We would estimate that some of these deaths, which are attributed to the EBC trek, are in fact from treks throughout the region, like the Gokyo Lakes trek and the Khumbu Valley trek.
There are also a number of trekking peaks in the Everest Region, such as Island Peak and Mera Peak that, although far less dangerous than climbing Everest itself, still pose certain dangers such as altitude sickness.
Glacier crossings, rock falls and moraines add significant danger to longer treks involving ascending high passes such as Cho La pass. Fortunately, these dangers are not encountered on standard treks in the Everest region, and certainly not on a Classic EBC trek.
In our opinion the EBC trek itself is relatively safe in that the trail is straight in and straight out and has in places been widened and smoothed down.
Reducing Risk on an EBC Trek
There are certainly factors that make the EBC trek more dangerous than other treks – the main factor being the altitude. At its highest point – Kala Patthar – you'll be standing at an altitude of 5,644 metres. If you have taken the necessary acclimatization then you should be fine, however, altitudes of this height can lead to Acute Mountain Sickness and it's severe variants like High Altitude Cerebral Edema and Pulmonary Edema, as well certainly exacerbate underlying health problems such as heart disease.
Although EBC trek deaths are not common, here are a few points to take note of before you embark on your adventure.
Make sure you understand the symptoms of altitude sickness and the golden rules for acclimitisaion – see here.
Injuries like twisted ankles and sprains can cause major issues when you are so far from medical support. You need to make sure that you have adequate travel insurance in place before trekking to Everest Base Camp. Learn more about EBC trek insurance here.
If you plan to trek solo, think twice! It is much more risky to trek on your own than in a small group or accompanied by a qualified guide. That being said, trekking group tours also pose risk. In fact, 80% of all altitude sickness deaths occur in trekking groups. This is usually always because trekkers have rushed and not given their bodies time to acclimatize. A simple rule to follow is to make sure you only join a group that is following a gradual ascent profile and don't get pressured into rushing. EBC treks of 12 or more days are better than shorter variations.
A good rule of thumb is to try to always sleep a maximum of 300m higher than you did the previous night, and make sure you build acclimatisation days into your itinerary.
Choosing the right tour operator can literally save your life. Make sure your tour operator is fully registered, employs qualified guides and has rigorous safety procedures. To get connected with a tour operator who we know to be excellent go here.
Look out for yaks on your EBC trek. This may sound odd, however, it is common knowledge in the area that you need to hug the trail wall when you pass any yaks as these creatures have been know to inadvertently shove people off the path and down the steep slopes. This happens more often than you think.
Drink loads of water and eat well. Dehydration at high altitude is a major problem. Make sure you drink at least 3 litres of water a day and eat lots of nutritious food that are high in carbohydrates. Hygiene standards in Nepal are poor so make sure you wash your hands frequently and avoid meats or uncooked foods (like salad) higher up on the trail.
Summary
Whilst the Everest Base Camp trek does pose certain dangers, it is statistically very safe and certainly well worth doing! However, we strongly recommend seeking professional medical advice from a doctor prior to your trek. If you're given the all-clear and take your time on the trek then you should be fine. Deaths are very rare and can usually be avoided with the right preparation.
Tags: EBC Trek deaths, Everest Base Camp Trek Deaths, Deaths on Mount Everest Base Camp Trek, How many people die on Everest Base Camp trek
References: 1. Guide interviews, 2. NMA Stats, 3. Evening Standard