Delhi is the capital of India. It is rich in history and culture. Exploring Delhi in only one day is not ideal as there are such a vast variety of incredible attractions to visit. But, if you only have one day to explore this vibrant city, it is best that you pick and choose the attractions you most want to see.
To make your decision easier, here is a list of the top 5 attractions in Delhi that can all be visited in one day.
Top 5 Attractions In Delhi
1. The Red Fort
The Red Fort is Delhi's most famous monument. It is the epitome of Mughal era India. It is both a reminder of India's Mughal era but also a symbol of India's struggle for freedom.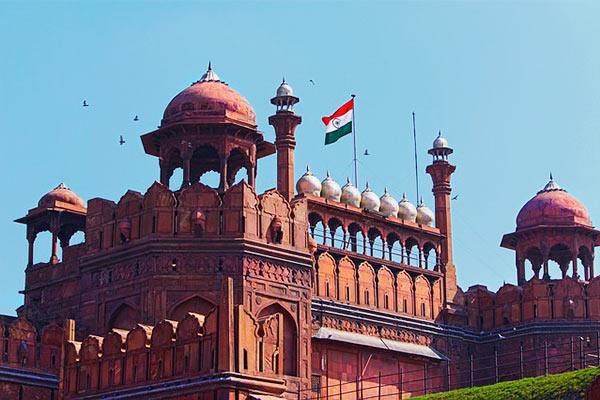 The fort, located in Old Delhi, was built in 1638 by Shah Jahan. The red sandstone fortress of walls surrounds an entire ancient city. It is an amazing opportunity to learn and see the history of Delhi.
The sprawling complex of 250 acres is a UNESCO World Heritage Site and served as the residence for Mughal Emperors for nearly 200 years.
The Red Fort is open from sunrise to sunset, except of Mondays, and will cost foreigners 500 rupees ($7) to enter.
2. The Lotus Temple
The Lotus Temple, located in Kalkaji in New Delhi, is actually called the Bahai Temple but is well-known as the Lotus Temple due to its beautiful lotus flower design.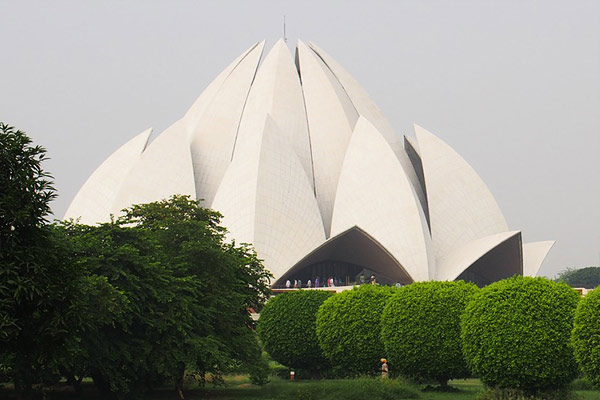 The temple is an architectural masterpiece made out of concrete covered in white marble and as 27 flower petals making up its structure.
The temple belongs to the Bahai faith, which proclaims unity of all people and religions and welcomes all visitors. This is a cherished destination for people of all religions.
Walk through the beautifully manicured gardens. You will be able to place your shoes in the free and secure shoe boxes before entering the actual temple. There will be a 2-minute briefing regarding silence, cell phones and respect before you enter.
You will have to remain in total silence once inside, but you are free to enter the sanctuary and sit quietly for as long as you please.
Entrance is free, and the temple is open from 9am until sunsets every day except Mondays.
3. India Gate
India Gate is a war memorial located in the centre of New Delhi. The 42-metre-tall monument was built in 1931 in memory of the Indian soldiers who lost their lives while fighting for the British Army in World War 1.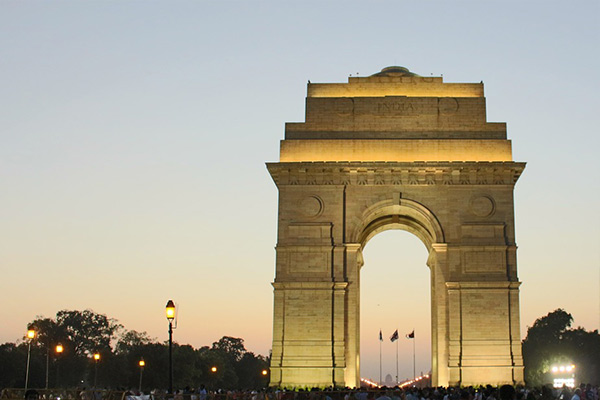 Under the gate there is a flame that's continually lit honouring the Indian soldiers. It is made of sandstone and granite and has beautiful gardens and fountains lining its boulevard.
The best time to visit is at night when the gate glows warmly under the floodlights.
Enjoy an obligatory photo opportunity and optional ice cream as you marvel at this spectacular structure.
Entrance is free, and it is always open, but make sure to be aware of beggars and pushy sellers.
4. Qutub Minar
The Qutub Minar, located in New Delhi, is the tallest minaret in the world. It is an incredible example of early Indo-Islamic architecture.
The structure, which is a UNESCO World Heritage Site, is 72 metres high and is one of the tallest and most famous towers in the world.  It was built by Qutub-ud-din Aibak in the 12th century but was only completed in 1206 by his successors. The exact reason for its construction still remains a mystery.
The tower is covered with intricate carvings and verses from the holy Quran.
At the foot of the tower stands a mosque, which is the first mosque built in India.
There is a 7m iron pillar in the courtyard, if you are able to encircle the pillar with your hands while standing with your back to it is said to make your wish come true.
Qutub Minar is open from sunrise to sunset every day and entrance is 500 rupees ($7) for foreigners.
5. Chandni Chowk
Chandni Chowk, located near the Red Fort, is Delhi's largest and busiest markets. It is located in the main street of Old Delhi and displays a shocking contrast between the orderly streets of new Delhi and the chaos of Old Delhi.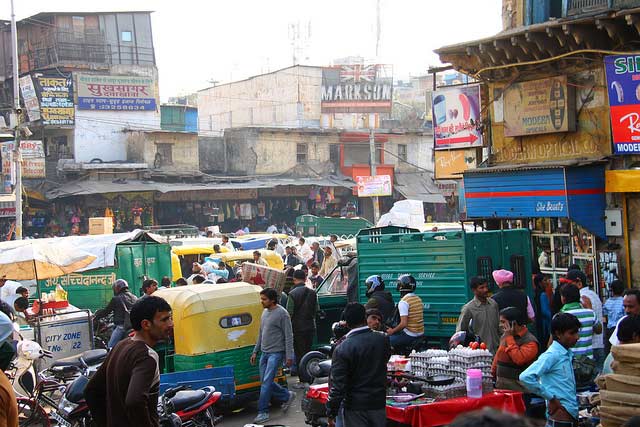 Cycle rickshaws, hand-pulled carts, pedestrians and animals all compete for space. Chandni Chowk is chaotic, crumbling and congested yet completely captivating.
The winding narrow lanes are a great a spot to purchase a variety of cheap goods. If you are feeling a little adventurous, the market is an excellent place to sample Delhi street food.
This dense centre of trade, business, food and spices is filled with some of the most interesting people and businesses that Delhi has to offer.
The market is open day and night but it is recommended that you go in the morning before it gets too crowded.