Yosemite Falls is found in the Sierra Nevada Mountains in Yosemite National Park.
This guide will provide you with everything you need to know before beginning your journey to Yosemite Falls.
Yosemite Falls Hike
Route Overview
This is one of the oldest trails at Yosemite National Park that leads to the country's tallest waterfall. The hike to Yosemite Falls is rated as difficult, is 7.2 miles long, and takes about 6-8 hours to complete. This hike consists mostly of climbing and several switchbacks.
The elevation gain is reasonable enough to where you should not experience any altitude sickness. Yosemite Falls reaches 2,700ft, while Columbia Rock is only 1,000ft.
Your hike will begin near Camp 4, in Yosemite Valley.
You will be following the Valley Loop Trail.
Right off the bat, this hike will begin with testing your legs.
You will climb most of this hike and there will be multiple switchbacks. You will travel through forests of oak trees until you reach a plateau.
Here you will see fantastic views of Yosemite Valley.
After this one-mile climb, you will reach Columbia Rock. Stopping at Columbia Rock is a shorter alternative to going the full route to Yosemite Falls.
There are spectacular views of the Half Dome and Sentinel rock at this point, so stop here a moment and take it all in.
If you wish to continue to the top of Yosemite Falls, continue your journey along the path.
The trail continues as a climb and is steep and rocky. Proceed around Yosemite Creek with caution, as this small creek feeds the powerful Yosemite Falls.
Once at the top of Yosemite Falls, you could either continue your hike or head back down.
There are a couple of alternative routes. Continue to Yosemite Point adding 1.6 miles to this hike or follow the trail to Eagle Peak, adding 5.8 miles.
Whichever route you choose, Yosemite Falls will leave you in awe. Its drop is 2,425ft, whereas the infamous Niagara Falls only drops 165ft.
You can picture the sheer size of this waterfall and how outstanding it is in person. If you are visiting in spring, you will need a rain jacket, as the falls will be roaring.
Best Time to Hike Yosemite Falls
Spring and summer time are best when it comes to hiking Yosemite Falls. One should always take caution and wear high-traction hiking boots when traveling beside a waterfall.
If you are visiting in the colder months, the lower portion of the trail gets ample sunlight. However, the upper portion stays icy and snowy.
This can be quite dangerous and should be avoided. If interested in seeing the weather in real-time beforehand, check out the Yosemite Falls webcam on the National Parks website.
This hike is fantastic year round but the best time to experience the roaring falls of Yosemite is in spring and summer time.
Springtime causes hikers to get wet by the spray while summer conditions are typically hot and dry making the granite trail more slippery than usual.
Permits to Hike the Yosemite Falls Trail
Permits are not required, if you don't intend to stay in the park.
However, anyone who hikes Yosemite Falls and stays overnight needs to obtain a Wilderness Permit beforehand. These are free.
To increase your chances of obtaining a permit, apply for less popular days such as Sundays-Thursdays in September and October.
Or come to get a permit after 11 am on the day before your hike. 40% of permits could be available then. See more information on the National Park Service website.
How Difficult is the Trail?
The Yosemite Falls trail is a difficult upwards climb with several switchbacks. It requires basic physical fitness, strong legs, and endurance.
If you are not comfortable with the full 7.2-mile hike, you could shorten it to the 2-mile Columbia Rock hike.
Yosemite Falls Hike Quick Facts
Elevation: 2,425 feet (739 m)
Difficulty: Strenuous (requires physical fitness)

6-8 hours long

Yosemite Falls is the highest waterfall in the park

According to the local legend, the falls are populated by witch spirits (Poloti)

Best to see it in late spring

Upper Yosemite Fall is seen from the trail leading to the top

Middle Fall Cascades cannot be seen from the Valley

Lower Fall is seen from the trail

Get an overnight permit on the day before the hike or in advance
Recommended Guidebook
For a detailed guide to Yosemite National Park that includes maps and information about Yosemite Falls Trail check out Yosemite: The Complete Guide: Yosemite National Park by James Kaiser.
For an overview of Yosemite National Park, The Yosemite, Sequoia & Kings Canyon National Parks by Lonely planet is an excellent read. It features maps, itineraries, insider tips, and reviews for what to eat and where to sleep within Yosemite.
Please Note: This is a strenuous hike that requires proper physical fitness. It is recommended that you begin hiking early in the day. In summer, the trail can get very hot, as there is little to no tree cover, especially the upper portion of the hike.
You must hydrate, eat snacks, and take breaks frequently in the shade. The falls will cause the trail to be slippery. You will need proper hiking boots to avoid slipping.
There are parts of the trail that have steep drop-offs, watch your step and stay on the trail at all times. Do not swim or wade in the creek along the trail.
Yosemite Falls Hike Itinerary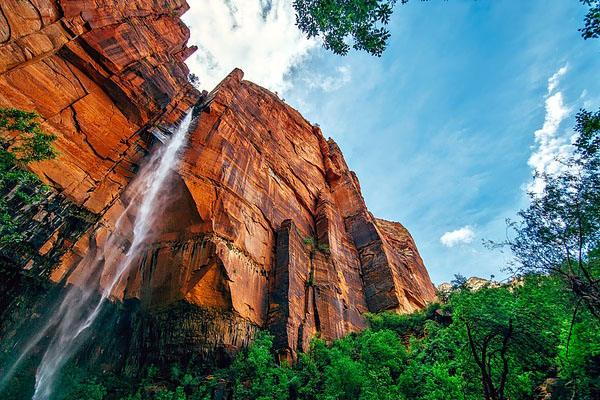 This is a strenuous hike, so it is not as commonly filled with tourists. Make sure to bring plenty of mosquito repellent, drink plenty of water, and bring snacks. This will be a workout you will want to be prepared for.
To Columbia Rock: Begin your hike along the Valley Loop Trail to Columbia Rock (1 mile)
Downhill Hike: Hike downhill for a view of Upper Yosemite Falls (0.5 miles)
To Yosemite Falls: Continue along the upper half of the trail until you reach the top of Yosemite Falls
Downhill Hike: Hike downhill for a view of Upper Yosemite Falls (0.5 miles)
To Yosemite Point or Eagle Peak: Follow your descent along the same route or continue to Yosemite Point (adds 1.6 miles) or Eagle Peak (adds 5.8 miles).
Yosemite Falls Trail FAQ
How long is Yosemite falls hike?
The Yosemite Falls hike length is approximately 7.2 miles round-trip. This hike takes you to the top of the tallest waterfall in North America, with stunning views of Yosemite Valley along the way. The trail is considered strenuous due to its steep incline and elevation gain of 2,700 feet, but hikers are rewarded with breathtaking views of Yosemite Falls, as well as Half Dome and other landmarks in the park.
Could I shorten or lengthen this hike?
Yes. This hike can be easily shortened to end at Columbia Rock. This is 2 miles rather than 7.2 miles. It offers stunning views of Yosemite Valley, Sentinel Rock, and Half Dome. If you are looking for a view of Yosemite Falls, hike an additional 0.5 miles and get a magnificent view of the falls. To lengthen this hike, you can extend it to Yosemite Point, adding 1.5 miles, and offering direct views of Half Dome, Lost Arrow Spire, and other famous peaks. Or hike to Eagle Peak, the highest point of the north rim adding 6.8 miles to the round trip.
How high is Yosemite falls?
The elevation of Yosemite Falls is approximately 2,425 feet (739 meters). This makes it one of the tallest waterfalls in the world, and the tallest waterfall in North America. The waterfall is made up of three separate parts: the Upper Fall, the Middle Cascades, and the Lower Fall. The Upper Fall is the tallest of the three, with a drop of 1,430 feet (440 meters). You can hike to the top of Yosemite Falls for incredible views of the waterfall and the surrounding landscape.
What are some options for nearby accommodation?
The closest options for accommodation are Yosemite Lodge at the Falls, Yosemite Valley Lodge, and The Majestic Yosemite Hotel. If you are looking for a nearby campsite, Pines Campground is your best bet.
Is the hike to Yosemite Falls dangerous?
Any hiking trail can be dangerous when you aren't careful. As long as you follow the path, you shouldn't have any issues. There are points of the trail where you are exposed and face steep drop-offs. Those who have fear of heights can grab onto rocks beside the trail. Do not enter the creek above the waterfall under any circumstance. This hike is a strenuous workout and you will find it difficult if you are out of shape.
What wildlife could I potentially come across?
Black bears are known to roam around Yosemite both day and night. Always keep food secured and put away. If you do see a bear, make sure to make as much noise as possible to scare it away. Other small critters include squirrels, chipmunks, and stellar jays. It is important to never feed wild animals.
What gear do I need?
Hiking Yosemite Falls requires a few pieces of essential gear. The trails near the waterfalls can be slippery. This calls for hiking boots with excellent traction. Trekking poles are also a great idea. In case your journey back goes past dusk, a headlamp is a must.
When hiking in hot temperatures, you must wear sunscreen and a hat. Bring plenty of food and snacks as well as drinking water to stay hydrated.
Is altitude sickness a risk?
It is unlikely. Yosemite Falls Trail has an elevation gain of 2,700ft (823 metres). Anything over 5,000ft puts you at risk for altitude sickness. However, it is important to have a solid understanding of the risks associated with high-altitude hiking and how the body acclimatizes to high altitude.
We recommend you read our detailed article on Altitude Sickness and Acclimatisation. It is crucial to drink plenty of water, eat along the way, and take frequent breaks in the shade.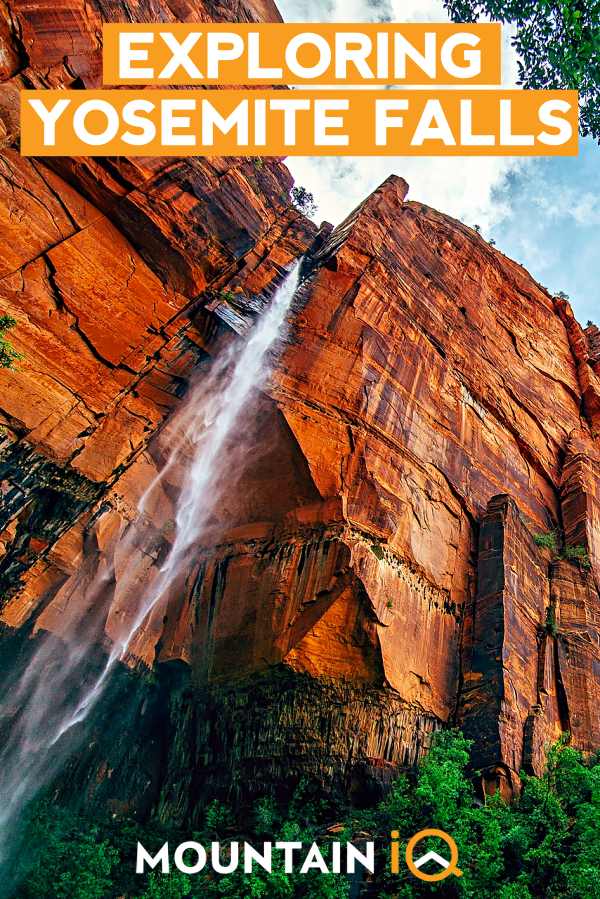 Browse more US National Park hikes
See our picks for the Best Hikes in America, or check out these popular hikes.