On this page you will find a comprehensive and impartial guide to the Jomsom Muktinath Trek.
As this is a very long and detailed article on the Jomsom Muktinath Trek, we recommend using the quicklinks below to navigate to the sections that interest you most. Alternatively, bookmark this page for future reference.
Please use the quicklinks below to navigate the guide.
The Jomsom Muktinath Trek is part of the legendary Annapurna Circuit Trek. The trek typically takes 12 to 15 days, but can be completed in as little as 5 days.
On this trek you will take in caves, ruins of ancient forts and Buddhist monasteries. Never in the course of this trek will you be higher than 12,464 feet. This ancient trade route follows the Kali Ghandaki river and is now one of the most developed trekking trails. It is also used by Hindu and Buddhist pilgrims. The lower part is Hindu while the upper is Buddhist.
Natural scenery ranges from forests of dazzling rhododendrons to rocky cliffs and desert. Some of the landscape of this rain shadow zone resembles the moon. The region is known for the most dramatic altitude variations found anywhere. It is possible to see eight of the 20 highest mountains on Earth: Dhaulagiri (26,788 feet); Annapurna I (26,538 feet); Annapurna II (26,040 feet); Nilgiri (23,097 feet); Annapurna South (23,684 feet); Annapurna III (24,787 feet); Mt. Annapurna IV (24,688 feet); Machhapuchhare (Fishtail in English, 22,959 feet) and Annapurna South (23,684 feet).
The local people, Thakalis, have traditionally been traders. They have converted their charming and wonderfully clean abodes into tea houses and count themselves among the most gracious and justifiably successful innkeepers in Nepal. If you stay at Chez tea house, make sure to chat with the sougi – the inn keeper – who will regale you with yarns of life in Nepal.
The highlight of this trek is unquestionably the temple at Muktinath (12,464 feet), which is dedicated to the god, Vishnu, one of the three supreme deities. It has natural gas fires and 108 waterfalls. It is believed that bathing using all of the waterfalls washes away sins. Devotees do this even when temperatures are freezing.
A beautiful video overview of the Jomsom Muktinath Trek by Rabi Maharjan. This is the shortened version of the trek that is only 8 days long. The video is 04.01 long – enjoy!
Please note that there are several Jomsom Muktinath Trek itineraries that can be done. Below we have laid out the most popular version – 13 days, leaving from Kathmandu. However, this trek can be made much shorter. If you want to make your own way to Jomsom then you could probably organise this with your operator or guide.
You arrive in Kathmandu.
You spend the second day in the city, overwhelmed by the choice of places to visit. One of the principal attractions is the Swayambunath Stupa – the Monkey Temple. It is said to be over two thousand years old. The eyes painted on each of the four sides represent the all-seeing power of Buddha. At Durbar Square is one of the holiest Hindu shrines in the world. Many sadhus – Hindu ascetics – reside here. It becomes crowded during religious festivals. It is an enticing melange of courtyards, pagoda temples and palace buildings.
A bus takes you from Kathmandu to the beautiful town of Pokhara on the banks of the Phewa Lake. The Devi Falls are not to be missed.
The flight from Pokhara to Jomsom will show you first hand just how high the Himalaya mountains are. The villages you see are so isolated that they are a minimum of three days' walk to the nearest town. The last moments on the flight are brilliant when the plane crosses a gorge very near the end of the runway. Flights are only in the morning because it gets so windy in the afternoon. You then trek to Kagbeni, where there is a checkpoint. Here you stay for the night.
You ascend rapidly to Muktinath at 12,464 feet. This is one of the most sacred pilgrimage sights for Hindus. Holy water flows from a 108 carved spouts that surround the Vishnu temple in a grove of poplars. Muktinath is also home to a great many ethnic holy Buddhists and Tibetans, who come to the temple to witness fire miraculously burning in a stream of water inside a small but very sacred temple.
You now make your way downhill through fields and poplar groves where you reach the valley of the Kali Gandaki river. You then trek south through the valley to Jomsom where you stay for the night.
You descend to Marpha, a delightful village of whitewashed houses surrounded by fertile fields. You continue to follow the Kali Gandaki before reaching Tukuche (which has long been a Thakali trading centre). You arrive at Kalopani, which offers a fantastic 360-degree view of Dhaulagiri and Annapurna. You stay Kalopani for the night.
You take a beautiful walk that transitions to sub-tropical vegetation, making your way among banyan trees, poinsettas and water buffalo. Both river and trail pass through a narrow gorge. You descend and cross a bridge close to a stunning waterfall before trekking through the valley to Tatopani, where hot springs beckon.
Climbing inexorably throughout the day, you swap terraced fields for dense rhododendron forest as you near the village of Ghorepani where you stay the night.
Early in the morning, you can visit the renowned Poon Hill for breathtaking, all-round views of the Annapurna range at sunrise. The best time for photographs is early morning or sunset as, otherwise, there is precious little contrast between sky and mountain. Your adventure now takes you to Pokhara. There is a brief early morning climb to the Deurali Pass for a spectacular panorama that extends south to the plains of India, with Dhaulagiri and Annapurna on the way. The trail then descends quickly through dense moss-covered forest teeming with bird life before bringing you to Tadapani, where you can experience intense sunset views of Annapurna South and Machhapuchhre.
The trail continues to descend rapidly through dense, damp forest where you may spot some monkeys. You cross some rock-cut steps. You stay the night at Ghandruk, whose museum of traditional Nepalese life is fascinating.
You face an unrelenting, downward trek among remarkably green cultivated terraces and beautifully-preserved farms. You come to the Modi River, to which the trail sticks all the way to Birethani. Trekking ends and the drive back to Pokhara begins.
You return to Kathmandu by car.
Tags: Jomsom Muktinath Trek, Jomsom Muktinath Trek cost, Jomsom Muktinath trek map, Jomsom Muktinath Trek Nepal
References: (1) Personal experience, (2) Cicerone Guidebooks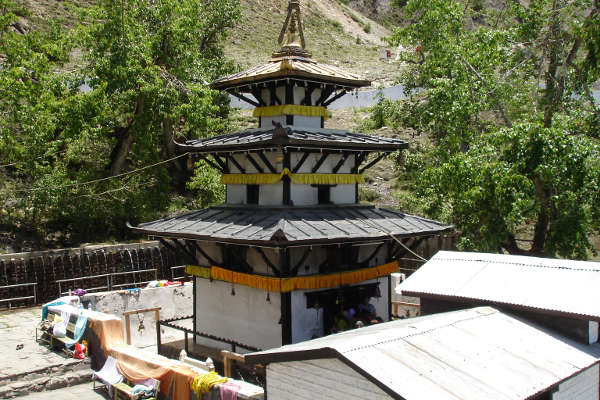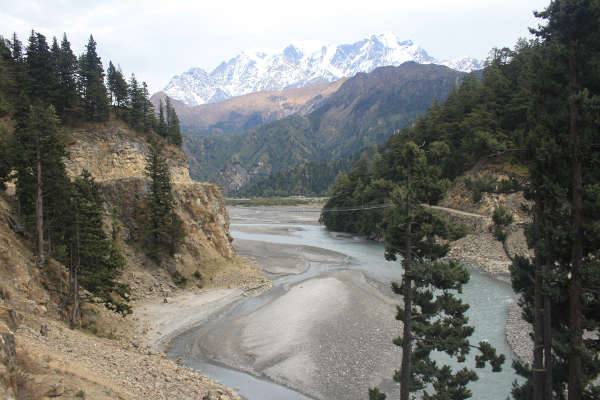 The trek occurs in the district of Mustang, commonly known as the Himalayan Shangri La. This is around 11 miles northeast of Jomsom, a major trading centre.
Here is a schematic map which shows the Annapurna region in which the Jomsom Muktinath trek is situated.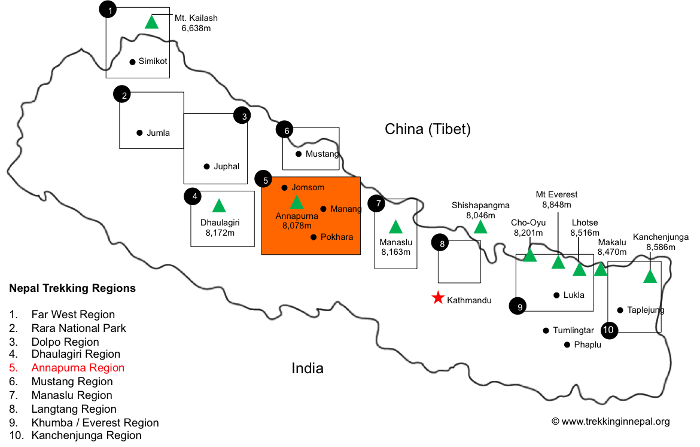 Click the map below to download and view in detail the Annapurna Circuit which includes the section from Komsom to Muktinath. Note: The map is from Shangri-La Maps and was published in 2002 so it is a little outdated. We have provided links and recommendations to new guides and maps below.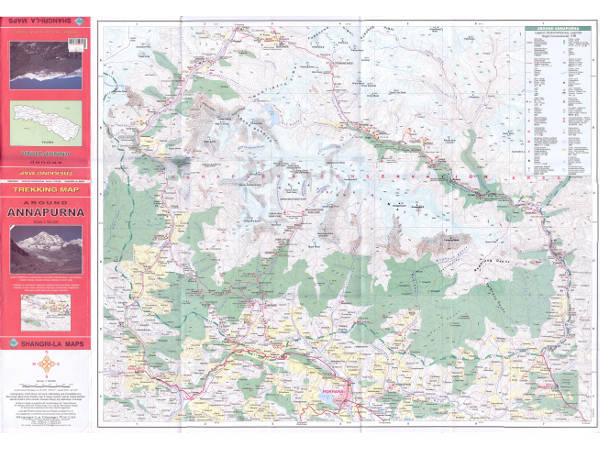 The Jomsom Muktinath Trek earns mentions in many guides. For a good general guide of Nepal and this trek we recommend Insight Guides: Nepal or Lonely Planet Nepal by Bradley Mayhew.
For a more specialist trekking guide we recommend Trekking in Nepal: Jomsom Trek, Annapurna Base Camp, Mount Everest Base Camp, Gokyo Trek by Stefan Mausbach or Annapurna: A Trekker's Guide by Sian Pritchard-Jones and Bob Gibbons.
In terms of a single detailed map we recommend the Himalayan MapHouse's, New Annapurna Trekking Trails Map, which can be bought in Kathmandu, Pokhara or on Amazon UK here (unfortunately it is not on Amazon US yet).
Frequently Asked Questions
Below we have provided detailed answers to the most frequently asked questions on the Jomsom Muktinath Trek.
Prices generally start at around $1,000 per person and can be as high as $2,500 depending on the trek operator. It is possible to complete this trek unsupported for under $1,000.
You need a permit for the Annapurna National Park and will need to register with the Trekkers Information Management System.
The best seasons for this trek are spring – March to May, and autumn, from mid-September to mid-December. The weather will be warm by day and the sky clear. Views are outstanding. At night, temperatures can be below freezing. Trekking in winter is possible but less popular.
Towards December the weather starts getting particularly cold and the routes get distinctly quieter. If you are a hardened trekker a winter Annapurna Circuit (late December through February) can provide a very authentic Nepal trekking experience. The main challenge of a winter trek, apart from the cold, is the snow and ice that often obstructs the higher trails and the Thorung Pass. During bad winter seasons these trails may be closed.
Unlike the Everest region that gets very wet during the rainy monsoon season, the Annapurna and Mustang regions stay relatively dry, making June through September, a relatively good time to trek as well.
The Jomsom Muktinath Trek ascends to some high altitude points. At its highest point, Muktinath, you will reach an altitude of 3,799 meters (12,464 feet). Fortunately, because of the treks length, the opportunities for appropriate acclimatisation are good, and hence the prevalence of moderate or sever altitude sickness is low.
Even so, it is important to have a solid understanding of the risks associated with high altitude trekking and how the body acclimatises to high altitude. We recommend you read our detailed article on Altitude Sickness and Acclimatisation.
The Jomsom Muktinath trek can be as short or long as you make it and difficulty levels vary because of this. The longest version is considered fairly challenging, although not as difficult as the full Annapurna Circuit. The short 5 day option is much easier and only requires a basic level of fitness.
Trekking the Jomsom Muktinath requires a number of essential pieces of hiking gear. The Jomsom Muktinath Trek is long and moderately difficult. It exposes you to a range of altitudes where temperatures fluctuate dramatically between night and day.
Most of your gear can be rented or bought in Kathmandu or Pokhara, but we strongly suggest bringing the most important pieces of equipment with you.
To help you plan and prepare for your trek we recommend reading our gear section.
Trekking insurance is critically important in Nepal. This is particularly true on the Jomsom Muktinath Trek which is very remote. If an accident should occur that requires medical assistance and evacuation you will certainly want proper trekking insurance that can cover the costs of air ambulance and further treatment.
Make sure to have insurance that covers you for any travel related risks, like damaged, stolen, lost or delayed baggage; flight delays and interruptions; and tour operators default.
This article on travel and trekking insurance provides great information on what type of insurance you need, as well as provides an easy quote calculator from a leading travel operator.
Get a Trek Operator Recommendation
Pop your details in the form and you will receive a price competitive quote from our trusted trekking operator.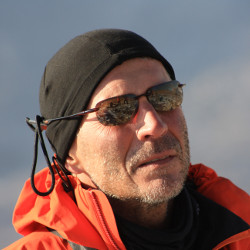 Brilliant service guys! The operator you recommended is absoultely fantastic. Fast, responsive, amazing track-record and great prices! Thanks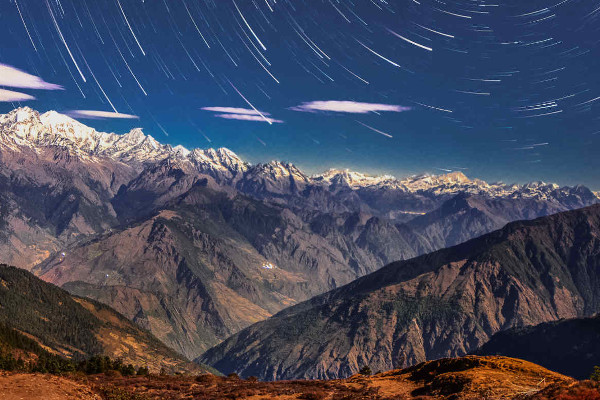 The Langtang Valley Trek is a relatively easy trek and is often far less busy than other popular treks in the Everest and Annapurna region. The trek can be done in seven days, however, it usually takes 10 to 12 days. Discover the Langtang Valley Trek.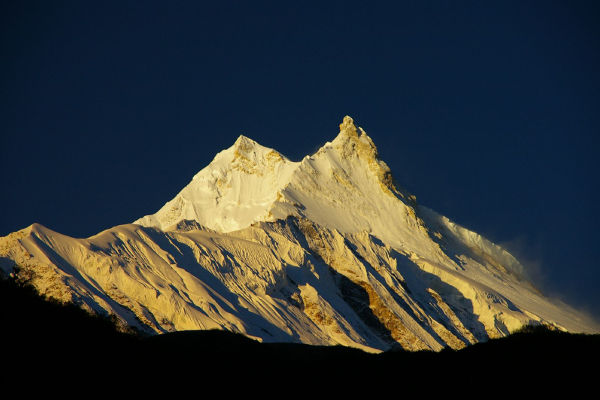 Robin Boustead, author of Nepal Trekking & the Great Himalaya Trail: A route and planning guide, pronounced, "Many would argue that the Manaslu Circuit trail is the best general trek in the country." Discover the Manaslu Circuit Trek.
The Everest Base Camp Trek is one of the most popular and iconic treks in Nepal. Trekkers get to retrace the early footsteps taken by Sir Edmund Hillary and Tenzing Norgay on their historic Everest expedition in 1953. Discover the Everest Base Camp Trek.