On this page you will find a comprehensive and impartial guide to the Khumbu Valley Trek.
As this is a very long and detailed article on the Khumbu Valley Trek, we recommend using the quicklinks below to navigate to the sections that interest you most. Alternatively, bookmark this page for future reference.
Please use the quicklinks below to navigate the guide.
The Khumbu Valley is one of the most popular tourist destinations in Nepal. Seeing some of the best views of Everest Nepal has to offer is what this trek is all about. You'll be trekking through the beautiful Khumbu Valley towards Everest, also spotting some of the other tallest mountains on earth including Lhotse and Ama dablam. Step back in time a few hundred years with visits to bustling and exciting monasteries including the famed 'Monkey Temple'.
This trek is difficult. It is demanding in that many days will be spent at high altitude. Its isolation makes medical assistance hard to obtain and turning back in bad weather is nigh-on impossible. Good walking experience and physical fitness are required.
The Khumba Valley trek can take anywhere from two weeks to a month depending on the route taken.
A beautiful short showing you the Khumbu Valley in all its glory by David Freese. It's 01:54 long.
Accommodation will be in camps. Here is a general itinerary for a longer form of the Khumbu Valley trek. Please note that there are several Khumbu Valley trek itineraries that can be done. If you want to make your own way to Lukla then you could probably organise this with your operator or guide.
Arrive in Kathmandu.
You have a second day to explore Kathmandu as your trip is prepared.
Unless you prefer the idea of a 10-day walk, you fly to Lukla, at the entrance to the Khumbu Valley. This might be easier said than done, as flights are infamously unreliable owing to the weather. Then the walking begins. The first day of trekking ends in Monjo.
You enter Khumbu National Park and cross at the junction of the Dudh Kosi and Bhote Kosi rivers. There is then two hours of steep climbing up Namche Hill, which gets you to Namche Bazaar, a prosperous and consequently bustling trading town and the capital of the region, known as the gate to Mount Everest.
You remain in Namche Bazaar to acclimatise. Altitude sickness is a very common phenomenon with this particular trek.
You make your way along the much-trekked Everest trail, which perches on the edge of the valley in which Dudh Kosi is located. You cross the river and embark upon a tough climb to Tengboche, where there is a famous monastery. You then descend rapidly to the river and enter the village of Deboche where you stay the night.
You trek through rhododendrons to Pangboche, where the view of Ama Dablam (22,525 feet), which towers over Thyangboche and Pangboche, is phenomenal. The trail adheres to the side of the valley and points up the Imja Valley. You finish at Dingboche, which is lovely picturesque village.
You have a day in Dingboche to acclimatise.
You hike up the valley for an hour-and-a-half and then turn left. More walking puts you in a very private cirque, a bowl-shaped mountain basin formed by glaciation.
You could trek to Pokaide directly from your camp, but it is better to take things easy and halt at an intermediate camp.
You ascend Pokaide, which is quite easy. Then you descend to Chukkung.
Now you move along the Imja Valley, next to the Imja glacier, and reach Island Peak Base Camp
You undertake a very steep climb up a hillside which takes around three hours. You camp immediately below a rocky gully.
Before sunrise, you climb the rocky gully and attain a ridge line leading to the snout of the glacier. Fixed lines on the headwall are necessary. You climb to the ridge. After that, there are three rope lengths to the top. You descend.
This is a spare day in the event of bad weather.
You retrace your steps down Imja Valley to Dingboche.
You trek up the wide bottom of the valley in the direction of Dugla. Camp is made in a small, grassy cirque.
Around an hour-and-a-half is expended moving to a camp next to a small lake.
The route is along rocky slabs that access the glacier. Once you reach snow, you climb a long, oscillating snowfield to the summit ridge. You may have to resort to "interesting" climbing to pass crevasses. The summit is Lobuje East. You descend and then camp.
Here we have another spare day in case of inclement weather.
This is a long day – more than nine hours. The trail goes up a valley to a pass. You then traverse rock shelves to arrive at a small glacier. You descend scree on its far side. The descent is long and you cross the Ngozumpa glacier, the largest in Nepal, which bears a close resemblance to the moon. You conclude at Dragnag.
You can either vegetate or walk for two hours to Gokyo Ri (17,575 feet), a famous viewpoint from which your 360-degree view includes Everest (29,029 feet), Cho Oyu (26,906 feet – the sixth highest mountain in the world), Gyachung Kang (26,089 feet), Lhotse (27,940 feet – fourth highest), Kangchenjunga (28,150 feet – third highest) and, on a clear day, Makalu (27,825 feet – fifth highest). Sherpas call Everest "Sagamartha," which means "head of the sky."
You descend the Gokyo Valley and camp by a river.
You rejoin the Khumbu Valley. Trekking via Namche Bazaar and Monjo, you return to Lukla.
You fly back to Kathmandu.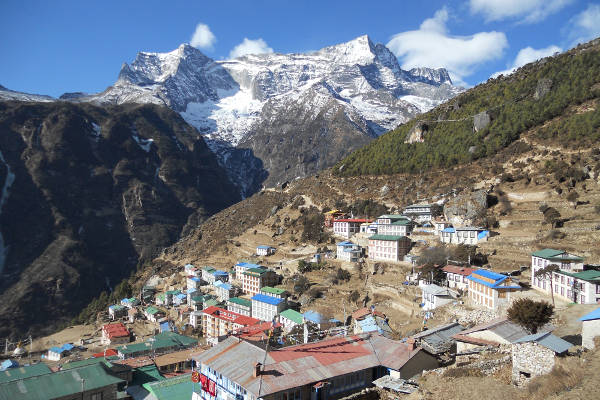 Khumbu, in the Everest region, is on the Nepalese side of Mount Everest. Lonely Planet ranked it as the sixth best region in the world in which to travel.
We recommend taking a detailed trekking map. The region is sparse and it is possible to get lost in the many valleys that lie on either side of the main trail. The most recent Lonely Planet Trekking in the Nepal Himalaya provides the most up to date information and maps of the region.
We recommend Everest: A Trekker's Guide – Trekking Routes in Nepal and Tibet by Cicerone Guides.
Frequently Asked Questions
Below we have provided detailed answers to the most frequently asked questions on the Khumbu Valley Trek.
The price of tours ranges from $1,500 to $3,500.
You require a permit for the Sagarmatha National Park, costing about $30 and a Trekkers Information Management System card.
The best times for this trek are March to May and late September to late November. The peak period is October and November, when weather is usually stable and visibility excellent. In the earlier, pre-monsoon period, there is much spring growth but conditions can be variable.
The Khumba Valley trek ascends to some high altitude points. At its highest point, Gokyo Ri, you will reach an altitude of 4,750 meters (17,575 feet). There are steep section on this trek where you will ascend very rapidly.
Therefore, it is important to have a clear understanding of the risks associated with high altitude trekking and how the body acclimatises to high altitude. We recommend you read our detailed article on Altitude Sickness and Acclimatisation.
The Khumbu Valley Trek is considered difficult as there is a lot of hiking at high altitude for many days. Some inclines are steep and you will be walking for a good 6-7 per day for over 3 weeks. A good level of fitness and determination is required.
Trekking the Khumba Valley requires a number of essential pieces of trekking gear. The Khumba Valley trek is long and moderately difficult. It exposes you to a range of altitudes where temperatures fluctuate dramatically between night and day.
Much of your gear can be rented or bought in Kathmandu, but we strongly suggest bringing the most important pieces of gear and equipment with you.
To help you plan and prepare for your trek we recommend reading our gear section.
Trekking insurance is vital in Nepal. This is particularly true on the Khumba Valley trek which is very remote. If an accident should occur that requires medical assistance and evacuation you will certainly want adequate trekking insurance that can cover the costs of air ambulance and treatment.
Make sure to have insurance that covers you for any travel related risks, like lost, damaged, stolen or delayed baggage; flight delays and interruptions; and tour operators default.
This article on travel and trekking insurance provides great information on what type of insurance you need, as well as provides an easy quote calculator from a leading travel operator.
Tags: Khumbu Valley trek cost, Khumbu Valley trek itinerary, Khumbu Valley trek map, Khumbu Valley trek Nepal
References: (1) Cicerone Guidebooks
Get a Trek Operator Recommendation
Pop your details in the form and you will receive a price competitive quote from our trusted trekking operator.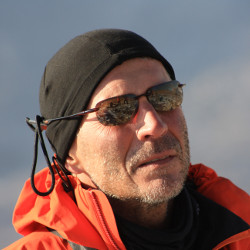 Brilliant service guys! The operator you recommended is absoultely fantastic. Fast, responsive, amazing track-record and great prices! Thanks
The Everest Base Camp Trek is one of the most popular and iconic treks in Nepal. Trekkers get to retrace the early footsteps taken by Sir Edmund Hillary and Tenzing Norgay on their historic Everest expedition in 1953. Discover the Everest Base Camp Trek.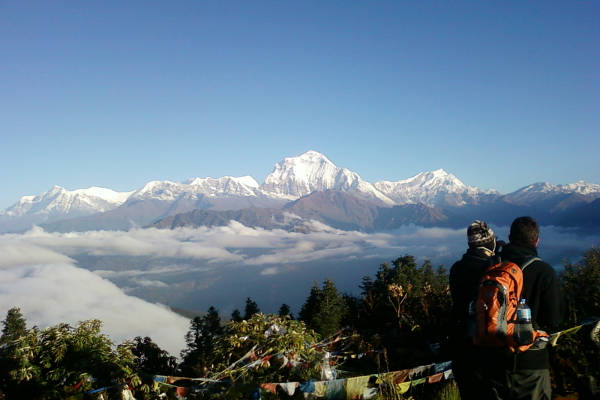 The Annapurna Sanctuary Trek is the best option if you would like to get spectacularly close to the Himalayas but have no time for the acclimatisation required of other treks such as the Annapurna Circuit or the Dhaulagiri Circuit Trek. Read more about the Annapurna Sanctuary Trek.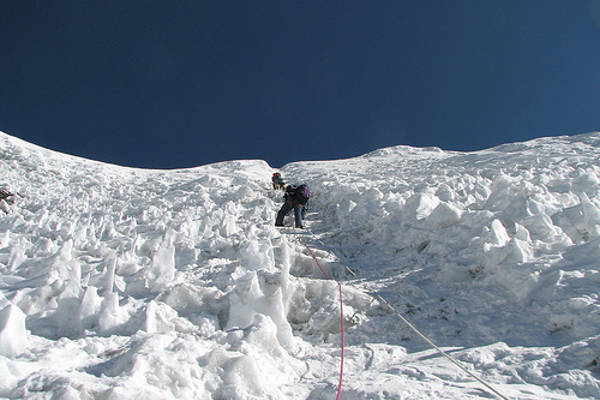 At 20,305 feet high, Island Peak is a classic trekking peak in Nepal that provides a mountaineering experience that is both challenging and exhilarating. If you are looking to take the next big step in your mountain adventures, then check out Island Peak.