On this page you will find a comprehensive and impartial guide to the Kanchenjunga Base Camp Trek.
As this is a very long and detailed article on the Kanchenjunga Base Camp Trek, we recommend using the quicklinks below to navigate to the sections that interest you most. Alternatively, bookmark this page for future reference.
Kanchenjunga Base Camp Trek
Please use the quicklinks below to navigate the guide.
Kanchenjunga, meaning "five great treasure houses of the snow," is the third-highest mountain in the world and the second-highest in Nepal. Until 1856, it was believed to be the highest of all.
It is holy to the locals, so people are not permitted on the summit – the promise of the leader of the first expedition in 1955 to the maharaja of Sikkim has been kept. Trekking here first became an option only in 1988, so it remains in its infancy.
The trek provides unsurpassed views of snow-capped mountains. The forests of rhododendrons are also enchanting and there is much wildlife to be seen.The area is one of 200 recognised by the World Wildlife Fund as a global ecoregion – one of the Earth's most biologically outstanding habitats. A quarter of Nepal's red pandas live in this region.
The avalanches that can erupt on Kachenjunga are widely-believed to be the largest found anywhere in the world.
This is one of the longest treks in Nepal, taking from 23 to 29 days. It is possible to make this a tea house trek, as the government has encouraged the building of infrastructure around not just Kanchenjunga but all of the Himalayas. In Lhonak, Kambachen and Kanchenjunga Base Camp, however, lodges only open when there are more trekkers.
A beautiful video overview of the Kanchenjunga Base Camp Trek by sital subedi. The video is very detailed and gives a great insight into the trek.  It's 08.16 long.
Below is a detailed Kanchenjunga Base Camp Trek itinerary.
Please note that there are several Kanchenjunga trek itineraries that can be done. Below we have laid out the most popular version – 28 days, leaving from Kathmandu. If you want to make your own way to Taplejung then you could probably organise this with your operator or guide.
You arrive at Kathmandu's Tribhuvan International Airport and transfer to a hotel.
After meeting your trek leader, you have the second day at your disposal. Kathmandu is brimming with attractions. A major one is Boudhanath Stupa, one of the largest Buddhist shrines in the world. Another is Pashupatinath, the country's most famous Hindu temple, where you can see sadhus (holy men) meditating, pilgrims bathing and sometimes funeral pyres ablaze. Another site is Bhaktapur Durbar Square, a medley of pagoda and shikhara-style temples surrounding a 55-window palace constructed of brick and wood.
You take an afternoon flight to Biratnagar which lasts for 40 minutes and enter a tea house.
Another flight, this time of half an hour, transports you to Suketar Airport in Taplejung. In the afternoon you get some exercise: an easy walk of two or three hours along the ridgeline to the grazing area of Lali Kharka. You will be camping from now until you to return to Kathmandu.
You traverse the hillside for a short distance and then descend to the village of Pakora on the Phawa Khola. You cross a suspension bridge prior to a steep climb that heads for Kunjuri. After lunch, the campsite at Khesawa is not far. Here you are presented with your first views of Kanchenjunga. The south and main summits and Kangchenjunga West, otherwise known as Yalung Kang, ought to be perceptible.
Today you cross steep hillside far above the Kabbeli Khola. There are ups and downs but no shortage of shady places to rest. Following lunch, you pass the village of Anpan prior to descending to cross the Kashawa Khola. Then it is time to climb once more, through terraced fields to the village of Mamankhe.
Walking begins with a gentle climb on a track above the Kabeli Khola. The path undulates as it passes ridges. After that, the ground is mostly flat. Eventually, the river becomes level with the trail, after which there are a few hours before Yamphudin is reached. This is the last village you will see before Ghunsa. This charming place is found below the ridge at Deurali Danda, which you cross, and then the tent comes out.
Leaving Yamphudin, you find yourself on a trail that ascends a steep spur, a sight to which you will grow accustomed. You trek through pleasing forest. Lunch is in a meadow with a grand view to the north and south. A sharp drop to a river brings you to an interesting bridge over the Omje Khola and then your campsite at Chitre.
Your day begins with three hours ascending steeply to the crest of Deurali Danda, mostly through dense forest. You arrive at a pass from which you can see Jannu. You descend across steep and exposed areas and then go back into the beautiful forest. The path goes down the the valley of the Simjua Khola. You cross a very interesting-looking wooden bridge to reach Tortongn, where numerous rock shelters provide places to camp.
You follow the river through more beauteous forest, with conifers giving way to rhododendrons. The valley climbs steeply and as the day progresses, trees become increasingly stunted and scattered. In the distance you can see snow-capped giants. Just before you get to Tseram, the mammoth heights of Kabru and Rhong peaks come into sight. Tseram, where you stay, is a grazing area. The temperature at night is a reminder that you are really gaining height.
In the run-up to Ramche, the scenery is marvellous. You pass the snout of Yalung Glacier, where there is a series of ablation valleys which make for easy walking. The highlights of this stroll are clear streams, a frozen lake and views of Kabru, Koktang and Rathong.
Kanchenjunga is clearly visible and stunning. You cross the Yalung Ri glacier. At Oktang you are on a massive ridge that forms a cirque – a steep-walled, bowl-shaped mountain basin – that is more than nine miles long and always more than 25,000 feet. Kanchenjunga's three main summits can be observed – a breathtaking mountain panorama.
You remain at a high altitude. Determination is called for. Crossing high passes is only possible in good weather – and with good logistics. Your abode for the night is at Yalung Ri Base Camp.
Traversing Yalung Glacier, the walking is good.
You trek down a valley. You come to a pass that is rough and dangerous. After what begins as a steep climb with a number of false summits, you reach Mirgin La. On the horizon are Everest, Jannu, Chamalung, Gyakung Kung, Lhotse and Makalu. To the south is the Terrai, a belt of marshy grasslands, savannahs, and forests that is a most worthwhile sight.
Now you face four more passes, although there is little by way of descent between them. After lunch, you descend to Lamba Sumba Kharka, replete with more views of the impassive southwestern face of Jannu. From here, the going is easy and you follow a pleasant forested trail that brings you to Ghumsa, a picturesque village where prayer flags flutter from wooden houses and there are two monasteries. This is a most welcome sight after so many days in the wilderness. A local speciality is tongba, an unusual alcoholic drink: boiling water is poured into a jug or large bamboo cup filled with fermented millet seed. It is drunk through a special straw. After walking for between four and six hours, you may wish to partake of this.
South of Ghunsa Khola, the trail ascends. You cross flood plains and emerge onto a pasture north of the river. There is a steep climb and you then cross a slide before descending to Lakepo. There is a short climb that puts you in the village of Kambachen.
This day is devoted to acclimatisation. A day hike will take you to Jannu Base Camp. A shorter hike will allow you to explore the vicinity of Kambachen. Or you could catch up on your laundry. Or even read a book, so long as you brought a good one.
A gentle climb through rocky fields puts you in Ramtang. You cross northwest of the Kanchenjunga glacier to reach Lhorak, which is situated on a sandy plain close to a dry lakebed. There are beautiful mountain views in every direction. Water is scarce in Lhorak, so you should be abstemious. You camp between boulders to protect yourself from the wind.
From Lhorak, the path ascends slowly through a plain but later becomes steeper. This gets you to Pang Pema, the base camp for Kanchenjunga, 16,900 feet up. Since Biratnagar was only 266 feet high, you have come a long way. Here you get the best view of the peak of Kanchenjunga.
You hike a few hundred feet up a ridge to the north of Pang Perma. This is a wonderful vantage point where Kanchenjunga, Tent Peak, the Twins and Wedge Peak stand before you. You descend to Kambachen.
You descend once more, this time through magnificent forest. You pass Ghunsa and, an hour later, Phole, a village split into two sections, one of which is for Tibetan refugees. After that is Yangswa, where you camp.
Today sees more lovely forest which soon turns into steep, grassy hillside. It is there that you find Amjilosa.
Now you have a short climb and then a radical descent, which consumes most of the day. Camp is at the junction of the Tamur and Ghunsa Kholas.
You cross the Simbu Khola, which stems from Kanchenjunga's southern base camp. It is pleasantly warm at such a low altitude – only 4,000 feet. Cardamom grows freely in this moist and shaded forest. You cross a goodly number of small tributary streams to reach Chhirwa, a village surrounded by large boulders. Camp is in a field before the village.
You encounter minor valleys and picturesque villages before reaching Suketar Airport late in the afternoon.
Flying from Taplejung , you have a final glimpse of the mountains with which you are now rather more familiar.
You return to Kathmandu.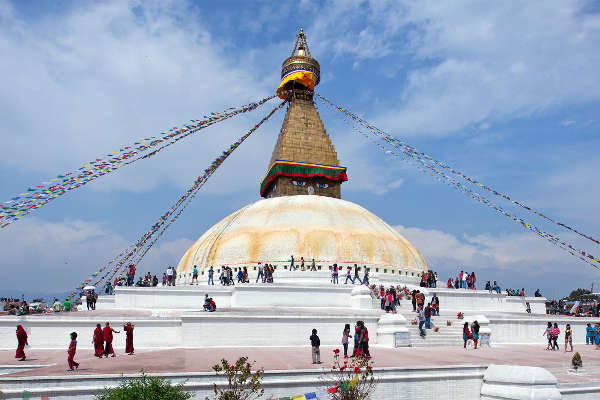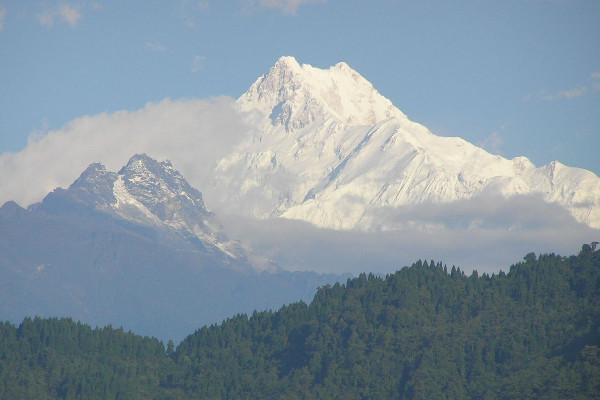 This, one of the least-populated regions of Nepal, is on the country's eastern border, next to India.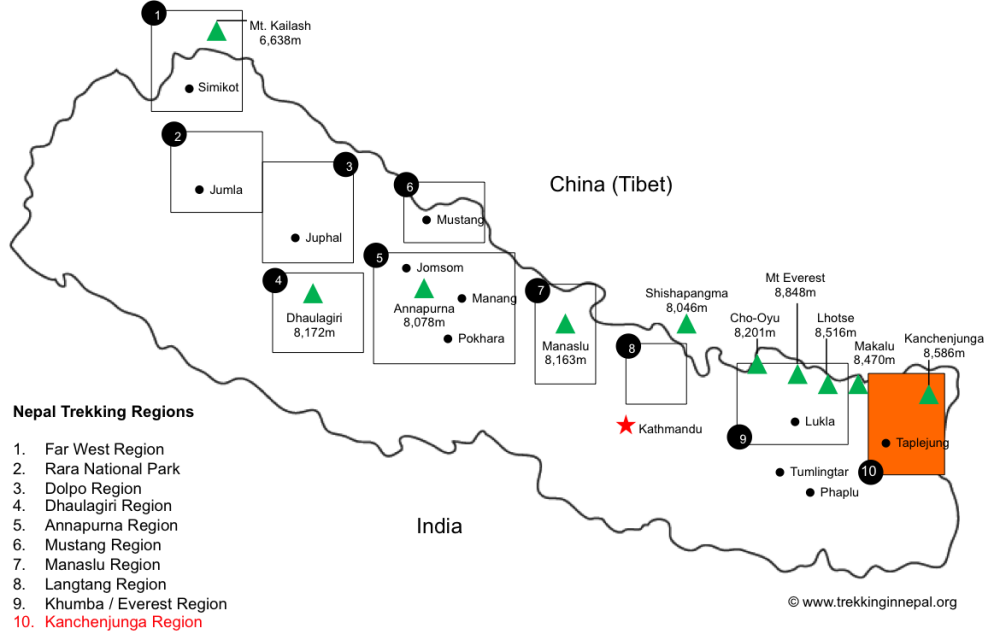 We recommend the following map:
In terms of guidebooks we recommend:
A Trekking Guide to the Nepal Himalaya: Everest, Annapurna, Langtang, Ganesh, Manaslu & Tsum, Rolwaling, Dolpo, Kangchenjunga, Makalu, West Nepal by Sian Pritchard-Jones, Bob Gibbons and the Himalayan Map House
There are dozens of books about Kanchenjunga, for instance Living on the Edge: The Winter Ascent of Kanchenjunga by Cherie Bremer-Kamp. Kanchenjunga gets a mention in Do What Thou Wilt: A Life of Aleister Crowley by Lawrence Sutin. In his novel, A Movable Feast, Hemingway described Crowley, an occultist, as the most evil man in the world, and to be mentioned in a book about him is deeply flattering, not that a mountain will feel it.
Frequently Asked Questions
Below we have provided detailed answers to the most frequently asked questions on the Kanchenjunga Base Camp Trek.
Prices tend to be above $5,000, but there are providers who will run the trek for as little as $3,000.
A permit is required for Kanchenjunga, a restricted trekking region, which costs $10 per person per week. This obviates the need for a Trekkers Information Management System card. There must be at least two trekkers and a registered guide who will cost $35 a day. You also must pay for entrance to the Kanchenjunga National Park – $20.
The best seasons are autumn and spring. The former is from September to November and is more popular. The latter is March to May.
The Kanchenjunga Base Camp Trek ascends to some high altitude points. At its highest point, Pangpema, you will reach an altitude of 5,030 meters (16,500 feet). There are steep section on this trek where you will ascend very rapidly.
Therefore, it is important to have a clear understanding of the risks associated with high altitude trekking and how the body acclimatises to high altitude. We recommend you read our detailed article on Altitude Sickness and Acclimatisation.
The Kanchenjunga Base Camp Trek is challenging. It is one of the longest treks in Nepal and requires constant exercise for over 3 weeks. You will need a good level of fitness and determination. There are some very steep sections and high altitude points along the route that also make the trek a strenuous one.
Trekking to Kanchenjunga Base Camp requires a number of essential pieces of trekking gear. The Kanchenjunga Base Camp Trek is long and moderately difficult. It exposes you to a range of altitudes where temperatures fluctuate dramatically between night and day.
Much of your gear can be rented or bought in Kathmandu, but we strongly suggest bringing the most important pieces of gear and equipment with you.
To help you plan and prepare for your trek we recommend reading our gear section.
Trekking insurance is vital in Nepal. This is particularly true on the Kanchenjunga Base Camp Trek which is very remote. If an accident should occur that requires medical assistance and evacuation you will certainly want adequate trekking insurance that can cover the costs of air ambulance and treatment.
Make sure to have insurance that covers you for any travel related risks, like lost, damaged, stolen or delayed baggage; flight delays and interruptions; and tour operators default.
This article on travel and trekking insurance provides great information on what type of insurance you need, as well as provides an easy quote calculator from a leading travel operator.
Tags: Kanchenjunga Base Camp trek cost, Kanchenjunga trek, Kanchenjunga Base Camp trek Nepal, Kanchenjunga Base Camp trek itinerary, Kanchenjunga Base Camp trek difficulty, Kanchenjunga Base Camp trek length, Kanchenjunga Base Camp trek map
References: (1) Cicerone Guides
Get a Trek Operator Recommendation
Pop your details in the form and you will receive a price competitive quote from our trusted trekking operator.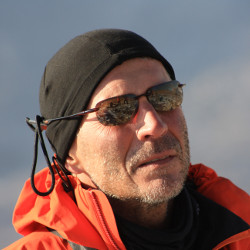 Brilliant service guys! The operator you recommended is absoultely fantastic. Fast, responsive, amazing track-record and great prices! Thanks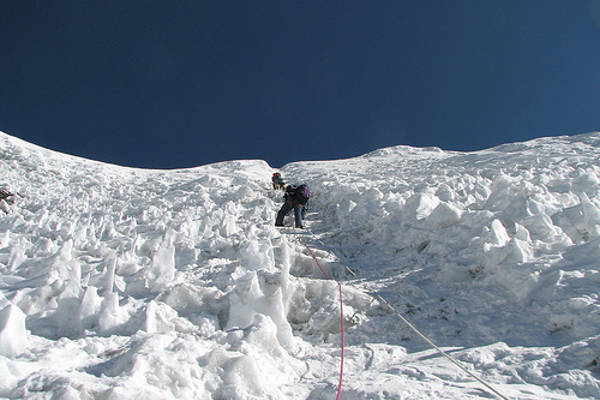 At 20,305 feet high, Island Peak is a classic trekking peak in Nepal that provides a mountaineering experience that is both challenging and exhilarating. If you are looking to take the next big step in your mountain adventures, then check out Island Peak.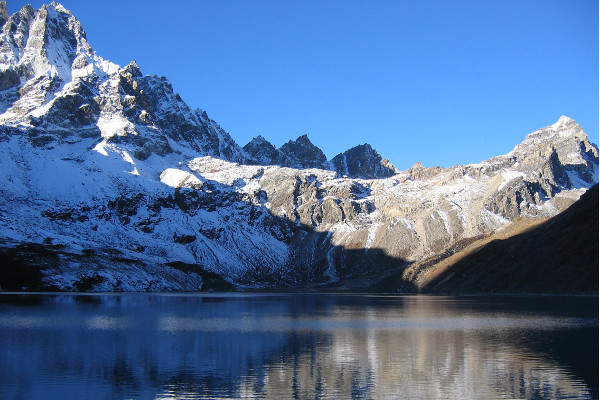 The Gokyo Lakes trek provides an excellent alternative to the Everest Base Camp trek. The trek is especially good if you have a little more time on your hands as it takes in all the highlights of the Everest trek with the added bonus of seeing the beautiful Gokyo Lakes!
The Everest Base Camp Trek is one of the most popular and iconic treks in Nepal. Trekkers get to retrace the early footsteps taken by Sir Edmund Hillary and Tenzing Norgay on their historic Everest expedition in 1953. Discover the Everest Base Camp Trek.