On this page you will find a comprehensive and impartial guide to the Limi Valley Trek.
As this is a very long and detailed article on the Limi Valley Trek, we recommend using the quicklinks below to navigate to the sections that interest you most. Alternatively, bookmark this page for future reference.
Please use the quicklinks below to navigate the guide.
The Limi Valley Trek runs close to the Tibetan border at Nepal's northwest-most extremity and follows the old salt trading and pilgrimage route. The district, known as Humla, is virtually untouched, having only opened to trekkers in 2002, making it one of the least-frequented treks found in Nepal.
The Limi Valley trek abounds with gorgeous landscapes surrounded by the towering Himalayas. The region is famed for its wildlife and plants. There are many kinds of exotic animal: Himalayan bears, wild horses, blue sheep, musk deer, mountain eagles and many more. You may even be blessed with a rare sighting of a snow leopard if you're very lucky!
The Limi Valley trek takes roughly around 20 days. Trekking generally begins around 8am where you will trek for five or six hours a day. Accommodation is a mix between small authentic villages and camps beneath the snow-capped mountains. It is important to note that individual travellers are not allowed on the Limi Valley trek.
The going is moderate to strenuous, so a good level of fitness is necessary. Paths often become narrow and rocky and you'll probably need trekking poles. Being very remote, there are very few tourists to be seen and the native people are among the poorest in the country. The inhabitants are mostly of Tibetan origin and it is said that Tibetan Buddhism is better preserved here than in Tibet itself! The ancient monasteries along the route certainly bear testament to this.
One notable fact about the local inhabitants is that Polyandry (wives with multiple husbands) is very common. Polyandry is found in probably less than one percent of societies, but it is common in Limi Valley, accounting for 44 percent of marriages in 1995. Usually, a woman marries brothers. There is little productive land in Humla – only about one percent of land is arable – and polyandry limits population growth. Families are less likely to break up then would be the case if brothers married monogamously.
The Limi Valley trek is a great way to view the unique natural and cultural landscape of Tibetan Buddhists. This trek is for those people with a real sense of adventure, people who are excited to embrace basic living conditions in order to experience rural, remote and authentic mountain lifestyles in Nepal and Tibet.
Below is a detailed Limi Valley Trek itinerary.
Please note that there are several Limi Valley trek itineraries that can be done. Below we have laid out the most popular version – 20 days, leaving from Kathmandu. If you want to make your own way to Simikot then you could probably organise this with your operator or guide.
It is best to proceed clockwise to reduce the risk of acclimatisation problems.
You will arrive in Kathmandu
You spend the second day exploring the city and all of its wonderful sights.
This trek commences with a scenic flight to Nepalgunj, where you then stay overnight.
There is another, shorter flight to Simikot the next day. Flight delays are common and this will often postpone your trek. Simikot features frequent shortages of goods, so it is wise to bring your own treats.
Your trek begins today! You trek past the villages of Toling and Dharapani and a number of impressive waterfalls before ascending gradually as you approach Danda Karmi village.
The following day, you trek up a valley and then walk down a steep hill to Sali Hola where there is a very attractive stream. You will likely camp the night in a pasture named Yalbang Chaur.
Today you trek to the village of Yalbang, passing Toothpaling monastery. After three hours of walking, you reach Muchu Bridge. Then the track descends gradually to a stream immediately before the settlement of Tumkot where you will camp for the night.
You trek along the Karnali gorge before climbing gently up the mountainside to Yari where you camp for the night.
You trek up through the Nara La pass (14,764) to Limi Valley, following the Kamali river, the longest in Nepal. This river emanates from the holy lake of Mansarover, which is visited by pilgrims in their thousands. You camp for the night on the banks of the Kamali.
Next, you trek to Kocher, visiting the tiny Sher village on the way. The track twists and turns before reaching Kocher village, where you board a bus or lorry for the journey to Takalkot. The night could be spent in a guest house rather than a camp if you prefer.
Your vehicle will take you to the village of Darchen, the base camp of Mount Kailash, where you spend the night. This mountain is the holiest in Tibet – it is revered by Buddhists, Hindus and Jains.
After Darchen, you trek up to the western valley of Lha Chu and on to Tarpachan. The view of Kailash in the far distance are spectacular. The trail continues to wind before you get to Dri-Phunk. You will camp for the night opposite the Dri-Phunk monastery.
Next, you hike up to Dorma La pass before descending to the holy lake of Guari Kund. The trail follows the eastern side of the valley of the Dzong Chu River, coming to the cave monastery of Zuthul Phunk, where you will camp for the night.
You now continue down the valley to Darchen and camp for the night.
At Darchan you board a bus that takes you as far as Chiu Gompa, on the bank of Manasarovar, where you camp for the night.
This is a rest day, giving you the opportunity to visit the beautiful Manasarovar Lake.
From Chiu Gompa, you walk for around an hour to Seralung monastery. Later, you pay a visit to Trugu monastery and then camp for the night.
The next stage is to drive to Gosul Gompa, where there is a camp. There is a great hot spring here, so bring your swimming gear!
You now are driven for five or six hours along a picturesque landscape that includes Manias, Payang and Bhramaputra and several high passes. At Saga, the bridge of Bhrama Putra is crossed, after which you call at Pigutso, where there is another beautiful lake. This is where you camp the night.
At this point, the Thong La pass takes you to Dzangmu, with the massive Mount Shishapangma to your right. The road then brings you to Nyalam, passing Melarepa cave on the way. Post-Nyalam, you are driven between large hills alongside the Bhote Koshi River – the landscape is beautiful. You then arrive back at Kathmandu.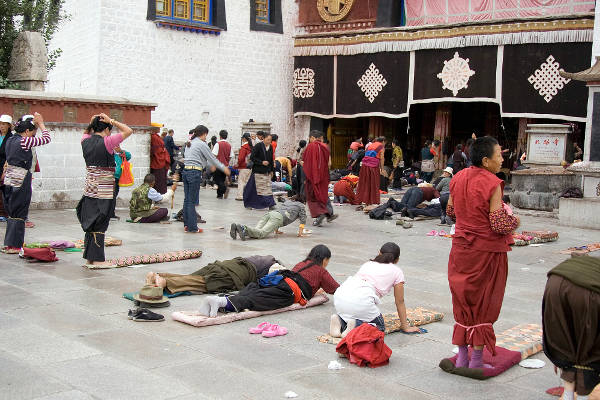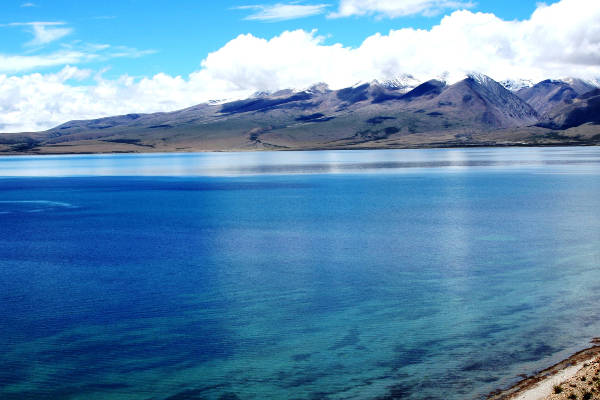 Humla nestles between the boiling hot Indian sub-continent and the frozen plains of the Tibetan Plateau. The secluded villages within the Limi Valley are as far from the modern world as it is possible to be.
You will pass clusters of flat-roofed mud houses, women wearing heavy gold and silver jewellery and men leading their flocks of long-haired goats. The only mode of transport available to the locals is mules, donkeys and horses.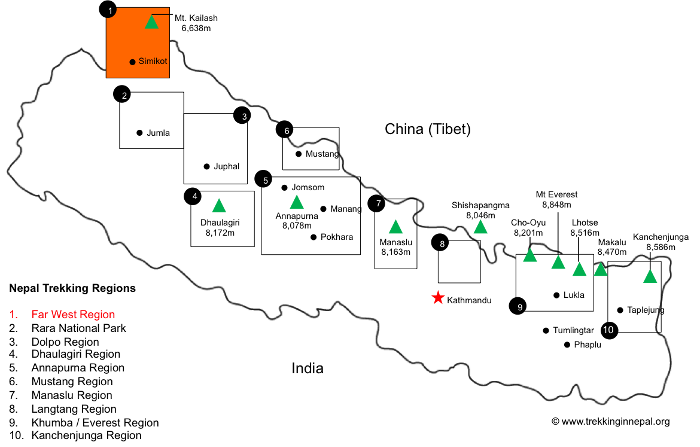 The Limi Valley trek is covered in A Trekking Guide to the Nepal Himalaya: Everest, Annapurna, Langtang, Ganesh, Manaslu & Tsum, Rolwaling, Dolpo, Kangchenjunga, Makalu, West Nepal by Sian Pritchard-Jones and Bob Gibbons; Shangri-La: A Travel Guide to the Himalayan Dream by Michael Buckley andIn Search of Myths and Heroes: Exploring Four Epic Legends of the World by Michael Wood.
A beautiful video overview of the Limi Valley Trek by thukten sherpa. It's 19.15 long. Although quite long, the video gives a very in depth flavour as to what to expect on the trek.
Frequently Asked Questions
Below we have provided detailed answers to the most frequently asked questions on the Limi Valley Trek.
One of the most popular trekking operators in Limi Valley charges $3,380 per person for a group of two. However, with more trekkers, the cost will reduce per person  – 10 or more people pay $2,590 each. Because of it's remote location the Limi Valley trek is more expensive than other teahouse trekking routes.
Permits are required, costing $50 a week. With permits in limited supply, tourists are warmly welcomed.
The best time to undertake this trek is in summer, between March and September. October is a possibility. Limi Valley is in a rain shadow area – blocked from the majority of monsoon rain by the high mountains. Hence trekking is possible even in the monsoon season of June to August when the remainder of the country is drenched with rain. Outside of the March-September window, trekking is likely to be impossible due to snow blocking the main passes.
The Limi Valley trek  is a long, high altitude trek. At its highest point, Nyalu La Pass, you will reach an altitude of 5,000 meters (16,400 feet).
Fortunately, because of the treks length, the opportunities for appropriate acclimatisation are good, and hence the prevalence of moderate or sever altitude sickness is low.
Even so, it is important to have a clear understanding of the risks associated with high altitude trekking and how the body acclimatises to high altitude. We recommend you read our detailed article on Altitude Sickness and Acclimatisation.
The Limi Valley trek is considered challenging. The trek is very remote and fairly long. You will be trekking for 6-7 miles per day and the going is often strenuous. A good level of fitness is required.
Trekking the Limi Valley region requires a number of essential pieces of trekking clothing and equipment. The Limi Valley trek is long and fairly tough. It exposes you to a range of altitudes where temperatures fluctuate dramatically between night and day.
Many pieces of equipment can be rented or bought in Kathmandu, but we strongly suggest bringing the most important pieces of gear with you.
To help you plan and prepare for your trek we recommend reading our gear section.
Trekking insurance is vital in Nepal. This is particularly the case in the Limi Valley, which is a very remote trek. If an accident should occur that requires medical assistance and evacuation you will certainly want adequate trekking insurance that can cover the costs of air ambulance and treatment.
Make sure to have insurance that covers you for any travel related risks, like lost, damaged, stolen or delayed baggage; flight delays and interruptions; and tour operators default.
This article on travel and trekking insurance provides great information on what type of insurance you need, as well as provides a quick and easy quote calculator from a leading travel operator.
Tags: Limi Valley, Limi Valley trek, Limi Valley Nepal
References: (1) Personal experience, (2) Cicerone Guidebooks
Get a Trek Operator Recommendation
Pop your details in the form and you will receive a price competitive quote from our trusted trekking operator.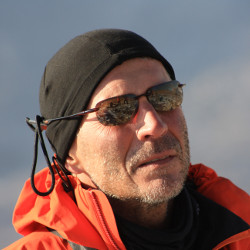 Brilliant service guys! The operator you recommended is absoultely fantastic. Fast, responsive, amazing track-record and great prices! Thanks
The Everest Base Camp Trek is one of the most popular and iconic treks in Nepal. Trekkers get to retrace the early footsteps taken by Sir Edmund Hillary and Tenzing Norgay on their historic Everest expedition in 1953. Discover the Everest Base Camp Trek.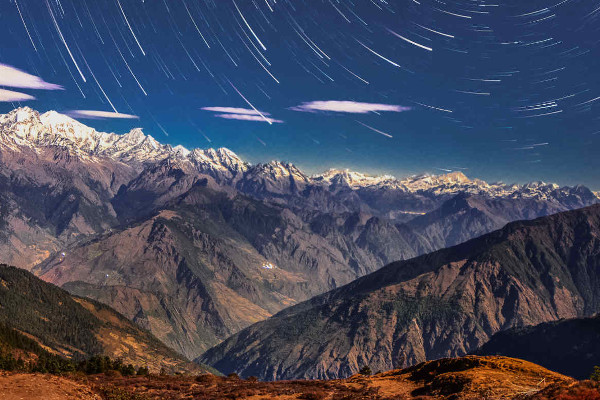 The Langtang Valley Trek is a relatively easy trek and is often far less busy than other popular treks in the Everest and Annapurna region. The trek can be done in seven days, however, it usually takes 10 to 12 days. Discover the Langtang Valley Trek.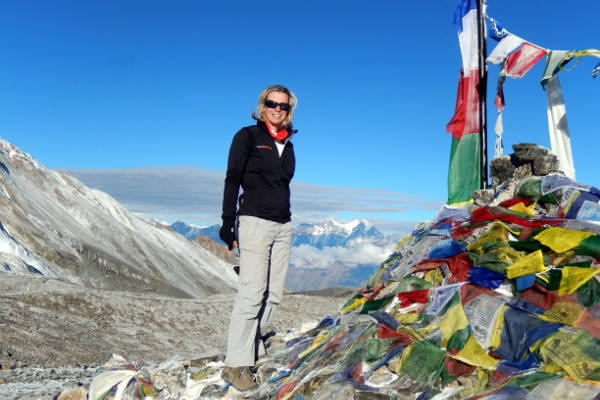 The Annapurna Circuit is one of the greatest treks in Nepal, if not the world. The scenery on the Annapurna Circuit is extraordinarily beautiful, taking trekkers through rice terraced paddy fields, subtropical forests, and glacial environments. Read more about the Annapurna Circuit.