On this page you will find a comprehensive and impartial guide to the Mera Peak Trek. We are not a tour operator, but we can put you in touch with our recommended partner, click here.
As this is a very long and detailed article on the Mera Peak, we recommend using the quicklinks below to navigate to the sections that interest you most. Alternatively, bookmark this page for future reference.
Please use the quicklinks below to navigate the guide.
Trekking to Mera Peak (21,247 feet) will see you crossing easy glacier terrain. The trek is suited for experienced high altitude trekkers but does not require technical climbing skills – everything you need to know, you will be told. Slopes rarely exceed 40 degrees. It is of Alpine Grade F – easy – except for the final 30 or 40 metres, which are Grade PD – not very hard. Its ease is what attracts many folk to it.
Although the climbing is straightforward, it is physically demanding. Heavy snow can make things much more so, as do the potential exposure to crevasses. Use of an experienced guide is important.
Mera Peak is widely-regarded as the highest trekking peak in Nepal. From the peak, you will be able to see five of the six highest mountains in the world: Everest (29,029 feet), Kanchenjunga (28,169 feet), Lhotse (27,940 feet), Makalu (27,825 feet), and Cho Oyu (26,906 feet). This is perhaps the most stunning view from a Trekking Peak in Nepal. You can see as far as India!
The most appealing feature of the Mera Peak climb is the beautiful and uninhabited Hinku Valley, which is filled with a lovely forest. You will rest under mammoth magnolias and pass immaculate forests with banks of raspberries and strawberries.
The trek takes from 16 to 22 days. Outside of Kathmandu and Lukla, you will be spending most of your nights in a tent or basic tea house. Most groups camp despite there being tea houses all along the trail, a recent phenomenon. As recently as 1994, there was no more than a yak herder's hut at Tangnag.
Get a trek operator recommendation
Would you like to contact a responsible and trustworthy trek operator with competitive prices? Get some free, no obligation advice for your Mera Peak Trek.
Get In Touch
A beautiful video overview of the Mera Peak Trek by Milan Helus. Celebrating with some nice whiskey at the top! The video is 08:23 long.
Below is a detailed Mera Peak itinerary. Please note that there are several Mera Peak trek itineraries that can be done. Below we have laid out the most popular version – 21 days, leaving from Kathmandu. If you want to make your own way to Lukla then you could probably organise this with your operator or guide.
You arrive in Kathmandu. Flights are generally overnight, perhaps via Dubai or another Gulf state.
On day two you meet the team, who labour to ready your venture. This gives you a day to kill, with countless options for sightseeing or plain shopping.
You fly to Tenzing-Hillary, the infamous landing strip at Lukla, taking 40 minutes, and then it is time to walk.
You cross the Poyan Khola pass, with Khara Khola in the distance. You make it to Pangkongma.
You ascend to Pangkongma La pass, granting you your first good views of Mera Peak. You then trek down into the Hinku Valley, cross a river using a wire bridge and ascend to Nashing Dingma.
You climb to Chalen Kharka through the Surke La pass. Despite being 11,800 feet above sea level, there is still vegetation including rhododendrons and fir trees.
Today you climb over rough ground. Jannu and Kanchenjunga can be seen. Jannu, 25,295 feet high, is the 32nd highest mountain in the world. Kangchenjunga is rather more impressive: the third highest at 28,169 feet. When you get to Chunbu Kharka, you camp.
This day is for acclimatisation. If you are of an energetic disposition – many nearby walks are possible.
Today you trek back to the Hinku Valley once more. You pass the site of flooding in 1998 that resulted from a dam giving way after an unusually strong earthquake. The resultant wall of water stripped the landscape, leaving it unrecognisable. Three yaks died…
You cross a river and, passing grazing yaks, ascend to Tangnag. There are some wonderful tea houses here, however, you will probably sleep in a tent.
You rise above the tree line and ascend Dig Kharka-wards (15,520 feet). This is near the Hinku Nup glacier, beside which you camp.
By day, you walk onto the glacier to be instructed in the use of crampons and axes, which will be indispensable when you tackle Mera La and Mera Peak.
Today you arrive at Mera Peak Base Camp.
Ice school continues on the Mera glacier.
Several crevasses must be crossed to reach the high camp.
After fixing ropes, you reach the summit of Mera Peak and then descend to Base Camp again.
This is a spare day in case of foul weather.
You return to Lukla, which could conceivably take as little as three days. From Base Camp, you cross the Zanwa La pass (15,090 feet) and then drop – this is steep – to the Dudh Kosi Valley on the way. You might avail yourself of Lukla's bars.
You fly to Kathmandu.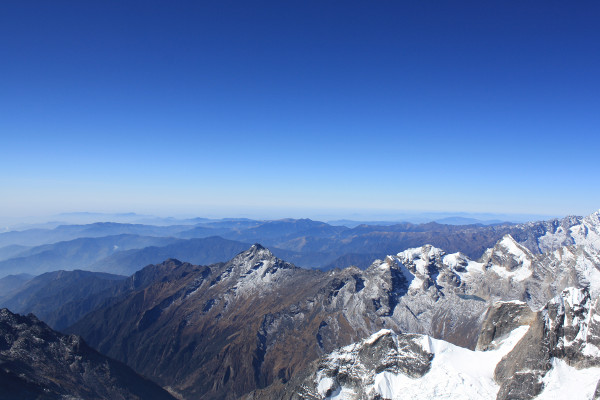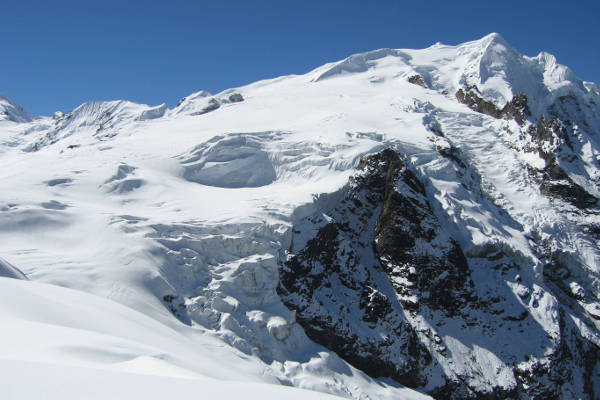 Mera Peak is situated on the edge of the Khumbu region, southeast of Everest.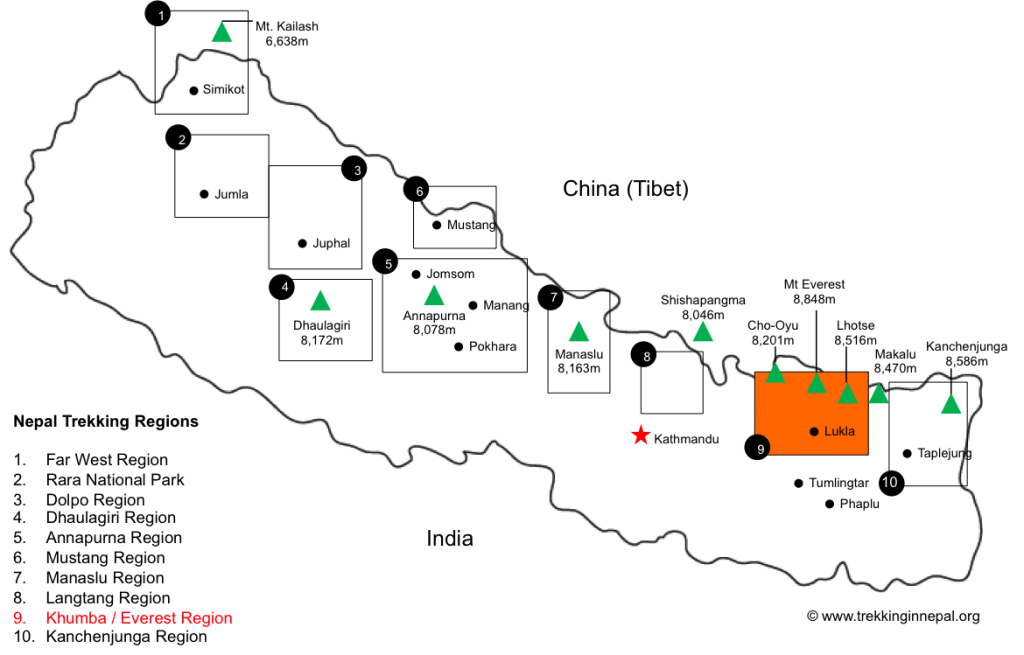 We recommend the following maps:
For a great book on Mera Peak we recommend:
Frequently Asked Questions
Below we have provided detailed answers to the most frequently asked questions on the Mera Peak Trek.
A Mera Peak climbing tour costs anywhere from $3,500-$5,000 per person depending on group size and tour operator. We highly recommend seeking out a quality operator – see our recommendation service below.
Yes. A permit costs $350 for as many as four people.
October and November are the peak months. December and particularly January and February are mostly regarded as excessively cold. Trekking begins again in March and April, however conditions are usually less clear than in the other period, although it is less crowded.
The Mera Peak Trek ascends to some high altitude points. At its highest point, mera Peak, you will reach an altitude of 6,476 meters (21,250 feet). There are steep section on this trek where you will ascend very rapidly.
Therefore, it is important to have a clear understanding of the risks associated with high altitude trekking and how the body acclimatises to high altitude. We recommend you read our detailed article on Altitude Sickness and Acclimatisation.
The Mera Peak trek is considered an moderately difficult trekking peak. Slopes rarely exceed 40 degrees and you will be told everything you need to know prior to climbing the actual peak. Saying this, a very good level of fitness is required and experience of trekking at high altitude is recommended, as the trek is both long and often through heavy snow.
Trekking the Mera Peak requires a number of essential pieces of trekking gear. The Mera Peak Trek is long and moderately difficult. It exposes you to a range of altitudes where temperatures fluctuate dramatically between night and day.
Much of your gear can be rented or bought in Kathmandu, but we strongly suggest bringing the most important pieces of gear and equipment with you.
To help you plan and prepare for your trek we recommend reading our gear section.
Trekking insurance is vital in Nepal. This is particularly true on the Mera Peak Trek which is very remote. If an accident should occur that requires medical assistance and evacuation you will certainly want adequate trekking insurance that can cover the costs of air ambulance and treatment.
Make sure to have insurance that covers you for any travel related risks, like lost, damaged, stolen or delayed baggage; flight delays and interruptions; and tour operators default.
This article on travel and trekking insurance provides great information on what type of insurance you need, as well as provides an easy quote calculator from a leading travel operator. You will need insurance that covers you for mountaineering activities as the use of crampons and fixed ropes are standard on a Mera Peak expedition.
Tags: Mera Peak Nepal, Mera Peak climbing, Mera Peak trek, Mera Peak itinerary
References: (1) Mark Horrell (2) Kandoo Adventures
Get a Trek Operator Recommendation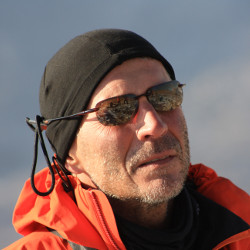 Brilliant service guys! The operator you recommended is absoultely fantastic. Fast, responsive, amazing track-record and great prices! Thanks
Pop your details in the form and you will receive a price competitive quote from our trusted trekking operator.
At 20,305 feet high, Island Peak is a classic trekking peak in Nepal that provides a mountaineering experience that is both challenging and exhilarating. If you are looking to take the next big step in your mountain adventures, then check out Island Peak.
The Everest Base Camp Trek is one of the most popular and iconic treks in Nepal. Trekkers get to retrace the early footsteps taken by Sir Edmund Hillary and Tenzing Norgay on their historic Everest expedition in 1953. Discover the Everest Base Camp Trek.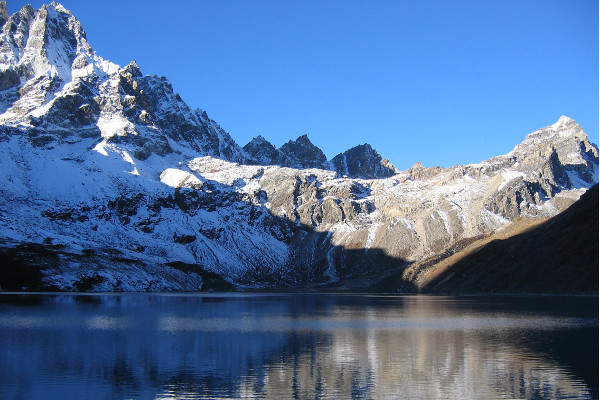 The Gokyo Lakes trek provides an excellent alternative to the Everest Base Camp trek. The trek is especially good if you have a little more time on your hands as it takes in all the highlights of the Everest trek with the added bonus of seeing the beautiful Gokyo Lakes!