On this page we have done our best to provide an impartial and comprehensive list of the Top 50 Best Outdoor Adventure Blogs on the web.
To compile the ranking list we tracked hundreds of independent travel and adventure blogs from around the world. We then created a shortlist of the top 50 adventure travel blogs ranked predominately by their Alexa score, however, we also took into account their Page and Domain Authority as defined by MOZ.
To maintain proper impartiality we did not use our personal opinion in any way.
We will aim to update our ranking of the Top 50 Best Outdoor Adventure Blogs blogs every year. The data for this year's ranking was collected over the week commencing 5th September 2020.
A massive congratulations to all the adventure travel blogs that made it onto this years list!! We absolutely loved reviewing your sites and we're looking forward to seeing how you develop and evolve over the coming years!
For those adventure travel blogs that did not make it onto the list this year, don't get yourself down. We will be updating the list next September and with some hard work and effort we are sure you will get a mention then!
Top 50 Best Outdoor Adventure Blogs
No. 1 Expert Vagabond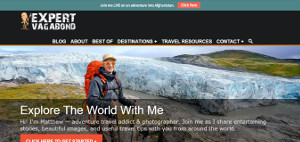 One of the highest rated adventure travel blogs on the planet, Expert Vagabond is packed with adventure stories and some kicker photography! The stories and tales are brilliantly engaging and you'll be hooked as soon as you visit.
Alexa Rank: 44,695
No. 2 The PlanetD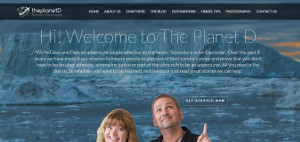 Run by adventure duo Dave and Deb, the PlanetD is awesome on photography and awesome on stories. Each location guide is detailed, clear and best of all – inspiring! Check them out.
Alexa Rank: 68,386
No. 3 Section Hiker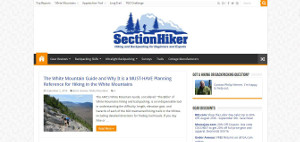 Philip Werner is a backpacking and hiking expert with a wealth of knowledge, particularly in North America region. Section Hiker provides trail information, hiking gear reviews and tons of great personal stories.
Alexa Rank: 74,986
No. 4 Adventure Journal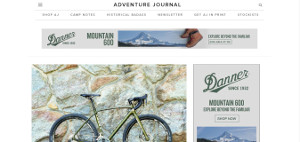 The Adventure Journal is a seriously cool website for serious adventure lovers! The website is packed with videos, photography articles, gear reviews and the latest adventure tales from around the world.
Alexa Rank: 96,634
No. 5 Modern Hiker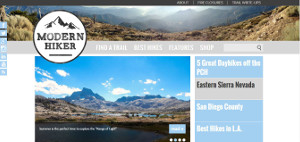 For Americans, this has got to be one of the best resources out there for hiking. Modern Hiker provides readers with countless trails, info articles and whole host of helpful blog posts that are a great way to form new hiking pursuits.
Alexa Rank: 107,675
No. 6 Grrrltraveler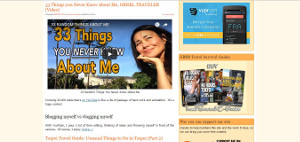 Grrrltraveler provides an enormous array of travel articles and insights including topics such as food, photography and travel planning tips. If you want useful packing lists and destination guides then this is your site.
Alexa Rank: 118,574
No. 7 The Road Forks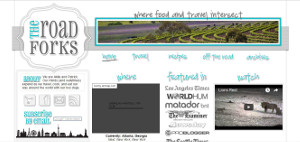 Akila and Patrick journey around the globe with their two pet dogs taking in all the food and travel delights on offer. In their words 'we travel, cook, and eat our way around the world'.
Alexa Rank: 141,062
No. 8 Just One Way Ticket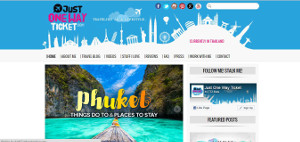 Sabrina or 'Sab' is a funny, quirky and adventurous girl with an appetite for travel! Sab's stories are delightful and easy to read and if you want some inspiration then we suggest you stop by.
Alexa Rank: 150,968
No. 9 Peter Greenberg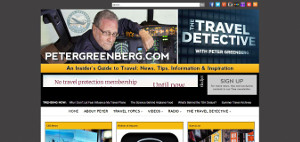 'A multiple Emmy-winning investigative reporter and producer, Peter Greenberg is America's most recognized, honored and respected front-line travel news journalist'. This is his travel blog and it's packed with cool info and videos!
Alexa Rank: 152,673
No. 10 Indie Traveller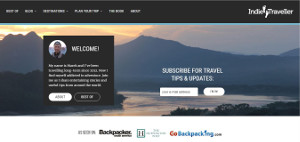 Marek is an adventure junkie and loves to share his amazing stories online. Having travelled to much of South East Asia and Central America, you'll find tons of trip planning resources and hints and tips to get the best deals.
Alexa Rank: 162,869
No. 11 Goats On The Road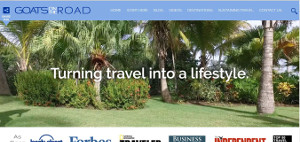 Living the life of freedom, Canadian couple Nick & Dariece travel the world living from their laptops. They have a ton of destination guides and some really great videos to get you inspired for your own travels.
Alexa Rank: 163,932
No. 12 Be My Travel Muse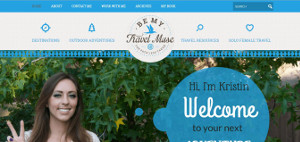 Kristin is a former investment banker who sold everything she owned to hit the road and live the life of a solo traveller. Kristin has a whole host of experience and all of her posts give great insights into finding off the beaten path destinations and helpful tips.
Alexa Rank: 177,472
No. 13 Triphackr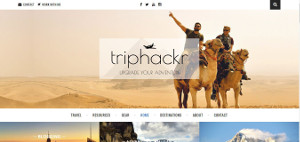 Clint is a serious adventure traveller who has journeyed to more than a 100 countries and travelled for over 10 years. Triphackr has fantastic destination guides for the adventurous souls out there including Antarctica, Kilimanjaro, Nepal and Bhutan.
Alexa Rank: 181,210
No. 14 Ordinary Traveler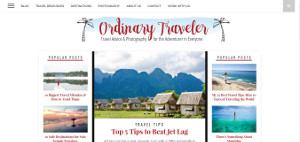 Christy and Scott have been travelling for the last 10 years and there knowledge on luxury getaways is almost unparalleled. The site is packed with travel information posts, including tips on photography, blogging and airlines.
Alexa Rank: 185,044
No. 15 Everything Everywhere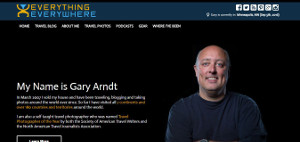 Named Travel Photographer Of The Year by both the Society of American Travel Writers and the North American Travel Journalists Association, Gary's blog offers up great information and super imagery! He's visited all 7 continents including Antarctica.
Alexa Rank: 209,918
No. 16 Wandering Earl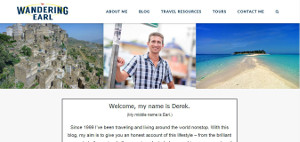 Derek has been travelling for almost two decades now and says 'With this blog, my aim is to give you an honest account of this lifestyle – from the brilliant moments to the major challenges – in order to help you achieve your own travel goals.
Alexa Rank: 210,495
No. 17 Leave Your Daily Hell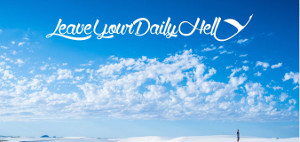 Stylish, modern and packed with travel info. Robert's travel blog is a one of the best resources for travel guides, travel coaching and travel photography.
Alexa Rank: 217,825
No. 18 Bucketlistly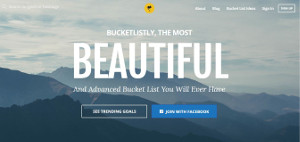 'The Most beautiful and advanced bucket list you will ever have'. Bucketlistly is a very cool and well done site which provides travellers with tons of bucket list ideas and blog posts from around the world.
Alexa Rank: 219,618
No. 19 Global Grasshopper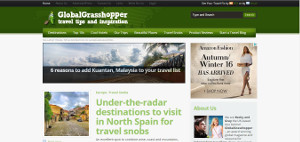 UK duo Becky and Gray are self confessed travel snobs who are on a mission to discover the most underrated and least know haunts around the world. Inspiring posts and awesome photos await visitors on this blog
Alexa Rank: 231,060
No. 20 A Little Adrift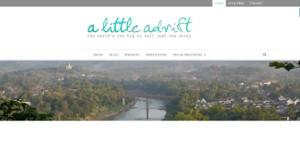 Named Named Traveler of the Year National Geographic, Shannon is a passionate traveller who believes that 'a life of travel creates a story of the world worth telling'. Food, travel, planning and photos – this blog has it all.
Alexa Rank: 242,938
No. 21 Off The Path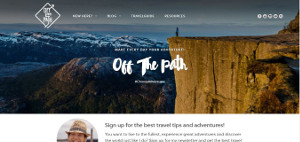 Sebastian is an adventure lover who has lived in 10 countries so far and travelled nearly 100! His blog is both inspirational and informative and he certainly has a lot of destinations under his belt.
Alexa Rank: 243,413
No. 22 foXnoMad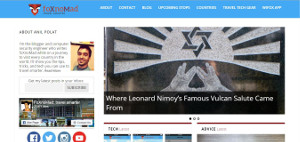 foXnoMad is run by computer engineer and traveller Anil. You'll find some excellent gear reviews, travel insights and many 'how to' tips on this great blog.
Alexa Rank: 280,536
No. 23 The Longest Way Home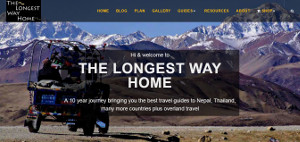 The Longest Way Home is an in depth blog with fantastic information on Europe and Asia. Sharp and stylish, the blog is easy to navigate and the stories a joy to read.
Alexa Rank: 292,266
No. 24 Divergent Travelers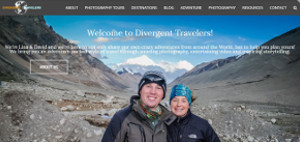 Lina and David are a travelling duo who, in their own words, say that they are "here to not only share our own crazy adventures from around the World, but to help you plan yours! We bring you an adventure packed style of travel through amazing photography, entertaining video and inspiring storytelling".
Alexa Rank: 295,661
No. 25 Don't Stop Living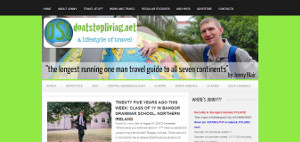 Don't Stop Living is the longest running one man travel blog that covers all seven continents. Johnny describes his blog as "the most passionate and real one man travel blog you will EVER read" and it's hard to disagree with him.
Alexa Rank: 297,148
No. 26 Nomadic Samuel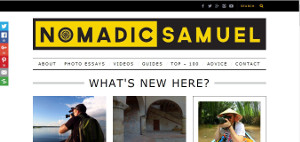 Sam is one of the most notable bloggers in the travel game and his photography and videos are brilliant. Quirky stories and great destination guides make this one great of a travel blog.
Alexa Rank: 300,033
No. 27 Bren On The Road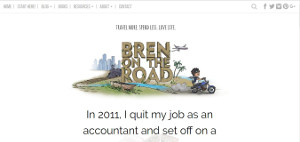 Bren has been on the road full time the last few years and is now sharing his awesome stories. The blog is well laid out and easy to use and the resources are excellent.
Alexa Rank: 323,916
No. 28 Borders Of Adventure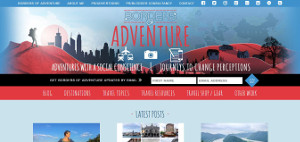 Becki describes her blog as a "travel blog about adventure and culture. Looking at the world with a different angle to change perceptions of the misunderstood".
Alexa Rank: 364,802
No. 29 Green Global Travel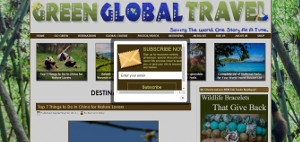 Green Global Travel is run by Bret and Mary and the blog focuses exclusively on Eco-Adventure Travel & Conservation of nature and wildlife.
Alexa Rank: 386,003
No. 30 Monkeys and Mountains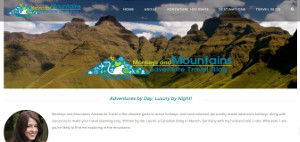 Laurel is a Canadian living in Munich who loves to explore the mountains. Her blog has great adventure holiday packages and fascinating cultural articles.
Alexa Rank: 401,571
No. 31 Semi Rad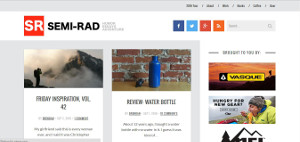 Fun, inspirational and super informative. Brendan is an adventure lover whose personality shines through in every blog post.
Alexa Rank: 416,288
No. 32 Getting Stamped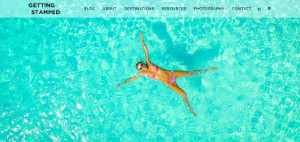 "A blog about the crazy life and endless travels of Hannah & Adam". Getting Stamped is a stylish and fun blog that has heaps of resources for potential travellers out there.
Alexa Rank: 425,002
No. 33 Banker In The Sun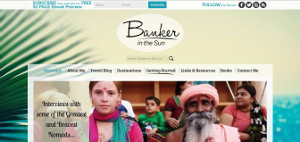 As the title suggests, Rashad was a banker who gave up the career lifestyle to travel the world and meet new people. The blog is fantastic for travel advise and career breakers.
Alexa Rank: 459,886
No. 34 Dave's Travel Corner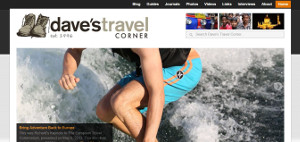 Awesome blog that provides blog posts, journal articles, videos, reviews and more. Ideal travel resource for people wishing to hit the open road.
Alexa Rank: 466,108
No. 35 Lash World Tour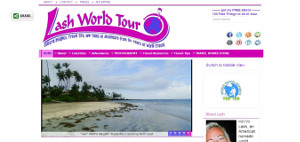 Lash is a fun and quirky solo nomadic traveller who has been on the road since 1998. Her travel tips and resources are excellent and you'll also find tons of photography info.
Alexa Rank: 474,924
No. 36 Nomadic Notes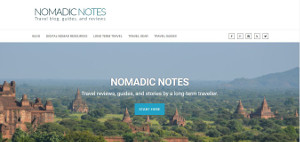 Long term traveller and digital nomad, Jame's blog has inspired people for years. Packed with resources and travel stories, this is the ideal place to start planning an adventure.
Alexa Rank: 502,409
No. 37 Alastair Humphreys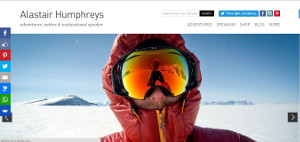 Alastair is a serious adventurer who has cycled round the world, walked across India and rowed the Atlantic. Alastair was also named as a National Geographic Adventurer of the Year! Very cool website.
Alexa Rank: 538,852
No. 38 Hole In The Donut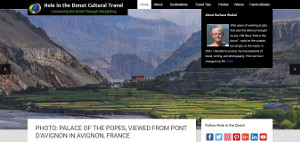 Barbara quit her joyless job to travel around the world and seek out spots that have slipped under the tourist's radar. Barbara's photos are not to shabby either.
Alexa Rank: 545,012
No. 39 Mallory On Travel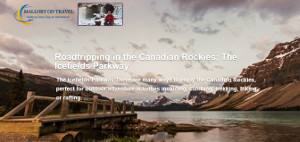 Iain is the man behind Mallory On Travel and the site provides fantastic destination information from all over the world. There are very few blogs with this amount of destinations covered.
Alexa Rank: 564,048
No. 40 A Backpacker's Tale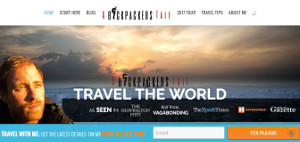 Sleek and well-laid out website that provides tons of info on travel. Join Stephen on all of his adventures, the next in New Zealand.
Alexa Rank: 581,957
No. 41 The Yoga Nomads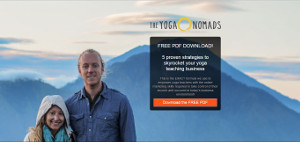 Brandon and Anne are Yoga enthusiasts that love to travel the world. Join them as they journey around the world and inspire other yoga teachers.
Alexa Rank: 616,327
No. 42 Best Hike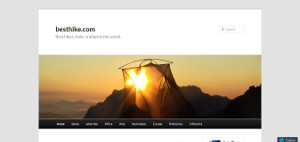 Rick has done a lot of hikes and written up great reports on all of them. You'll find hikes in South and North America, Europe, Africa, Asia and New Zealand. Lots of great cycling info also.
Alexa Rank: 654,671
No. 43 Tales Of A Mountain Mama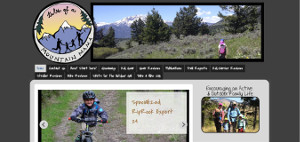 Encouraging an active family life, Mountain Mama has useful tips on family oriented adventures and great reviews and kids products for hiking.
Alexa Rank: 677,952
No. 44 Go Green Travel Green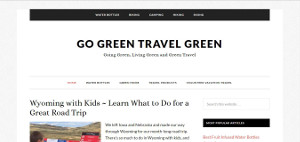 "Go Green Travel Green is your source for Going Green, Living Green and Green Travel". Everything on this blog is green orientated and you'll get plenty of green travel tips.
Alexa Rank: 692,958
No. 45 Earth Trekkers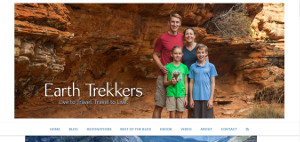 A family of four all with a passion for travel. Earth Trekkers show you how family travel can be done in the right way.
Alexa Rank: 711,916
No. 46 Hiking Lady
Carol is an outdoor and hiking enthusiast with a love of adventure. Join her on her hiking travels as she treks some of the most notable trails in America. Plenty of great resources and gear reviews also .
Alexa Rank: 715,189
No. 47 Xpat Matt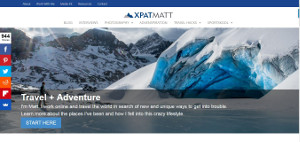 Matt Gibson is an award winning Travel writer and photographer with a passion for adventure. Xpat Matt is packed with resources, cool photos and great stories.
Alexa Rank: 771,020
No. 48 She Gets Around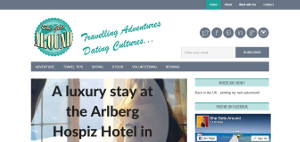 Once a dating queen, Jenny is now an avid traveler with a passion for telling vibrant and fascinating stories of other people around the globe.
Alexa Rank: 794,329
No. 49 Am I Nearly There Yet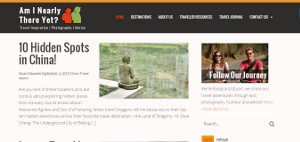 Eloise and Stuart share our travel adventures through epic photography, humour and advice. Great stories, great destination guides!
Alexa Rank: 873,975
No. 50 Beyond Blighty
Arianwen is seriously into adventure travel. Detailed travel guides from around the world, including destinations such as Australia, Bolivia and Costa Rica.
Alexa Rank: 910,541
Honourable Mentions
Backpacking Worldwide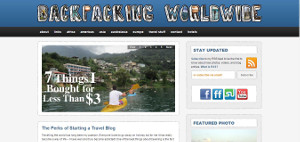 Carlo is a fun-loving Irishman currently living in Thailand. His blog is a fantastic resource for backpackers wanting to get the most out of their next backpacking adventure.
Confessed Travelholic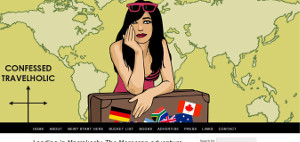 Michelle is a Canadian travelholic who has traveled some serious distance! Follow here as she discusses backpacking across Australia, America, Asia and, most recently, Europe.
Traveling Ted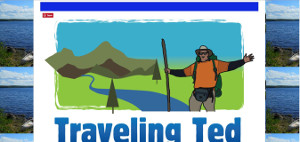 Ted Nelson is an outdoor adventure travel writer and blogger with a seriously cool website. Traveling Ted chronicles his adventures hiking, canoeing, and skiing in the United States and around the world.
Hiking The Trail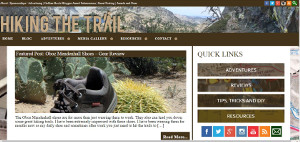 Adam is an adventure lover with a passion for hiking. His site is packed full of detailed gear reviews, trail summaries and great blog photos.
World Wandering Kiwi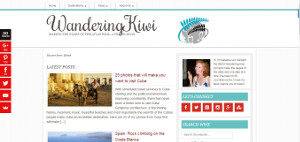 Natasha is an adventurous New Zealander who has travelled to over 50 countries! Her blog is wealth of information on everything from history and hiking, to wildlife and food.
So Many Places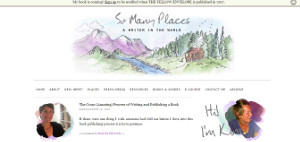 Kim and her husband Brian have travelled from the Himalayas to Patagonia telling fantastic stories all the way. Brilliant blog with brilliant writing and detailed information.
Travel Jots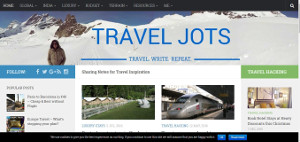 Pooka is a passionate traveller from India who has been travelling for the last decade! Travel Jots gives you great insights and helpful tips to getting the most out of your travels.
All Over The Map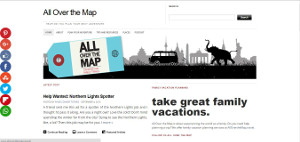 Paige has travelled the world and can plan the perfect adventure for you. The blog gives great advice, great destination information and great travel planning services.
Wandering On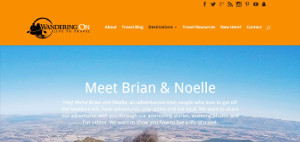 Brian and Noelle are an adventurous Irish couple who love to get off the beaten track, have adventures, stay active and eat local. The blog is packed with interesting stories, stunning photos and fun videos.
Laura The Explorer
Laura is a first class traveller and provides stories and advice about budget travel and backpacking, from first hand experience.