With any adventure in an RV, proper preparation is key to a safe and rewarding trip. Mountain roads can be steep, narrow, and slippery depending on weather conditions.
By completing all the necessary checks beforehand, your RV will handle any mountain road with ease.
It is crucial for your RV to be up to date with all its repairs and maintenance. Without checking your vehicle, you may face breaking down which result in major costs for towing and replacement of parts. There are many useful accessories on the market to keep you aware of what's going on with your RV, such as tire pressure sensors.
Other logistics to making sure your RV is ready for any road include proper safety measures such as CO and smoke sensors. Always make sure your insurance and registration is up to date to avoid run-ins with the law. Most importantly, enjoy the ride and fantastic views!
Mountain Roads and RVs (Top Tips)
Up to date on Maintenance and Repairs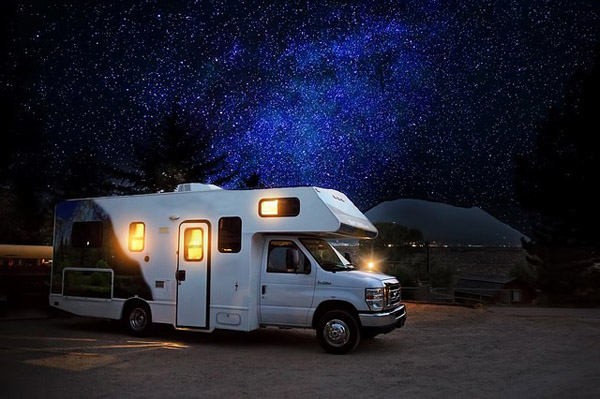 Your RV should already be consistently going in for regular maintenance. It is especially important to get it checked before hitting the mountains. Your gauges should all be accurate and fluids such as engine coolant, transmission, brake fluid, etc., should all be filled.
Make sure your water systems are running smoothly. Exposed pipes can freeze and this can result in you having zero access to water. Your water tanks should also be sanitized often, this can be done by running disinfectant through the system. To prevent clogging in your water-waste system, use biodegradable toilet paper.
Locate a reputable RV service center near you, to have your RV checked regularly so you can take care of any repairs before embarking on your mountain road adventures.
Manage break use and overheating
While on mountain roads, your brakes will feel the most strain. When using them consistently, it is easy to wear them down. Without functioning brakes, your RV trip will be an unsafe and scary one.
To avoid your brake pads from wearing thin, use some of these helpful methods. Always use the same gear when you are going downhill to up-hill. Not only is this more fuel efficient it keeps you from relying on your brakes.
The most important tip is to keep your brakes cool. If you see your RV smoking while going down-hill, stop in a safe place as soon as you can. Turn off the engine and let it cool completely before going anywhere. Without stopping, you could cause permanent damage to your brake pads.
Handy RV Accessories
There are many helpful RV accessories and equipment on the market today. They all make living in an RV more comfortable and decrease the chances of breaking down. A tire pressure monitor can detect a flat before it happens. This saves you from being stuck in the mountains without warning and prevents permanent damage being done to your vehicle.
Other must-have accessories include things like a GPS, water pressure regulators, and lithium jump starters. If you are considering taking the plunge and moving in an RV, use these accessories and make life on the road stress-free.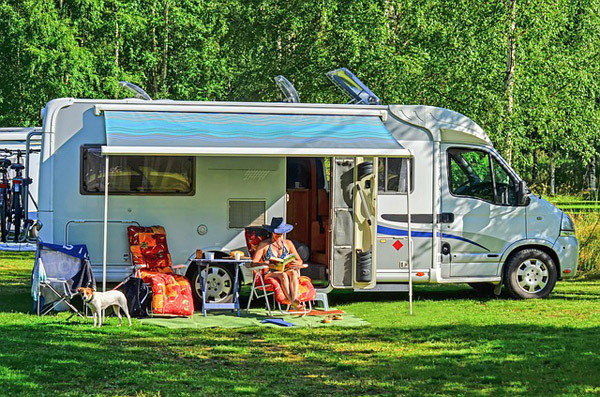 Research your Route
Before embarking on your journey to the mountains, it is crucial to be familiar with where you are going. If you know where and what kind of roads you will be driving on, you can predict what your RV will need. To avoid steep and narrow roads that make your driving experience difficult, try planning your journey ahead and find alternative routes.
The United States is one of the best places for an RV road trip. The country is filled with famous landmarks and massive national parks perfect for hiking, fishing, and biking.
Each park offers a unique experience. Visit Yosemite Park to climb the infamous Half Dome or walk amongst the last few glaciers at Glacier National Park. All of these parks are filled with RV campgrounds and offer the perfect surroundings to step out and explore.
Safety
Safety equipment aboard your RV is important no matter what trip you go on. Not only will it give you peace of mind, it will prevent yourself and your family from getting seriously injured.
Your RV should be equipped with a certified and tested fire extinguisher, first aid kit, and smoke/carbon monoxide detectors. These measures will allow your to put out a fire and will warn you if you need to exit the RV immediately.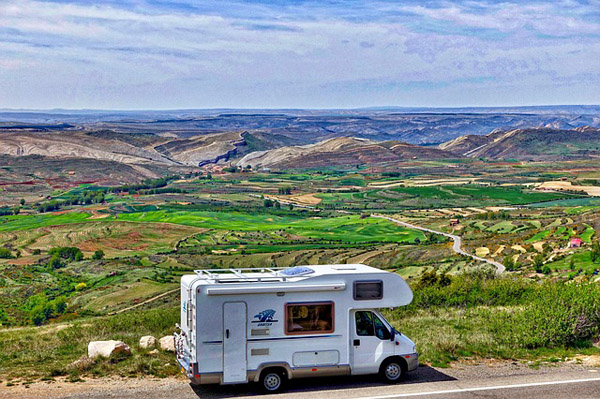 Current Registration and Insurance
Confirm that your RV is up to date with its registration and insurance. This includes your vehicle emissions sticker. Making sure your vehicle is legally allowed to be on the road will save you some major headache if you were to be pulled over. If you handle the not so fun things before, you will have more time to enjoy your ride later.